Celebrity Cruises All Included – Is It Worth It Now?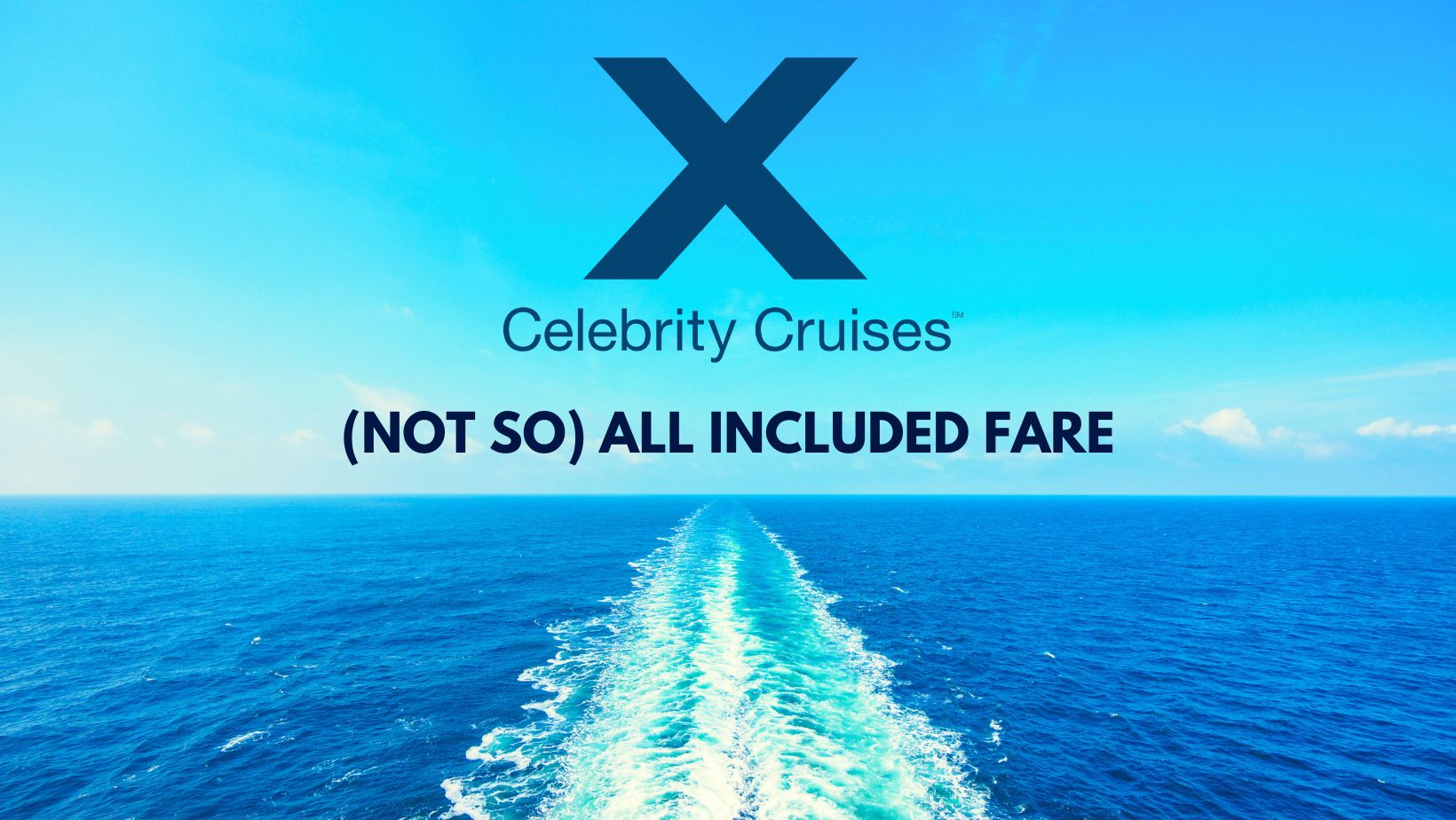 Celebrity Cruises has a cruise fare approach that will take the stress out of thinking about additional costs while onboard.
With Wi-Fi and alcoholic beverages included in the cruise fare, guests can potentially save money in additional expenses while enjoying their vacation.
Changes to the All Included / All Inclusive Program
As of October 4, 2023 – Bookings with with All Included no longer have prepaid gratuities in the cruise fare. They will be billed separately now. Bookings made prior to 10/4/2023 will be honored with gratuity included.
Every cruise line is making changes these days in order to reach profitability and keep up with inflation and fuel costs. Most people seem to be understanding to a degree, as we are all witnessing price increases across nearly everything we consume.
Celebrity, however, has made many changes that are more apparent and when speaking to other cruisers, are taking the luxury feeling out of the brand.
Nevertheless, as with most cruise-related promotions, there will be changes and those changes aren't always popular. This is the case with the All Included pricing on Celebrity (Effective Oct 4, 2023)
With the change of the popular All Included offer on Celebrity Cruises, we have investigated what the savings really are and what they will be after the upcoming changes.
Below, we have provided a comprehensive guide to Celebrity's All Included fare (formerly called Always Included).
This program offers passengers an alternative approach to their vacation with Celebrity Cruises
Travelers can select to pay an extra amount and automatically receive the Classic Beverage Package and Wi-Fi services included in their cruise fare.
Unfortunately, Celebrity has chosen to remove the included gratuities from the All Included fare which is hugely unpopular with passengers. In our opinion, the name "All Included" needs to go away because it's no longer an All Inclusive offer after removing perks.
Alternatively, travelers can choose the "cruise only" fare at a lower rate and choose the add-ons that make sense for the passengers.
How much does the Celebrity All Included program cost?
While there's no such thing as a "free" cruise, this also applies to the All Included deal. With this offer, passengers can choose between the basic "cruise only" fare or the higher-priced all-inclusive fare. The price difference will vary depending on the specific cruise, but travelers can expect to spend between $80-$120 more per day, per person for All Included.
For instance, we found a 7-day cruise sailing in a balcony cabin at a base price of $949, or $1,549 per person with All Included. This equates to an additional $600, or approximately $85 per day.
It's not uncommon to come across limited-time sales offered by cruise lines in a bid to entice customers to book. However, Celebrity Cruises' Always Included program differs significantly from these types of promotions. Why, you may ask? Well, this program isn't just a temporary deal or discount; rather, it's a permanent change to the way Celebrity does business. That means if you're planning on sailing with Celebrity in the near future, you can rest assured that you'll be able to take advantage of this offer and enjoy the added benefits of the Always Included program.
The actual value of the All Included
With this offer, you won't have to worry about paying tips, purchasing a drink package, or paying for Wi-Fi out of pocket while on the ship. Currently, Celebrity charges a daily gratuity fee of $17.50 per person which will no longer be included as of October 4, 2023. These fees will be added to your onboard account during sailing. So the value comes in the Classic Drink Package which is $89 per person (plus a 20% gratuity) for a total of $106.80 plus the basic Wi-Fi package costs $20 per person, per day. All in all, this totals around $126.80 per person, per day.
The Drink Packages included in the package
Celebrity Cruises has two different drink packages: the Classic Beverage Package and the Premium Package. When you book the Always Included program, the Classic package is included in your fare. This package offers drinks with a menu price of up to $10, including many types of beer, typical liquors and cocktails, soda, premium coffee, bottled water, and more. Normally, this package costs $89 per day, plus a 20% gratuity, which brings the total to $106.80 per person, per day.
However, if you prefer more drink options, you can opt to upgrade to the Premium Beverage Package for an additional $24 per person, per day. With the Premium package, you'll have access to drinks with a menu price of up to $17 per serving. Whether you choose to stick with the Classic package or upgrade to the Premium package, you can enjoy your drinks without worrying about the cost.
Which Internet Package is included?
Celebrity offers two Internet packages: Basic and Premium. The "Basic" package is for web browsing only, such as checking email and social media. The "Premium" package is for streaming, FaceTime, and social media posting.
The Always Included program gives you the "Basic" package for each person.
Upgrading the Always Included package
Under the Celebrity Cruises Always Included package, the drink package offered is the "Classic" package and the Wi-Fi offered is the "Basic" level of service. But if you want to upgrade to a higher-end drink package or better Wi-Fi, you can.
To upgrade to the Premium beverage package, you may do so via the cruise line's online cruise planner, up to two days before the cruise departs. There's an upcharge of about $24 per person per day, which includes the gratuity.
If you want to upgrade to the faster Premium Wi-Fi service, then the process is the same. In this case, there is an upgrade charge of $15 per person, per day.
Does Everyone Have to Buy the Always Included Offer if One Person Does? What About Kids?
When booking, there is no option to select the offer only for some guests. All passengers under a reservation will either be under the Always Included offer if selected or the cruise-only fare.
Keep this in mind when budgeting. If someone doesn't drink, paying extra for the offer to get the drink package might not be worth it.
So what if you have kids or someone else who doesn't drink? Celebrity points to the non-alcoholic drinks available in the package and suggests that kids will still be charged for the upgraded package, although obviously won't be served alcohol.
Is Celebrity Cruises Always Included Worth it?
Is the Always Included offer worth the extra money? Consider a few factors to decide if it's worth it for you.
The All Included program comes with a higher price tag, which is between $80-$120 per person, per day. The value received is roughly $125 per person, per day, which makes it a deal in that aspect. Though with the changes Celebrity has made by removing the gratuities from the package, the financial benefit is insignificant.
In fact, after research that we've done, selecting the All Included cruise fare only saves 80-120 per person for the entire cruise.
Gratuities being included in the cruise fare WAS a great benefit, now it's an expense you will have in addition. The value of the drinks and Wi-Fi package depends on whether or not you would typically spend money on those things during a cruise.
If you don't drink much, you may be better off without the package. However, you can still enjoy the benefit of not having to worry about your drink bill (even for non-alcoholic beverages) at the end of the trip.
The same goes for Wi-Fi access. Many people view cruises as an escape and prefer to disconnect, but with the All Included package, you'll be paying for Wi-Fi in your cruise fare.
If you typically spend very little while onboard, you may end up paying more for your cruise than you normally would. However, if you enjoy having drinks and Internet access, then you're likely to save a little money with the package.
Regardless, it's a nice feature to have these amenities included, which means less worry about onboard expenses while enjoying your time on the ship.
So if you plan on purchasing the drink package and wifi anyway, then saving a few dollars is a no-brainer. But if you're not planning on purchasing BOTH, it's better to not bother with the All Included fare.
When booking a reservation, all passengers under the booking must either select the All Included offer or the cruise-only fare; there is no option to choose the offer only for certain guests. Therefore, if you're considering purchasing the All Included offer to get the drink package, keep in mind that it may not be worth it if someone in your party doesn't drink.
As for children or non-drinkers, Celebrity suggests that they can still benefit from the non-alcoholic drinks included in the package. However, keep in mind that they will still be charged for the upgraded package, even if they won't be served alcohol.