Gratuties and tipping on a Cruise ship. A Guide to Extra Tips for Crew Members & Staff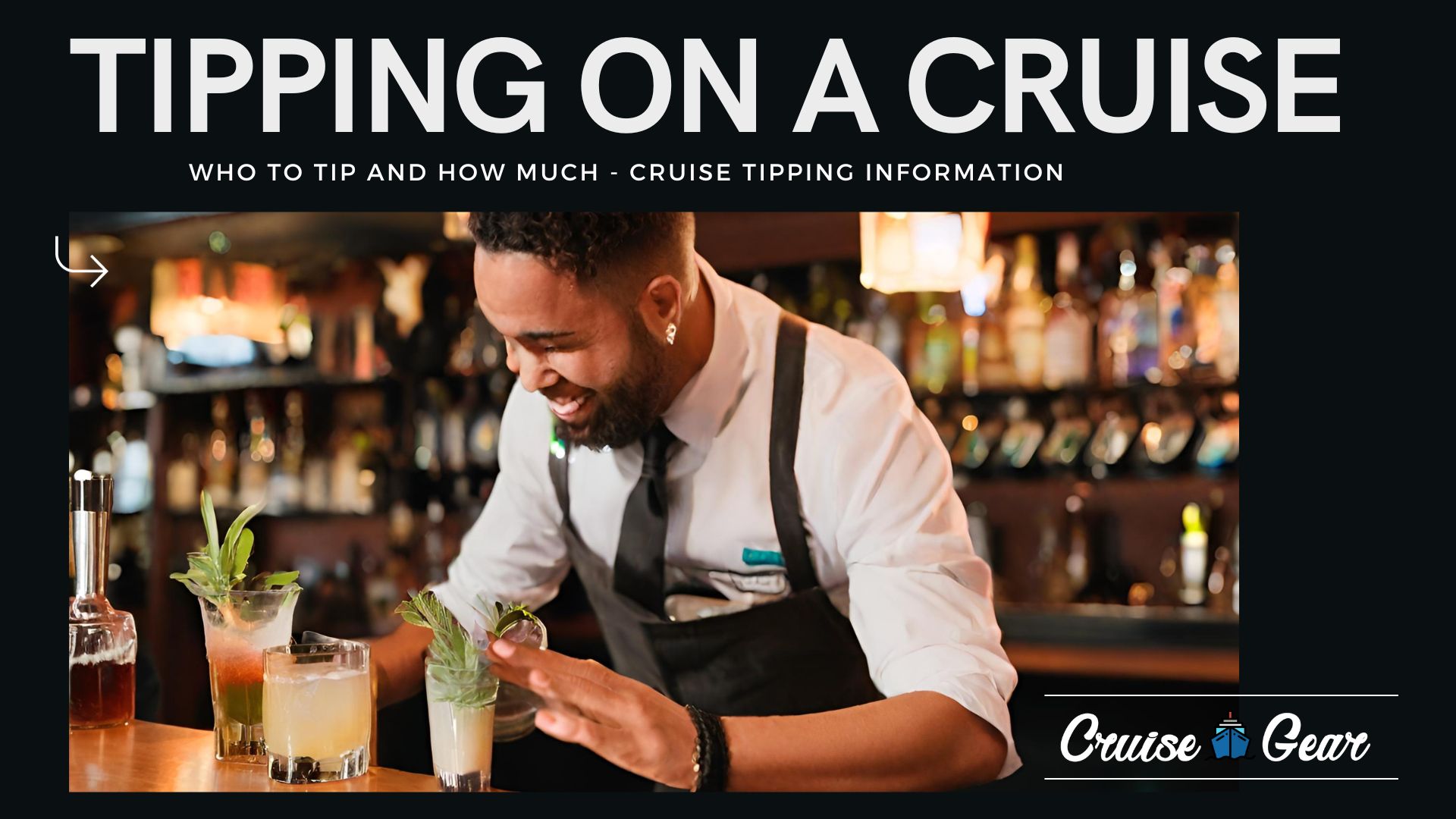 To tip (extra), or not to tip, the dilemma on a cruise
Bring up the topic of tips & tipping on a cruise ship and you'll get a wide variety of recommendations and no shortage of opinions on both ends of the gratuity spectrum. For some people, even the mere mention of how much to tip on a cruise evokes panic and stress. We're here to help out with that a little.
Before we get into tipping etiquette when you go on a cruise vacation, it's important to point out that attitudes on extra tipping are largely cultural and vary greatly. Americans have tipping engrained in their DNA whereas Europeans don't consider tipping a requirement. For Europeans, it is more of a gesture of simple "thanks" no matter how small the amount is.
There is no right or wrong when it comes to tipping extra on a cruise. It's a very individual choice.
The most compelling comment I've heard regarding tipping crew members on a cruise was from a fellow passenger from the UK. She simply stated that everyone's economic situations are different. Someone from the UK who has saved 2 years for a cruise vacation and has paid for gratuities during booking won't necessarily have significant extra resources to continue tipping people and will likely believe the cruise line-imposed gratuities are sufficient. Conversely, an American passenger will normally budget extra money for their cruise to accommodate additional gratuities while on board.
Most, if not all, major cruise lines impose automatic gratuities now. These are in addition to the cruise fare, port taxes, and general taxes. These automatic gratuities or 'service charges' are split, in theory, among all service staff on the ship as well as behind-the-scenes staff. These extra service charges don't come cheap either! For your average cruise, expect to spend $15 per passenger per DAY. For a family of 4 on a seven-day vacation, this adds up to an extra $420 to the vacation cost.
Each cruise line distributes these gratuities differently among front-of-house and back-of-house staff, so it's impossible to really know how much of this mandatory service fee goes to each person you come in contact with every day.
All of this complicates the question of which crew members to tip extra and when it's appropriate to tip on a cruise. So we have put together a quick guide on what we have experienced in 20 years of cruising when it comes to tips for the crew.
If you're a first-time cruiser reading this guide, check out our 20 great tips for first-time cruisers!
On a Cruise, Who to Tip & how much :
Most importantly, when you spend money for anything on most cruises, there is generally an automatic gratuity added to the bill. First and foremost, if you're feeling generous and want to leave an extra tip for a service, don't accidentally double-tip! Inspect your receipt before adding any gratuities. Beyond that, don't feel pressured or obligated for additional tipping. Reserve it for exceptional service if you feel the need.
Should you tip a room steward / cabin attendant?
Dig through Facebook groups and Reddit threads about tipping on a cruise, and how to handle extras for a room steward. It's a hot topic! While most cruise lines have a per-passenger daily gratuity added to the cruise fare, many people assume that is for the steward exclusively. In reality that is a shared gratuity. This leads a lot of people to give additional money to their stewards. I've talked to so many passengers over the years and the consensus is that giving SOMETHING extra is the norm. What that SOMETHING extra amounts to is so subjective. Here's how we do it:
If a steward goes out of their way to introduce themselves at the start of the cruise and makes sure you have a bucket of ice or some other small convenience available immediately, generally on the first day we'll give them $10-$20. While many people will feel like this is 'greasing the palm' of the cabin steward, it's showing appreciation for their proactive attempt at starting the cruise right! Beyond that, if everything is exceptionally clean and we are provided the expected service, mid-cruise we generally contribute another $10-$20 +/- and at the end of the cruise, if the steward has been attentive and performed ABOVE expectations, and maybe makes a towel animal here and there, we'll leave more! Generally, the total adds up to about $50-$75 for a 7-day cruise in addition to the prepaid gratuities.
However, If we enter our cabin with a steward nowhere to be seen and we don't ask for anything above basic service, we'll sometimes leave nothing extra. This will be controversial to many experienced cruisers. So let me put it in perspective.
As a rule, we generally are very clean and tidy up our cabin. On some cruises, we ask for no service for several nights and sometimes never see the steward. I believe we are doing as much or more than financially rewarding them by not asking for anything at all.
Just remember the concept of exceptional. It goes both ways. If your steward is outstanding in what they provide you, they deserve a little extra. If you are an exceptionally messy person and your steward is taking a lot of time sorting out your cabin every day, then they deserve extra. To round this out, if you are difficult as a passenger, they probably deserve a lot more than you're going to give them!
At the end of the day, the choice is always yours on whether or not to tip the cabin steward extra.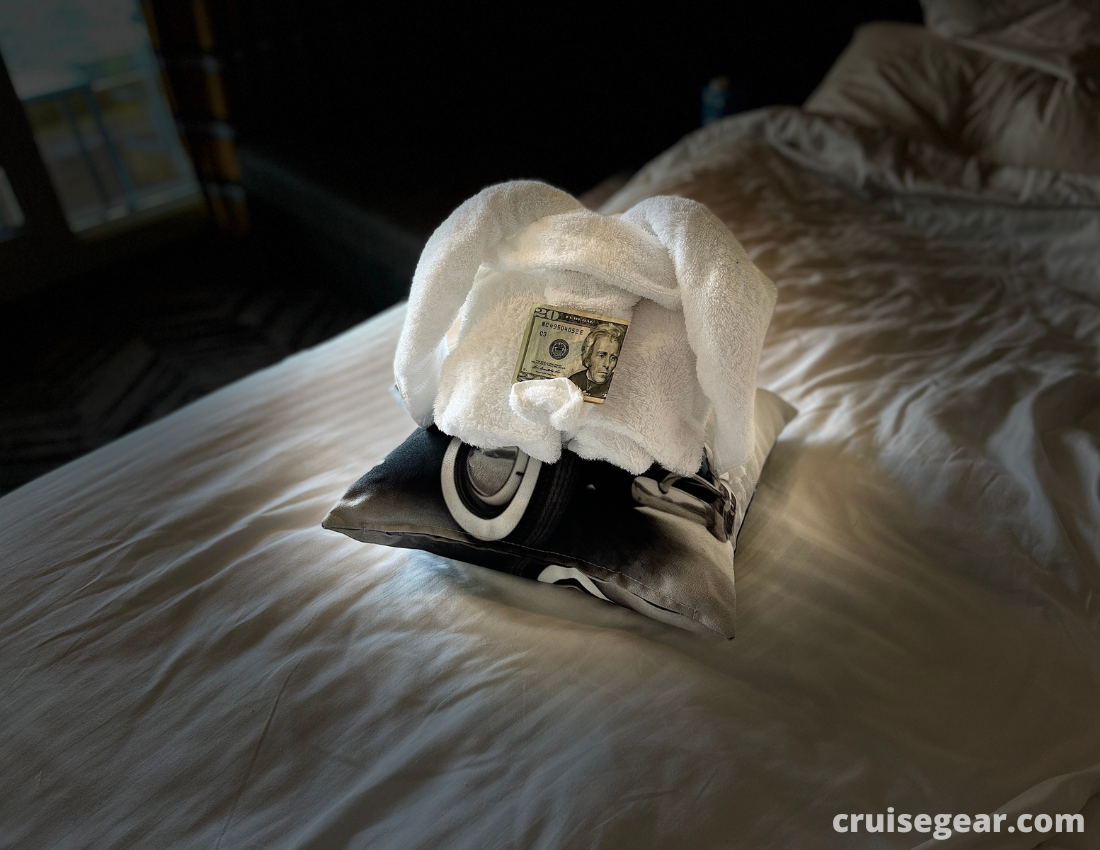 Should you tip bartenders on a cruise?
Tips for cruise ship bartenders are generally more common. Passengers, especially those from the United States equate bar service with tipping. Therefore, it's not uncommon to see bartenders getting tipped frequently on a cruise.
We've been on cruises where we've witnessed the typical tipping behavior, leaving a dollar or two per drink or per round for a bartender. That's definitely mighty generous considering that you're going to be paying an automatic gratuity for that beverage or if you have a beverage package, you've paid substantial gratuities in that package cost.
Here are our thoughts on extra tipping for cruise ship bartenders:
As with other service people working on a cruise ship, those who give exceptional service are those we often tip extra. This includes bartenders. Our standard practice is if we've discovered a specific bar location and staff that really go out of their way to either give prompt service or make drinks to our liking, we usually tip a little extra a few days into the cruise then towards the end. ($10-$20) If the bartender(s) do something special, we'll often leave more. However, if we're on a cruise where we literally just have a beer here and there or a glass of wine on occasion, we're less likely to tip much extra if any at all.
It's worth noting that in general, if you tip a bartender, that tip may be pooled with other bartenders at that bar. It's always worth asking if you intend your tip to go to a specific server or bartender.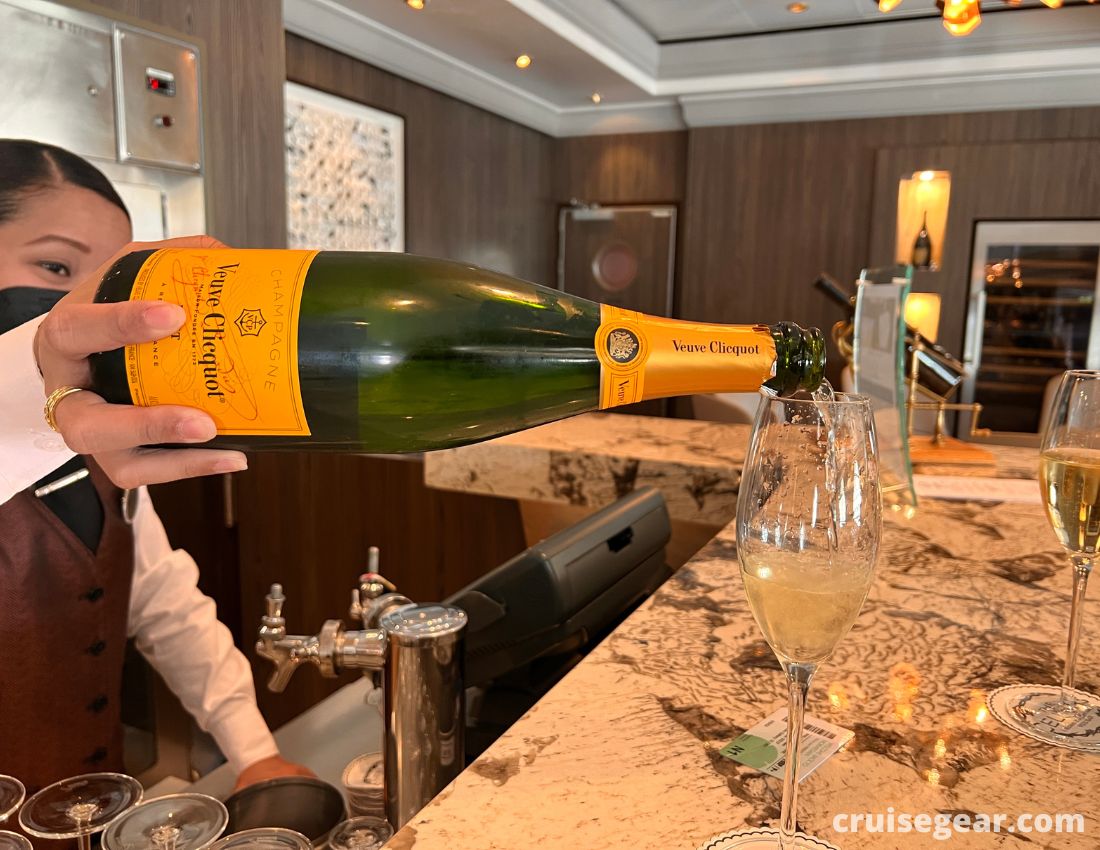 Should you tip the main dining room servers?
The automatic service charges you pay when you book a cruise are divided among many staff members, including the main dining room servers and assistants. Though it's not uncommon to leave extra for a server that has been. your dedicated server for the duration of your cruise vacation. Some people will leave nothing extra while I've witnessed passengers give a server $100+ at the end of a cruise. Again, this to me comes down to service level. I've had a wide variety of service quality over the years and If the server is the same server every night, I'll often leave them around $25 at the end of the cruise IF the service has been really good. When there is an assistant server, I'll usually give them a bit as well. If the service is just average, I'll sometimes leave nothing extra.
This gets even more complicated on cruises where you can choose your own dining time like on Norwegian Cruise Lines with their freestyle dining. You may never encounter the same server twice, so tipping becomes more difficult.
Should you tip in the specialty dining restaurants?
Remember! When you pay for specialty dining on your, even if it's a perk in a package from cruise lines like Norwegian, you're going to be paying a mandatory gratuity when booking. It makes this tipping advice a bit trickier. Knowing we're paying an automatic tip means that the service should be special to consider tipping extra in the specialty dining restaurants on a ship. Many may disagree with this since the experience is supposed to be "elevated" and believe gratuities should better reflect that, but I stick with the personal opinion that the service should be above and beyond my expectations to consider tipping extra. When that happens, I'll generally leave an extra $10 +/- for a specialty dining restaurant tip.
Tipping Musicians & Performers on a Cruise
Generally speaking, the entertainment staff is very well paid and on contract from an outside entertainment company. These talented folks don't rely on tips and don't expect any additional gratuities while performing on board. There are a few occasions, however, when we've observed passengers & guests tipping singers and musicians. This usually can be seen when there is live music in one of the bars. It's not uncommon to see a passenger hand a musician singing solo a few dollars or even buy them a drink (depending on the rules of the cruise line). This is
Other cruise gratuity advice
You are going to encounter hundreds of crew members on a cruise ship, many of whom are paid a living wage and do not ever expect anything extra! These include :
The Cruise Director
Entertainment Staff & Performers
Maintenance Staff
Officers
The Captain
There are other services where people generally give staff a tip and those are:
Room service on a cruise – Remember, it's never required to tip, but usually people that make use of onboard room service leave a small tip of $1-$5 per delivery.
Baggage handlers at embarkation port – It's customary to tip a little to a baggage handler, especially at American ports. On average, $5 is usually sufficient. However, some passengers will insist that $5 per bag is more appropriate. I'm somewhere in the middle on this. I generally tip a minimum of $5 if I have a couple of bags, but on a transatlantic cruise where I might have 5 or 6 bags, I'll definitely tip extra.
Automatic service charges & gratuities by the major cruise lines
Each major cruise line has a slightly different policy and fee for per-day automatic service charges and gratuities.
MSC Cruises Daily Service Charge / Gratuities:
MSC Cruises doesn't call this "gratuities", they call this a hotel service charge. These charges also vary by region. In typical MSC fashion, there's nothing straightforward about their service fees <insert huge eyeroll>
For the Caribbean, South America, and Asia MSC daily gratuities are:
$14.50 per night per adult and $7.25 per night per child (2yrs or older)
12 Euro per night per adult / 6 Euro per night per child (2yrs or older) for European booked clients
European Itineraries, MSC bills and books all gratuities in Euro only:
12 Euro per night per adult
6 euro per night per child
South African cruises have a slightly different daily gratuity amount with MSC:
$10 per adult per night
$5 per child (2 and over) per night
MSC Cruises charges a little more for Grand Voyages depending on the itinerary, it's best to confirm this with them at the time of booking.
What is Royal Caribbean's service & gratuities daily amount?
The Royal Caribbean automatic service gratuity is as follows:
$14.50 USD per person, per day for guests in Junior Suites and below, or
$17.50 USD per person, per day for guests in Grand Suites and above.
Read the full automatic gratuity policy at the Royal Caribbean website.
How much are the required daily gratuities and service charges on Norwegian Cruise Line?
Norwegian has steadily raised their daily service charge per person depending on cabin type.The service fees are as follows:
$20.00 USD per person per day for The Haven and Suites;
$18.00 USD per person per day for Club Balcony Suite;
$16.00 USD per person per day for all other stateroom types
For the complete service charge information with NCL, see the Norwegian Cruise automatic service charge rates & information.
What are the per-day service fees for Carnival Cruises?
Standard Staterooms: $16 USD per person, per day
Suite Staterooms: $18 USD per person, per day
How much is the Celebrity Cruise automatic gratuity?
Celebrity automatically adds gratuities to guests' onboard SeaPass® account, except for guests in Excluded Bookings*, as defined below, in the following amounts:
$17.50USD per person, per day for Inside, Ocean View, and Veranda staterooms
$18.00USD per person, per day for Concierge Class and AquaClass staterooms
$21.00USD per person, per day for guests of The Retreat.
A 20% gratuity will be added to all beverages, mini bar purchases, and beverage packages.
But WAIT! Celebrity also has an all-inclusive program called "All Included rate" (formerly Always Included) where these fees are part of the rate. You'll have an option at booking to go the all, or nearly all-inclusive rate or select a cruise-only booking where the above automatic tips are added.
For a complete service charge policy, visit the Celebrity Website
Still have questions? Here are a few that we hear being asked regularly. If you still have more, please comment and we'll add your tipping questions to this list!
Holland America Line Daily Gratuity Amount:
The cruise line calls this "Crew Appreciation" which is the most appropriate across all cruise lines.
The daily Crew Appreciation charge is $16.00 per guest per day on Holland America for non-suite stateroom guests and $17.50 per guest per day for suite guests. The charges are subject to change without notice.
Holland America Line explains their gratuity policy and how it's adjustable on their website, which makes it feel a little better about being charged extra fees.
Do you have a comment?
Did we miss something? Have you had a different experience? Did we get it wrong?
Recently we were asked this by a fellow passenger – so let's elaborate :
For the Room Steward, you give "about $50-$75 for a 7-day cruise in addition to the prepaid gratuities" for services above expectations. This converts to a daily range of about $7-$11, helpful for shorter / longer cruise calculations.

For MDR waiters, you often leave ~$25 at the end of the cruise for really good service. But you don't indicate the length of cruise you are referring to. Is that figure also for a 7-day cruise, which would convert to about $3.60 per day?

CR Christian
As for the question, I use this as a guideline regardless of the cruise length actually. With gratuities already being added to the cruise, and they are ever-increasing, I've become more selective on how I choose to tip extra. If our room steward goes out of their way for anything, I'll tip extra… and if they frequently go out of their way, I'll possibly leave an extra $75 regardless of the cruise length.
For the waiters, I use the same rule of thumb. If I am particularly needy during a trip, I'll leave extra. But I often dine at the specialty restaurants that have gratuity already added, so it's not unusual for me to only visit the main dining room 2-3 times on a 7-10 day cruise.
This is all discretionary, don't feel compelled to tip if you don't feel like it, it's up to you as the passenger. The topic is frequently discussed and devolves into a heated debate, just remember it's your money and your experience, tip or not, do what's best for you!