Decorating Cruise Doors: A Complete Guide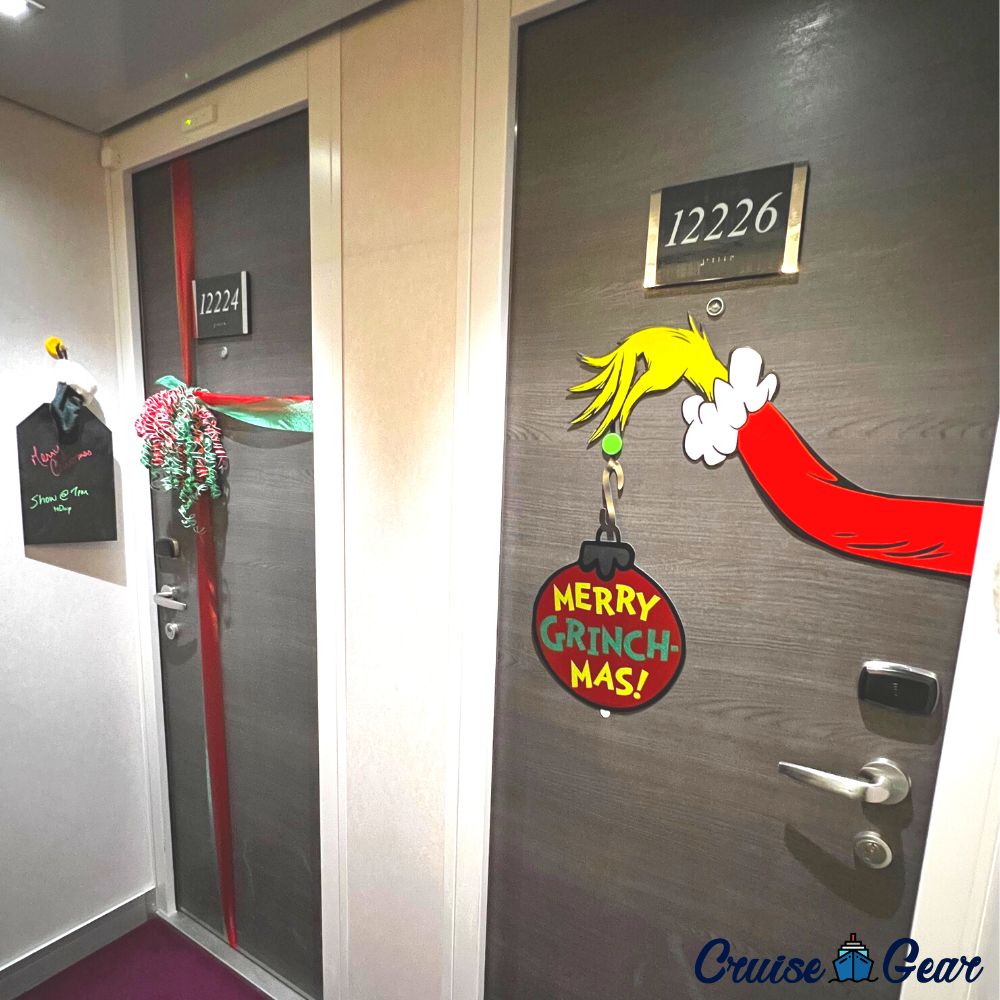 Ideas & Rules – Everything you need to know about cruise ship door decorations
If you've been on a cruise lately, you'll likely have seen a variety of magnets, signs, or even full banners across stateroom doors. Cruise door decorations are a trend found on almost all family-friendly cruise lines like Carnival, Royal Caribbean, Princess, and of course Disney Cruises.
Why decorate your stateroom door + a few ideas
There are so many reasons people might choose to add a little personalization on their cabin door during a cruise vacation! Sometimes it's as simple as quickly identifying which cabin is yours. Elaborate decorations might be used to celebrate a life event or holiday.
These are a few common reasons people participate in door decorating on a cruise ship:
It helps you to recognize your room/cabin
With the size of ships now, the chances of getting lost in finding your stateroom are pretty good! People use cruise cabin door decorations to mark their cabin and quickly identify it. Then there are those who tend to indulge too much and after an evening of breaking even on the drink package, a door magnet or small decoration will help you know when you've arrived — at the right cabin!
Stateroom Door decorations To celebrate a special occasion
Celebrate a birthday, anniversary, retirement, or any other special occasion with a fun door decoration on your cruise cabin. Walk through the halls of most cruise ships and you'll see people of all ages being announced on their door!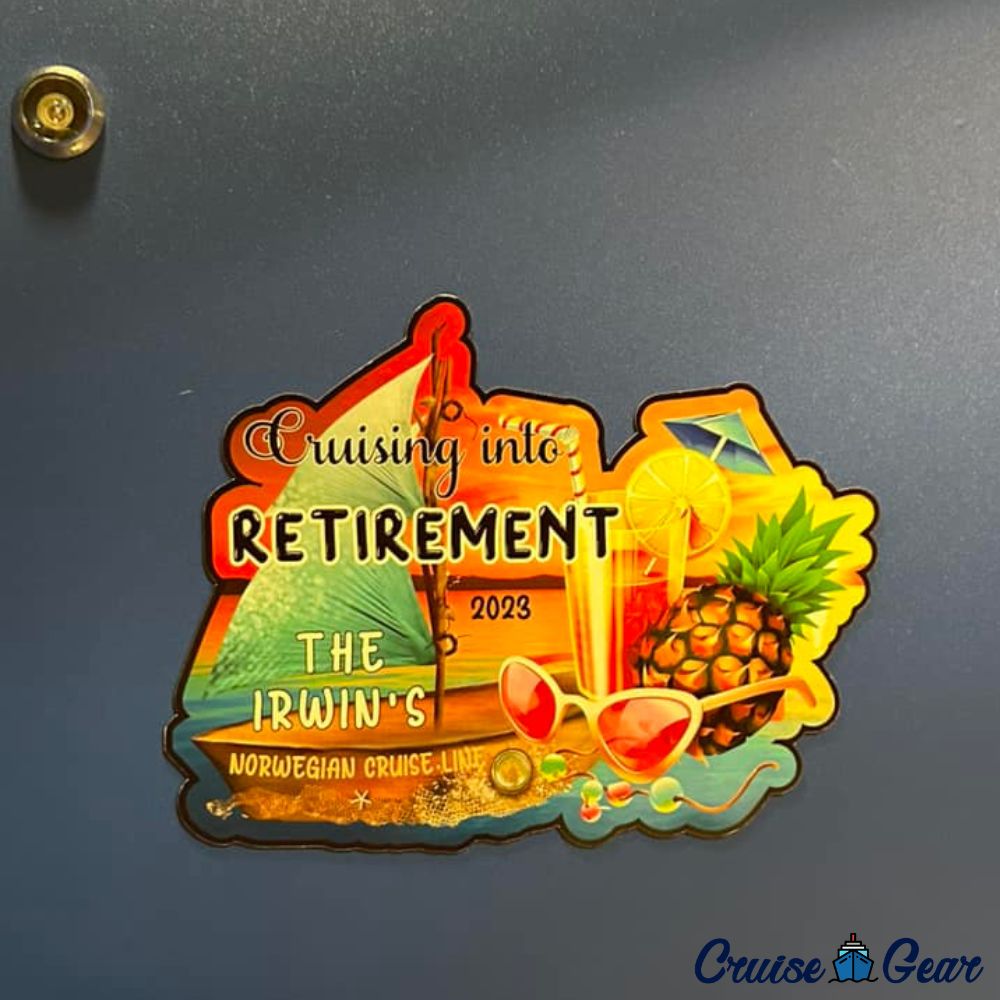 Cruise Door Decorations to Celebrate a holiday
Christmas is a great time to take a cruise and an even better time to decorate your cabin door for the festive season! On a recent MSC Cruise on the MSC Meraviglia, we couldn't believe the number of door decorations we saw with so many creative takes on the holidays! It was great fun!. 
But don't limit the door decorating to Christmas, we've seen both large and small decor for Valentines Day, easter, and especially Halloween.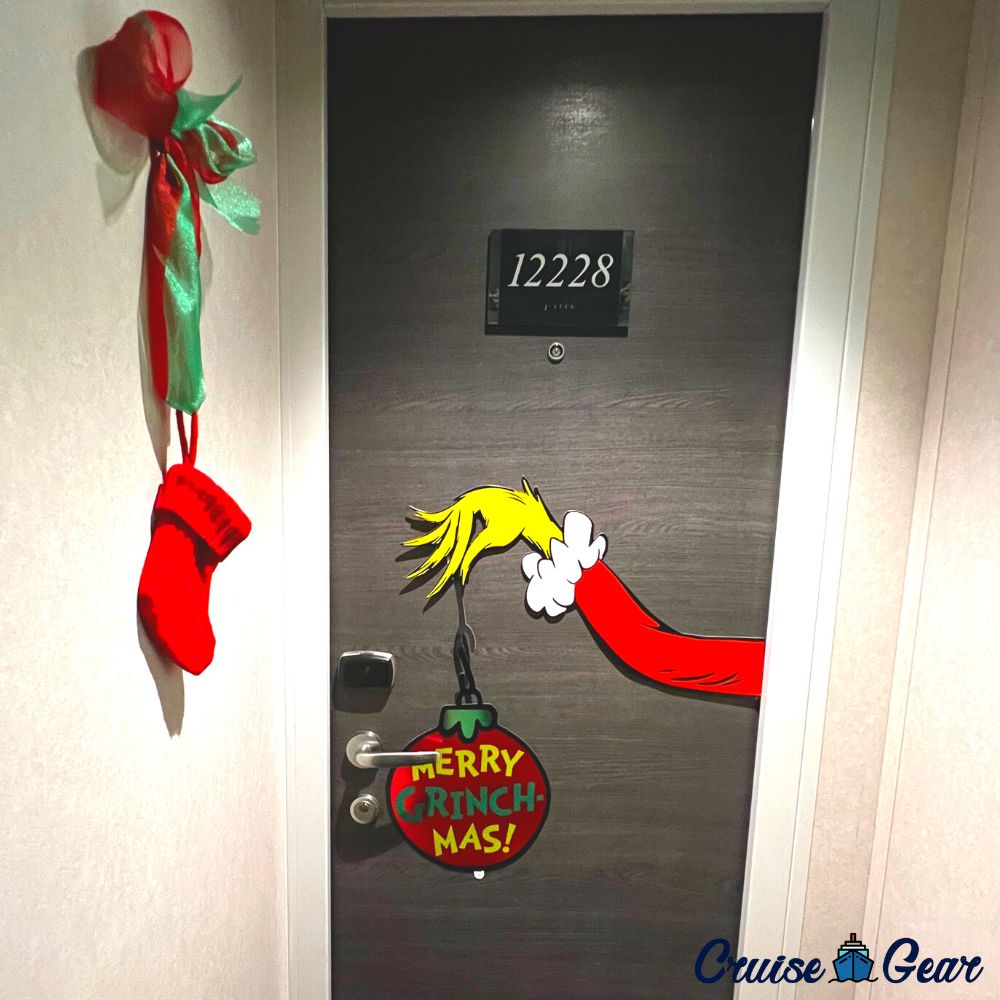 You can leave messages on your cabin door
Fun + Practical, use a decorative magnet wipe board and announce to your travel mates where you'll be. Want even more fun and live on the edge a little? Leave a dry-erase marker tied to the board and see other passengers get creative with your message board. Be warned, this is risky! 🙂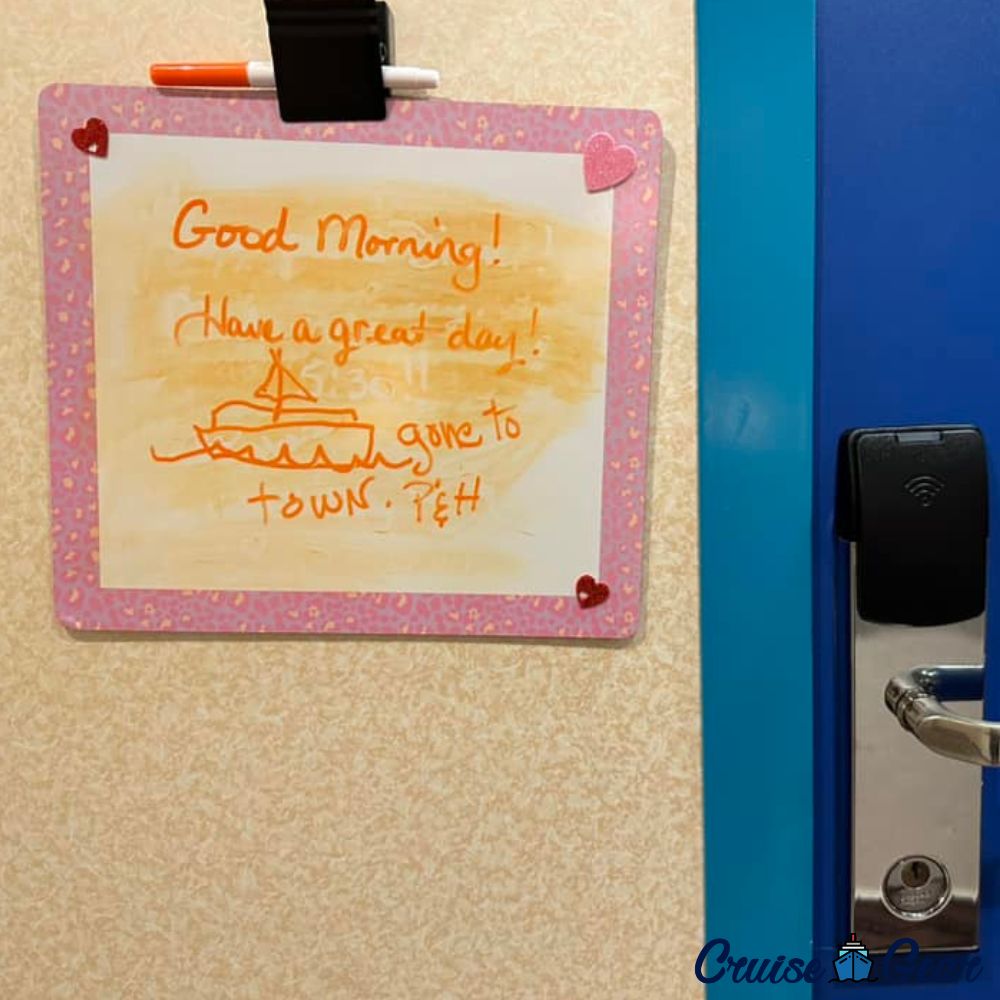 Meet like-minded travelers
Do you love beer? Maybe you're loyal to a cruise brand? Rainbow flags and pink triangles, anyone? Or… are pineapples your thing ??? (if you know you know). Cruise door decorations are a good way to express yourself!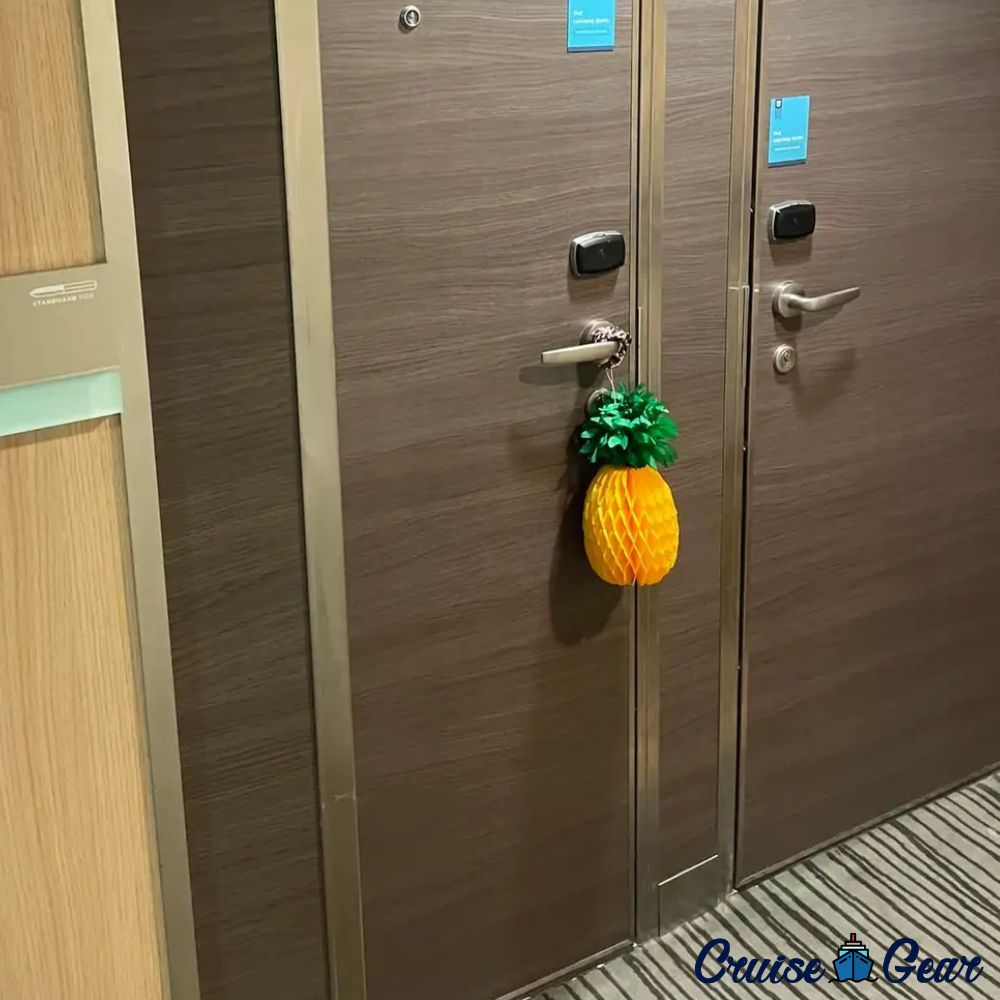 Cruise Ship Door Decoration Ideas
Cruise Door Magnets and Banners
The easiest way to add a little fun to your cruise cabin door is simply getting magnets you love. There are magnets for everything available on Amazon and Etsy, or even design your own and have them made! The ideas are endless. Additionally, this is the safest way to go when trying to adhere to cruise policies about flame-retardant materials.
Other passengers go all out with banners and foil letters that can be adhered with command strips or even double-sided magnets.
See a few great ideas on Pinterest for decorating your cabin door.
DIY & Personalized Cruise door decorations
Don't feel like you're stuck with what's available in big box stores or online. If you're creative, make your own door decorations! The most popular method is printing on magnetic material which is available at most craft stores or online.
Avery Printable Magnet Sheets, 8.5" x 11", Inkjet Printer, 2 Packs, 10 White Magnetic Sheets Total (5814)
9 new from $25.80
Free shipping
as of November 30, 2023 10:29 am
Where to buy cruise door decorations
There are so many places to buy cruise cabin decorations including Amazon, Etsy, and specialty shops. But don't feel like you're limited to buying the ideal door decor, make your own! In fact, seeing the personalized nature of door decorations is what makes them special.
Some of our favorite cruise door magnets from Amazon:
Last updated on November 30, 2023 10:29 am
Don't forget to check out Etsy for some great ideas on decorating your stateroom door for your next cruise!
Can You Decorate Your Stateroom Door on All Cruise Lines?
While some cruise lines encourage decorating and personalizing your cabin door, others have decided to rule the practice out. Norwegian Cruise Line & Virgin Voyages explicitly prohibit door decorations (though some people still do it).
Cruise line rules about decorating cabin doors by each cruise line
Some cruise lines promote door decorating fun and sell decorations to guests, however, there are some important rules to decorating your door! Here's a list of rules for each cruise line.
Can you decorate a cabin or stateroom door on Disney Cruise Line?
Yes, you can! Decorating a stateroom door on a Disney Cruise is a great family activity as well as a great roll call or group cruise activity!
Disney Cruise Line door decoration rules
You may not affix items to your stateroom doors using tape or any adhesive, including removable gel adhesives or command strips. Over-the-door hanging organizers are prohibited. Light bulb strings are not permitted.
The recommended door decorations for Disney Cruises are magnetic only… but it's important to know that not all doors are magnetic. Concierge staterooms on the Disney Dream and Disney Fantasy have wooden doors.
Can you decorate a cabin door on Carnival Cruise Line?
Yes! you can decorate your stateroom door, but there are rules about what's allowed and what's not.
Carnival cruise door decoration rules
Carnival cruise line has put out the most extensive rules about decorating your cabin door. Some people may feel like these rules are too restrictive, but the fact that Carnival actually embraces the concept as well as they do, it's no surprise there are rules.
Rules are updated on occasion and it's good to read the Carnival website about decorating your stateroom door and stateroom here.
This is what Carnival allows, and doesn't allow for cruise door decorations:
All decorations must be fire retardant from the factory (not sprayed with fire retardant material after the fact).
Only decorations on the actual door, not in the hall or on the frames & walls.
Magnets and command strips only – no tape.
Nothing is allowed on the balconies (which is no surprise)
Nothing can be hung to restrict airflow or lights.
Most importantly – what I see violated sometimes, is the fact people hang string lights. This is a no-no. Not even battery-powered fairy lights are allowed.
When in doubt, Carnival Cruises sells door decorations directly, but here are a few tips on Carnival Cruise Line door decorations.
Can you decorate your cruise cabin door on Princess Cruises?
Princess is not necessarily the first cruise line that would come to mind to embrace creative door decor as the clientele trends older and there are fewer children (normally). There are no rules against decorating your cabin door on a Princess Cruise, but following the general guidelines of no adhesives and using items that are fire-rated will keep you from getting in trouble with the cruise line.
Generally speaking, most passengers on Princess Cruises, should they do a door decoration, it's usually a simple magnet to help identify a cabin or a small magnetic celebration door sign. I've yet to see elaborate door decor on a Princess ship the way you might on a Disney ship.
Can you decorate your door on Royal Caribbean?
Following basically the same guidelines set out by Carnival, RCCL allows door decorations as long as they're not hazardous or stuck to the door with tape or adhesives.
Norwegian Cruise Line door decoration rules
Stateroom stewards have been instructed to remove all decorations and place them inside the room. A real bummer, right?
The reality is, while NCL published a policy against cruise decorations in 2019, there are still plenty of people who put magnets on their doors and they go 'unnoticed'. Much more than magnets, however, will likely get the decorations removed. Just know that it's officially against NCL rules to decorate a door, but it seems that the cabin stewards have some discretion.
The below photo was from a Norwegian ship. So while they have rules, how they are applied or adhered to will vary. Just be prepared to have your treasures removed since it's the official policy on NCL.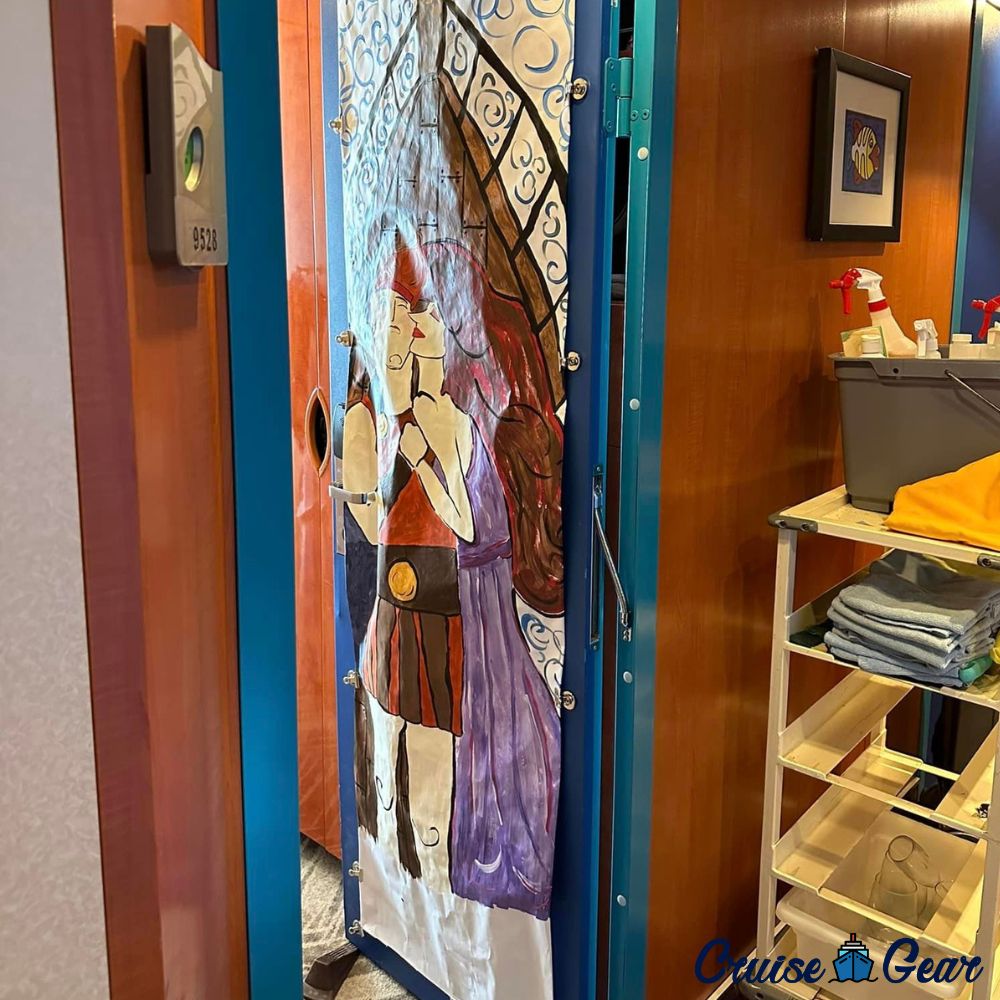 Can you decorate your cabin door on Virgin Voyages?
If you ask around about door decorating on Virgin Voyages, you'll find that most people don't participate and some travel agents have even said it's against Virgin policy (we can't find it in writing, though we've tried to confirm). On a couple of Virgin Voyages cruises, we saw only 2 doors that had anything on them and they were simple magnets. If in doubt, contact Virgin directly, just know it's not a common practice with this cruise brand.
Do you decorate your cabin door?
Let us know what you think of cruise cabin door decorations.