Transatlantic Cruises – Everything You Need to Know & What to Expect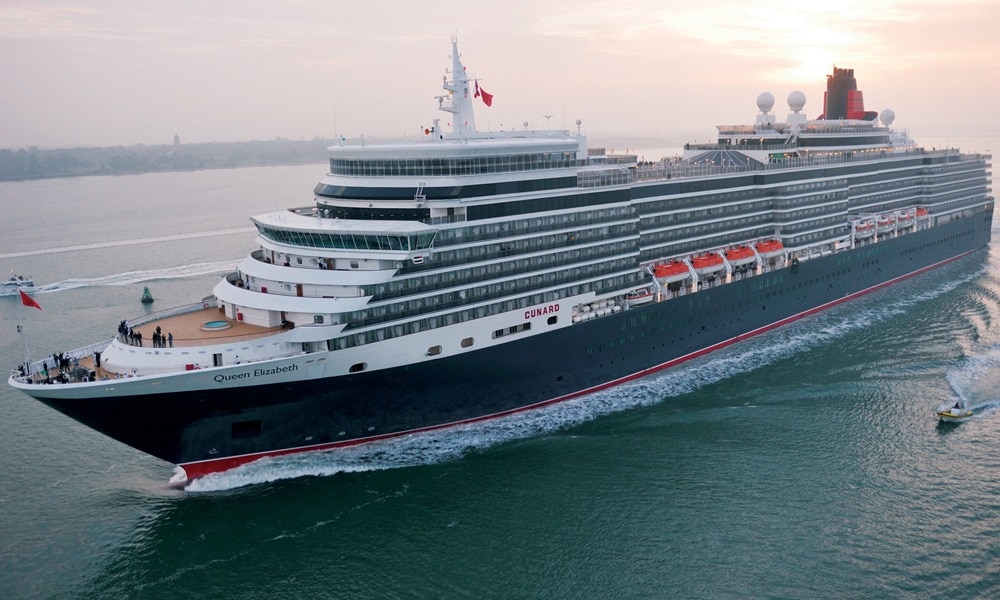 What to expect on a transatlantic cruise and repositioning cruises
Transatlantic and repositioning cruises are some of our favorites because not only do you get to a destination without flying, you get to experience a cruise with everything a ship has to offer.
One of our favorite things about the transatlantic crossing is being able to really experience a cruise ship and learning about what is onboard and things that are sometimes missed with an itinerary filled with a lot of port days and excursions. Transatlantic cruises also generate many questions from would-be travelers and first-time cruise passengers.
What to expect on a Transatlantic Cruise will vary greatly by ship and cruise line.
If you book a voyage with Cunard for one of their regularly scheduled transatlantic voyages, you'll be treated to a cruise full of fine dining, ballroom dancing, enrichment programs, and lectures. These are cruises with purpose, to transport passengers between the old world (Europe) and the New World (America) – just like the 'good old days'. The voyage is opulent and everything you'd expect from a luxury cruise.
Other transatlantic cruises are for the purpose of relocating a ship to a better location for a different season of regular cruises.
On these types of cruises, you can expect a ship that sails with fewer passengers and is arguably more 'adult' oriented. These cruises are often incredibly affordable as it is in the cruise lines' best interest to generate SOME revenue to cover the cost of the repositioning. Additionally, it's not uncommon for relatively major maintenance to occur on these cruises, so some areas may be closed and facilities may be limited. Usually, these closures are well known and announced by the cruise line prior to departure, but on occasion, there is a surprise of a major feature being closed during a repositioning such as a pool or whole sundeck.
The difference between a repositioning cruise and a transatlantic cruise
Simply put, a transatlantic cruise can be a repositioning cruise, but a repositioning cruise isn't necessarily a transatlantic cruise. Cruise lines might reposition a ship to Australia from America, from the east or west coast to the other side of the country via the Panama Canal or even reposition a ship from the United States to Asia. But many repositioning cruises are transatlantic voyages where cruise lines move their ships between the Caribbean and the Mediterranean for the season.
How long do transatlantic cruises take?
So How long does it take a cruise ship to cross the Atlantic Ocean? Transatlantic cruises can last anywhere from one to several weeks, depending on the specific route and the number of stops along the way. Direct transatlantic voyages offered by Cunard on the Queen Mary 2 are generally 7 days and repositioning cruises on larger ships generally take about 10-14 days often longer, as they include stops like Bermuda or the Azores.
What is the best month for a transatlantic cruise?
Generally, Mid-April to late June is the calmest time with the best weather and relatively calm seas for a transatlantic cruise. However, we've had incredibly lovely weather crossing in November from Barcelona to Miami.
What time of year is the Atlantic Ocean the roughest?
The winter months are known to have unpredictable weather in the Atlantic making northerly crossings rougher. While more southern routes are less affected. However, a stormy season in the summer may make a southern transatlantic route more choppy.
Can you bring a dog on a transatlantic cruise?
Surprisingly enough, this is a very common question! There is ONE way to get your pooch (or kitty) across the pond and it's on the Queen Mary 2! Other ships only allow service animals, but the QM2 has full kennels and kennel masters for quite a few pets. They're not allowed to leave the designated space (go into passenger cabins), however, the kennels are so well-appointed that they'll be just fine. It's not like putting your dog in an airplane, they have space to run around during the day, special diets prepared on request, and even get a photoshoot with you and the staff. This is how we discovered the Queen Mary 2, to begin with. It was during a relocation to England from the USA and the dog wasn't going to fly commercial, nope! Only a first-class cruise ship for our beloved beagle 🙂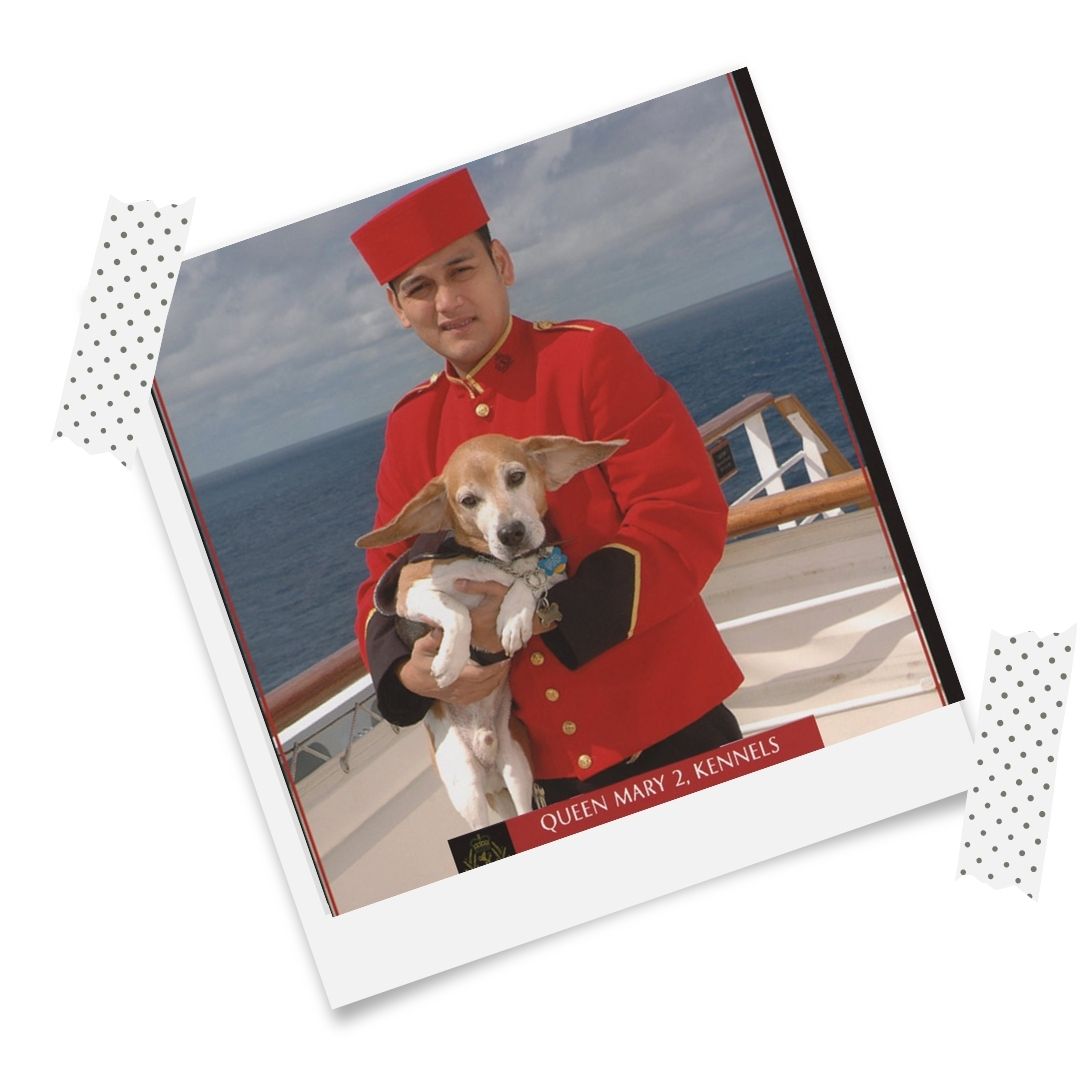 Where is the best location for a cabin for a transatlantic cruise?
One of the most common questions for a first-time cruiser or first-time transatlantic passenger is how to select a cabin for the voyage. There is a lot of misinformation about the transatlantic experience from the rocking boat to the huge waves and danger associated with a journey totally at sea.
Of course, cabin selection on ANY cruise is personal preference but we have a few recommendations based on 10 transatlantic cruises we've been on.
First, know the sides and areas of the ship. PORT and STARBOARD never change and are unambiguous details used for orientation instead of left and right because traveling could confuse such simple directions.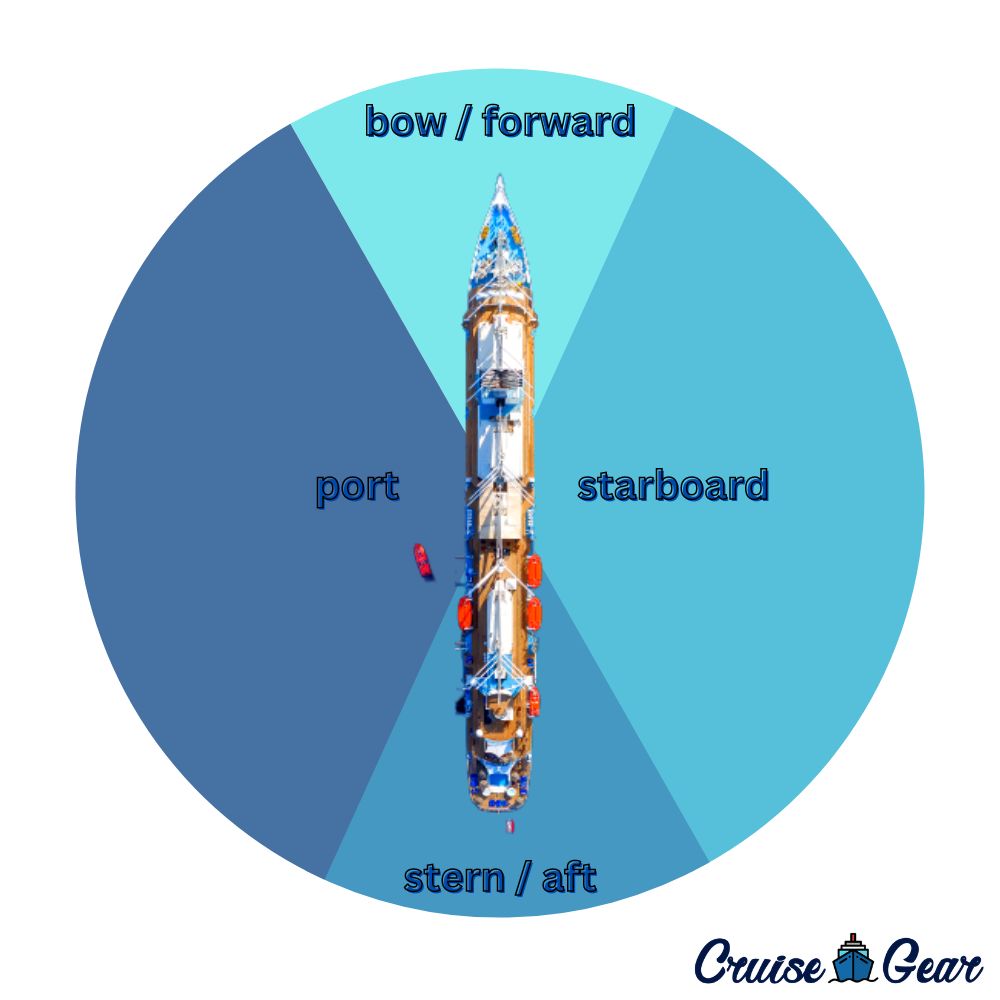 Do you pick port or starboard on your transatlantic cruise?
If you're leaving Europe headed to America, choose the port side (left). From America to Europe, choose Starboard (right). This is most important if you have a balcony cabin.
Why you might ask?
In the open ocean, there can be brisk winds that usually flow from the north to the south. So if you think about your cabin facing the south at all times, the ship essentially breaks the wind coming from the north. If you happen to be in a cabin facing the north, you are likely to get more wind and be able to use your cabin balcony less frequently. Additionally, you'll get more light during the day by following this general rule. This is just a rule of thumb. A cabin choice is very personal, and people like different things.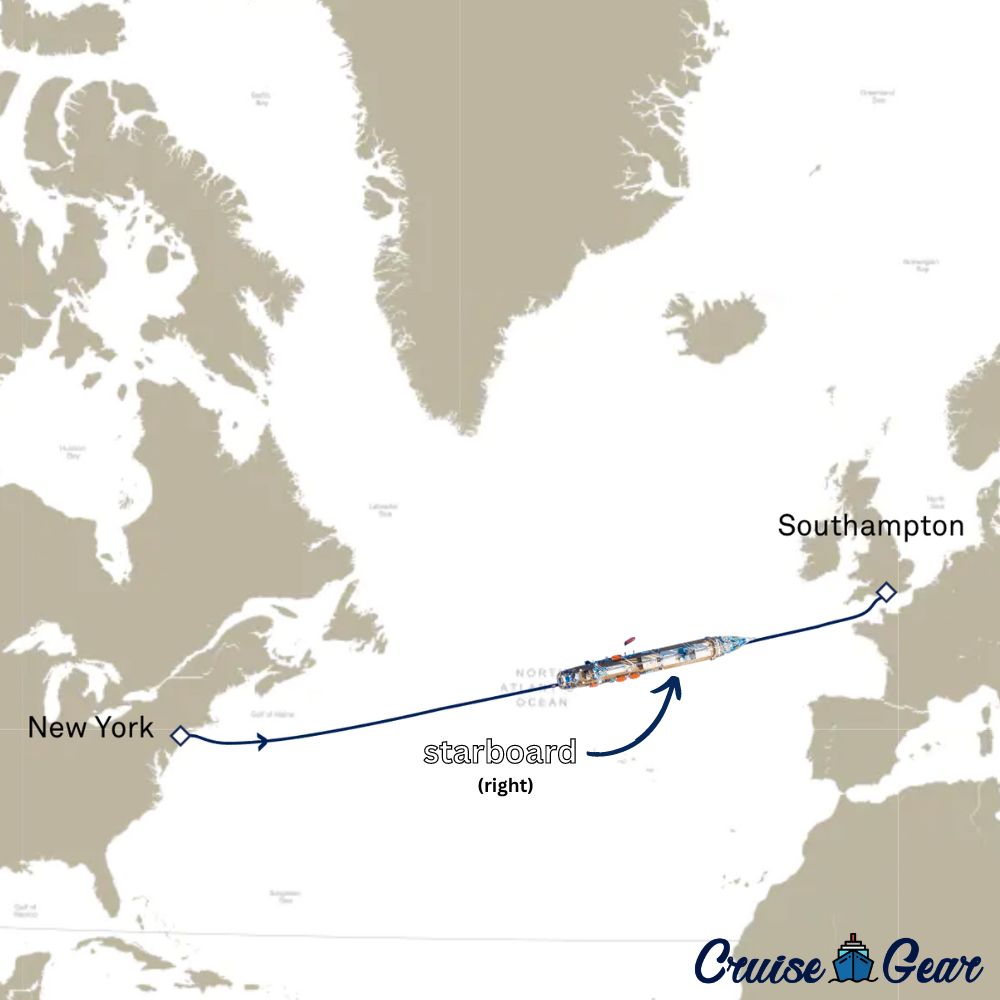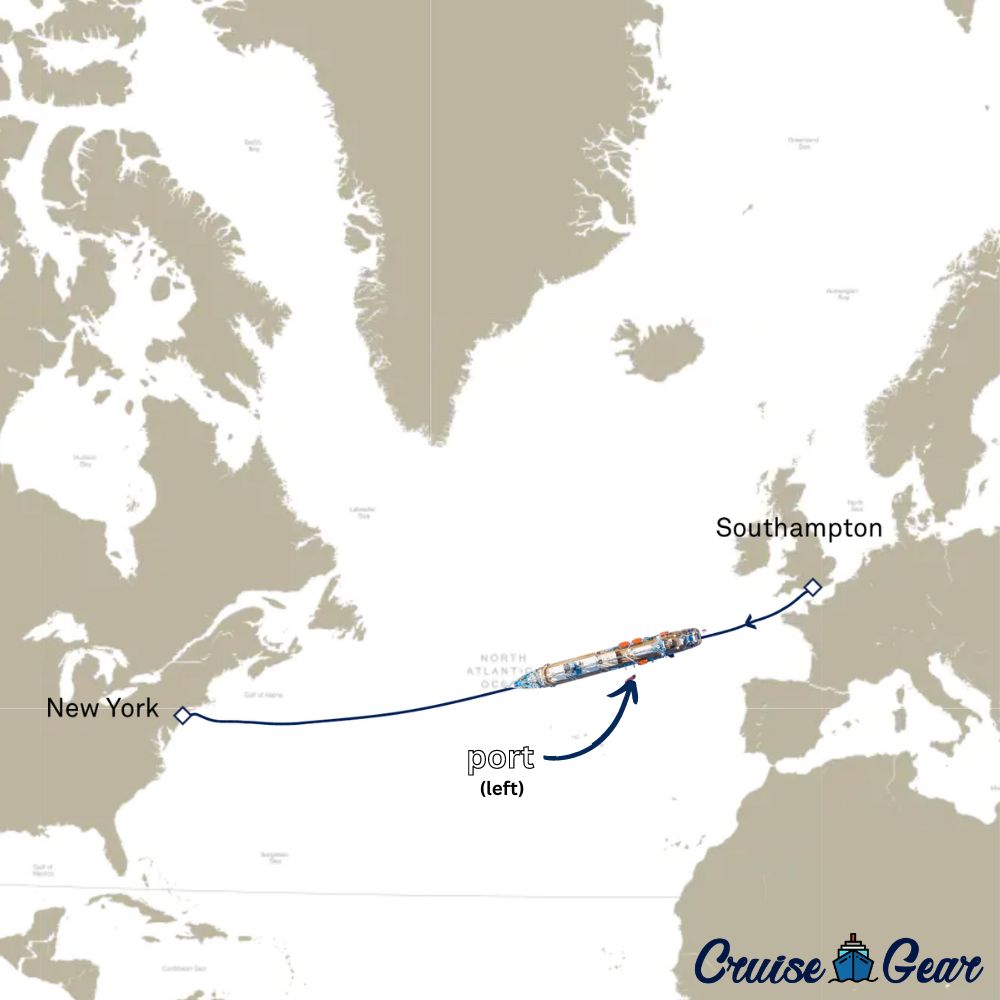 Which deck to choose during cabin selection on a transatlantic cruise?
Again, this is a personal preference – but a few pointers are as follows:
Unlike residential living, being higher up is not necessarily best. If you end up on a transatlantic crossing during lousy weather, the higher up you are the more you will feel the ship's movement. Some people LOVE this sensation, and for others, it makes them horribly seasick. We usually recommend a lower deck during a transatlantic cruise, especially for first-time cruisers.
Front, Center, or Rear cabin on a ship for a transatlantic cruise?
Better yet, get the terminology correct. The bow is at the front of the ship when it is underway and the stern is at the rear of the ship.
For a transatlantic cruise, we generally recommend midship, or as center as possible. Again, during turbulent weather, if you are very far to the front (bow) or to the rear (stern) you will likely feel more motion.
In summary, our preference for cabin selection on a transatlantic cruise is:
Midship, low deck port (from Europe to America), or starboard (from America to Europe).
Here is a fun bit of history and legend about cabin selections :
Did you know, legend has it the word "posh" was an abbreviation for "Port Out Starboard Home" – referring to the more desirable side of a ship to have a cabin on during long voyages between England and India? The more desirable cabins had more light during the voyage and were considered premium cabins. Passengers would often have POSH printed on their travel documents. Read more about the debate on the origin of POSH here at Merriam-Webster
Frequently Asked Questions (FAQ) about transatlantic cruises & repositioning cruises