Virgin Voyages Drink Prices & Drink Menus. A Guide to the Bars & Lounges on Board.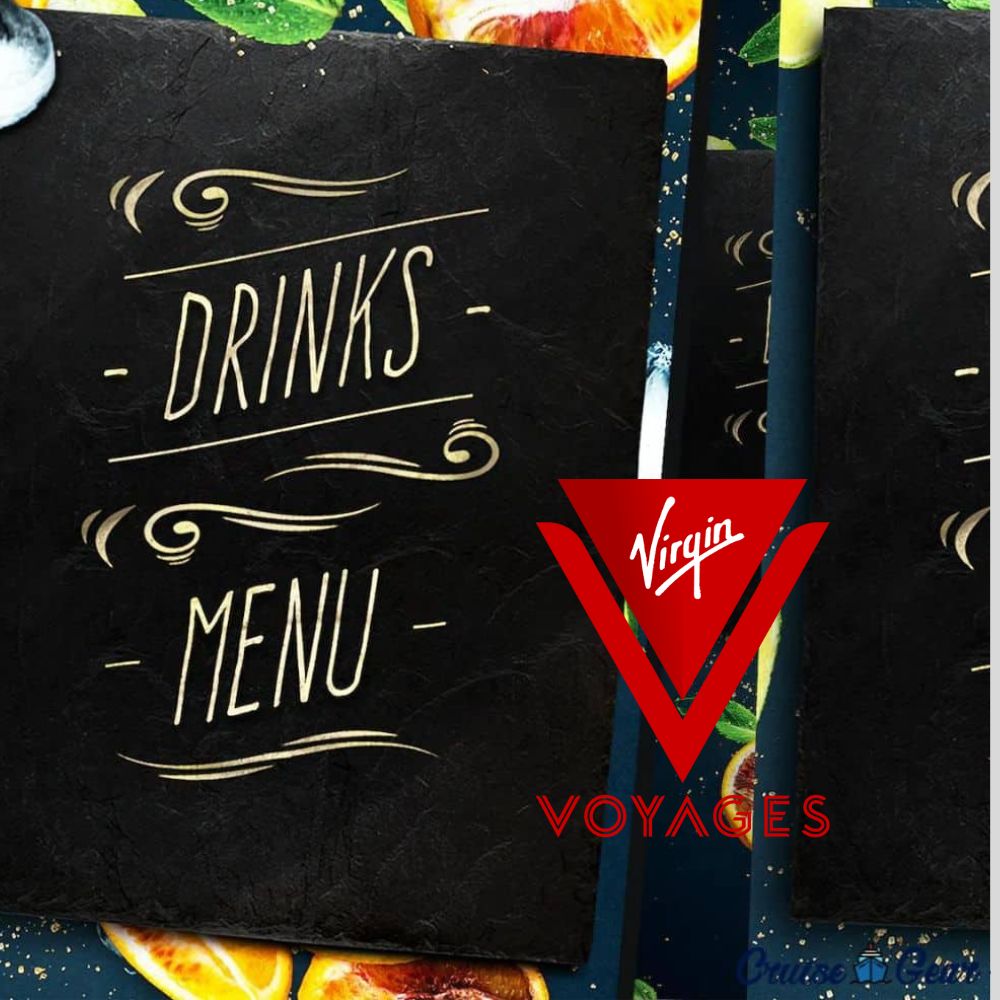 Virgin Voyages is nearly "all-inclusive" barring their alcoholic beverages and specialty coffees. Some of the most common questions that come up when people ask about Virgin Voyages are about their drink prices, packages, and drink menus. So let's get to the details and answer some of those questions.
Common questions about Virgin Voyages drink prices and menus
Are drinks included on Virgin Voyages?
Soda, water, tea, coffee, and juices from the fountain are included, however alcoholic beverages and specialty coffees are an additional cost.
How Much Are Drinks & Cocktails on Virgin Voyages' Cruises?
Surprisingly, they're not inflated and are pretty reasonable for a cruise. Unlike other cruise lines, Virgin Voyages has priced its beverages similarly to land-based resorts and hotels.
Does Virgin Voyages have a drink package?
Not really, but they do have what they refer to as a "bar tab" where you prepay for drinks and they often bonus extra funds as a promotion. Read more about Virgin Voyages Drink Packages here.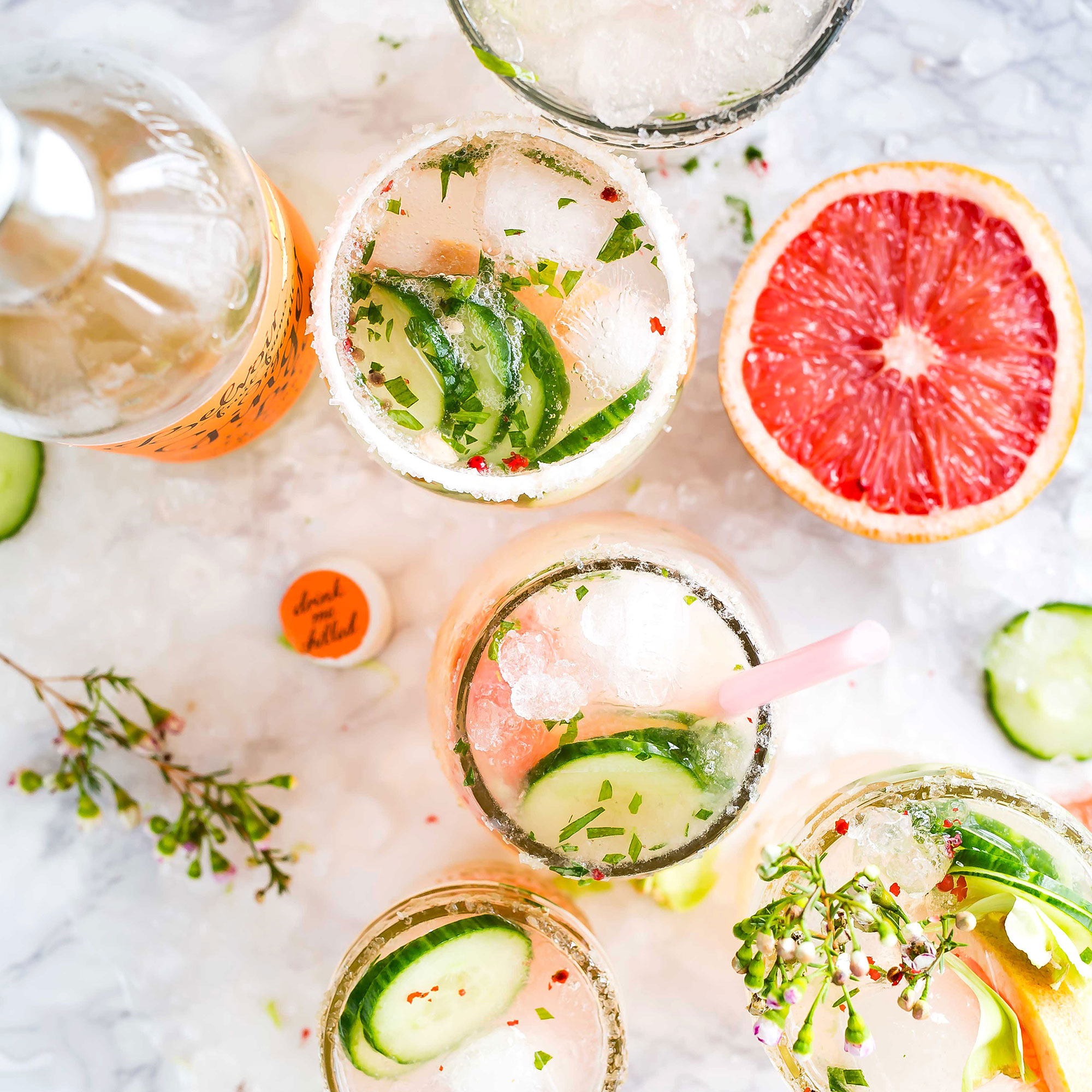 Bar Menus:
The Manor Drink Menu & Prices
For those that aren't familiar with The Manor, it is the amazing "night club" and entertainment spot on all Virgin Voyages ships. With a swanky and elegant bar with a seating area and bottle service, it replicates some of the nicest land-based clubs & entertainment venues.
Here's what Virgin Voyages says about The Manor:
The two-story, three bar space, named after Richard's first recording studio, is inspired by a classic theatrical zeitgeist layered with a moody and sexy '70s, punk vibe. Ground breaking shows will kick the night off before it transitions into a mind-blowing, goodbye-early-morning-workout nightclub.

Virgin Voyages
Sip Lounge Menu & Drink Prices
Sip Lounge is the quiet, upscale bar area designated as a "champagne & caviar" bar, but it's more than that. You can get a full range of cocktails, wine, and champagne while relaxing in the comfy velvet lounges and people-watch for hours. Afternoon tea is also served in this lounge area.
Here's what Virgin Voyages says about Sip Lounge:
Our curated champagne lounge, SIP, was designed to satisfy all your champagne and caviar needs. From an afternoon tea menu to an effervescent nightcap, this is the spot to come to whenever you're craving a twist on a classic cocktail or a sparkly refresher in the form of a glass of bubbles.

Virgin Voyages
On The Rocks Bar Menu
On The Rocks is the central meeting point of any Virgin Voyage ship where everyone gathers to experience a wide range of spirits, wines, and champagne. The bar is a blend of chic lounge mixed with entertainment space where live music and trivia can be found at various points throughout the day.
What Virgin Voyages says about On The Rocks
Shake it, stir, pour it, and procure it

It's the can't-miss cocktail bar on board. Our mixology bar on board focuses on aged spirits poured over ice (hence the name), and is the perfect place to make bold choices…. with a twist. Or really shake it up (wink), and challenge our mixologists to make you something extra special. Forget the menu and tell the bartender what flavors you lik then watch as a unique masterpiece is created before your very eyes. Kick-start the evening or round out the night with a cocktail that's perfectly crafted for you.

Virgin Voyages
The Dock Bar & Dock House
The indoor/outdoor bar and lounge concept at the rear of the ship has multiple bars as well as table service and small bites with a Mediterranean flair. Great for lounging and overlooking the wake of the ship while sipping on various wines & special cocktails offered daily.
Draught House Beer Prices & Menu
The Draught House is really just a bar off to the side with about 10 beer taps and other beers by the can / bottle. It's unfortunate that this seems like an afterthought on the Virgin ships as there is no real vibe or apparent purpose. A few simple chairs and tables in a space with mostly empty beer taps is not very inviting or interesting. This was one of our biggest disappointments on the entire ship.
Here's what Virgin says about the Draught House
Beauty is in the eye of the beer holder at the Draught Haus. A selective beer drinker's go-to, Draught Haus features a variety of beers on tap, a wide range of artisanal bottles, boiler makers and shot cocktails. This airy beach bar meets stylish craft beer house provides plenty of places to sit back and sip, or just grab a growler for those 'bring your brew with you' kind of days. Chill, casual but discerning beer connoisseur approved

You can always stop by for
breakfast where we serve our "All Day
Breakfast" shots.

Virgin Voyages