Cruise Shareholder Benefits – Save Money on Your Next Cruise Booking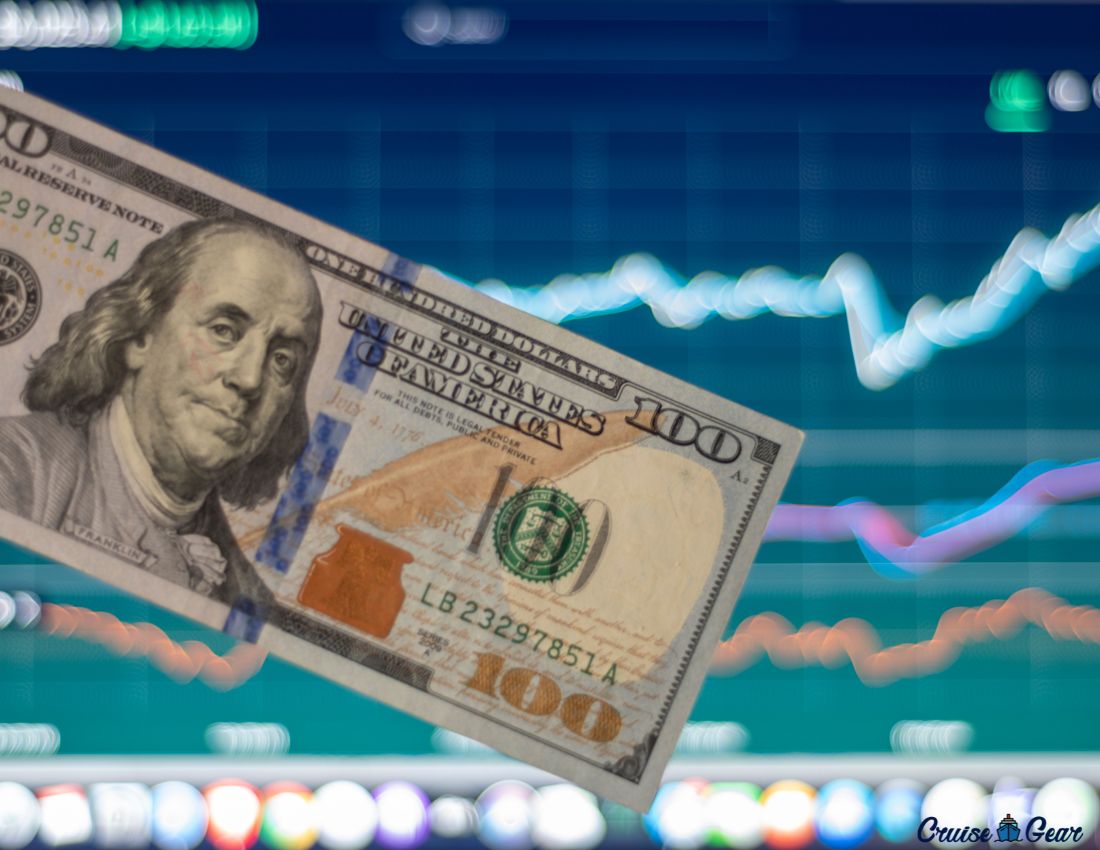 It's a surprisingly little-known way to save on your next cruise, but did you know that by being a shareholder of these cruise lines entitles you to a discount or on-board credit?
By owning as few as 100 shares of a cruise line stock, you can get perks with every cruise booking! (with a few exceptions)
How do you get the cruise line shareholder benefits?
The method varies a little between cruise companies, but generally, the requirement is at least 100 shares of stock owned directly. So for example, you cannot own stock in a fund and still qualify, it must be 100+ stock shares owned individually.
Each cruise line asks that you submit proof of ownership of the 100+ shares, by email. This can be in the form of copies of brokerage statements.
The cruise passenger details must match the brokerage statements exactly in order to receive the cruise shareholder benefits.
It's worth noting that the benefits are generally applied PER CABIN, so only one shareholder will be recognized per booking per cabin and the onboard credit is shared among the people in the cabin.
Norwegian Cruise Line Shareholder Benefits
Are you an owner of at least 100 shares of NCLH stock? Then you can get some great benefits by just filling out the NCL Shareholder Benefits Request Form! Be sure to submit this form at least 2 weeks ahead of the cruise in which you are applying for the benefit.
What to expect as a Norwegian shareholder:
$250 Onboard Credit per Stateroom on Sailings of 15 Days or More.
$100 Onboard Credit per Stateroom on Sailings of 7 to 14 Days.
$50 Onboard Credit per Stateroom on Sailings of 6 Days or Less.
This benefit also extends to their subsidiaries Oceania Cruises and Regent Seven Seas! Note that each cruise line has its own submission email address, but the same form and proof of shareholder status is the same.
The biggest caveat is that this benefit is available for regular-priced cruises meaning special rates such as friends and family, employee and travel agent rates are not eligible.
Carnival Cruise Shareholder Benefits & Discounts
Carnival has a similar benefit schedule as Norwegian with onboard credits. This benefit is available to shareholders holding a minimum of 100 shares of Carnival Corporation or Carnival plc. Worth noting that Employees, travel agents cruising at travel agent rates, interline rates, tour conductors, or anyone cruising on a reduced-rate or complimentary basis are excluded from the offer.
How do you receive the shareholder benefit with Carnival?
Just fill out the Carnival Shareholder Benefit Request Form.
Submissions must be sent at least 4 weeks prior to sailing.
NORTH AMERICA BRANDS
Sailings of 14 days or longer US $250
Sailings of 7 to 13 days US $100
Sailings of 6 days or less US $ 50
CONTINENTAL EUROPE BRANDS
Sailings of 14 days or longer €200
Sailings of 7 to 13 days € 75
Sailings of 6 days or less € 40
UNITED KINGDOM BRANDS
Sailings of 14 days or longer £150
Sailings of 7 to 13 days £ 60
Sailings of 6 days or less £ 30
AUSTRALIA BRANDS
Sailings of 14 days or longer A$250
Sailings of 7 to 13 daysA$100
Sailings of 6 days or less A$ 50
Since Carnival Cruises owns so many lines, it's nice that they allow this cruise shareholder benefit program across all brands! These brands include:
Carnival Cruises, Princess Cruises, Holland America shareholder benefits, Seabourn, Cunard, Costa Cruises, AIDA Cruises, P&O Cruises
Princess Cruises shareholder benefits
When preparing this information, fellow passengers asked specifically about Princess Cruises and if they have a shareholder benefit program. This is the same program and shareholder benefit forms as Carnival Cruise Line
Royal Caribbean Shareholder Benefits
Finally, Royal Caribbean has their own shareholder benefits which include Royal Caribbean Cruises as well as Celebrity Cruises.
$250 Onboard Credit per Stateroom on Sailings of 14 or more nights
$100 Onboard Credit per Stateroom on Sailings of 6 to 13 nights
$50 Onboard Credit per Stateroom on Sailings of 5 nights or less
As with the other programs, this requires 100 shares of stock owned to qualify and the request must be made at least 3 weeks prior to sailing.
Read about the most current shareholder benefit details and get the Royal Caribbean shareholder benefit request form here.
Celebrity Cruises Shareholder Benefits
Celebrity Cruises shares the same submission requirements and forms as Royal Caribbean. Download the Celebrity shareholder benefit request form here.
**Since Azamara has been split from Royal Caribbean, unfortunately, this shareholder benefit is no longer available for Azamara.
A few words about owning cruise line stocks and investing in cruise lines during financial uncertainty
We spoke to a number of travelers that have used the above shareholder benefits for their cruise vacations, but most agree that investing in cruise stocks has some risk to it. While these stocks for major cruise lines are at record lows some people have purchased just to get the shareholder benefit KNOWING that there is risk involved such as insolvency of the cruise line, especially given the current financial conditions of cruise lines in general.
Travelers are rationalizing these stock purchases by stating that 100 shares of Carnival (or NCL, for example) is so cheap, that even a few cruises with the shareholder benefit would equal their stock purchase cost.
This argument gets less valid as the share prices increase, obviously, but as of now, these travelers make a good point about ongoing benefits for such a small investment that could grow. (or devalue to zero)
We don't offer advice about stock investing, ever. We've taken advantage of these programs above and think it's a great way to add value to your cruises and invest a little bit for the future! That's merely our opinion.
How do you buy cruise line stock to get the shareholder benefits?
If you have a brokerage account and investing already, just pick up the phone or go online and purchase shares as you would any other stock or security.
If you're not an investor but would like to acquire some stock from one of these cruise companies, you can use the company we have used for the past several years, IBKR (Interactive Brokers)
If you'd like to register with Interactive Brokers to purchase stock, you can get up to $1000 for using our referral link for registration (and we'll get a little bit too!)
Our experience with IBKR has been nothing but positive and we've done a number of transactions and have been able to use statements they provide for proof of ownership to get the shareholder benifits on our cruises.