Hotels near the Amsterdam cruise port & passenger terminal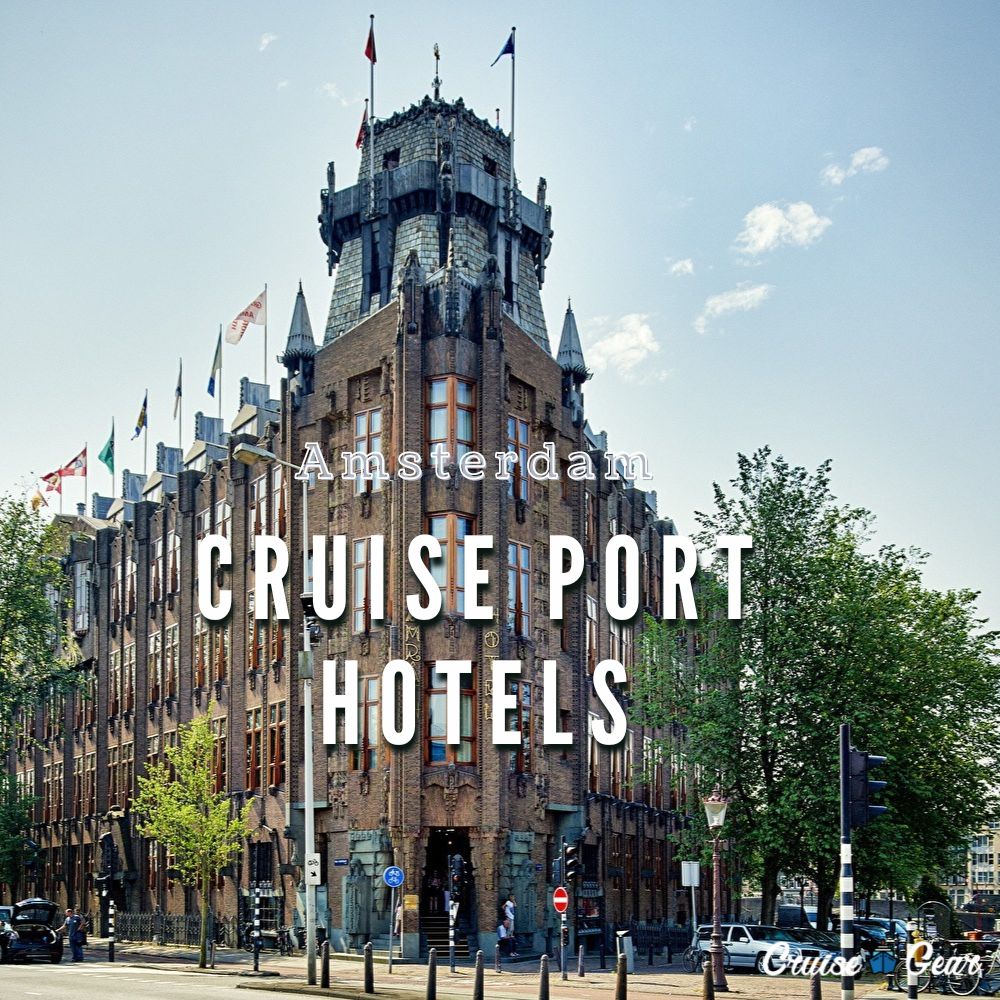 For a city as small as Amsterdam, the options when it comes to hotels are downright mindblowing. Trying to search for hotels near the Amsterdam cruise port takes some of the fun out of the planning. There are just so many options!
So I'm going to break down the best hotels near the Passenger Terminal Amsterdam based on different categories.
How do I know they're the best?! I've lived in The Netherlands since 2016, more specifically, I've lived much of that time across from Centraal Station (central station) & the cruise port, so I know what I am talking about. I've come and gone on numerous cruises from Amsterdam as have most of my friends. I've been in charge of arranging hotels within walking distance of the cruise terminal since I've lived here, and I've received so much feedback on literally dozens of hotels (and stayed in many myself). So here are the favorites by type.
A Few Tips on Choosing The Best Hotels near Amsterdam cruise port
First, if you are traveling in the summer and are sensitive to the heat, be sure to confirm the hotels have air conditioning! It's not uncommon for a hotel to just have a fan and no A/C. NOTE: If you see "climate control" as a feature of a hotel, that does NOT MEAN AIR CONDITIONING! Always double-check!
Some hotels don't have elevators, so if you're traveling with a lot of luggage, be sure the hotel has elevators!
Many hotels in Amsterdam are nothing more than glorified bed & breakfast operations and are independently owned. This is great for the local economy, but these small hotels may not meet the standards and expectations of American travelers. So if you're picky with your accommodations, stick with major hotel brands.
The ocean cruises and river cruises leave from the same general area, but of you are on an ocean cruise, you'll want to be sure to make your way to the actual "Passenger Terminal Amsterdam" in Amsterdam. River cruises leave opposite of the Doubletree Hotel.
Amsterdam Cruise Port Hotels – Closest to the Passenger Terminal
It's worth noting that the hotels near Amsterdam cruise port & passenger terminal may not be the most convenient place to stay for city center activities. The distance from the cruise port to the center of Amsterdam is less than a mile but seems far relative to other more central hotels. We will touch on other hotels below for cruise passengers that may want to spend more time in the city before or after a cruise and are more convenient to other attractions. But if you're looking for a nice hotel before or after a cruise (for a night or two) you can't beat these four walkable cruise port hotels in Amsterdam.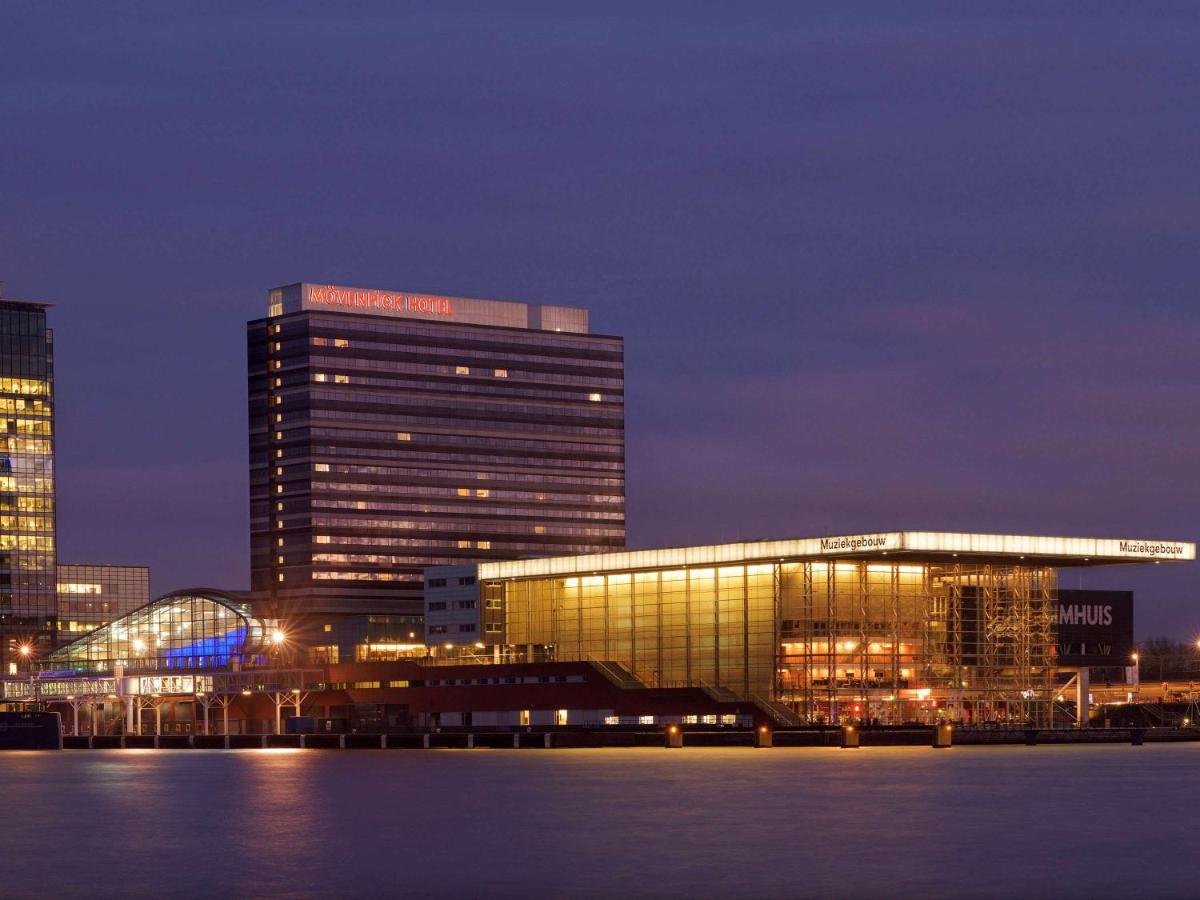 Only 250 feet from the Cruise Port!
The Movenpick Hotel This hotel is the "go-to" for cruise passengers staying a night or two before a cruise. It's literally next door (250 feet) to the Passenger Terminal Amsterdam, and only a few minutes walk to Centraal Station, making it incredibly convenient. But it sells out quickly during the busy cruise season. This will appeal to most American sensibilities, as the hotel is modern in every respect including airconditioning.
Why we love the Movenpick Hotel:
Closest hotel to the Amsterdam Cruise Port! Just walk next door!
A few minutes to Central Station
A Modern building and modern amenities
Bar & Restaurant on site (Breakfast available and guests rate it pretty well with 8 out of 10 stars)
Spa & Fitness Center
Air Conditioning
Free Wi-Fi
Near Central Station & Cruise Port
The Doubletree By Hilton Amsterdam is universally loved by travelers (and myself). This 4-star hotel is located between Centraal Station & the port is slightly further from the terminal (by a minute or two). However, it's right next to where River Cruises depart. So if you are going on a Viking River Cruise, this location is perfect & the closest hotel to the Amsterdam river cruise docking area. Expect a 10-minute walk or less from door to door to the Amsterdam cruise ship passenger terminal. This is a newly built hotel that has all of the modern amenities that you'd expect from a Hilton brand. The rooftop bar is an amazing place to overlook the city in the evening. Another perk is the Starbucks on the ground floor.
What we love about the DoubleTree Amsterdam Cruise Port Hotel
Newly constructed & modern
Air Conditioning
Beautiful rooftop bar & lounge (Luminair)
Starbucks coffee shop on site
Very close to the cruise port & passenger terminal
This will be the most "Americanized" hotel in the area
Free Wi-Fi
Location is best to easily enjoy the city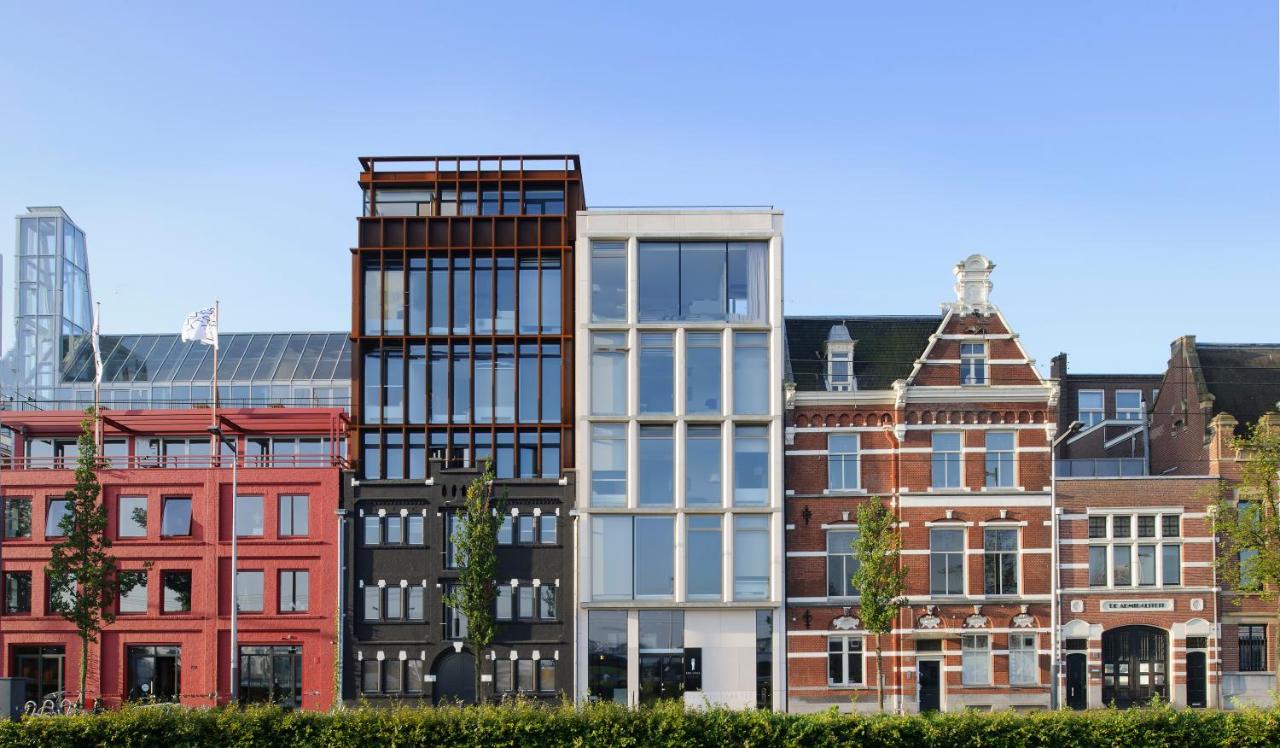 Large Suites near the Cruise Port
A lesser-known accommodation near the cruise port is the Vokel Suites. It's near the DoubleTree above. It provides easy access and is close to the cruise port due to the main road being flat and walkable directly to the ship. The suites are small apartments and have a minimum 2-night stay. However, the distance to the cruise port is only about 10 minutes on foot. These are newly built suites with all modern appliances, air conditioning, etc. What we love about these are they are like renting a beautiful serviced apartment in an amazing location in Amsterdam rather than just a hotel room. Even better is the fact they have washing machines in the unit, so if you've been traveling a while before your cruise, you can get all of your laundry taken care of! Note though, because this is not a traditional hotel, amenities like on-site restaurants & bars do not exist (But there are many all around the location).
What we love about the Eric Vökel Suites near the Amsterdam cruise port:
Newly built suites & apartments
The location is close to both the river cruise terminal and Amsterdam cruise port
Ultra euro-modern
Suites that include a washer & dryer
Kitchens in most units
Views over the Ij River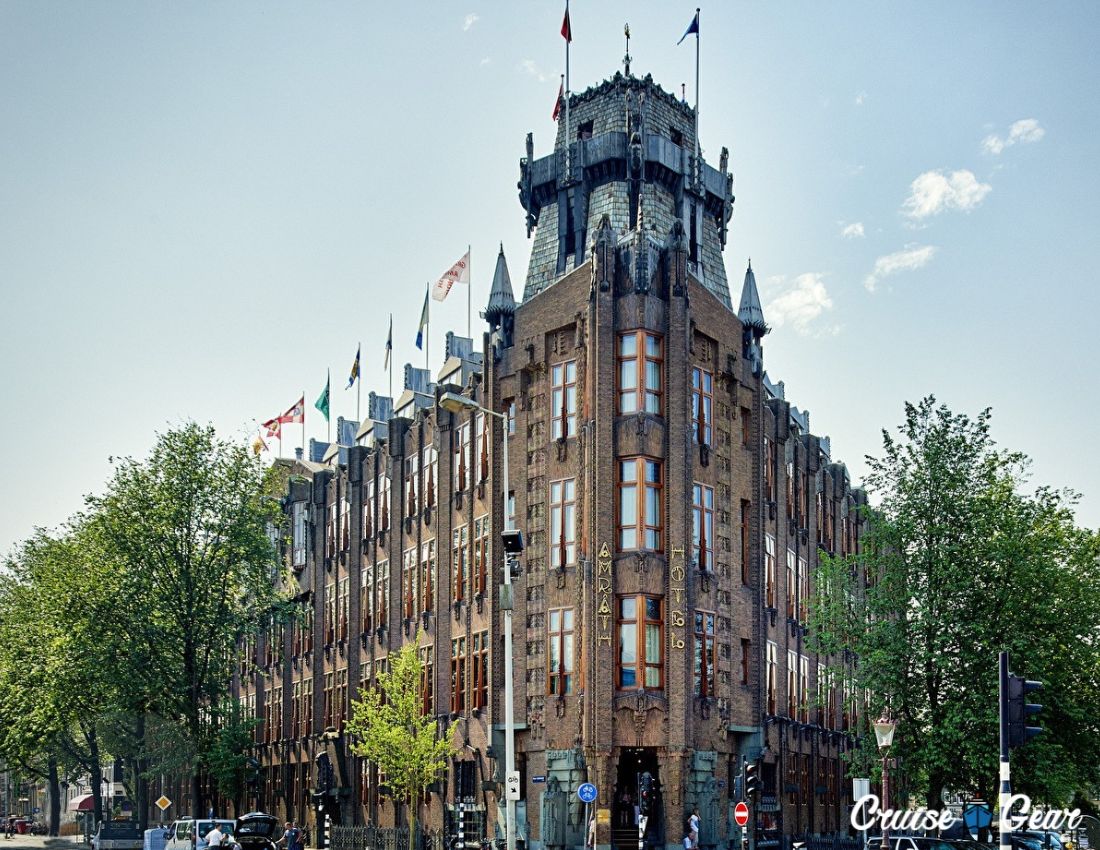 Do you want to experience classic, historic Amsterdam? This beautiful 5-star hotel located just across the street from the cruise terminal is the furthest recommendation we'll make for this category of hotel, but it's worth mentioning for passengers and travelers who want to experience old-world luxury won't be disappointed. It's an opportunity to mix a pre or post-cruise stay in a monumental building with 5-star services and amenities. However because it is a monument, it does NOT have airconditioning! Aside from the no Airco, the hotel has everything you'd expect from a luxury five-star brand including good restaurants, bars, fitness facilities, etc. The hotel also offers a pool, which is highly unusual for a hotel of this age in the city center.
What we love about the Amrath hotel – Amsterdam
Authentic monumental hotel experience
Distance to Central Station (1500 feet!)
The bar/lounge overlooking the canals of Amsterdam
Spa & Pool (unusual for city center hotel)
Best pre-cruise and post-cruise Amsterdam Hotels best for exploring and experiencing the city
If you're planning on spending a few days before or after a cruise in the beautiful city of Amsterdam, you may not feel it's that important to be near the port of Amsterdam and would prefer to be located in the heart of the city center near the Royal Palace, Dam Square or other attractions such as the Anne Frank House & Rembrandt House to mention a few.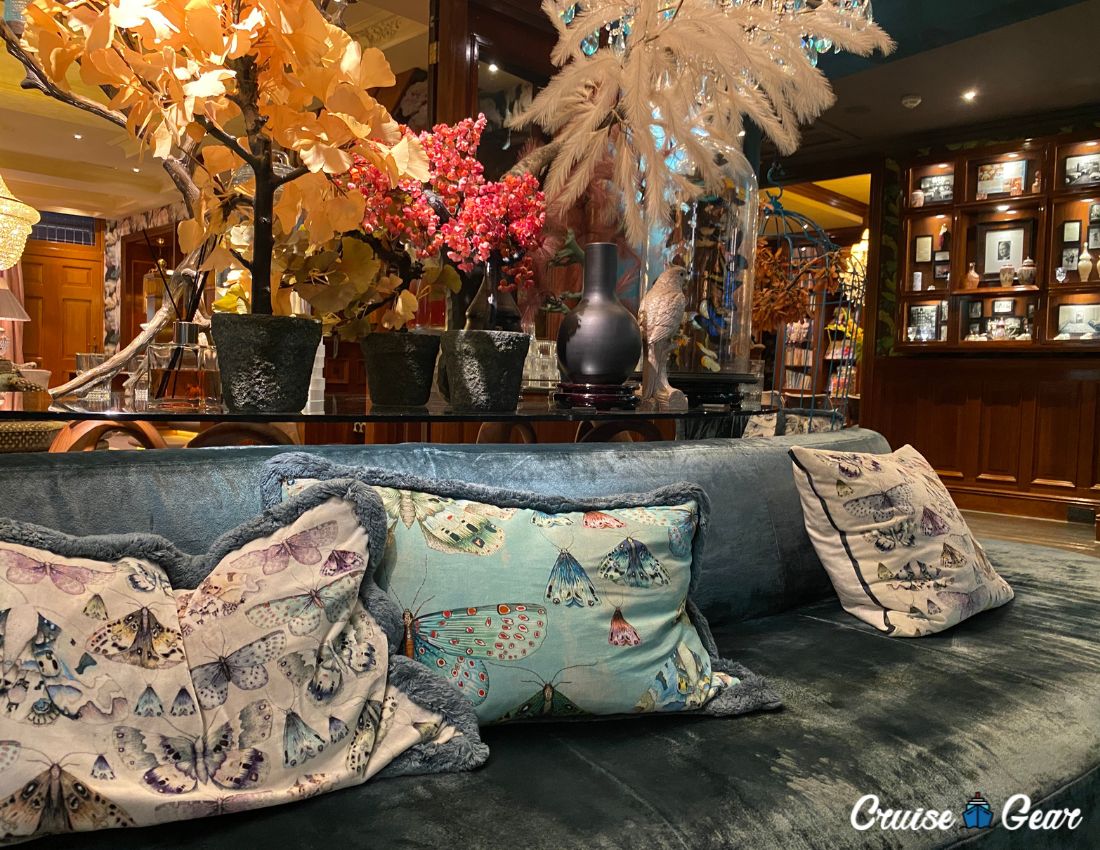 Boutique & Beautiful Hotel
We love Estheréa boutique hotel for its amazing unique vibe of being old-world mixed with a maximalist design. It's a showstopper for sure with butterflies, velvet, feathers, and all things blingy. However, the rooms are compact and cozy, smaller than a typical modern hotel. There is a beautiful bar and restaurant in the lobby that has one of the best breakfast setups I've seen in a Dutch Hotel. The location of the hotel is superb with access to Amsterdam's best attractions and everything the city has to offer while being just outside of the main crazy tourist streets. It's a few blocks from the Palace, and Anne Frank House, and only about a 15-minute walk to the amazing Museums such as the Rijksmuseum, Van Gogh Museum, and Stedelijk Museum. Getting to Amsterdam Central Station is simple by tram or by walking. Getting to or from the cruise ship port is best done by Taxi if you have a lot of luggage.
What we love about Estheréa boutique hotel:
The proximity to all the activities in Amsterdam is amazing. Great location!
The style, uniqueness and design of the hotel and rooms
The lobby bar and restaurant is quite good (with a great breakfast)
The hotel is quiet despite the central location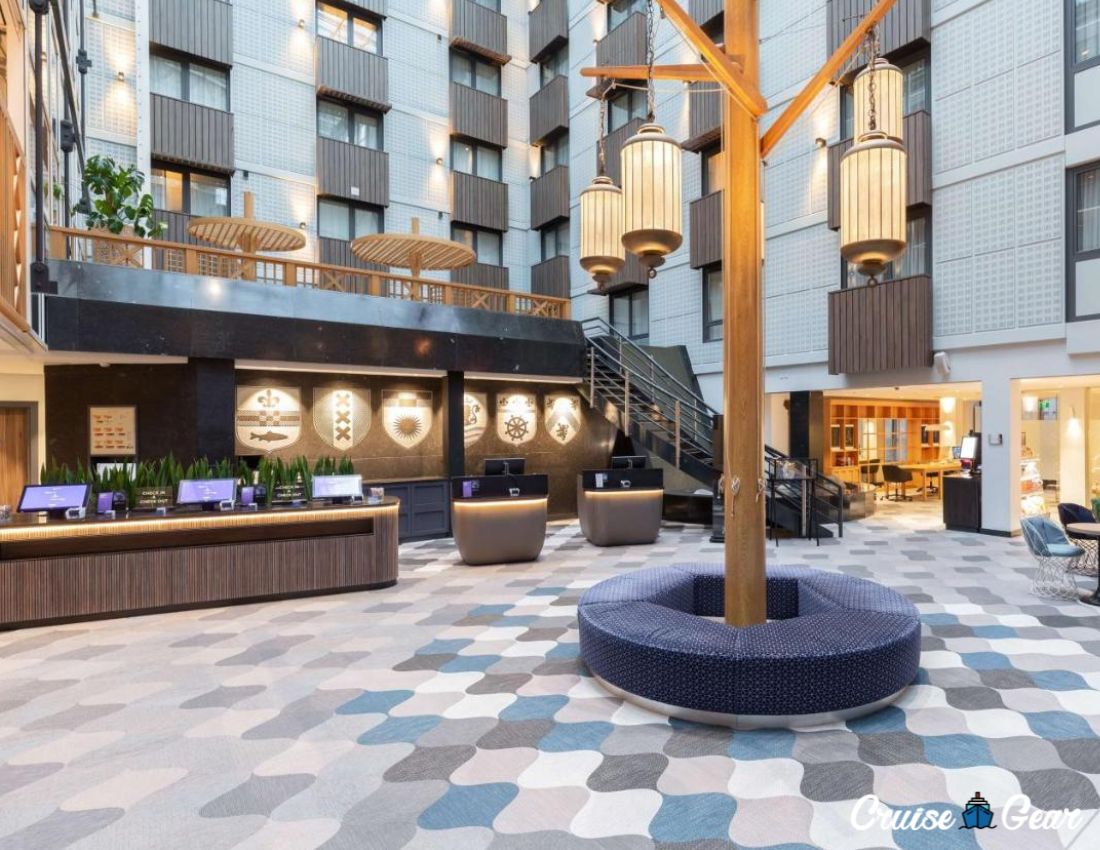 Great central location but quiet!
The upscale hotel lives up to the brand of Radisson Blu and while being in the heart of the city center, it's just a block off of the mass tourist madness that plagues so many great hotels. Being so centrally located, the attractions most visitors to Amsterdam want to experience are about 15 minutes in any direction. Given the qualiy of the modern accommodations and amazing location, the price is usually compelling when comparing to similar hotels that can be as much as twice the nightly rate here. The Bar called "Pastorie" is a must see. Check out the 360 tour of the Radisson Blue Amsterdam
What we love about the Radisson Blu – Amsterdam:
Great location for exploring the city and attractions
Still quiet despite the location
Good breakfast
Free Wi-Fi
Exceptional staff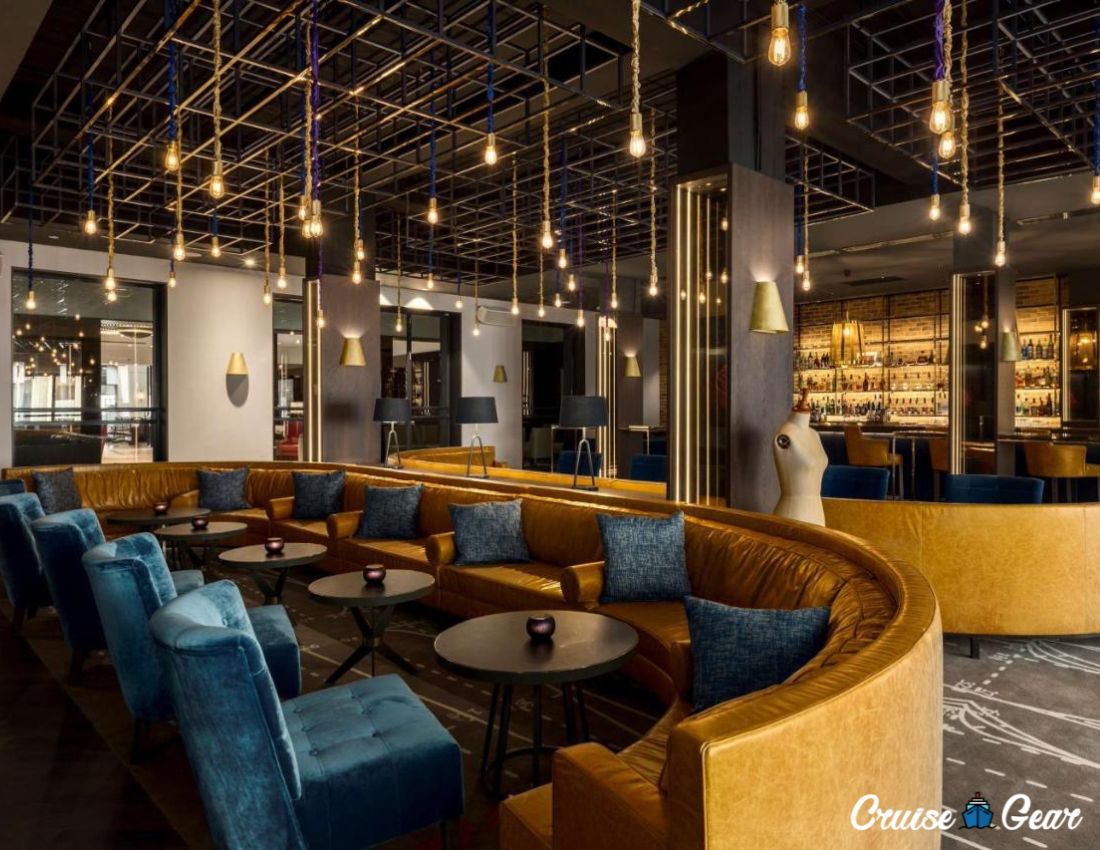 Amazing location in the city center
The Grand Hotel Krasnapolsky has always been my "go-to" for guests visiting Amsterdam. The hotel located right on Dam Square, across from the Royal Palace doesn't get more central! It also offers the nicest accommodation right in the middle of the Red Light district. It was part of the NH Hotel group until recently but has now changed hands and is going through some improvements. It's not a "fancy" hotel, but it's a quality location and walkable to everything. In addition to traditional hotel rooms, there are other buildings that have been acquired over the years including canal houses that offer full apartment-style accommodation for longer stays (and a more authentic experience than typical hotels offer).
Other options for decent hotels in good locations include NH City Center and NH Flower Market. They're reliable and usually slightly more affordable than other centrally located properties.
What we love about the Hotel Krasnapolsky:
The variety of accommodation types from typical hotel rooms to full apartments
Wonderful lobby bar and restaurant
Location – right in the center of the city by Dam Square & Red Light District
Canal facing apartments owned by the hotel (you must request this)
Best budget hotels near the Amsterdam Cruise Terminal
Good Budget hotels in Amsterdam are hard to come by, at least any hotel that most people find acceptable. Usually, when I'm asked about budget-friendly hotels near Amsterdam Centraal Station and also close to the cruise passenger terminal, I recommend the Ibis Brand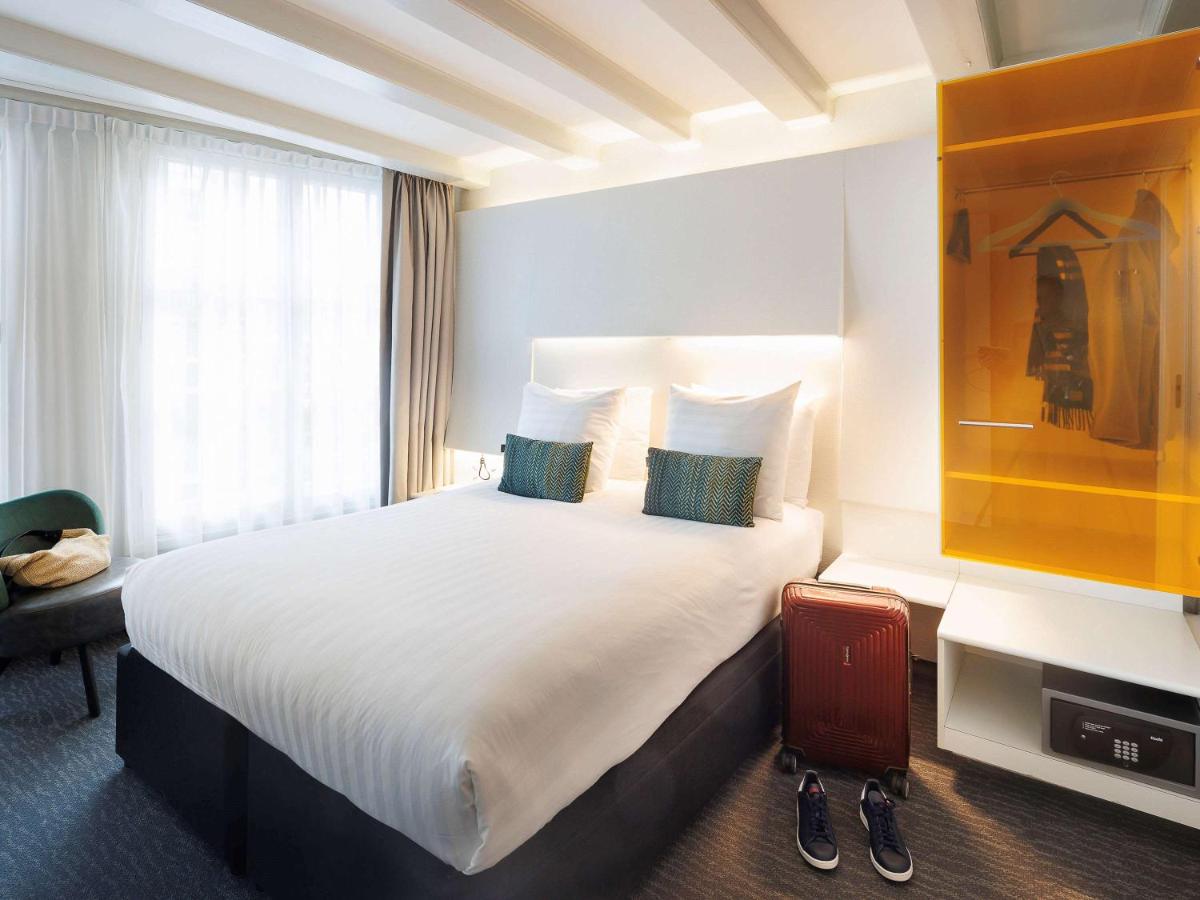 Convenient to port & central station
The ibis Styles 3-star hotel is close to the heart of Amsterdam and only about a 10-minute walk to Dam Square. It's a little further from the passenger terminal, but by no means too far to walk. The best part about the ibis Amsterdam Centre is the price and value given the central location. It's often half the price of the above-mentioned hotels. I've not known anyone to stay in this hotel in the summer, so I can't comment on the quality of air conditioning – but ibis says they have it 🙂 – so it should be good for the airco obsessed Americans like me!
What we love about the ibis Styles Amsterdam:
Proximity to Centraal Station
Budget friendly
Not too far to walk from the cruise Passenger Terminal Amsterdam (20 minutes)
Easy access to the city center
Luxury Hotels in Amsterdam
I mostly wanted to recommend the best places to stay that make sense for cruisers arriving or departing from the Amsterdam cruise port, but this guide is great for anyone that wants to travel to the beatiful city! That said, I thought it would be important to point out some of the most luxurious hotels in the city center for travelers seeking the best accommodation available.
There are a couple of really high-end options that are sure to please anyone with fine tastes including: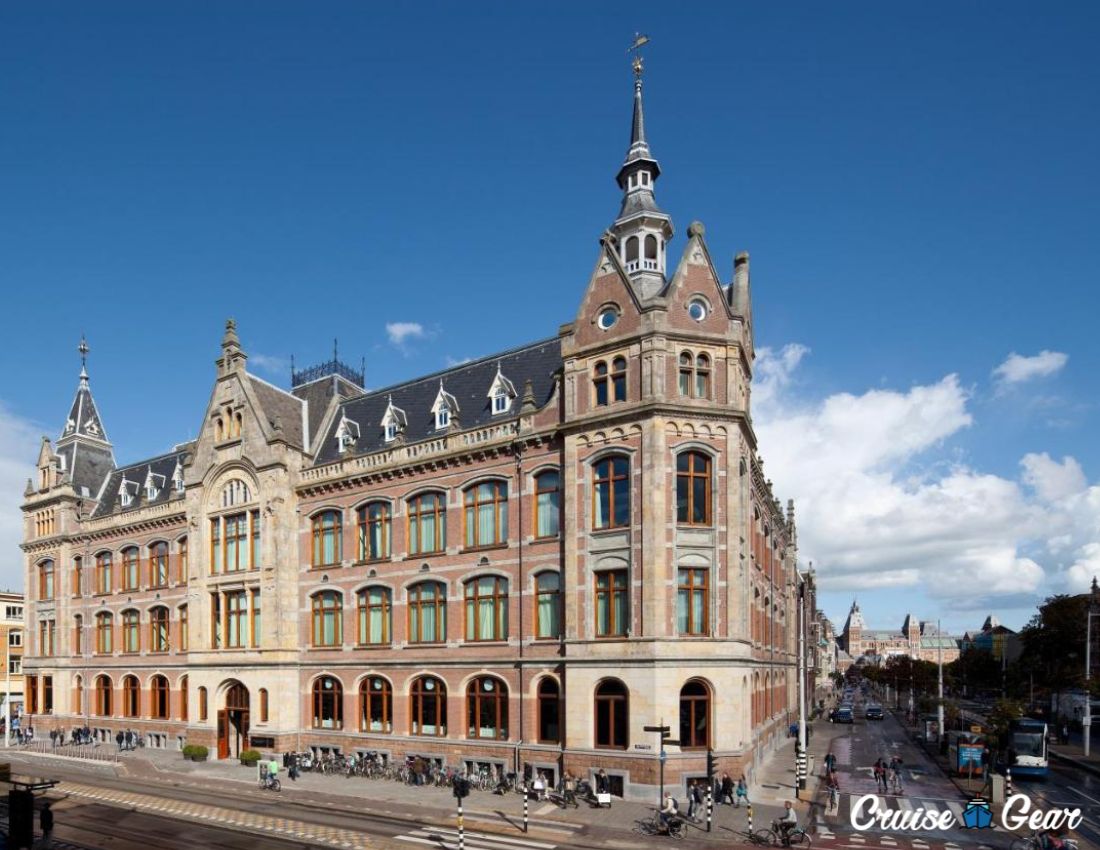 This ultra-luxury hotel provides some of the finest accommodations in The Netherlands. The Conservatorium Hotel is where diplomats, heads of state and affluent CEOs choose to stay on their visits. Located in the Museum Quarter, it's just steps away from the fantastic museums The Netherlands has to offer. There are multiple restaurants that offer lunch or dinner, a huge lobby bar with classic cocktails served til late in the evening, and an amazing underground spa & pool. The beautiful hotel comes at a price, sometimes more than $1000/night.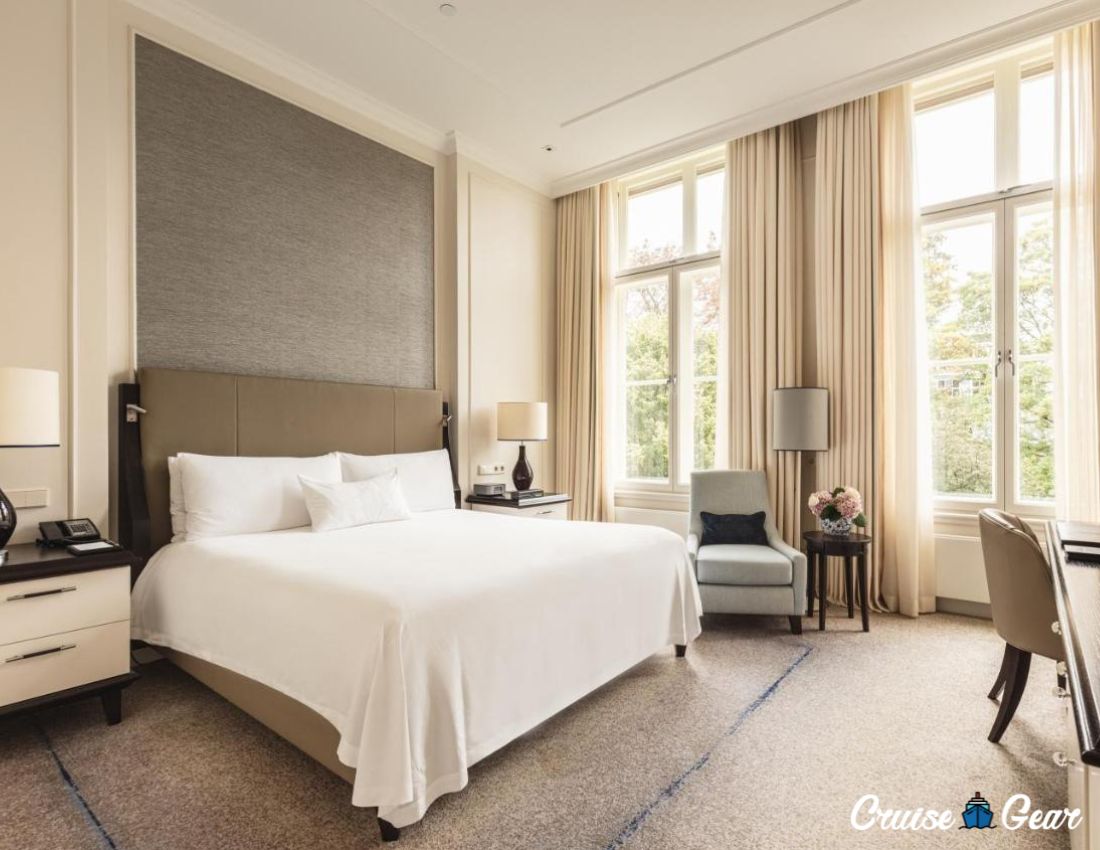 Located on one of the finest streets in Amsterdam, Herengracht, the Waldorf Astoria it's a timeless hotel located near every major attraction and offers a shuttle service to Schiphol Airport. One of my favorite places to visit is the Vault Bar underground, which is actually an old bank vault with cocktails inspired by the bar and hotel housed in an old bank.
In summary, the best hotels near Passenger Terminal Amsterdam are generally expensive but are modern, comfortable, and relatively high-end. They each offer a unique place to stay in Amsterdam and are within easy walking distance of central Amsterdam. There are limitless options for hotels between the cruise port and city, just know that we've offered the above options from years of personal experience of living in and close to Amsterdam.
Travelers love the Banks Mansion. It's a funky art-deco inspired hotel that is unique for it's "all-inclusive" concept. Open bar, free mini bar, breakfast, and other necessities like Wi-Fi are always included. This is rare in a hotel, much less a hotel in Amsterdam! BUT, we're hesitant to recommend it because it's literally always booked (and it's not inexpensive)
What about AirBnB or VRBO options in Amsterdam?
Bring up AirBnB to any Amsterdam local and you'll probably get a lecture on how they've destroyed the city and made housing unaffordable for the locals. While some cities are better suited for these accommodations, Amsterdam is not one of them. Not only because of the controversy surrounding daily rentals, but the fact that many are not legal or are skirting the laws, and the rates after fees start to exceed a nice hotel, so really it makes no sense. But if it's your thing, we recommend VRBO over AirBnB