Amsterdam Cruise Port & Passenger Terminal – Information & Guide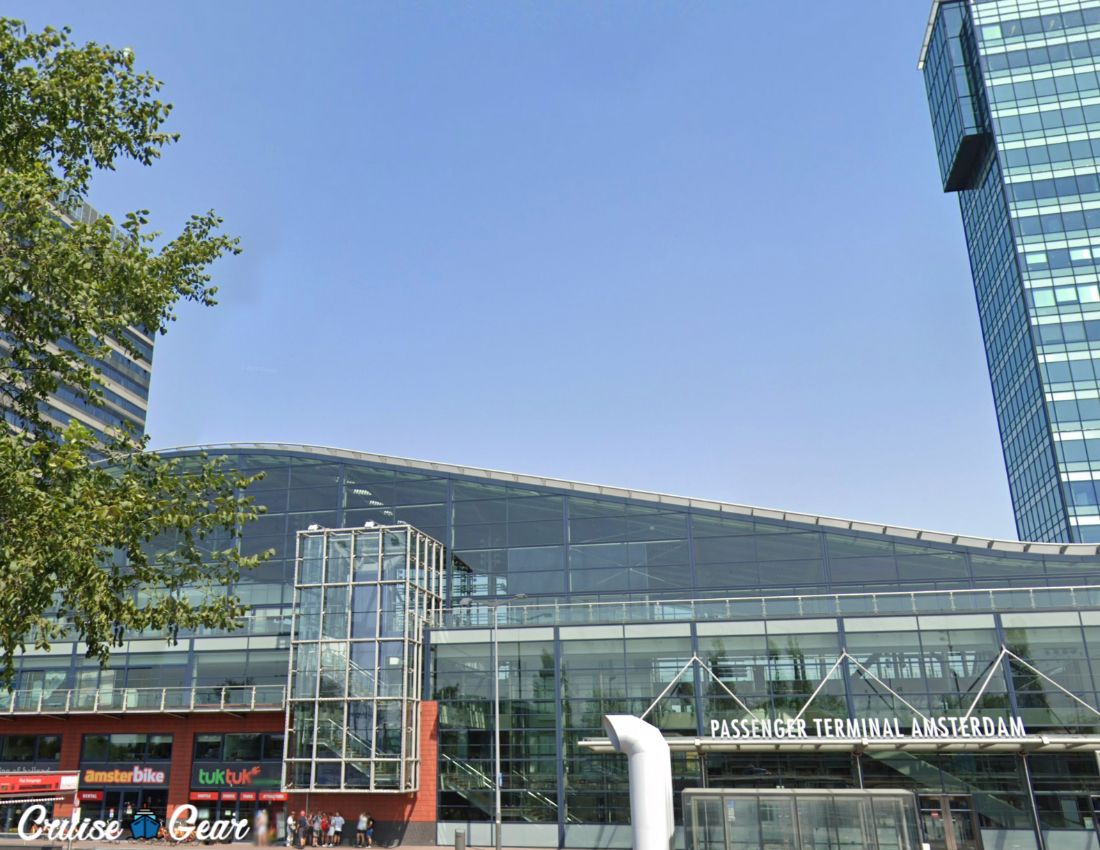 Arriving or departing the Amsterdam Cruise Port? Here's a handy guide to the Passenger Terminal Amsterdam including how to get there, the best hotels, what to do near the port, and itinerary ideas for excursions while in Amsterdam!
Is the Amsterdam Cruise Port CLOSED?
The city of Amsterdam has announced its intention to close the Cruise Passenger Terminal Amsterdam. This has been a discussion for several years. Decisions like this in Amsterdam usually take multiple years to implement, so if you have a cruise scheduled with Amsterdam as a port of call or departure/arrival port through 2024, don't worry! It's not likely any changes will happen before then.
When will The Amsterdam Passenger Terminal be closing?
There has been no definitive date on which closing the cruise port will actually be put into effect. It simply has passed the city government votes, so there is a lot of time before this ever happens. Maybe even years!
We'll keep this page updated as we hear more locally about the plans. You can subscribe to our newsletter and we'll keep information updated about the closure through our monthly emails.
Our information is from first-hand experiences, even better, we lived near the Amsterdam cruise port & Passenger Cruise Terminal for quite some time, so we are familiar with nearly every aspect of the area.
We hope to help anyone who's arriving in Amsterdam for a cruise, especially our fellow Americans who may not be familiar with public transportation, hotels, and things to do in Amsterdam. But even if you're not arriving by cruise ship, we have some useful information that any traveler could benefit from!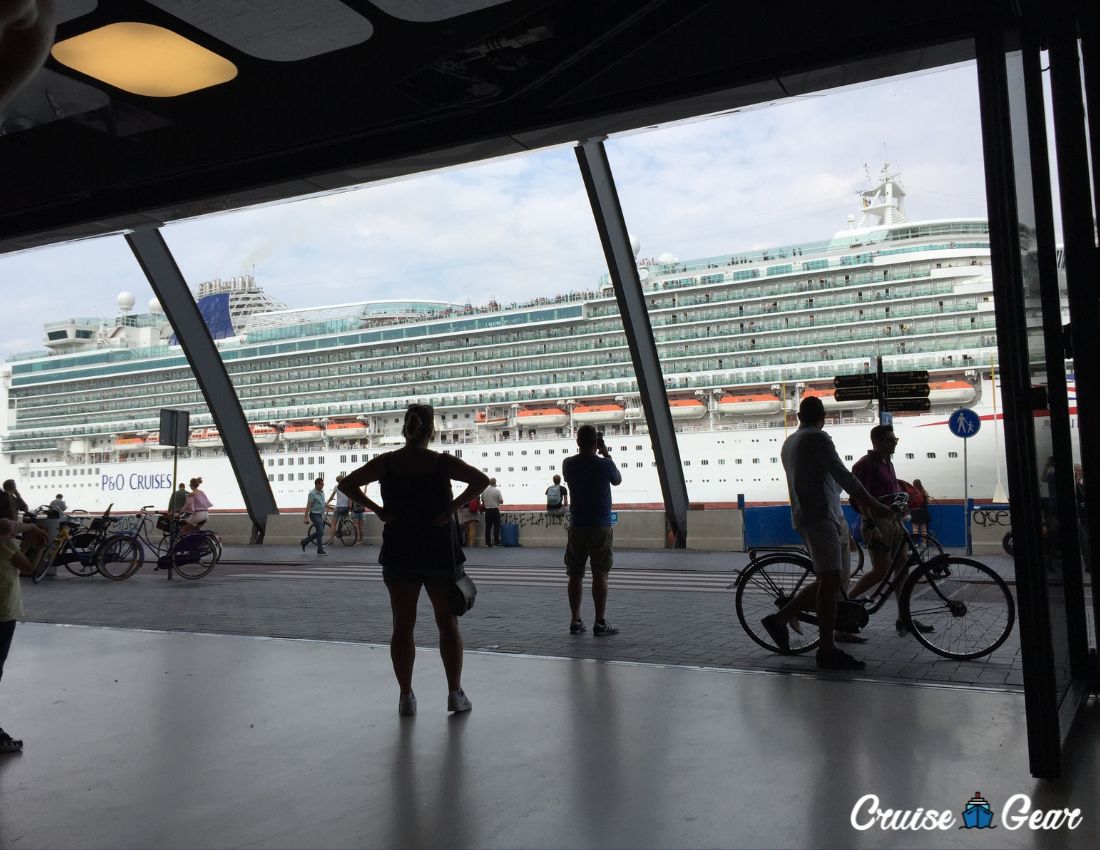 Practical Information – Arriving or Departing the Amsterdam Cruise Port Terminal?
The Amsterdam cruise port is just outside of the city center and the entire area is very safe with plenty of things to do.
When you exit the ship, everything is so close and nearly all attractions and points of interest are walkable from the cruise port! For people with reduced mobility or travelers not interested in walking as much, the tram system has stops within steps of the cruise port terminal.
While the city is exciting and vibrant, there are active pickpockets in the highly touristed areas (Central Station, Red Light, and some museums). Everyone will warn travelers of pickpockets, but with some common sense, you don't have to worry. Just keep belongings close, put wallets and money in front pockets (as well as cell phones), and don't wander around with a large backpack. Choose a smaller excursion bag for essentials. They are easier to manage and can be worn across the front in really busy situations. Additionally, you won't stick out as a tourist as much 🙂
The reality is, even after living in Amsterdam in the most touristed area, I've never been a victim nor have I even witnessed a pickpocket situation (Or even KNOWN anyone that has). It's a thing, yes, but not worth being paranoid over. Just use common sense.
Where do cruise ships dock in Amsterdam?
The address to the Amsterdam cruise port for large ships is: Piet Heinkade 27, 1019 BR Amsterdam, Netherlands
It's simply referred to as the Passenger Terminal Amsterdam or Cruise Port Amsterdam on most maps and websites.
There are two locations for cruises, there is the large terminal which accommodates traditional large cruise ships, and the dockside area which accommodates most river cruises.
IJmuiden is NOT Amsterdam Cruise Port!
If you see that your cruise is going to dock in IJmuiden, THIS IS NOT AMSTERDAM. Amsterdam and Ijmuiden are completely different ports and nowhere near each other. Also, some cruise companies like MSC like to call Rotterdam, "Amsterdam" or vice-versa. So be sure you understand where they are going to dock. We will cover IJmuiden & Rotterdam separately.

River Cruise Dock Location – Amsterdam
River Cruises such as Viking River Cruises, dock in the same general area but not at the exact same location. You'll want to point your map to the address for river cruises in Amsterdam which is De Ruijterkade 140, 1011 AC Amsterdam
Amsterdam Cruise Port Map
This map will help you better understand the distance between the cruise port and the city center & the train station.
Getting around Amsterdam – Make use of City Cards!
If you're planning on exploring attractions & museums, make use of the efficient, safe, and extremely clean public transport system. There are multiple "city cards" that give you access to transportation, museums, or both. The "I Amsterdam" City Card might be an ideal choice if you are looking to experience multiple museums including public transportation.
With a single payment, this card grants you access to various discounts or even free entry at more than 70 of the city's top attractions & museums. Additionally, it allows for unlimited use of the extensive public transport network which comprises trams and buses that can take you anywhere within the city. As if that weren't enough, the card also includes a canal cruise experience, bicycle rental options, and additional discounts at select bars and restaurants. So by getting your hands on this card, your experience in Amsterdam will definitely be even more enjoyable and convenient.
Here are our recommended city card options.
TOP PICK – Travel + Museums
The iAmsterdam city card is the absolute best option for getting around the city and visiting museums! The card includes transportation, access to museums, a canal cruise as well as various discounts from merchants around Amsterdam. It's a MUST-HAVE if you are spending a day or two in the city.
iAmsterdam City Card
The iAmsterdam City card unlimited travel card allows free travel on all public transport networks in Amsterdam operated by GVB. (Trams, busses, etc) – It excludes NS rail Trains
Gain access to some of the most amazing museums & attractions at no additional cost!
Take a canal cruise with your card (1 included)
The city pass can be purchased for a day or multiple days to suit your plans.
Download the app and use the city card immediately.
If there are any issues with the ticket, designated & convenient locations are available for assistance.
TOP PICK – Unlimited Travel Only
The transport card for the trams & bus system starts at about $10 per day and is an incredible value for 24 hours of unlimited use.
Trams are available just outside of the Amsterdam cruise port!
This card is best for those who aren't interested in access to museums, as it's just for transportation.
Amsterdam Tram & Bus Transportation Card (GVB)
The unlimited travel card allows for stress-free travel on all public transport networks in Amsterdam operated by GVB.
Tickets can be purchased for a single day or for up to 5 days.
Simply collect your ticket from a participating station, check in when boarding, and check out when exiting the bus or tram. The ticket is valid until its expiration.
If there are any issues with the ticket, designated pick-up locations or a helpline number are available for assistance.
What are the nearest attractions to the Amsterdam Cruise Port?
The city of Amsterdam is so small and any attraction that is worth seeing can be reached by foot in under an hour or by tram in just minutes. But if you're looking to stay close to the port, there are the best things to do near the passenger terminal!
NEMO Science Museum – great for adults and children alike. Just a few minutes walk from the cruise port.
Red Light District – Have a wander around the famous Red Light District which is a few minutes walk from the cruise passenger terminal Amsterdam. Wander the area yourself or hire a tour guide through the Red Light District. Having lived in the Red Light, having a tour guide is the best way to make the most out of your visit!
A wander through Centraal Station – This beautiful station is more than just another train station, it has restaurants, bars, and shops. The station is only a 10-minute walk +/-
Canal Cruise – there are literally hundreds of canal cruise options and many depart from near the cruise port. Our favorites are the smaller open-top canal boats for the most authentic experience.
Additional Amsterdam Excursions to consider:
Food Tours – There is no better way to discover local culture than a guided food tour. Learn about Dutch cheeses, chocolate, and the daily staples of the locals. Book a guided food tour of Amsterdam
Museums including the Anne Frank House – Everyone knows about the Anne Frank House. It's not far from the cruise port. Be sure to book your tickets as far in advance as possible since the museum sells out daily (this is true with many popular museums) Tickets are only available from the foundation website here.
Heineken Experience – Perhaps one of the most popular tours is the Heineken Experience where you can gain entry to the brewery, learn the history of Heineken Beer, and have a taste of their creation. Book a Heineken Experience entry ticket & tour in advance to skip the line.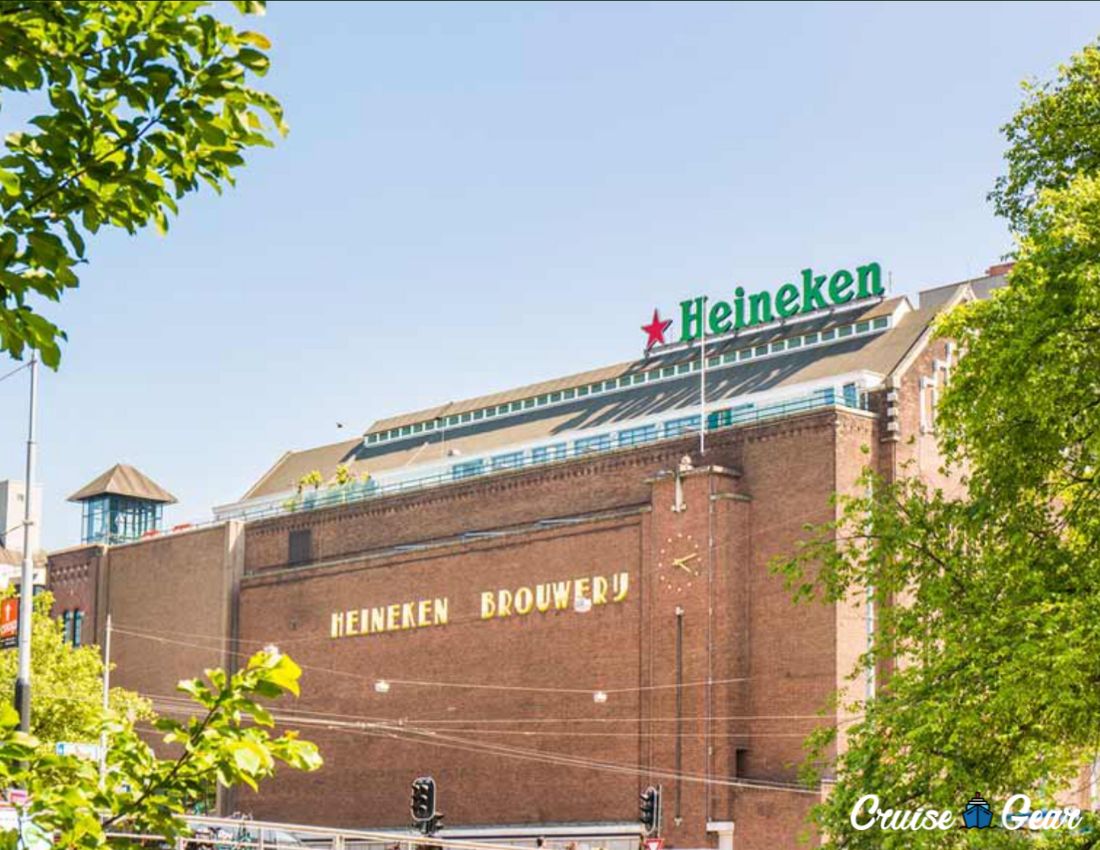 Amsterdam Cruise Port Hotels
There are a huge number of hotel options near the port/terminal. So many in fact, that it makes trying to select accommodation incredibly difficult. We usually recommend the Movenpick or Ibis Centraal Station as they are the most convenient to the cruise ship terminal
Information & FAQs on getting to and from the Amsterdam cruise port, airport, train station, and the city center.
Getting to and from the cruise terminal in Amsterdam is straightforward and relatively simple. Here is some helpful information and frequently asked questions about travel between the cruise ship port and major points of interest.
How far is the cruise Passenger Terminal Amsterdam from the city center?
The Amsterdam cruise port is almost in the city center! You can literally walk off the ship and be to some of the main attractions and vibrant city center within minutes. Our handy map will show you where the main attractions are as you leave the cruise ship.
How much is a taxi from Amsterdam cruise port to the city center?
Cabs are quite expensive in Amsterdam with a basic starting fee of over €3 and a separate rate per kilometer that is over €2. So a simple ride down the street will likely cost close to €7 or $8 when a tram would be less than €1. It's not common to use a taxi to get around in Amsterdam due to the ease of public transportation and close proximity to everything (it's really a small city!). But people with mobility issues may prefer to use a taxi or Uber. (Uber is generally a little less expensive than a taxi)
How far is it from the cruise ship port in Amsterdam to Schiphol airport?
By train to or from Amsterdam Schiphol Airport, it's about 25 minutes, to the port, and by car, it's about 30 minutes depending on traffic. The train is the easiest and least complicated way to get to the center of the city where the cruise port is a short walk.
How do I get from the cruise port to the airport in Amsterdam?
The three most popular ways to get to the airport from the Amsterdam cruise port are using the train, a private transfer by the cruise line (bus), or by taxi.
The most popular option is the train system, which is inexpensive, fast, and gets you from Amsterdam Central Station to the airport in under 30 minutes. The price for a train ticket varies depending on the time of day but the basic fare starts at about 6 euro. Alternatively, you can use a transportation pass if you're going to explore before going to the airport (See pass options).
Otherwise, taxis and private cars are usually available for around €40-€60 depending on the company. Book a private car with a reputable company
How much is a taxi from Amsterdam cruise port to Schiphol Airport?
Uber is widely used as are other taxi & car services which are easily available from the airport and cruise terminal. What's the price to get between Schipol Airport and the Amsterdam Cruise Terminal? Expect to spend €40-€60 or more depending on the time of day. For larger groups, it's better to hire a private transfer service, as taxis can be too small to accommodate more than 2 people with luggage. Private transfers aren't cheap but they're the least stressful and most direct way to get from the cruise passenger terminal to the airport.
The cruise lines always provide transportation as well and for people looking to get off the ship and go straight to the airport, this is usually the best option and probably the most expensive as they'll often include an excursion on the way to the airport.
How far is the Amsterdam cruise port terminal from the train station?
Since Amsterdam is so small, you'll be thrilled to know you can walk to Central Station (Amsterdam Centraal)! The train station is only 1km (a little over half a mile) and about an 18-minute leisurely walk.
Can you walk to and from the Amsterdam cruise port?
Depending on where you are staying or how you arrive, getting to the cruise terminal by foot is simple. It's about a 15-minute walk from Centraal Station and less than 20 minutes from the city center. If you're carrying a lot of luggage and staying in Amsterdam before or after a cruise, it's probably best to get a cab. It's worth noting that the tram system is extensive in Amsterdam and trams are available close to where passengers leave the ship and will get you into the city center in minutes.
Do you have a comment?
Did we miss something? Have you had a different experience? Did we get it wrong? Let us know!