Compare Major Cruise Lines – A Guide To Choosing The Perfect Cruise Brand

Compare cruise lines – the difference in major cruise lines explained.
Choosing a cruise is a complex task matching dates, excursions, ports, and destinations with a brand that is likely to deliver the experience you want. Many first-time cruisers don't understand the difference in what each cruise line & brand can offer, so we're breaking it down by major cruise line and doing the work to compare cruise lines based on our experience cruising for over 20 years!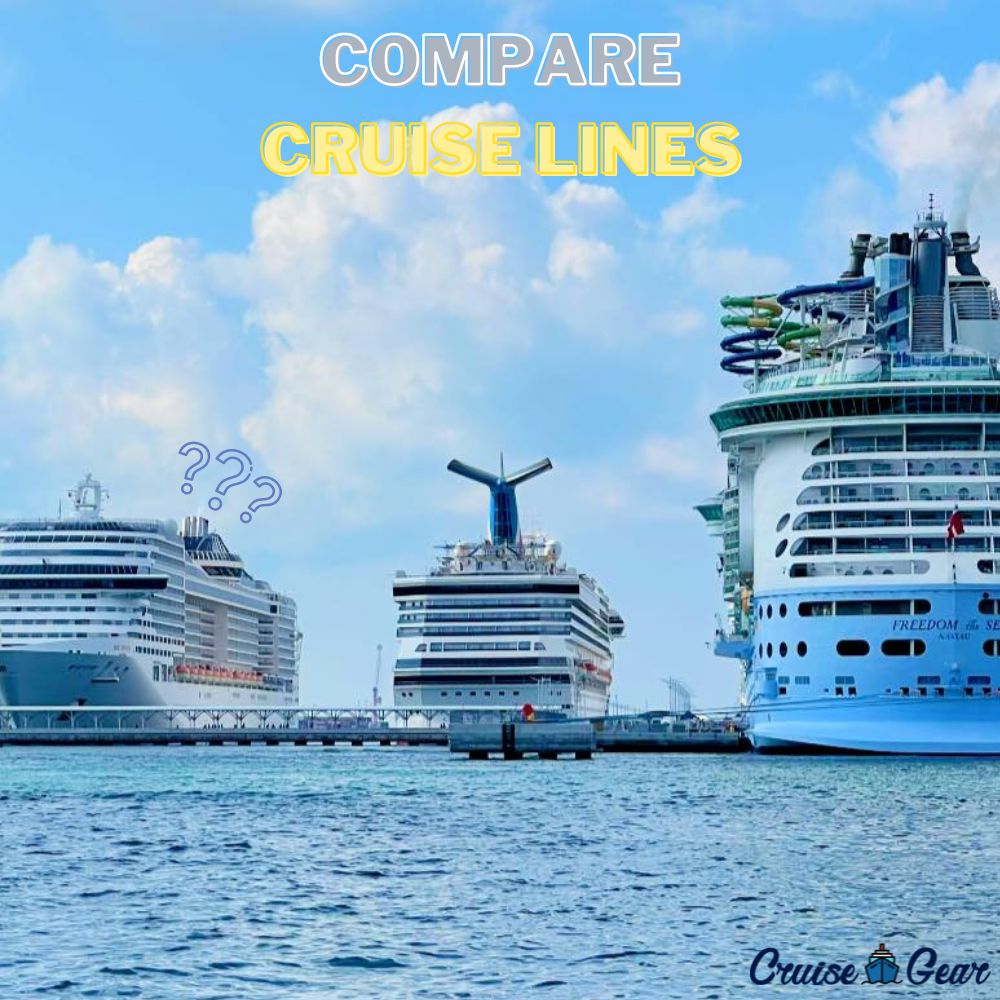 Comparison of the major cruise lines – our guide.
The differences in cruise lines can be substantial and contribute to how much you enjoy your vacation!
We'll list each major mass-market brand cruise brand along with an overview of their target demographic and some pros & cons of each cruise line.
Norwegian Cruise Line (NCL):
Norwegian Cruise Line, founded in 1966 is most commonly associated with "Freestyle Cruising", a concept where there are set seating times in restaurants, no formal nights, and an overall casual atmosphere. This concept is so popular among NCL loyal cruisers that other brands such as Celebrity Cruises have started to add options for open dining times.
The fleet of ships that NCL has is also considered one of the newest and most modern. With each ship, they push the boundaries with "thrills at sea" which include unique activities like go-carts, laser tag, water slides, and more.
Norwegian Cruises is also known for its vast selection of specialty restaurants on its ships and is generally regarded by cruisers as some of the best food of all cruise lines.
NCL also offers generous promotions on a regular basis with their "Free At Sea" program where you can select an open bar (Free Beverage Package), specialty dining, internet, and more.
What is Norwegian's target market & demographic?
As with every cruise, the clientele varies widely, but NCL. For shorter cruises, especially in the Caribbean, there tend to be a lot of families and young couples. On longer cruises, European itineraries, and Transatlantic cruises, there are fewer children and the age tends to be 50's+ on average. Keep in mind that NCL is one of those cruise lines that try to have something for everyone.
Pros of Norwegian Cruise Line
Casual atmosphere
No assigned dining times
A very modern & updated fleet
Generous promotions such as "Free At See" open bar
Generally very good entertainment in the theaters including some broadway quality performances
A huge number of dining options
Food quality
Cons of Norwegian Cruise Line
Time in port is often too short
Excursions are expensive
The embarkation process is sometimes long and disorganized
Gratuities and fees add up fast
Some cruisers comment how on board activities are limited
Without a drink package, the prices of beverages are eye-watering
Achieving status in the loyalty program (Lattitudes Rewards) has gotten more difficult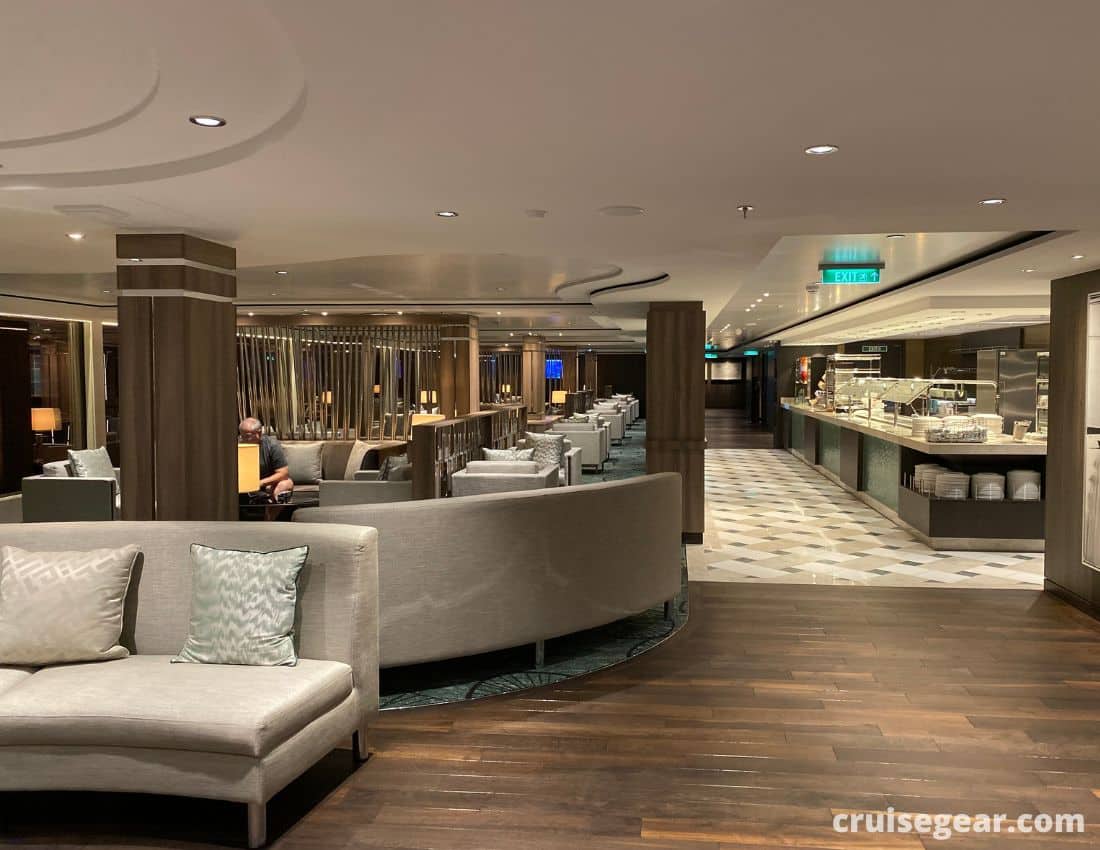 Carnival Cruise Line
Carnival isn't the world's largest or most popular cruise line for no reason. They provide an experience many people want for a vacation and appeal to just about every walk of life.
Carnival is synonymous with having fun! This is why they are called "Fun Ships"! If you ask any experienced cruiser their opinion about Carnival, they'll either LOVE it or really HATE it. Taking a cruise on Carnival is a relatively unique experience when compared to traditional cruise lines. Admittedly, I normally enjoy a more traditional cruise, but I always have a lot fun on a short or last-minute cruise with Carnival.
Among the main reason that Carnival is so popular is their affordable options to take a cruise and visit some amazing sunny locations in the Caribbean. This often lures first-time cruisers looking to try a cruise and see if it's right for them.
Carnival does one of the best jobs in entertaining passengers throughout the day that I've ever experienced on a cruise. There's always SOMETHING going on somewhere on the ship whether it's Bingo, a cooking demonstration, a mixology class, or karaoke – you'll find something entertaining. A lot of it is pretty "cheezy", but certainly still fun!
Unlike some cruise lines, Cunard, for example, a Carnival cruise is not the vacation you want if you're seeing a cultural experience or enrichment programs.
Pros of Carnival Cruise Line
Enthusiastic crew
A diverse passenger type
Affordable (Usually)
Something for everyone
Great for multi-generational families
It's not at all stuffy like some traditional cruise lines
More free dining options than many other cruise lines
Cons of Carnival Cruise Line
Older fleet in general
Sometimes passengers push the "fun" in "fun ship" a little too far by over-imbibing and causing problems.
The entertainment can be less than impressive
Dining is average
Who is Carnival's target market & demographic?
Carnival Cruise Line does an amazing job of catering to people of all demographics and ages. You'll be hard-pressed to explain to someone what the "majority" of the passengers are like on a Carnival cruise. It's impossible. You'll see young people, solo cruisers, the elderly, all races and socioeconomic levels represented.
The great thing about Carnival is its family-friendly approach when it comes to Cruising, so you'll often see multi-generational family groups. No matter who you are, you'll enjoy yourself as long as you are ok with being in a mixed environment of all types of people from different cultures and backgrounds having a lot of fun.
Royal Caribbean International
Royal Caribbean does a great job of bridging the gap between a more traditional cruise experience and the ultra-casual cruise experience offered on Carnival (or even NCL). The focus is on the biggest and most innovative ships at sea. A year can barely pass before you hear about Royal Caribbean launching even a newer, bigger ship. Seeing some of their mega-ships is truly mindblowing.
Royal Caribbean pioneered the wild experiences on board and made these experiences as much of a reason to cruise with them as the actual ports and itineraries. The innovative onboard activities are so unique that other cruise lines have tried to one-up Royal Caribbean with their own insane ideas of onboard activities (for example NCL's go-karts on the Encore).
On a modern Royal Caribbean ship, you'll see crazy things like a surf pool, ice skating, the world's tallest slide at sea, and even rollercoasters.
The atmosphere is decidedly more upscale than other lines such as Carnival but not stuffy. It's still casual with plenty of fun to be had albeit slightly more reserved.
For Caribbean destinations, a stop at their private island is often part of the itinerary. The private island is widely regarded as one of the best private destinations any cruise line has to offer which includes a huge waterpark, freshwater pools a bunch of eating options, and bars.
Pros of Royal Caribbean
Friendly crew
Wide range of itineraries and prices
Huge and amazing ships.
Upscale feeling
Private Island of CocoCay
Cons of Royal Caribbean
Expensive drink packages
Infrequent promotions
Slightly more reserved entertainment options
Dining is average
Royal Caribbean's target market & clientele
Royal Caribbean Cruises are known to be a hit, especially with families. They have designed the largest cruise ships in the world that mimic small floating cities. Within these cities, there are water parks, slides, arcades, and fun for passengers of all ages.
A more casual and laid-back environment makes it a pleasure for vacationers who just want to have a good time and not worry about elaborate dress codes (though they do have dress-up nights as well). The bottom line is they cater to a wide variety of clientele, but families will appreciate these ships the most!
Virgin Voyages
Virgin Voyages is the newest and most exciting cruise line to launch in decades. With its adult-only theme (18+), it creates an environment where entertainment is unrestrained and uncensored. The new cruise line has 2 newly built ships in its fleet, with two more on the way, with a capacity of approximately 2,700 passengers. The two current ships are the Scarlet Lady and Valiant Lady with the Brilliant Lady and Resilient Lady due to arrive next year (2023).
The Virgin ships are designed to be more like megatachts than they are traditional cruise ships. Spaces on the ships are designed around a more adult atmosphere which includes activities like tattoos and piercings and a nightclub that is far superior to any "club" on a more typical cruise ship.
Virgin has chosen to target a more active and modern clientele (think GenX / GenZ) that tends to get into more fitness and yoga-related classes. Additionally, there is an emphasis on the food served throughout the ships.
Virgin Voyages is MOSTLY all-inclusive. They make a big point of where tips are included in all of the pricing, so you'll never see extra items on a bill for daily gratuities or an additional mandatory tip added to your services on board. That said, the biggest thing NOT included on Virgin is alcohol, and there's not an option to buy a drink package. But the prices are reasonable and compared to on land restaurants & bars.
Their answer to a drink package is a "Bar Tab" sold in $300 increments and often includes an incentive for purchasing a bar tab (i.e. $50 extra for the bar tab for every $300 or on occasion up to $125 extra bar tab with a $300 purchase). It's important to note that the bar tab can only be used for drinks and unused balances at the end of the trip are not refunded.
Pros of Virgin Voyages
Diverse & Engaging crew
New luxury ships with a unique theme
Adults Only
Something for everyone
Overnight itineraries
Affordable drinks
Huge option of specialty dining, all included
Cons of Virgin Voyages
No drink packages
Limited entertainment options
Older cruisers may feel out of their element
Small pool areas
What kind of passengers are Virgin Voyages hoping for?
It's evident that Virgin has reimagined the cruise experience by targeting a group of people like Gen X that value experiences including health & wellness. Foodies are in heaven and Virgin wants to point that out with their variety of specialty dining options, all included in the price. Virgin is targeting a traveler type that can't be bothered by kids on their vacation, wants an experience where they're not nickel and dimed, and has a very adult theme. It's not for everyone, but most people who have tried Virgin seem to really enjoy it!
Holland America Line
Holland America cruises can most accurately be called "classic". The atmosphere, experience, and overall operations are what you would think of as a modern version of the good old days of cruising. Holland America Line usually attracts a slightly older crowd who appreciates finer things about going on a cruise like good food, impeccable service, and formal nights.
Entertainment that includes live music and activities that include educational programs & enrichment programs attract a loyal and arguably more refined clientele. Some of these programs include cooking demonstrations, wine tastings, and various classes.
The ships of Holland America Line are beautiful, elegant, and modern without being over the top. Food choices are abundant and the quality is superior to most mass-market cruise lines. For this experience, however, you'll pay more than you might on similar cruise lines.
You rarely hear any pros & cons when it comes to Holland America. The choice to sail on this type of ship rarely includes any downside. People who really enjoy this brand of cruising, appreciate that the experience isn't geared toward having children everywhere. So while it's not an "Adult" cruise, the lack of rowdy children on most voyages is appreciated by Holland America cruisers.
Pros of Holland America Line
Beautiful classic ships with a modern feel
Great food options & quality
Nearly All-inclusive options available
Better itineraries than many lines

A

generally higher-end clientele
Affordable add-ons and up-charges when they exist
Reasonable drink and specialty dining prices
Cons of Holland America Line
Tend to be more expensive
The line is making voyages longer and fewer shorter itineraries
Celebrity Cruises
Celebrity Cruises happens to be one of our favorite cruise lines. Celebrity blends a mix of a modern experience, beautiful ships, and an upscale vibe across their entire fleet. The cruise line has ships to fit just about any demographic and taste including older, but incredibly well-maintained ships for the classic cruise experience to the newer mega ships that attract people who go on a cruise for the "big ship" experience.
People also tend to agree that Celebrity has some of the best food options in their included main dining rooms. To enjoy some of the highest quality food, visiting (and paying for) a specialty restaurant is often required. With Celebrity, passengers rave about the food throughout the ships (and I fully agree!)
Speaking of food and restaurant options, Celebrity has also decided to intrude a dine-any-time concept rather than a strict time slot for your meals. This is available on a limited basis, presumably, so they can accommodate the open dining request without sacrificing service quality. Following NCL's "Freestyle Dining" concept which is popular among Norwegian clientele.
While Celebrity has family-friendly activities and accommodations for children, the cruises are rarely overrun by kids as you find on a Royal Caribbean or Carnival cruise. The absence of water parks, slides, and other kid-oriented activities usually has families with children looking elsewhere for a cruise.
Even though Celebrity Cruises has a relaxed vibe, they still have dress-up nights and events that are dressier.
Another selling point of Celebrity is having a nearly all-inclusive option for their bookings. This is a rarity among the mass market cruise lines. In 2020, fares were introduced that included unlimited drinks, Wi-Fi, and daily gratuities. There are also options for a "cruise only" rate for those who don't need the perks of the all-inclusive rate.
Pros of Celebrity Cruises
Incredibly maintained and luxurious ships with cutting-edge design.
Known for amazing food quality
All-inclusive options available
Better itineraries than many lines

A feeling of being posh without a snob vibe

Amazing spa facilities (on most ships)
Cons of Celebrity Cruises
Tend to be more expensive
All-inclusive fares have a very basic drink package included
What kind of passengers are Celebrity Cruises targeting?
In short, passengers who enjoy a premium experience with value make up the majority of the travel demographic. Many millennials and "GEN X" ages find that when it comes to cruising, Celebrity fits their expectations perfectly. Travelers who want a nice, upscale experience without breaking the bank rule the Celebrity demographic.
MSC Cruises
MSC Cruises are unique as they have recently made a push into the North American market after originating in Europe (originally as a shipping company). MSC has done an amazing job of designing big and beautiful new cruise ships and making them accessible with more friendly pricing models for a wider variety of consumers. However, with those pricing models comes some confusion.
MSC breaks down their fares by "experience" such as 'Bella' which is the base fare and most affordable to the Area which is more inclusive and allows for open dining rather than fixed times with the Fantastica experience being in between these which is what you would expect for most general booking types on other cruise lines. The reality is, that having to go through a grid of what's included, especially if you're a first-time cruiser, can be daunting and take away from the overall vacation excitement.
That said, the ships, once on board, are generally very nice and friendly to all types of cruisers from first-timers to experienced cruisers and people who enjoy traveling with family. Our experience with MSC definitely pointed out that the European origination of the cruise line has seen nearly the entire ship full of multi-generational family groups taking large group vacations together.
MSC is catching up to what other cruise lines are making a part of the modern cruise experience including a focus on wellness, specialty dining, suites, entertainment, and a plethora of nice bars with drink packages.
When it comes to food options most travelers consider the food "average" and you never hear much about how amazing the food is on MSC like you do on Celebrity or Norwegian.
The best way to describe MSC is "You get what you pay for". You can have an affordable and amazing family vacation, but don't expect to be wowed by the food, service, or general experience. But the reality is, sailing on MSC is going to be enjoyable, at least as enjoyable as you make it.
Pros of MSC Cruises
Modern & well-designed ships
Affordable
Wellness-focused programs are available
Cons of MSC Cruises
Food is average
The service level isn't quite what you'd expect from a large cruise line
Expect to see a wide variety of travelers and international travelers which may be difficult to understand (in both language and behavior)
Upcharges for many things on the ships (including the ability to choose your cabin)
Confusing "experience" options to choose from
Who would enjoy MSC Cruises? What is their target market?
MSC is great for a family that wants to try a cruise and isn't sure if the experience of cruising is for them. It provides a range of options for the frugal traveler or even for the experienced cruiser who enjoys the higher end of travel such as Suites and concierge service. Travelers who want to try a cruise with multiple families or multi-generational travel groups will enjoy an MSC Cruise.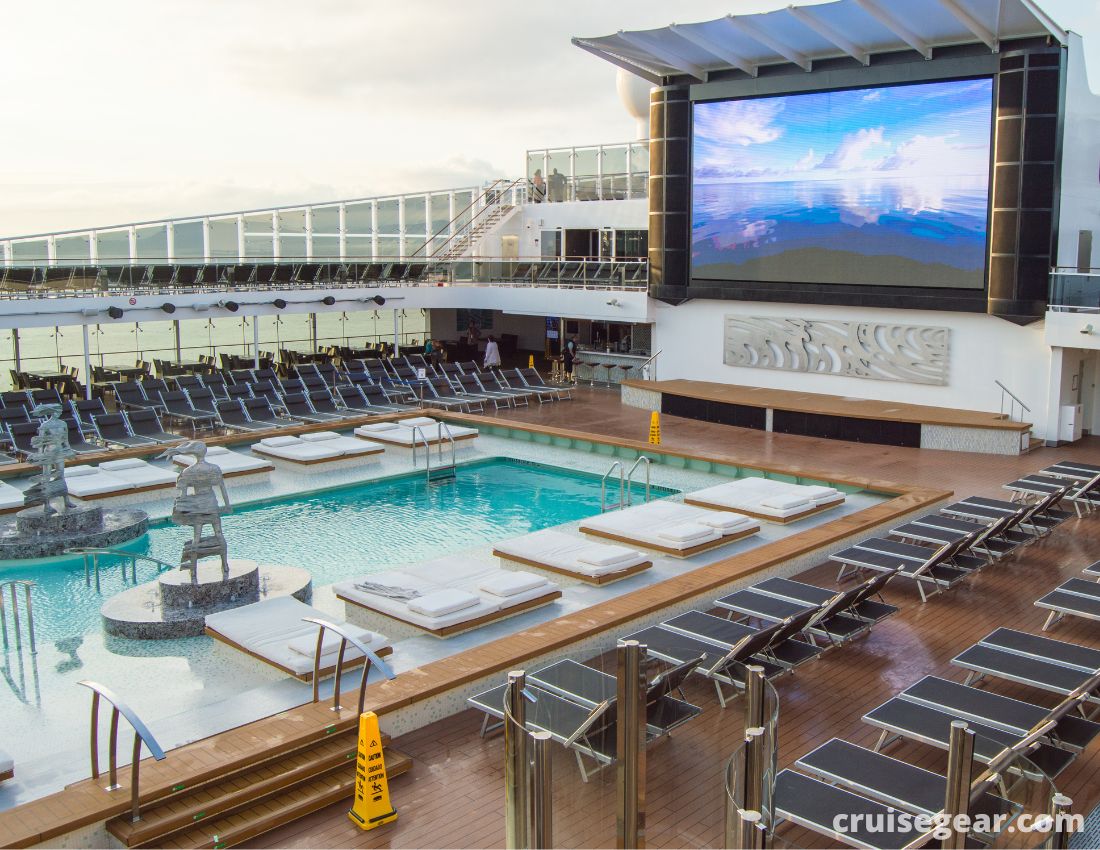 Princess Cruises
Princess became famous and a household brand name with the series "The Love Boat". Princess Cruises is the epitome of traditional cruising and lives up to the tradition of what a traveler would expect if they had been on a cruise 20 or 30 years ago. While Princess Cruises has evolved to match some of the more modern cruise expectations like open dining times and drink packages, it still maintains the classic spirit of what a cruise should be. What makes Princess Cruises special is the ambiance and services. In general, the clientele still enjoys dressing nicely for dinners and appreciates a high level of service.
In recent years, Princess has added more and more specialty dining options to their ships with prices in line with most other cruise lines that offer specialty dining. For foodies booking a cruise, it's important to know that each ship may be different with dining options, so check carefully to make sure what you expect, in fact, exists on the ship you're planning on booking.
Like MSC, Princess has taken a package or "experience" approach to their bookings. Simply a "good, better, best" approach – there are three ways to book your voyage. Essentially there is a Cruise Only fare, there is a fare that includes basic drinks (up to $12), and a "Premier" experience fare which includes premium beverages, wifi, specialty dining (depending on the length of the cruise), and photography packages. Compared to how other mainstream cruise lines price dining and beverage packages, the 3 tiers of Princess Cruises make a great value.
Pros of Princess Cruises
Classic cruising experience

Appeals to new and experienced cruisers

Something for everyone
A wide variety of itineraries
Complimentary Room Service
Cons of Princess Cruises
The highest fare level can get expensive fast

Ships vary making it difficult to determine what features may be on some ships versus others. (Makes choosing hard!)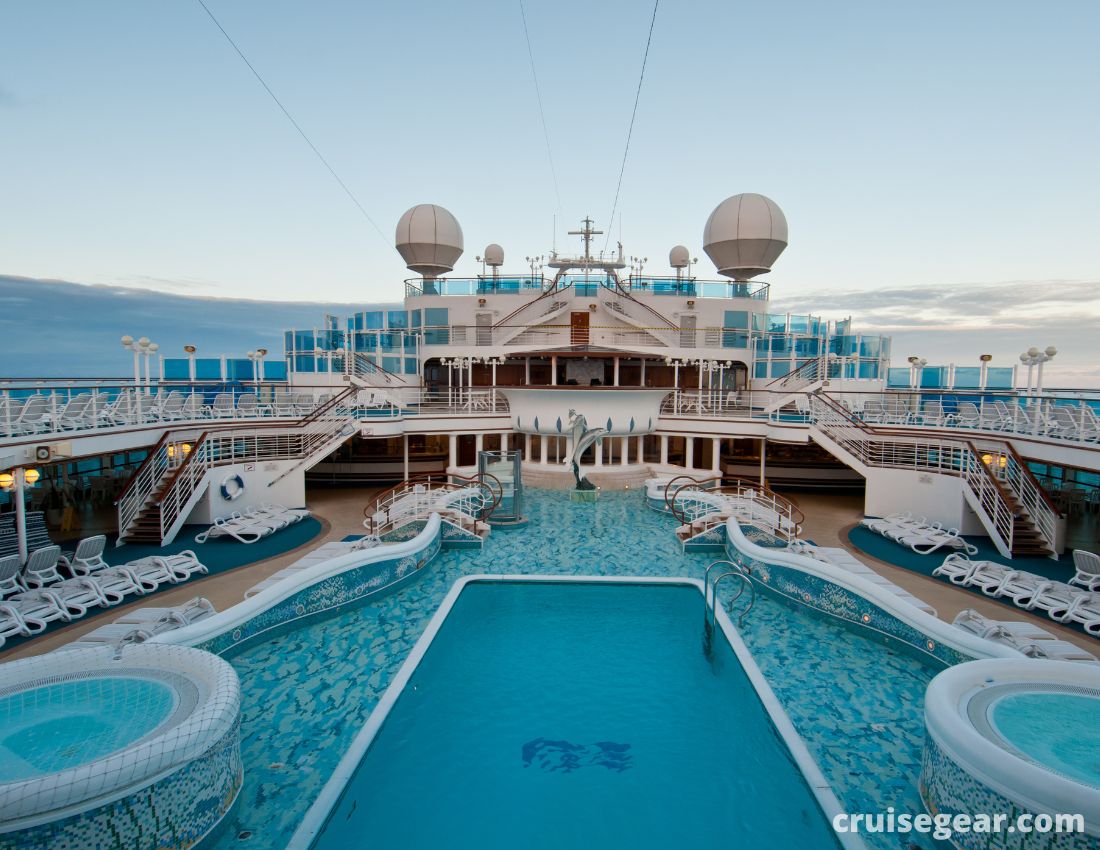 Cunard Line
Mention taking a transatlantic crossing/cruise on the Queen Mary 2 to anyone, and nearly all the time the topic of the Titanic comes up! Other than the sinking part, the experience is as glamorous as you'd imagine the Titanic was.
Cunard ships (Queen Mary 2, Queen Victoria, and Queen Elizabeth) are not just cruise ships, but luxury ocean liners meant to traverse the globe and cut through high seas with elegance. (QM2 and the upcoming Queen Anne are TRUE ocean liners with reinforced hulls, etc.).
Taking a cruise with Cunard is a unique experience where well-dressed passengers dominate dining rooms and multiple formal nights occur on every voyage. The experience on board these ships while elegant also has an accessible vibe. Passengers appreciate the old-world luxury cruising standards while also enjoying lounging around pools in shorts. The idea of a Cunard cruise may turn people off who aren't into formal nights and sailing on ships that lack the modern crazy facilities like race tracks and water slides at sea.
What makes Cunard unique, aside from being the only cruise line with regularly scheduled transatlantic crossings, is the enrichment and entertainment programs offered on the ships. Being a transportation method for many decades, Cunard has nailed down how to keep people entertained for 7 days at sea with unique programs that focus on different topics, guest speakers, performances, etc. Enrichment programs include authors, journalists, musicians, designers, and scientists who conduct sessions and speaking performances on intriguing topics.
Service is top-notch on all Cunard ships and the cabins are sophisticated but not overdone or 'stuffy'.
Pros of Cunard Line Cruises
Beautiful classic ships

Elegant without being pretentious

Amazing service
Unique programs and entertainment
You'll meet people of all types including Royalty and Movie Stars!
Cons of Cunard Line Cruises
Traditions that may not suit all travelers such as true formal nights

No drink packages
Small pools
Limited specialty dining options
Group seating in the main dining rooms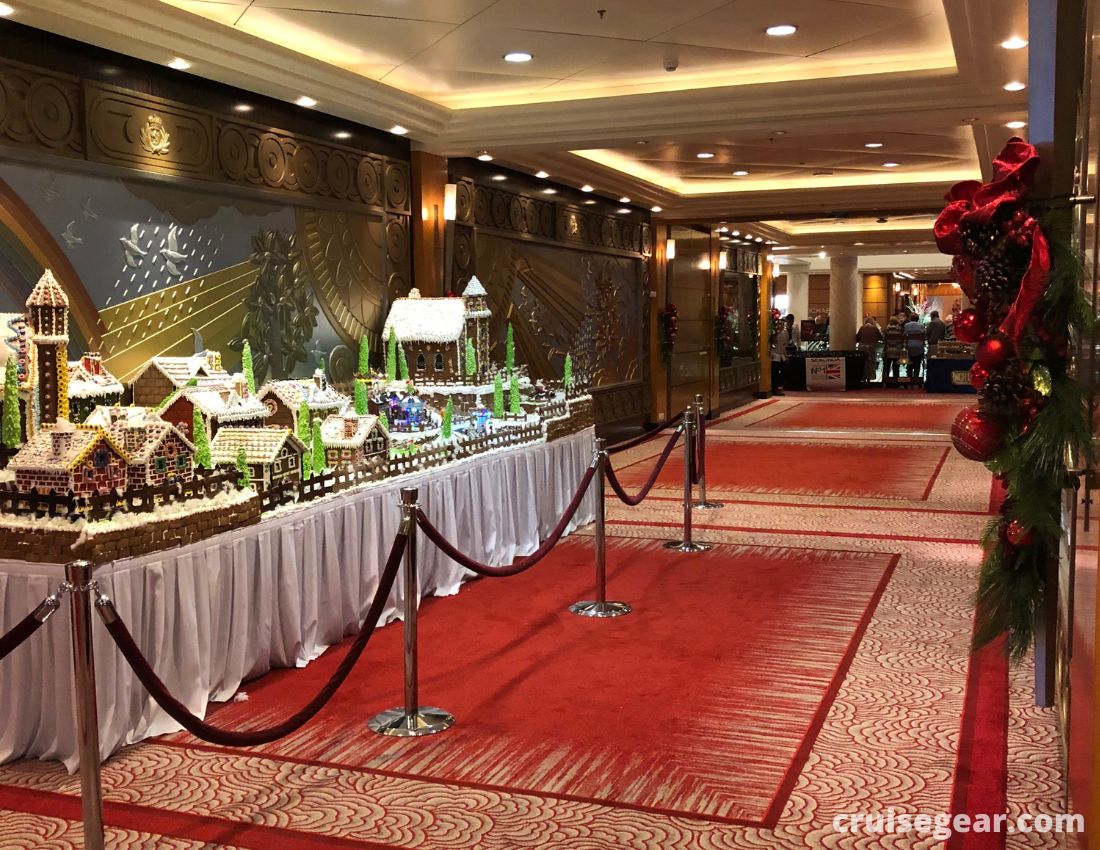 Disney Cruises
Disney! Well, there isn't much to say about it because it's the happiest place ON THE SEA. We're putting Disney on the list here because it's on our bucket list to try and give a full review. Until then, check out this amazing review of what to expect on a Disney cruise.
Do you have a suggestion?
Did we miss something? Do you want to add an idea? Just submit a comment below!