MSC Cruises Drink Packages & Prices (UPDATED) 2023 – Complete Guide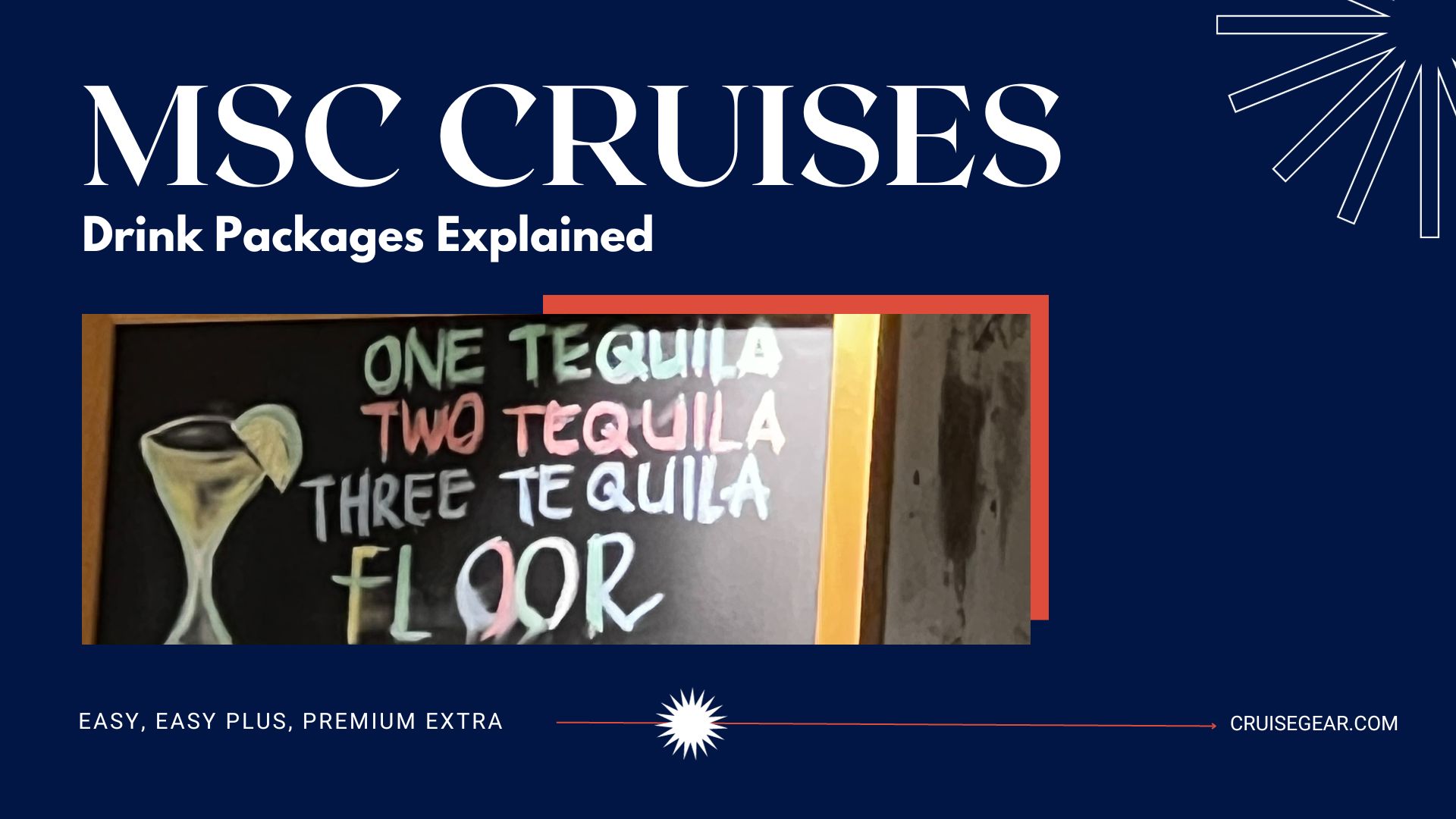 MSC Cruises has "packaged" almost everything on their cruise vacations, and none of them are very straightforward especially the beverage packages. So we'll break down the MSC drink packages with prices, and better explain how they really work.
MSC Drink Package Prices
Depending on which you choose, you can get a package for as little as $19/day (Minors) – but the most popular package is the Easy Plus Package which starts at $61/day. The good news is that MSC Is running quite a few promotions that INCLUDE the Easy Plus Package! Take a look at their promotions here.
| Package Name | Cost Per Person – Purchased in Advance |
| --- | --- |
| Easy Package | $46 /day or $49/day for short sailings |
| Easy Plus Package | $61 /day or $64/day for short sailings |
| Premium Extra Package | $85 /day or $88/day for short sailings |
| Alcohol-Free Package | $28 /day (21 yrs +) / $30 for short sailings |
| Minors Package | $19 / day (3-20 yrs old) / $21 for short sailings |
Tips / Gratuities Now Included!
MSC Cruises has chosen to include the gratuity in the revised Drink Package pricing for 2023
MSC Cruises Drink Packages Compared ( NEW 2023 prices)
There are 5 drink package options that MSC Cruises offers on its ships including the "Easy" package, "Easy Plus" package, "Premium Extra" Package, and the Alcohol-Free Package (with a different price for minors and adults)
MSC Easy Drink Package Explained
The "Easy Package" is the most basic alcoholic beverage package on MSC Cruises with a cost of $46 per day per adult and is sometimes offered at no charge as a promotion. (This package is $49 per day on short cruises of less than 6 nights and is even more expensive if purchased onboard)
Liquor choices that go into mixed drinks are generic and sometimes off-brand.
The upside to this beverage package is that it also includes bottled water, soft drinks & juices as well as espresso, coffee cappuccino, and other hot drinks (tea, hot chocolate, etc.) With many cruise lines when purchasing a drink package, they often exclude bottled water and coffee drinks.
So if you are a heavy coffee drinker and enjoy bottled water with a few beers throughout the day, this is likely your good choice.
This is the package that was included on our Meraviglia cruise with the base cruise fare. Initially, this seemed like a good option as it covers the basics, but there are some restrictions that were inconvenient enough to make us upgrade to the Premium Plus.
An important exception to the Easy Package!
  You CANNOT use the Easy beverage package in any of the specialty restaurants. So if you want a gin & tonic at dinner, you're out of luck. Even more bizarre, bringing a beverage to dinner is specifically prohibited forcing you to purchase any drinks regardless of price for the time you are in a specialty restaurant. 
MSC Easy Drink Package Menu
What is included in the MSC Easy Beverage Package?
The Easy drink package entitles you to any beverage up to $7.50 (sort of). For your convenience, menus throughout the ships have a section specifying what's included in the easy beverage package. However even though some beer prices by the bottle are $7.50 or less, those are EXCLUDED from this package. Strange, right?
For beer, with the Easy Drink Package, the only option is Heineken Draft or sometimes Miller Light, and the wines are off-label or inexpensive brands only marked as "chardonnay, Sauvignon Blanc, Zinfandel Rose, Cabernet, or Merlot (Plus a random label of sparkling wine or Prosecco). So if you're not picky, this package may be sufficient.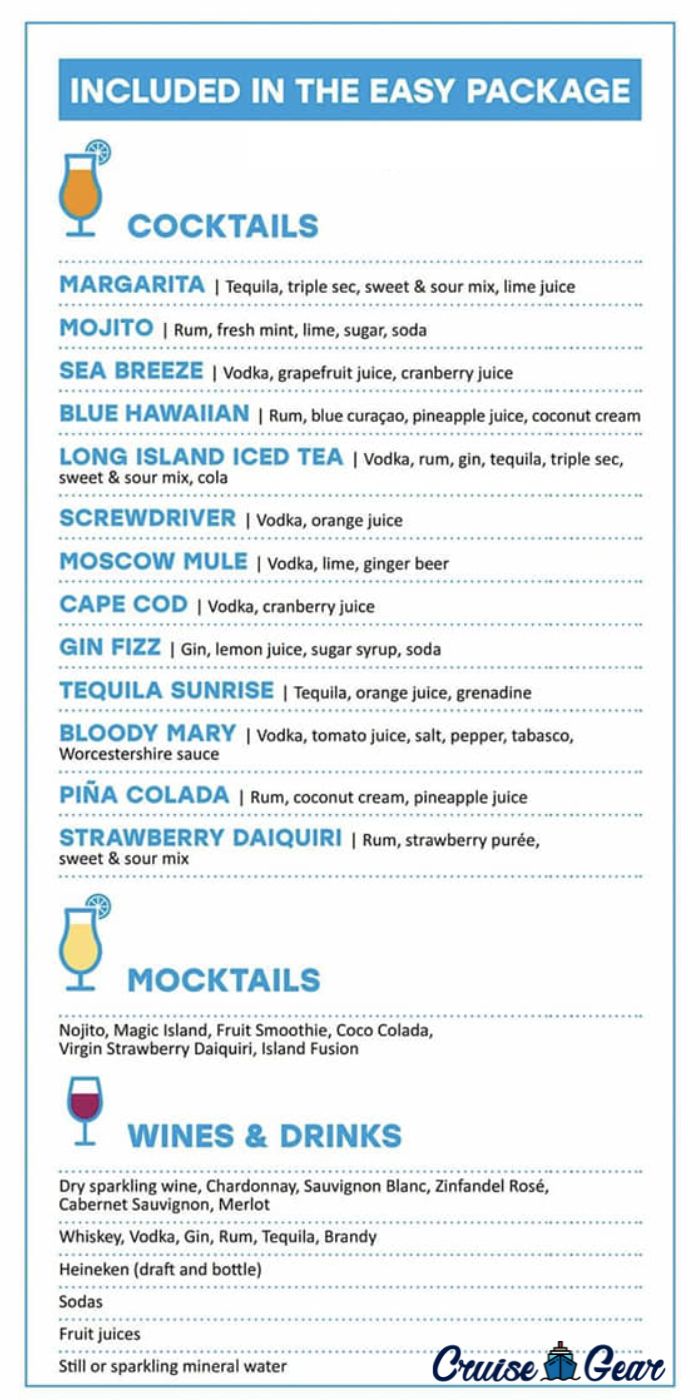 Is the Easy package worth it?
That really depends. If you drink basic cocktails such as Gin & Tonic, Bloody Mary, Screwdriver, etc, and aren't picky about the liquor used, the Easy Package may work for you.
MSC Easy Plus Drink Package Explained
The Easy Plus Package cost is $61 per day, ($64 for shorter cruises of 6 days or less) but you can upgrade from the Easy package for about $23/per day per person
With this beverage package, you can order drinks in specialty dining restaurants as well as anything included in the above Easy package. There are caveats, more on that later.
Any beverages up to $10 are included in this package which gets you all of the beer options, more wine options, and some frozen drink options that aren't available in the most basic drink package. There is also a larger range of liquor brands, cordials, and martinis available at this price point.
The Easy Plus Package is the most common drinks package because it includes just about everything that a typical drinker would order. Even better, this package can be used in specialty dining restaurants as well. With recent changes to the beverage packages, the cruise line now allows you to order a drink that is not included in the package and only pay the difference (plus gratuity)
This is what we ultimately upgraded to from our included Easy Package. It was well worth the upgrade not only for the more inclusive offering, but for the simplicity of not having to think about what we were ordering and if it was included.
The MSC Easy Plus Package Menu
This is an example of the Easy Plus menu from within the MSC mobile app. Just know that you are entitled to anything up to $10. See the complete list below.
MSC Premium Extra Package
This drinks package allows you to purchase any beverage up to $16, however, it comes at a high cost of $85.00 / day per person (this can be as much as $104/day if you are on a short cruise and purchase onboard). You can upgrade from a lower-cost beverage package for the difference in price, i.e. if you have the easy package, for approximately $43/day you can upgrade to this Premium package. (Note: Prices have changed as of March 1, 2023, and this information reflects the newest pricing)
While this package covers most top-shelf liquor, there are still quite a few wines and drinks that are more than $16, so it's not as inclusive as other cruise lines' most premium drink packages.
MSC Premium Extra Drink Menu
Most premium liquors can be purchased with this package including Grey Goose, Aviation Gin, Belvedere, etc. (see the menu below). However, there are still plenty of drinks that are strategically priced above $16, making this package far from all-inclusive. Additionally, most of the champagne and decent wine on board is significantly more than the limit allowed by this package. It's hard to make sense of this package unless your tastes are squarely within the more premium liquor brands included.
A bonus of these drinks packages is the discounting on bottles of wine (25%), but the reality is good bottles of wine are generally only available at The Butchers Cut Steakhouse, so unless you are dining there regularly, that benefit is minimal.
Alcoholic-Free and Minors Package on MSC Cruises
You might be interested in the non-alcoholic package if you're not a drinker or when traveling with children. This package offers non-alcoholic cocktails, sodas, energy drinks, juices, coffee, tea, and hot chocolate. This package doesn't apply to specialty restaurants unless it's for a minor whose group purchased the Easy Plus or Premium Extra alcoholic package. So be prepared to pay for your soda when dining at the Butcher's Cut, even if you have this package.
These prices will vary if booked on the ship on the day of sailing. Usually by an additional 10% or more. Short sailings are considered anything less than 7 days.
This table of prices is pretty mind-numbing and takes the fun out of figuring out what package is right. Why there are different prices for different lengths of cruise is bizarre and just another way that MSC tends to overcomplicate everything.
Our experience with the MSC Drink Packages
Originally, we thought the Easy package would be sufficient for our cruise, but discovering the limited beverage options and the fact that you cannot use the package in specialty dining restaurants, we chose to upgrade to the Easy Plus.
Overall this was a good choice, because of the wider variety of options and the ability to use in a specialty restaurant. However, it's important to know – that when using the Easy Plus in a specialty restaurant like Butcher's Cut, you must order off of the wine/drink menus in that restaurant!
If your favorite glass of wine isn't available in the restaurant, you are forbidden to bring anything from an outside bar, which really makes no sense. This is something that they do NOT TELL YOU when upgrading from the Easy to Easy Plus on the ship.
Normally this wouldn't be a big issue except there were very few options on beverage menus that were covered by the Easy Plus package.
What's NOT Included in the drink packages?
Each drink package on MSC has a unique set of rules and inclusions, but to be sure about what's CURRENTLY included, be sure to check out the official comparison chart on the MSC Cruises website here.
Drink Calculator – Are drink packages worth it on MSC?
Let's find out if getting a drink package is worth it or not by using our handy drink calculator! Simply choose the package you plan on purchasing and estimate how many drinks per day you might consume and see if you "break even"
Choose the package type you are considering. We've entered the package price per MSC Cruises but you can adjust the daily charge if you are getting a promo on the package price.
Enter the number of cruise days
Estimate your consumption of each type of beverage. We've put the average beverage prices based on the Drink Menus, but you can adjust this if you know you like more expensive drink options.
Frequently Asked Questions about the MSC Drinks Packages
Can you upgrade your drinks package on MSC?
Yes, you can upgrade for the difference in the price of each package (the gratuity is now included for all on-board upgrades)
Do you pay the difference in price for a beverage not included in your package?
NOTE: Starting in early 2023, MSC has started rolling out a new beverage program and rules. One of the changes is allowing you to "upgrade" your drink. A credit of the maximum package drink price will be given towards a drink that is over what the package will cover. For example, if you have the Easy Plus package for drinks up to $10 and you order a $12 glass of wine, you should only be charged $2 now. *** However, we are unsure about how this works with the Easy Package or if it does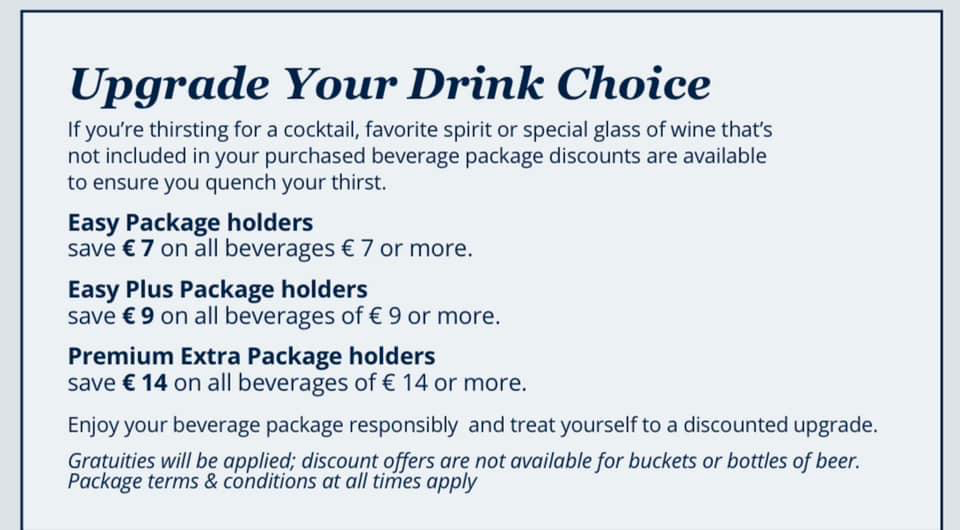 The credit towards a drink is $8 per drink for the Easy Package, $10 per drink for the Easy Plus Package, and $16 per drink for the Premium Extra Package.
Are drinks in the mini bar included in the MSC drink packages?
Drink packages don't include the minibar
Can you use your drink package at Ocen Cay Marine Reserve?
Drink packages DO work on the Ocean Cay private island. 🥳
Does everyone in the cabin have to buy the beverage package?
Yes, all adults are required to have the same beverage package and the same level (i.e. Premium Plus). The Cruise line specifically states that children need to have a minors package if the parents have a beverage package.
Do the MSC Drinks Packages include gratuity?
Yes – Starting in 2023, the beverage packages offered by MSC Cruises include the gratuity.
Is there a limit to the number of drinks I can order per day ? (Unlimited)
Currently, there is no stated limit – other than they can refuse to serve you if you've overconsumed.