MSC Cruises Review & Everything You Need To Know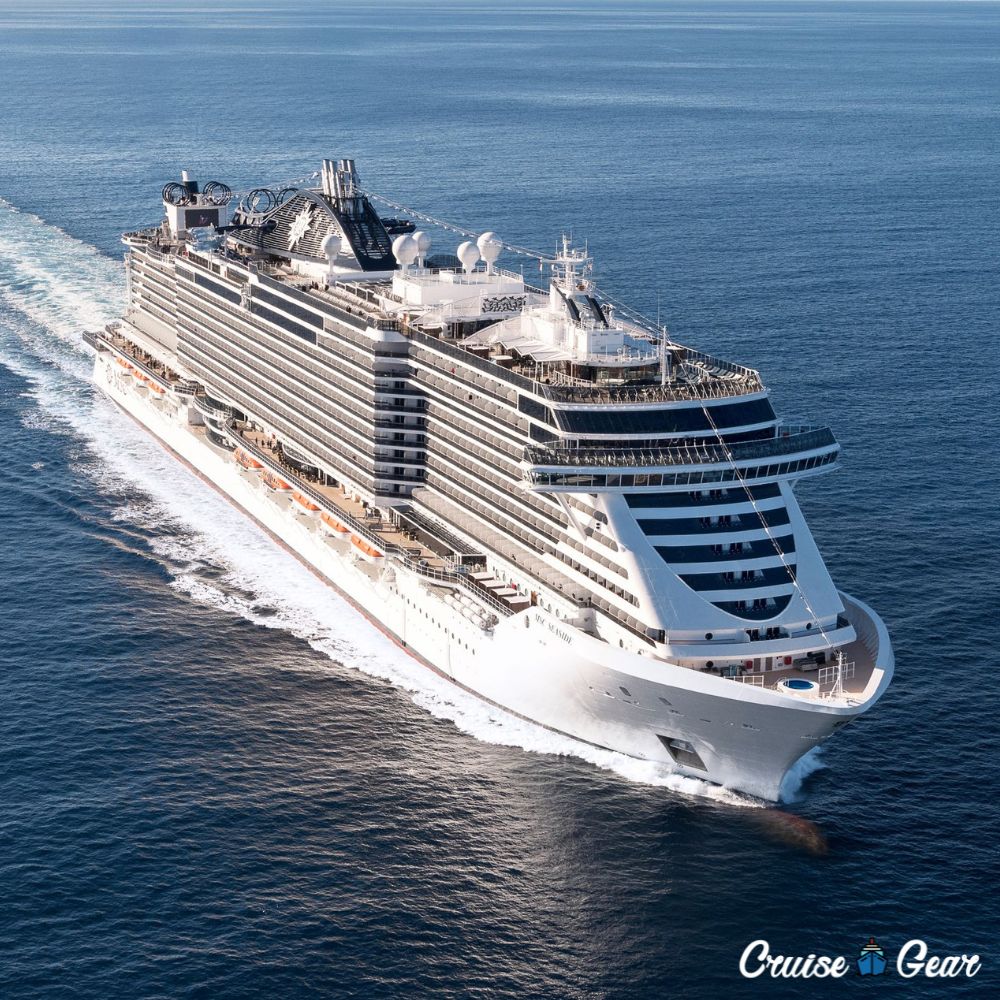 There is a lot of talk about MSC Cruises right now since they are making a huge push into the American cruising market. With so many questions about MSC, we're going to cover everything you need to know about taking an MSC Cruise!
Take a look at any cruise-related Facebook group or Reddit topic, and you're bound to find endless questions about MSC. Not only are there questions, but there are also plenty of opinions about the newish cruise line (MSC has been sailing in Europe for a long time). The brand is polarizing.
So what is a cruise really like on MSC?
NOTE: Most people compare MSC with Royal Caribbean or Carnival. That's the perspective we'll take when laying out all of this information.
In response to many inquiries about the "real deal" about MSC, I would like to share some insights. As seasoned cruisers, we have traveled on many ships, including Royal Caribbean, Norwegian Cruise Line, Carnival, Virgin, Cunard, Holland America, Celebrity, and MSC. Additionally, we've cruised with companies that no longer exist like Pullmantur. Every cruise line has hits and misses, so it's important to keep everything in perspective when evaluating a new cruise experience. Rarely are cruises perfect.
When it comes to the ship's overall decor and beauty, MSC has a huge advantage, especially when compared to any older or midsize ships for Carnival or RCL. However, comparing MSC's newer ships to mega ships is an apples-to-oranges comparison. The pool decks and slides on MSC were excellent, and the service was fine, with no noticeable difference.
What to Expect from an MSC Cruise
MSC Cruises, having started in Europe, has carried over many of the European aspects of its brand to the American market. This isn't necessarily a good thing, but it's at least consistent.
In Europe, MSC is regarded as a "higher-end" cruise experience when compared to brands like P&O, Costa, and the now-defunct Pullmantur. However, that doesn't cut it with American cruisers who are used to endless (Free) entertainment, expansive buffets, higher-end premium dining options, and impeccable service.
This is where you start hearing from people complaining about MSC Cruises.
If you've been to Europe, and understand that the cruise line has its roots based in Europe, the fact that everything is an up-charge and some services aren't as friendly or efficient as other cruise lines, you won't be surprised. But if you are a typical American cruiser who's used to the big names in cruises, you'll probably be frustrated to some extent (more on that later). However, if you are a first time cruiser, and this is your first experience with this type of vacation, you'll likely be elated and happy with everything, because in reality, there's not too much to complain about, especially given the value of these vacations.
Pros and cons of MSC Cruises
What we like about MSC
Beautiful, Clean & Modern Ships
Reasonable drink prices
Affordable packages (Drinks & Dining)
Variety of food options
The pizza is AMAZING!
Specialty Coffee & Bottled water included in the most basic drink package
Value for money, especially for families
What we don't like about MSC
The experience feels like nickel and diming, where so many things cost extra.
Customer service is disinterested and sometimes downright rude
Food quality is average at best in the main dining rooms + buffet
MSC Cruises vs Royal Caribbean vs Carnival vs Norwegian Cruise Line
To get an accurate comparison, it's essential to evaluate apples to apples and determine what matters most to you on a cruise. This review pertains to US sailings to the Caribbean and Bermuda, not European sailings – though we have done MSC in Europe, a completely different article will cover that! Let's be clear from the outset: there's no comparison between MSC and the higher-end cruise lines such as Cunard or Disney which provide a superior experience at more than twice the cost. So, let's focus on comparing MSC to Norwegian, Royal Caribbean, and Carnival, which seem to be the cruise lines that MSC is "going after" with their marketing.
A few major differences usually come down to the following:
Price – when comparing cruise lines, MSC is usually less expensive for nearly identical itineraries. But remember to take into account the paid extras like entertainment and most dining outside of the main dining room and buffet.
In addition to the lower fares, MSC Cruises' automatic gratuities are usually lower than competing cruise lines.
Continuing with lower costs, the drink packages and dining packages are considerably less expensive than other cruise lines. See the entire MSC drink package pricing. While the drink packages are still quite expensive propositions, MSC often has the basic "Easy" drink package as a promotion, included in the fare making upgrading to a more expensive package reasonable.
It's more of an international clientele – with MSC being known better in Europe, there will be a significantly higher ratio of international passengers, which can be entertaining and a great way to get exposed to other cultures without leaving the USA. Unfortunately, this means you also have to listen to announcements in many languages.
The cabin stewards are more like what you'd expect in a traditional hotel rather than a cruise ship. They're efficient and good, but they aren't chatty and visible at all times. This likely comes down to the fact that on most traditional cruise lines, Americans tip extra, sometimes quite a bit extra to the room stewards and cabin attendants, so they are happy to be known and visible. On the contrary, tipping cabin attendants on an MSC cruise is not as typical (again, with European roots).
Is MSC Cruises a good cruise line?
This question is asked so often in forums and chat groups, it' mind-boggling! It's a very subjective question with so many ways to answer.
In general, I think MSC can offer an amazing cruise experience with great value, especially for families. With promotions like kids sail free and some of the most affordable cruise rates on the market, it makes for a good cruise experience and a good cruise line.
For cruisers who are experienced travelers with other major cruise lines, it will be a mixed bag on whether or not MSC is a "good" cruise line.
In general, they are just as good as any other cruise line, depending on what your priorities are. In the end, I always hate to say "it depends… " but it depends. That's what this article hopefully addresses for all types of cruisers.
Why are MSC Cruises so cheap?
First, "cheap" is relative and subjective. MSC Cruises feel like an inexpensive option to other cruise lines, but often by the time you add up all of the additional fees, they end up being very close in price to other similar lines like Carnival and Royal Caribbean. It's clear that MSC Cruises is making a push into the USA market and they are discounting heavily on certain routes, but looking closer, there are some itineraries where MSC is definitely more expensive than the competition.
MSC is definitely budget-friendly when it comes to family cruises, as they often have "kids sail free" promotions. With these promotions, a family of 4, for example, can vacation together for half the cost of a traditional beach vacation. So this makes for a relatively cheap family vacation or family cruise for sure!
MSC Cruises includes only the basics, everything else is for a fee
When considering MSC for a vacation, it's good to know that the price you see may look good, but there are going to be extras, a LOT of extras. While this isn't all bad, it's important to understand. I fully believe in being able to craft my own vacation experience by starting with a base price and adding on what I want rather than feeling compelled to take advantage of included items that I'm not really interested in. With MSC, the cruise rates are affordable and sometimes downright cheap but plan for extras. Any food and beverage outside of the included main dining room and buffet are for an additional fee, entertainment is often fee-based, and drinks can add up fast (although there are MSC Drink packages)
MSC Sells Cruise "Experiences" The Aurea, Bella, and Fantastica Experiences explained and compared
MSC Cruises sells "experiences". The cabins on the MSC Ships are effectively identical regardless of experience (with the exception of a couple of suites and the Yacht Club). So rather than purchasing a cabin or stateroom TYPE, you purchase an EXPERIENCE that grants access to different facilities and services. This approach is unique and we actually LIKE this method of selling experiences rather than a class of cabin.
The MSC experiences explained
There is the "Bella" Experience – which is the base fare and really is bare bones. It's a cabin + the included dining onboard (buffet and main dining room) as well as the use of all the public spaces and access to the complimentary entertainment.
For a little extra, you can purchase the "Fantastica" experience, which is the Bella + the added benefit of some flexibility, with one allowed free cruise change. Additionally, you can order room service for breakfast with no delivery fee. So many people enjoy breakfast in their cabins, that this may be worth it for many passengers. Additionally, you can request which dining time (late or early) you'd like in the main dining rooms.
The "Aurea" experience is the top-level experience, which gets you all of the Bella and Fantistica experiences and more. With the Aurea experience (available on balcony rooms only), you receive :
a premium stateroom location
access to the Aurea solarium which is for Aurea guests only
chocolates and prosecco in your cabin on the day of boarding
anytime dining
discounts on spa treatments
priority boarding
Free 24-hour room service
The Aurea experience is usually quite a bit more than the base fare (Hundreds of dollars per passenger), so you'd have to really ask yourself if access to the Top Exclusive (Aurea) solarium is worth the price, as the other benefits are minimal.
The MSC Yacht Club Explained
Where most cruise lines separate their experiences by class of cabins such as Norwegian's HAVEN and Celebrity's RETREAT, MSC has come up with the "Yacht Club". The big difference is with the MSC Yacht Club and other cruise lines, is that it's offered with interior cabins as an option. This is a great option for people who really want an elevated experience but don't feel the need for a balcony room, which is generally more expensive. Additionally, speaking with passengers who have experienced the Yacht Club on MSC Cruises almost universally adores it! I've yet to find anyone who has spoken negatively about the MSC Yacht Club. Unfortunately, it's not affordable for everyone, so I have an issue with the fact that the service on the rest of the ship is sometimes sub-par, so you shouldn't have to be in the Yacht Club to have a good service experience throughout the ship.
What do you get with the Yacht Club experience on MSC?
Dedicated priority check-in and check-out as well as priority departure and return on excursion days
24-hour butler service and a dedicated concierge
Room Service is available 24 hours a day
Premium Extra Drink Package
Premium Internet package (Browse – 2 devices Unlimited Internet Package)
Complimentary access to the Thermal Suite in the MSC Aurea Spa
Relaxation amenities in each suite (including bathrobe, and slippers)
Pillow menu
Other personal touches: luggage packing/unpacking service, newspaper directly delivered in a stateroom on request
1 free cruise change
Upgraded and elevated suites offer a more comfortable room size and are located in the foredecks of the ship
Dedicated, private area of the ship accessible only to MSC Yacht Club guests
A private and spacious pool deck with whirlpool baths and sunbathing area, an outdoor bar with the very best views
Panoramic Top Sail Lounge with bar, afternoon tea service, light bites available day and night, and live entertainment in the evening
Gourmet restaurant with a la carte dining for breakfast, lunch, and dinner with free choice of dining time
Tailormade experiences from shopping to excursions
20% discount on a prepaid dedicated specialty restaurant package
40% discount on a prepaid dedicated spa package
10% discount on all spa treatments purchased on board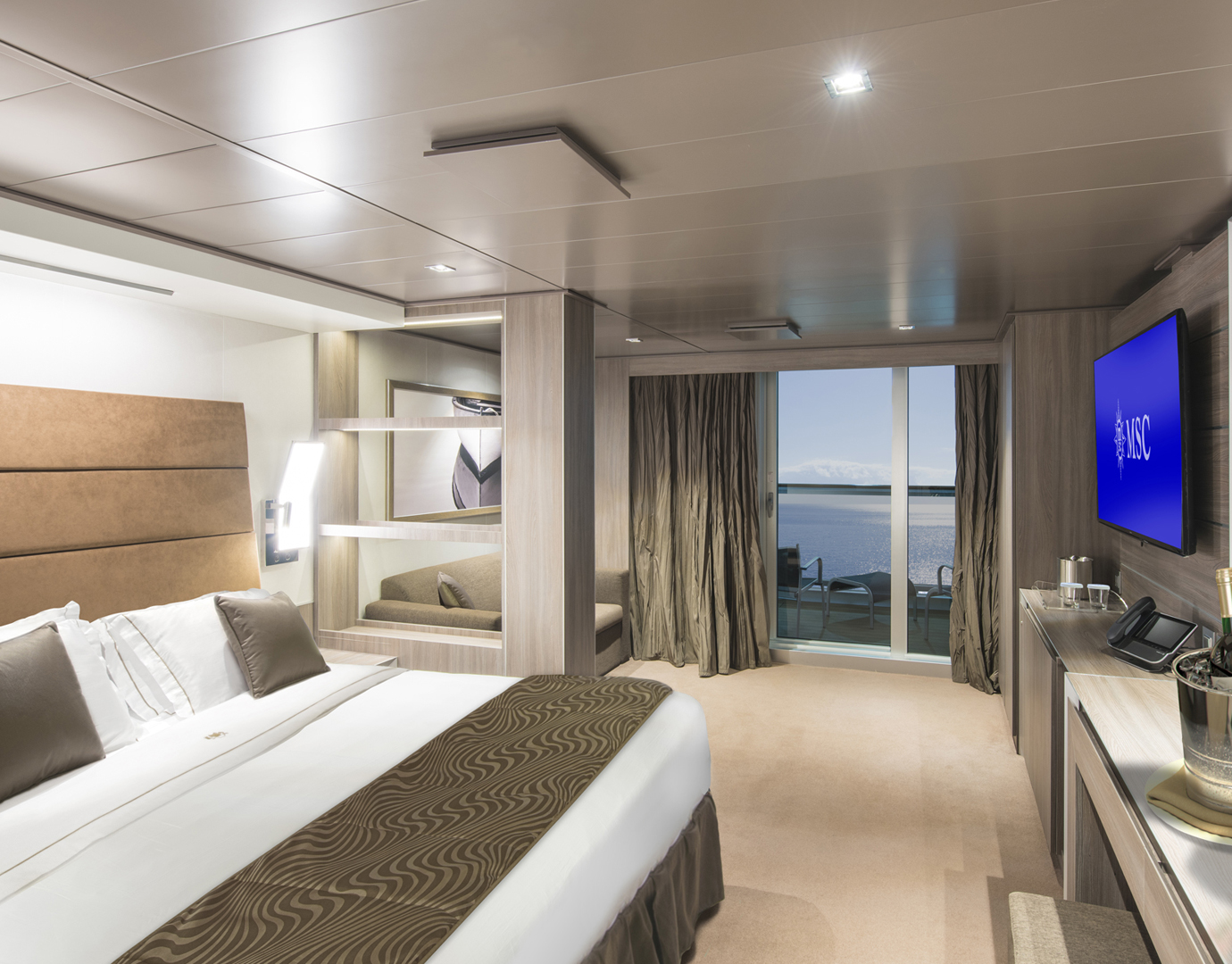 The Yacht club is only available on select ships and is not usually available on the older ships sailing in Europe. Ships with Yacht club include: Bellissima, Divina, Fantasia, Grandiosa, Meraviglia, Preziosa, Seascape, Seashore, Seaside, Seaview, Splendida, Virtuosa (and on the upcoming World ships)
Entertainment on MSC Cruises
The comparable evening shows on MSC are on par with those on Royal Caribbean and Carnival, but they come with a fee, whereas other cruise lines rarely charge extra for entertainment. However, the cost for the Cirque shows on MSC are very reasonable and enjoyable. Other entertainment included with the fare are more like variety shows, singing, dancing, etc.
As expected, there are other entertainment options throughout all MSC Ships including bands, solo singers dancing, poolside music, etc. However, nothing compares to some more mainstream cruise lines with "things to do" on a cruise. So if you compare overall activities on MSC versus Carnival or Royal Caribbean, you'll likely be disappointed.
So, if you're looking for a ton of activities all day, every day, there appear to be fewer options on MSC, as the entertainment and daily activities are not as robust as you might expect for such modern ships.
For experienced cruisers who expect big production shows included in the fare may be disappointed with what MSC has to offer.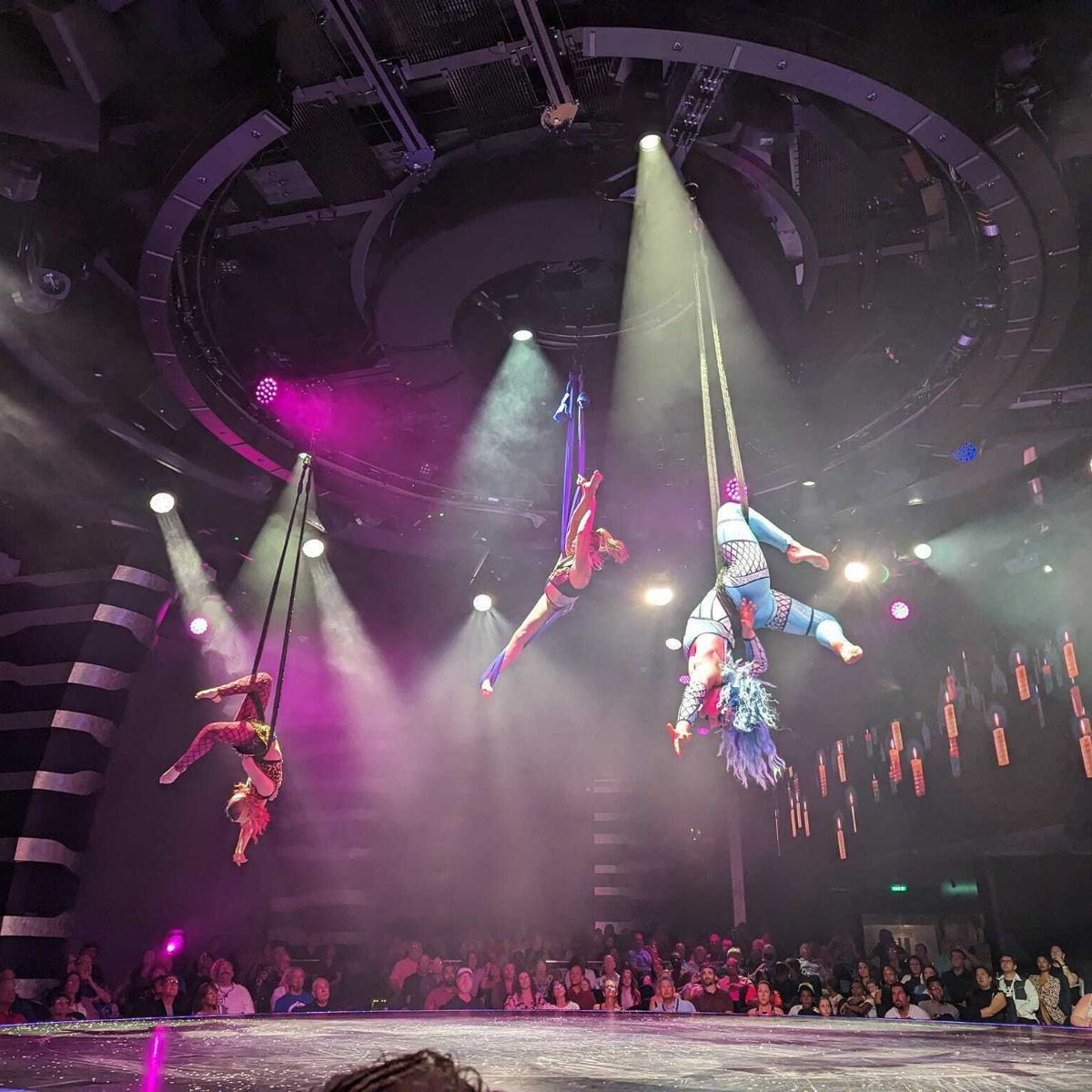 The Buffet, Main Dining Room & Specialty Restaurants on MSC ships
Many people consider food to be a significant factor in their cruise experience. In this regard, I find the buffets on all the ships I've been on to be acceptable. While MSC didn't have as many included options like Guys Burger and the Blue Iguana, it wasn't a deal-breaker for us. We always found something enjoyable, and the variety at breakfast, with more meats, cheeses, and bread, was a nice departure from the US cruise lines.
Regarding the included sit-down meals (main dining room), I would rate MSC last when comparing all major cruise lines, although they were not inedible by any means. I am content with the included main dining room meals because, for me, if I'm not cooking, I'm happy.
The buffets on the ships are usually expansive but not much changes on a 5 or 7 day cruise. The food is fine, but the pizza is amazing. So if we found ourselves in the buffet, it was usually for a pizza and salad.
There are a number of for-a-fee restaurants on MSC ships (basically all restaurants cost extra). For foodies and people that find the food experience on a cruise to be a priority, they may find what MSC calls "specialty" or "premium" dining lacks quite a bit. While it's not BAD, it just doesn't live up to the other major cruise lines when it comes to premium dining.
To get the most out of the specialty dining on MSC, consider buying a dining package. More details on the MSC dining packages here.
Specialty Dining on MSC Cruises
Butcher's Cut – The staple steak restaurant found on most MSC ships can actually cook a great steak. our only complaint is the presentation and the odd choice of sides (as well as their presentation).
Kaito Sushi – A lovely sit-down sushi bar where most of the menu is done quite well, with a few exceptions (like salmon hand rolls)
The Teppanyaki restaurant onboard is usually attached to the sushi bar. A great family event with good food and in a show cooking style.
Hola Tacos – Think food truck / street tacos meet sit down restaurant. The selection is great and this was by far our favorite restaurant on the ship. Not because it's fancy or particularly high-end, but because it delivered consistent, good food every time (and they're usually open for lunch!)
Ocean Cay Restaurant – The seafood concept found on many MSC ships was hit or miss with the prep of the food and overall food quality.
Specialty restaurants vary per ship.

MSC Cruises' demographic and typical passenger
MSC's overall demographic isn't on the extreme side of young or old; it's a nice mix. If you're looking for a party cruise and a lot of drinking, you may want to explore other options. Not that there is a lack of a "good time" to be had, but there are usually a lot of families, meaning fewer late nights and all-night parties.
Ocean Cay, MSC Cruises Private Island
MSC's private island, Ocean Cay, is fantastic if you want to relax and enjoy the beautiful sea and sand. The food trucks spread around were a nice alternative. However, it's not comparable to RCL's island, with its many slides, pools, and other activities. But we liked that. We loved the feeling of an island retreat more than a built-up water park. I think it was a great choice for MSC to make it a retreat rather than a playground.
One thing to note is that MSC's website is the least user-friendly of all the cruise lines I've used. The pre-cruise registration process is quite wonky compared to other websites.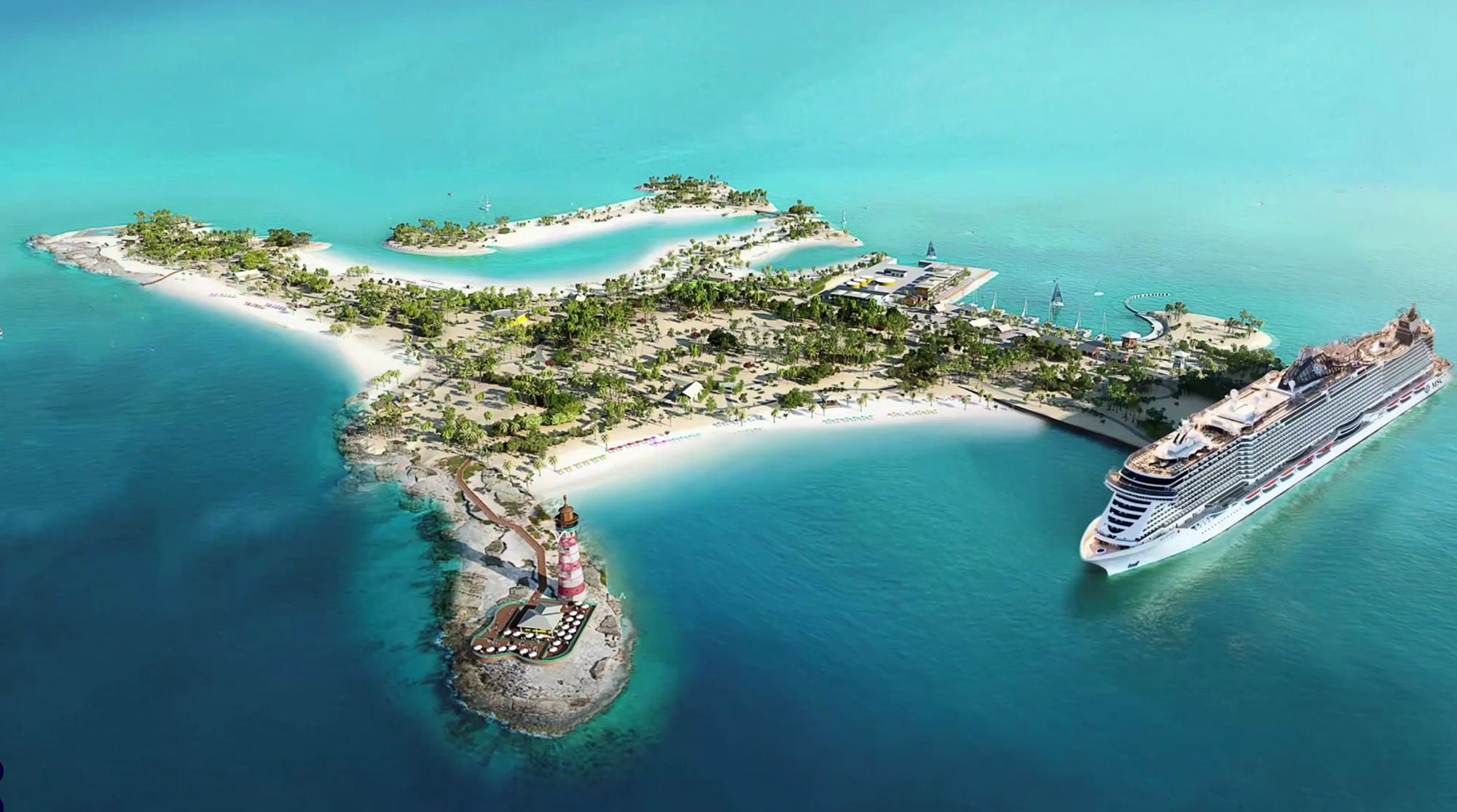 MSC Voyagers Clubs Program
As with most cruise lines, MSC has a customer loyalty program they call the Voyagers Club. Unfortunately, until you get to the highest levels of the program like the Diamond live, there are not a lot of perks. However, the best benefit of being a member is a 5% discount on all bookings (and even greater discounts when booking early). What makes this program unique across the cruise industry is the fact that MSC Cruises status matches with other loyalty programs. Even more unique is it's not limited to just other cruise lines, they also status match to hotel programs.
Our final thoughts on MSC Cruises
The popularity of MSC Cruises has led to a plethora of debates and opinions about the cruise line in online communities such as Facebook and Reddit. Despite MSC's long history in European waters. The brand continues to polarize opinions, with some cruisers loving the newish cruise line and others feeling less enthusiastic. Whether you're a seasoned cruiser or a newcomer to the world of cruising, the debate surrounding MSC Cruises is sure to captivate your attention.
Ultimately, your personal priorities will determine which cruise line is right for you. If price is a significant factor, MSC provides great value for money. If you're looking to relax, sit by the pool, enjoy cruise ports, and aren't hyper-focused on food, MSC is a great option. We have booked a 6-night Bermuda cruise in September for a total of $1200 +/- for a balcony cabin. In contrast, for the same dates and destination, Carnival's prices ranged from $1950 to $2300 for a 5-night outside cabin, and RCL charged $2000. Disney, on the other hand, charged an eyewatering $3100.