What to expect from an MSC Cruise on the Meraviglia.
The ship and the brand are polarizing, and the negative feedback or complaints would likely be fewer and less severe if passengers knew ahead of time what to expect. So that is the purpose of this lengthy article, to help prospective passengers set expectations prior to sailing on the MS Meraviglia (or any MSC ship). 
What to Know Before You Sail with MSC Cruises
MSC Cruises as a whole provides a very different cruise experience to the American market. MSC being a newcomer, relatively speaking, to the USA, they are competing with the best-known brands in the world and are directly marketing to lure customers away from the established cruise companies. Because this cruise line is European through and through, there will be noticeable differences from that of American cruise companies like Norwegian, Carnival, or Royal Caribbean, many differences that may be jarring to people who've been on any other cruise in the United States.
Objectively speaking, many of these differences are not very positive for the typical Ameican cruise passenger, but there may be a few pleasant surprises for cruisers testing a new brand and ship, including the MSC Meraviglia.
What we like about the MSC Meravigilia
The Meraviglia is beautiful and doesn't really compare to anything else in the American cruise market. It's huge and lacks nothing when it comes to activities or things to do.
The Meraviglia exudes glamour in unexpected ways from the Swarovski crystal staircases to the shiny chrome accents and ultra-modern spaces throughout the ship. I can't help but think it feels like Las Vegas… everywhere.
The pool decks and multiple pools are quite large compared to other cruise lines, with plenty of loungers. For people who love the outdoor spaces on cruise ships, the Meraviglia will not disappoint.
The price of the itineraries is usually extremely competitive if not downright cheap for cruise vacation. A whole family can experience a cruise for a fraction of the price of a similar beach vacation anywhere else.
The Ocean reserve / private island is one of a kind. While each major cruise company has a version of a private island, passengers universally like Ocean Cay marine reserve.
The theater shows are actually enjoyable, even though the bigger productions cost extra. A lot of effort has gone into making the performances professional and worth paying for. Even the free entertainment is better than most free shows on other cruise lines.
…and then there were the not-so-positive points about the MSC Meraviglia
What we didn't like about the Meraviglia
It's no secret that there are lots of complaints about the ship as well as MSC the brand. Just look at any Facebook group or Reddit forum, and you'll see endless complaints, but you'll also see plenty of people who have thoroughly enjoyed their vacation with MSC and on the Meraviglia. However, the things that put a damper on the experience are pretty significant.
The food quality in general on MSC Cruises isn't known to be the best and on the Meraviglia, that's no exception. The main dining room and buffet are average at best and other dining options on the ship are all paid specialty restaurants… and they're not terribly special. (more on that later)
The mind-numbing nature of figuring out the MSC beverage & drink packages as well as the dining packages is enough to make the most experienced mathematicians lose their collective minds.
Customer service can be downright horrible. There's no other way to put it. On this ship, if you experience any issue and are faced with the mile-long line to speak with someone at guest services, you better brace yourself. This is where the "European" aspect of the brand shines bright and clear.
General service on the ship, while everyone tries hard, doesn't meet the standard of other cruise lines. It feels like the policies of MSC almost sets the staff up to fail and not provide the best service possible, regardless of their efforts. I'm hoping this is because the staff is all relatively new and this will be sorted out with some training.
The lack of communication is apparent and frustrating, whether it's trying to get something explained in basic terms or just knowing what's going on around the ship. Even officers didn't have answers to many basic questions.
There's more, and we'll get into that next.
MSC Meraviglia Dress Code
In the evening some passengers do dress up, but more smart casual than formal, except for the "elegant" (not formal) nights. But even on those specified nights, there was a mix of looks throughout the ship, and no one seems to take notice if fellow passengers aren't dressed as well. Seeing men in a jacket the ladies in gowns would not be unusual, but it's not at all required.
During the day, you see it all and it's mostly bathing suits, shorts, t-shirts, and resort casual. As you'd expect on a cruise!
Elegant Nights
There were several themed nights on a 7-night cruise, including "White Night," a 70s & 80s Party, Tropical Night, and two Formal Nights, however, you might not find elegant nights or formal nights listed in the daily program. We only discovered the nights while out and about on the ship, as they forgot to publish it on the program. If this is important to you, be sure to inquire early in the voyage so you know what nights to plan for.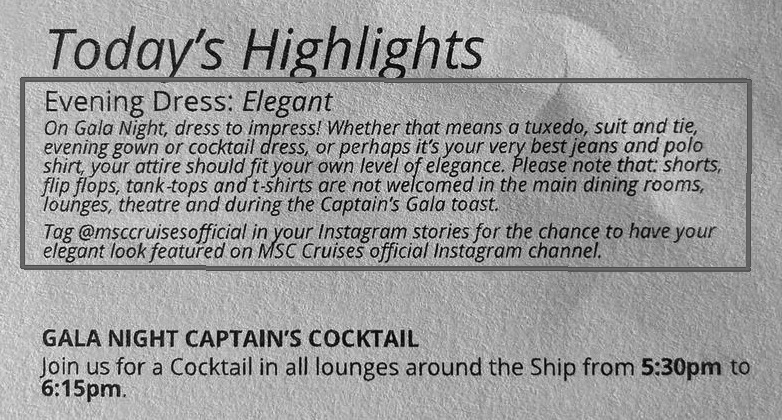 The Cabins
The staterooms on the Meraviglia are very clean and modern with a color palette that was picked out of an HGTV show with eggplant and dusty gray colors mixed with dark wood accents. Really quite nice and not at all like a traditional cruise ship.
Everything in the cabin was comfortable, albeit felt a little cheap. Again, evoking a bit of Las Vegas. The bathrooms were huge compared to newer ships which was a nice surprise, however, the toiletries, or lack thereof, ruined the happy moment of seeing the huge bathroom. You soon realize that there are little things missing like no facial tissues, and there is only a single pump bottle with unknown goo that is supposed to double as body wash and shampoo, no conditioner, and It wouldn't surprise me if the hand soap next to the sink was the same unknown goo.
While the cabin size, at least for a balcony stateroom, was more than sufficient with (almost) all of the necessities, you soon realize there is almost no storage. The closet is extremely small and if you want to use the sofa bed, good luck ever getting back into that closet. In the end, it's sufficient for 3 or 5 days, but for longer cruises, finding a home for your "stuff" will be a challenge. There is a simple answer to this problem, bring less stuff! 🙂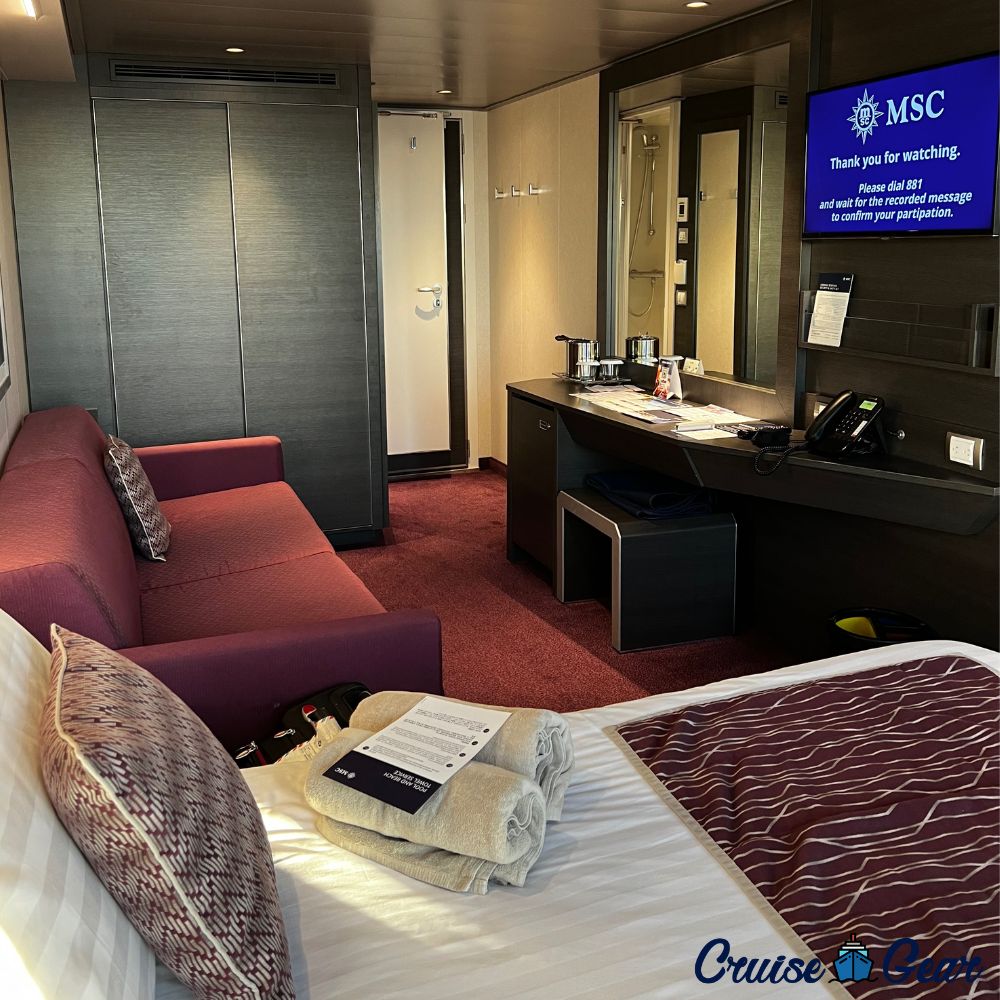 The "Promenade" (deck 6) on the Meraviglia
The Promenade is the main walkway through the center of the ship with many shops, restaurants, the domed screen above, and amazing people-watching.
Various shops and stand-alone specialty restaurants line the long pedestrian walkway. It's also where you'll find the best gelato on this side of the Atlantic ocean. Look up, you will see a large LED screen that spans the avenue (again, the Vegas reference) this reminds me of The Freemont St Experience in Las Vegas, but better. The video and images are put to music several times throughout the day and night. For special seasons, look in your daily program for what "show" may be playing on the promenade ceiling. This feature is unlike anything at sea and is quite impressive and never gets old!
Pools & Water Activities
The outdoor spaces on the Meraviglia are impressive. For people who've cruised before, and feel like cruise ship pools are too few and too small won't likely be an issue with this ship.
How many pools are on the MSC Meraviglia?
There are 5 pools! Unreal!
The Yacht club saltwater pool and hot tub area is for exclusive use for Yacht Club guests and has a private bar area as well.
Bamboo Pool area on decks 15 & 16, which is a solarium pool with a retractable roof including a couple of hot tubs. It tends to get warm in the hot sun because of a lack of air circulation and is unusable if the roof is closed because of the chemical smell. Additionally, there's quite a bit of seating to relax and enjoy the Bamboo bar (when the roof is open).
The main pool is called the "Atmosphere Pool". This pool is actually two pools connected. It feels less like a cruise ship pool and feels more like a hotel/resort pool with fountains and elevated seating/beds. There's usually live music and bar service as well as drink carts when the ship is busy.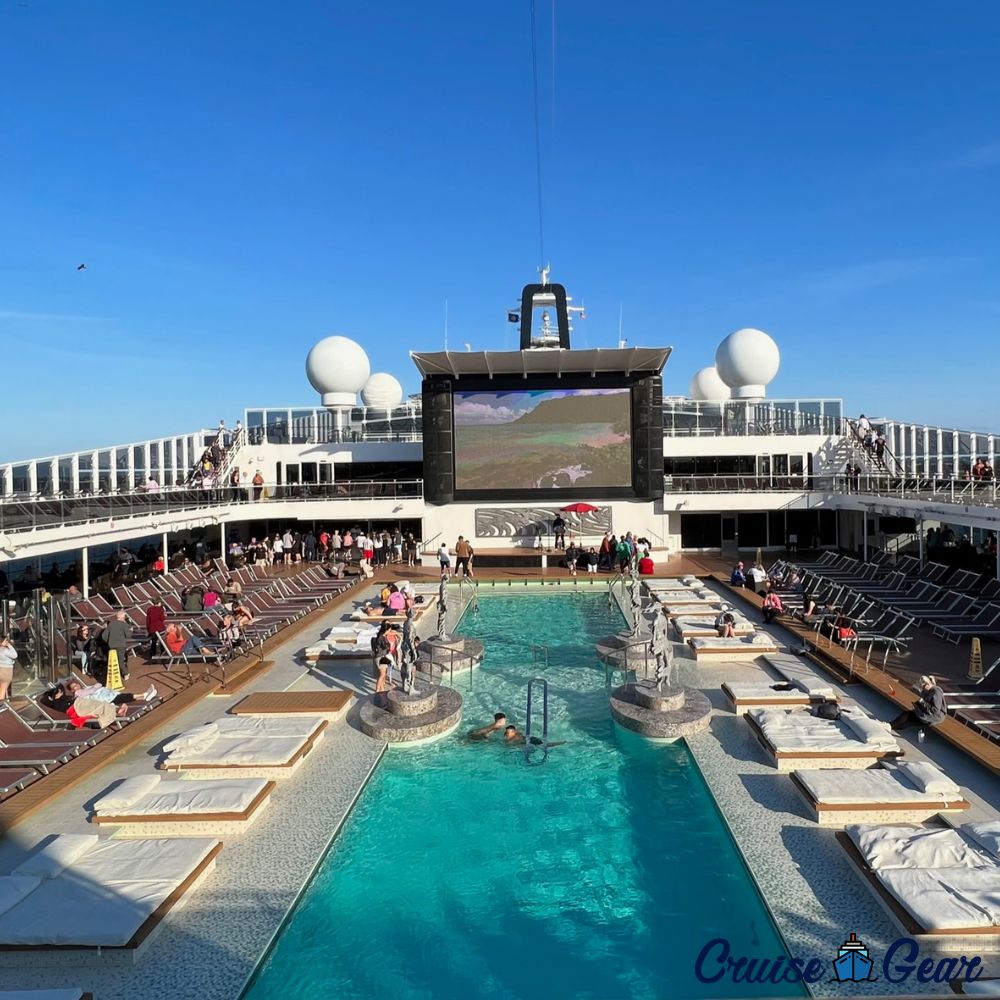 There is the Aurea pool reserved for the Aurea experience guests. It's not as much of a full pool as it is a plunge pool.
Aquapark pool area has a water park with slides and a ropes course which is popular with kids and families. The concept of removing this pool area from the main pool is absolutely fabulous. It generally keeps the concentration of children away from the main pools even when the ship is seemingly overrun with kids.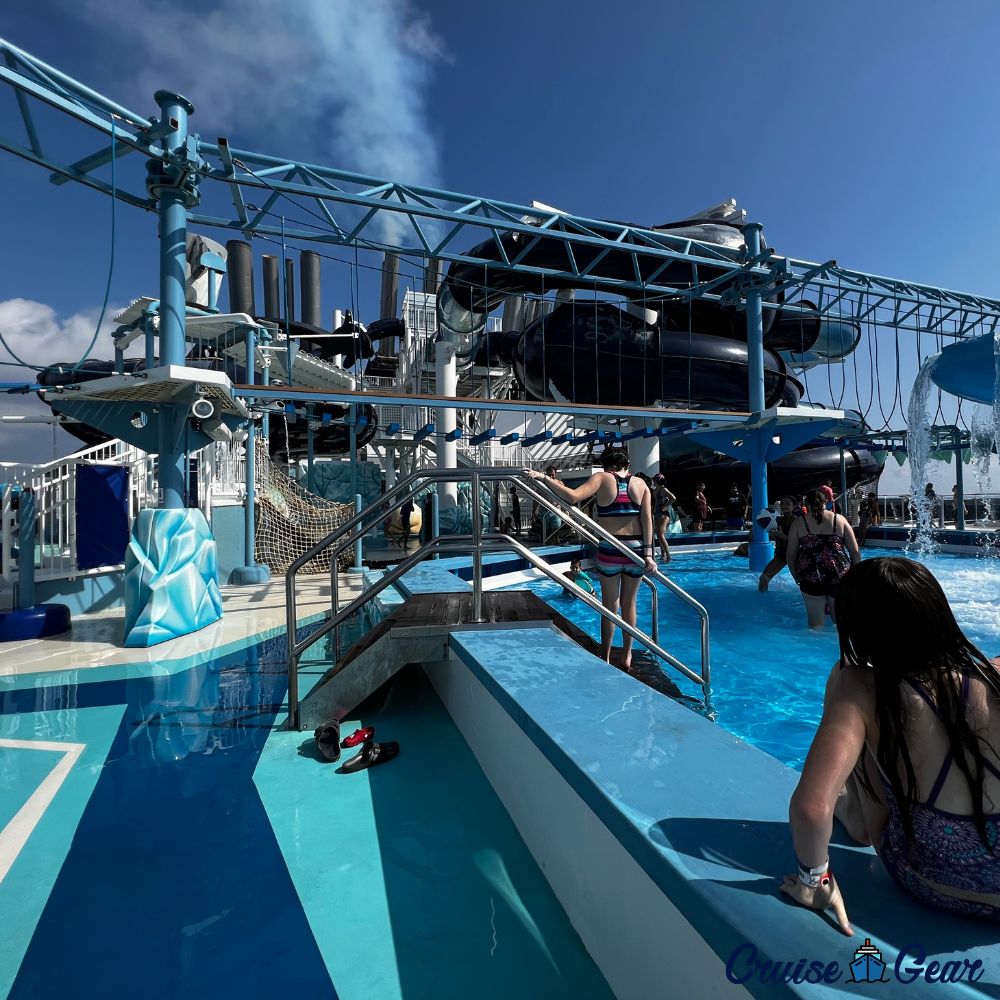 Then the Horizon pool which is supposed to be "adults only". The adult part wasn't enforced very well and parents were letting their kids … do their kid things around this pool area. The Horizon pool is more of a dipping pool or plunge pool surrounded by stadium-style seating making it a bit strange to actually use the pool since you feel like you're performing for everyone. Above the stadium seating is a bar that is open day and night.
For sun worshippers who aren't as concerned about being near the pool, there are huge swaths of deck area to lay out and tan. More than I've seen on a ship, come to think of it.
Pool Towels
Bring your towel and don't leave it behind! You'll be charged.  There is no towel service at the pool, it's handled by the room attendants.
Restaurants, dining, and food options on the Meraviglia
At first glance, the selection of places to eat on the ship looks great, until you realize they are almost all available at an extra cost. The only complimentary food on board is the Buffet and the main dining rooms, with poolside food available at lunch (burgers, hotdogs, etc). If you want to participate in anything other than the main dining room at dinner, expect to pay extra, and it's not inexpensive. 
Main Dining Rooms
There are two main dining rooms that serve the same food, just with different decor. This allows the ship to more effectively schedule times and service with so many passengers, and the concept works well. The good thing about the main dining rooms is that, unlike old-school cruising, you're given your own table, even if you're only a party of 2. No eating with strangers.
Dinner services were usually efficient but took a little while from start to finish (plan on spending 1.5 hours at dinner)
If you're in the Yacht Club, you will have access to a more exclusive dining area with a different and allegedly elevated experience.
As far as the complimentary dining goes, the food is unfortunately not great. This is a common complaint among passengers. It leaves a lot to be desired and left us wondering things like … why would they offer a steak if it's inedible? Just don't have it on the menu if it can't be prepared properly. I saw quite a bit of food waste, which is my biggest "personal issue"pet peeve" with cruising, but that could be curbed if the food served wasn't just downright bad. A smaller menu with better food would go a long way to improving customer satisfaction and reducing food waste.
That's not to say that there aren't some decent things on the menus, but largely our group felt like the main dining rooms on the MSC Meraviglia failed at many basic items.
It's worth noting that if you want to change your dining time that has been assigned, you're usually allowed to change it ONE time, and may feel like moving mountains to get it done. The staff holding guard over the host stand aren't thrilled with these requests. Another option is if you book the higher level Aurea experience, you can dine on your own schedule.
The Marketplace Buffet
A pleasant surprise was the buffet on the Meraviglia. The buffet food, while sometimes repetitive, was actually pretty good. I'd say it's better than most cruise ships and in the evenings the food was elevated compared to serving the same lunch items with different names.
The pizza was exceptional, which you'd hope for the high number of Italian staff on the ship!
The buffet always gets crowded!
Right as you walk in, head straight to the rear of the buffet where there are more food items and far fewer people.  Many passengers don't realize there are more food stations away from the long lines and crowds.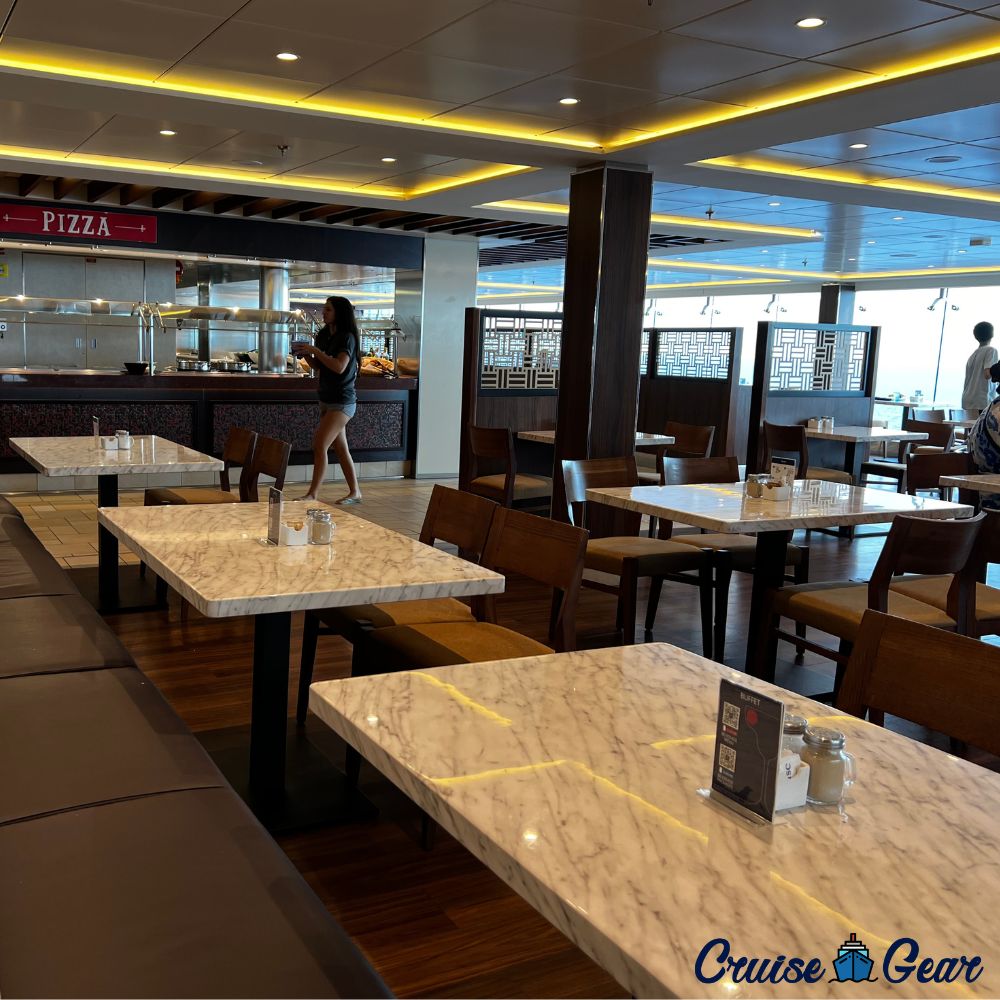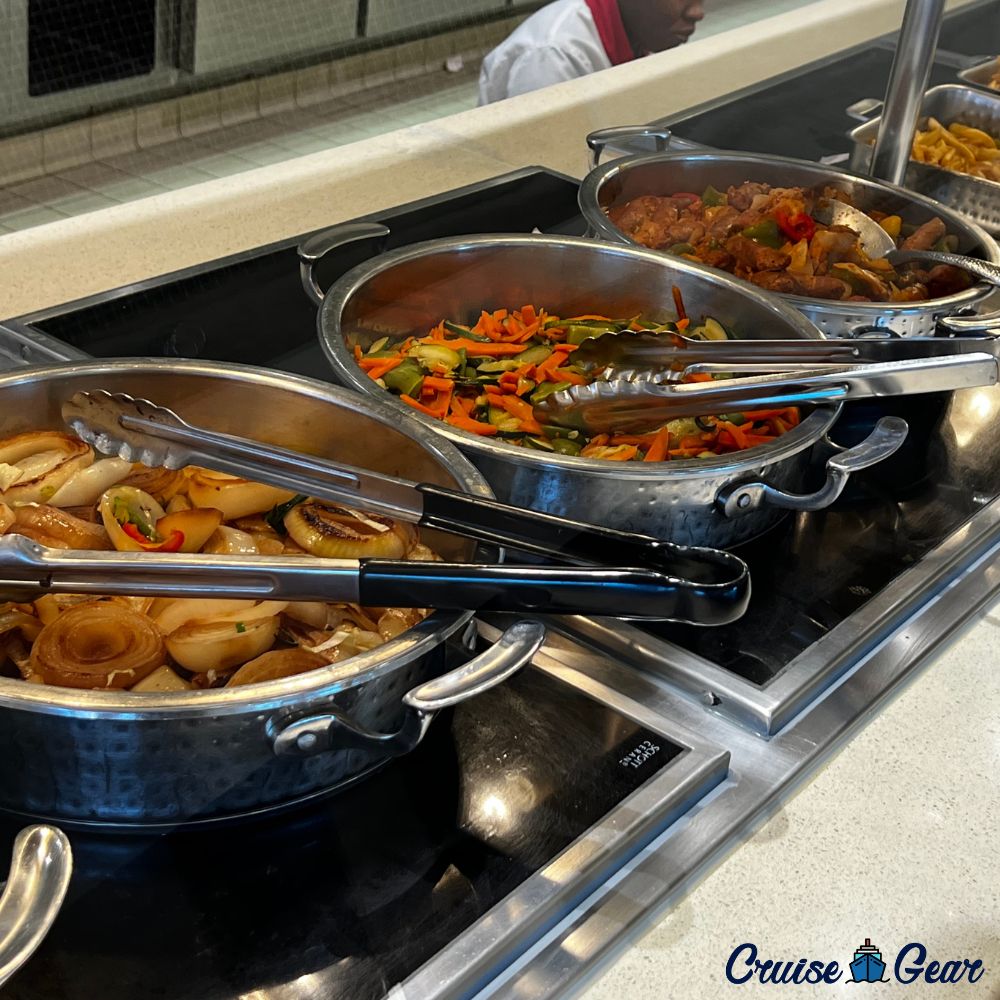 Specialty Restaurants on the MSC Meraviglia
Hola! Tacos & Cantina – An all-you-can-eat Mexican & Cantina, which ended up being our go-to location for lunch to avoid the madness at the buffet. The menu had enough variety that you could eat there many days and not repeat the same items. There is an all-you-can-eat price or an ala-carte menu if you just want a quick snack. This was a great option if you have the unlimited dining package (highly recommended), as you are entitled to the all-you-can-eat menu & tacos with the package. See the Hola! Tacos Menu
The Butcher's Cut – This is the signature Steakhouse on MSC Cruises and has everything you'd expect in a traditional steakhouse. The steaks are perfectly cooked but the sides and the overall presentation feel like it is more of a budget truckstop grill rather than an elevated steakhouse. It was enjoyable nonetheless, although a bit pricey for what it was if you weren't using the dining package. On the Meraviglia, there is an unlimited dining package option where you can visit the Butcher's Cut twice on your voyage making the package well worth it. See the Butcher's Cut menu
Kaito Sushi & Teppanyaki – The Teppanyaki concept is quite good and you get exactly what you'd expect. The atmosphere, food, and fun are great, especially for a family. The sushi bar is a bit strange. You are effectively sitting in the hallways of the ship while being served. Unfortunately, the service can be quite slow and hindered by the fact that the sushi chefs are also preparing items for the Teppanyaki tables while trying to keep up with sushi orders. Overall the experience at both locations was quite good with a few misses in the sushi bar on quality and prep time. See the Kaito Sushi Menu.
Ocean Cay – The signature Seafood restaurant was probably the biggest disappointment among all of the specialty dining restaurants on the Meraviglia. Basic items were cooked improperly and some were downright inedible (Tuna steak for example). However, the service was amazing! See the Ocean Cay menu.
Brass Anchor Pub – We loved this concept and the pub design really did feel like you were in a modern London pub. There were plenty of beer selections not found anywhere else on the ship as well as a for-pay menu with chicken wings and other pub food. Why the food in this location is an additional cost is puzzling, as you'd never pay for these types of items on any other cruise line.
Jean-Philippe Maury – The specialty chocolate shop on the ship across from the Gelato stand is a great treat for sweets lovers. The prices were reasonable and they had a great selection of chocolates which were packaged nicely and would make great gifts.
Bars & Lounges on the MSC Meraviglia
With about 30 bars on the Meraviglia, there is no shortage of places to get a drink of just about anything. The only challenge is usually the lines and slow service.
We found the best bar on the ship to be the Sky Lounge on deck 18 overlooking the pool deck while the other lounges are primarily just set up in open spaces and aren't very cozy or lounge-like. While those spaces are good for people watching, they're not great for relaxing as they have more of an airport lounge feel than a luxury cruise ship lounge feel. So most afternoons and evenings, we'd end up in the Sky Lounge which had a variety of music performers throughout the week, all were generally good.
There is a "night club" as they call it – but it's really just a random space small space on the upper decks and was not managed properly, often filled with children. When people migrated from the poorly executed night club they often improvised and went to the open bar at the end of the Promenade. Very strange to say the least.
As far as the quality of drinks and speed of service, it was a mixed bag. It felt like some bars really tried hard to get it right, while others just couldn't care about what they were serving or how fast it was going. I point back to the very "European" service level in this particular situation. (And I can say this, being an Expat living in Europe!)
MSC Meraviglia Drink Packages
Speaking of bars and lounges, the drink packages for MSC Cruises will make your head hurt. They come in several varieties with strange limits and rules on how to use them. We put together a complete MSC Drink Package guide just for this purpose, so take a moment to look it over. In general, though, the packages are relatively affordable and should be considered if you're even a moderate drinker. If you purchase a package, BUY IT BEFORE THE CRUISE! The prices have just increased for each beverage package, and they are substantially more expensive when purchasing onboard vs. pre-cruise.
MSC Meraviglia Spa (Aurea Spa)
A pleasant retreat on the ship is the Aurea spa / thermal suite. It's both really nice (albeit too small) and not terribly expensive, especially when booked in advance. The thermal suite is not big enough for a cruise ship the size of the Meraviglia but it does suffice with all the expected therapy rooms like steam, sauna, salt, and various hydrotherapy pools. While an effort is made and a basic system is in place to limit occupancy, it's not strictly adhered to, so it can get a little crowded. It's best to go in the evenings when passengers are at shows and for dinner. If you're a "spa person", you'll likely be pleasantly surprised and it's probably worth the spa pass (can be as low as $120 for 5 days when pre-booked). It's good to know that if you are GOLD level in the Voyagers Club loyalty program, you get one free entry to the thermal suites! See our Voyagers Club status match guide and get to the GOLD level by matching with other cruise and hotel companies.
The treatments and prices are what you'd expect on a cruise ship, if not a little less expensive. A 50-minute massage is $129, which is in line with other major cruise lines.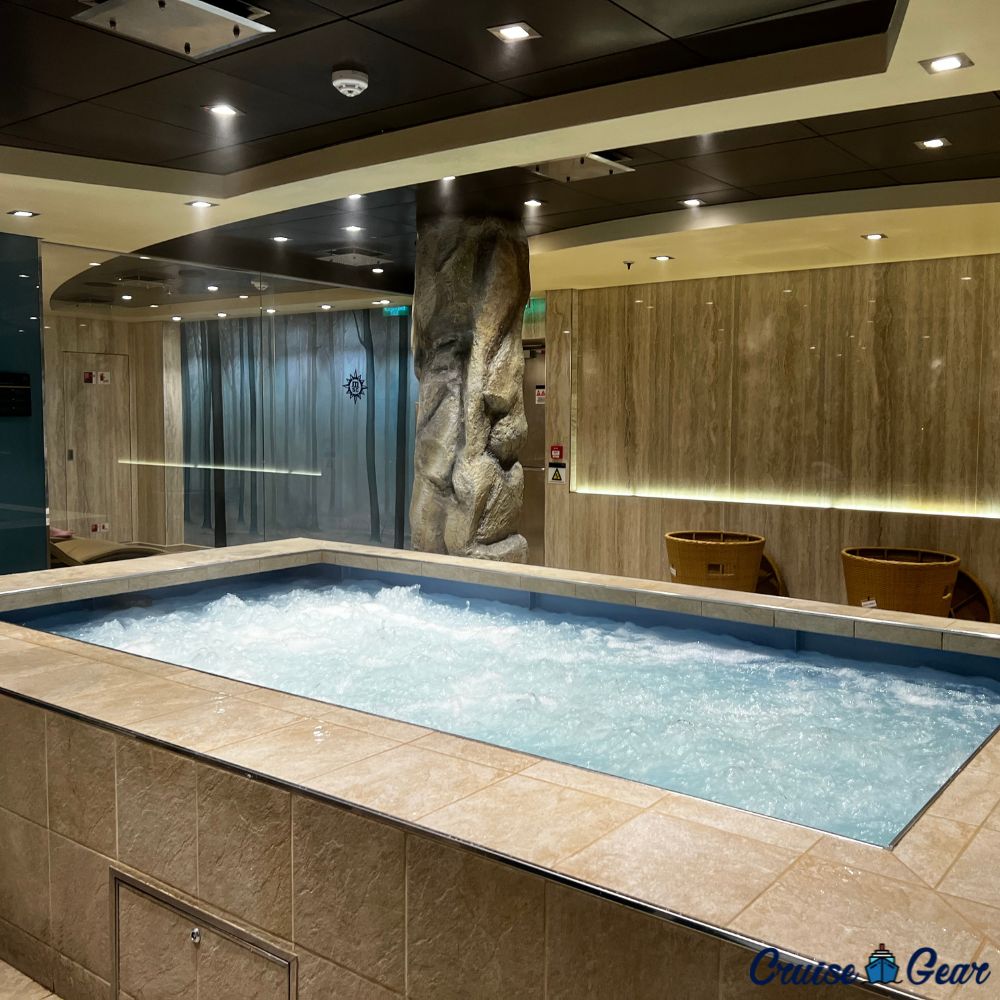 The Gym
There are always the outliers that love to work out on a cruise 🙂 – Those of you who enjoy getting a workout in, even though it's a vacation… a gluttonous cruise vacation, will be pleasantly surprised by the size of the gym and included equipment. On some ships, a gym is an afterthought tucked away in a corner while MSC has made the gym a central feature overlooking the pools. It's a large, well-kept space with everything you could imagine for a workout and every cardio machine possible.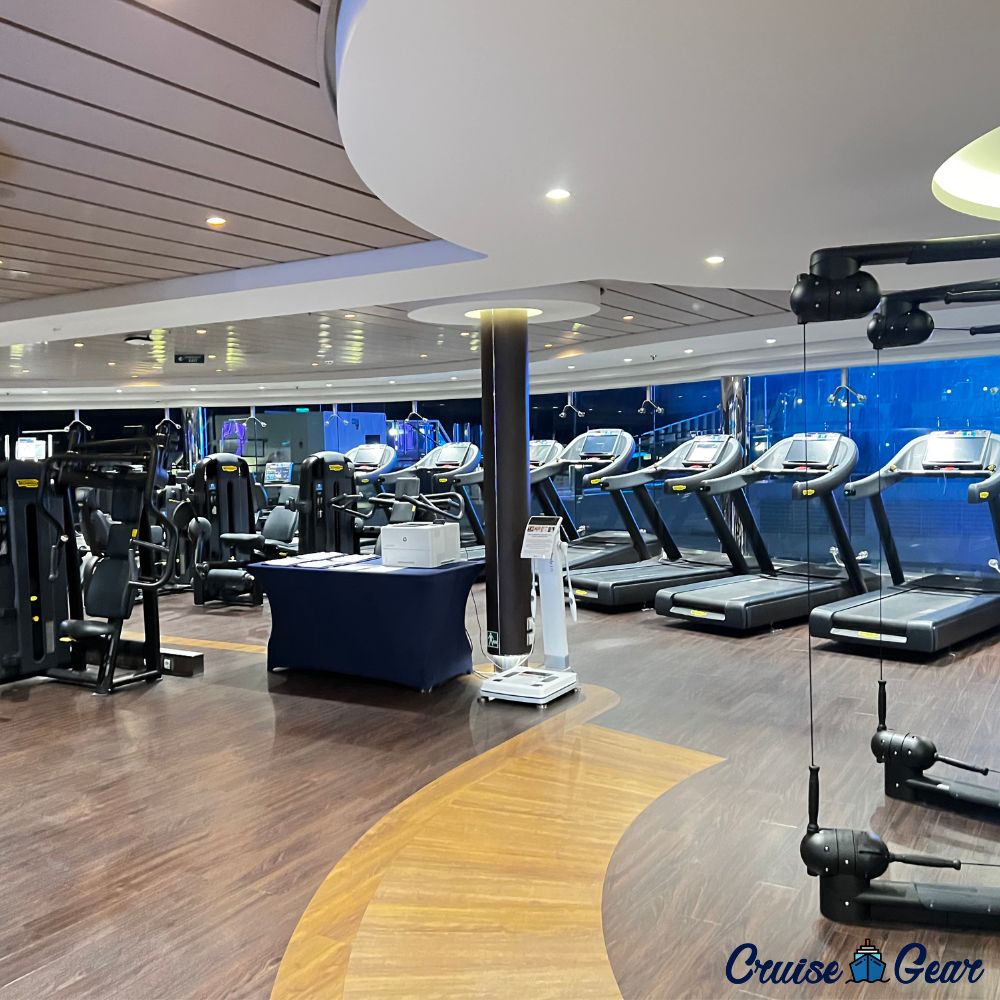 The Crew and Service on The MSC Meraviglia
We found everyone on the ship in a service capacity generally trying really hard to do a good job, however, the overall feel of the service feels a bit "junior level" compared to other cruise lines. The service rapidly declined the further up the ranks you got with the staff. Odd, right? We, unfortunately, had to deal with a few management-level staff members on the Meraviglia as well as the customer service staff, and it was downright horrible with a few exceptions (shout out to Giuseppe, the specialty restaurant manager, a real professional!) – The customer service staff look overwhelmed, cranky and are extremely argumentative, and borderline unprofessional as are a few of the staff encountered in the specialty dining restaurants. While we are all human and have bad days, this behavior was noticed across many staff members over multiple days, so that speaks volumes.
Another unusual experience is the language barrier that exists between staff and guests. For sailing out of a USA port, I was surprised at the communication problems with a number of staff. Not that they weren't trying, it was simply a language issue… something I've never experienced in 20+ years of cruising.
Entertainment Onboard
In the evenings, various live music spaces around the ship have an eclectic mix of music types. There will be something for everyone. The only real issue is with the venues to experience the music. Most weren't set up to get comfortable and listen to the performer. Another issue with the live music on the ship is that they didn't adhere to the daily program very well, so making a plan to show up to a bar or lounge expecting to hear a specific performer at a specific time was hit or miss. Another very European "feature" of the Meraviglia. 🙂
Theater Shows
Multiple times per night is a Cirque Du Soleil acrobatic show, in the ship's specially-built Carousel Lounge. The shows were interesting and inexpensive to see. If this is someone's first cruise or for people who've only sailed on MSC Cruises, the shows will likely be fine, however, they may not meet the standards of people who've cruised on Royal Caribbean or NCL and have seen the high-value production shows of those cruise companies.
Overall, the shows on the MSC Meraviglia are worth seeing (book in advance for the best price).
Other nightly shows are available at no charge, but reservations are required (or strongly recommended)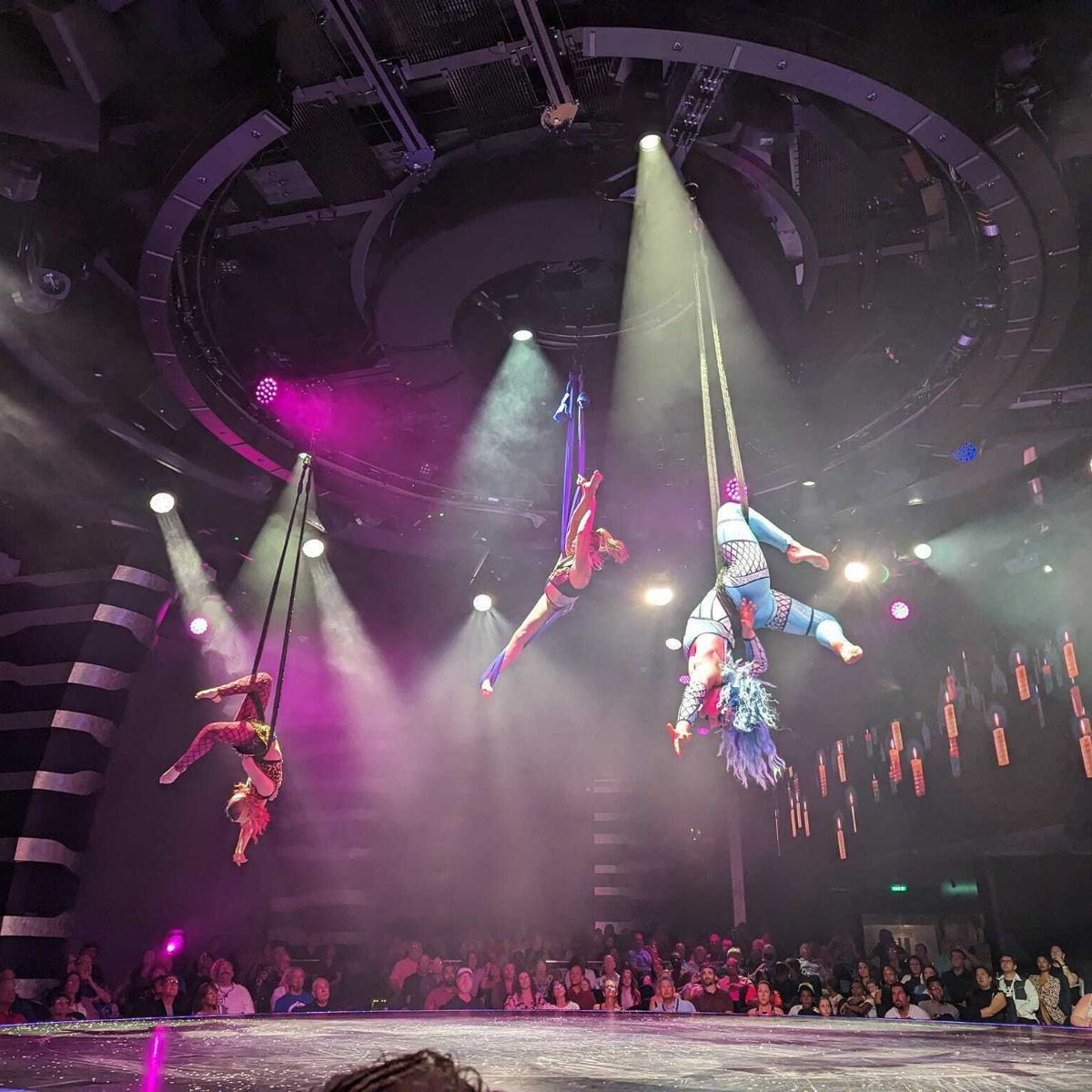 Onboard WiFi
There are multiple "packages" for wifi on the ship, again, better purchased in advance. It was possible to buy basic wifi for a single day or the whole cruise and have multiple devices (for a fee). I generally do not purchase wifi on a cruise but like to keep in touch with my travel group. It is allegedly possible to do that through the MSC App, but no one was ever able to get it to work which led us to buy the least expensive wifi package to communicate.
Costs Included With Your Cruise Fare:
All meals in the two main dining rooms and Marketplace Buffet · Water, tea, coffee, and milk; juice available at breakfast only · Use of the water park, sports areas, and mini-golf · Use of the fitness center, excluding classes or training sessions · Most daily activities onboard, including trivia games, live music, and classes and workshops · Use of the kids', tween and teen clubs · Access to Ocean Cay MSC Marine Reserve, including buffet lunch and use of sun loungers on the beach
Not included with your cruise fare:
Gratuities & "hotel service charge" · Alcoholic and non-alcoholic drinks with the exception of water, tea, and coffee · Room service (included for higher-tier cruise packages only) · Some evening shows · Meals in specialty restaurants · Shore excursions · Wi-Fi (except for Yacht Club passengers) · Spa treatments, fitness classes, and training sessions · Photos · Purchases from onboard shops · Bowling, F1 simulator and arcade games
Fellow Passengers & Demographics
When MSC Meraviglia first set sail in the late 1980s, the passengers were mainly European; however, now a much more diverse mix of people can be found on the ships, particularly during its Caribbean cruises, where you can see all nationalities represented. Being an Expat in Europe and vacationing on an MSC ship in the Caribbean, it was quite entertaining to hear all of the languages!
The average age is mid-40s, though with the strong emphasis on family vacations, expect hundreds of children during school vacations, which may be distressing to some travelers without kids.
The Safety Drill
It's worth mentioning that the safety drill/muster drill was one of the worst we've ever experienced. You are required to go to your stateroom, watch the drill on TV, and dial a number to prove you're there. Then each level is called to check into their muster station location. This in itself seemed like a safety hazard as everyone piles into the narrow halls fighting to get to the stations. It would have been better if they just would have said "check in to your muster station before XYZ time" … rather than forcing everyone at once to go to their station. It was a bit mind-boggling.
Final Thoughts on the MSC Meraviglia
Explore the MSC Meraviglia - 2023 - Know What to Expect! A Comprehensive Review - CruiseGear

The bottom line is this: MSC provides a good value, especially for first time cruisers or for family vacations. If you're thinking about booking a cruise on the Meraviglia or have already booked it, and are apprehensive because of some of the negative reviews, you'll be fine as long as you've done plenty of research to understand what to expect.  Most of the negativity comes from people who have traveled on other cruise lines expecting the same experience, whereas MSC and the Meraviglia are just different. In the end, this is a big beautiful ship that provides a lot of bling but with less quality than other cruise lines can provide. 
Product Brand: MSC Cruises
Pros
Beautiful Ship
Well Maintained
Modern Cabins
Cons
Mediocre Food
Lines for EVERYTHING
Confusing Drink & Dining Packages
Some Staff are Unpleasant