MSC Ocean Cay Excursions & Prices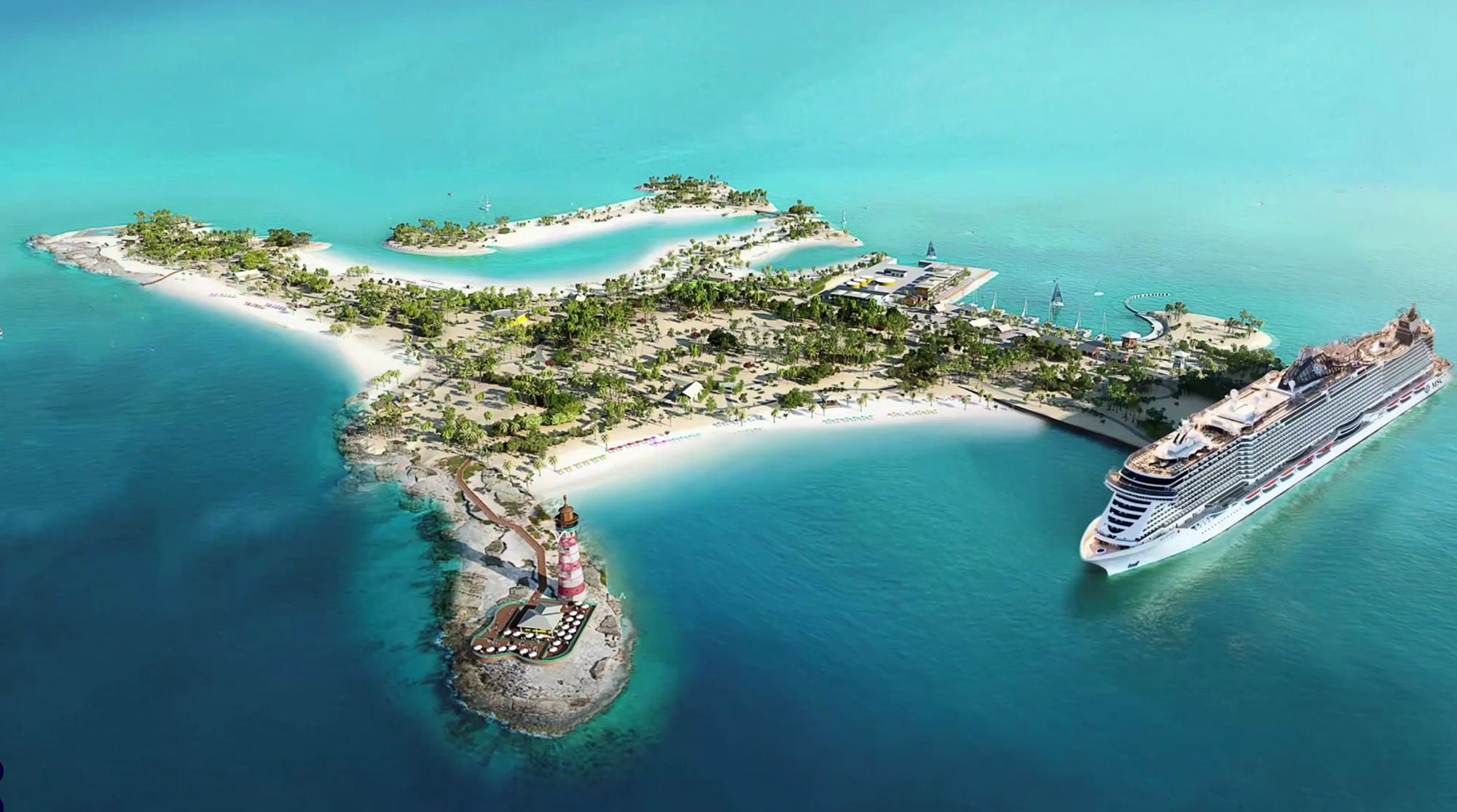 The MSC Ocean Cay private island / marine reserve is one of the most interesting aspects of taking an MSC Cruise. Unlike other cruise lines with private islands that resemble huge waterparks and theme parks, the MSC private island is truly a relaxing paradise absent of the large-scale construction on other islands.
What is there to do on Ocean Cay?
As you might expect, with fewer features than other cruise line private islands, there is a bit less to do, but for a day trip, especially for beach lovers, this is a miniature paradise. After all, who needs huge water slides and shopping when you are surrounded by some of the most pristine waters in the world with beautiful white sand beaches?
Things to do on MSC Ocean Cay include paddle boarding, snorkeling, Waverunner rentals, and most importantly just relaxing on the sandy beaches. See the below list of Ocean Cay Excursions with prices.
How much are the excursions & rentals on Ocean Cay?
Surprisingly enough, the excursions on Ocean Cay aren't terribly expensive for what you get. Catamaran cruises can be had for as little as $64 for an hour tour and self-guided rentals of paddleboards are only about $30. For people looking to do snorkeling, you can rent gear all day for $34. All of the prices are in line with any non-cruise resort.
What is the price to rent beach umbrellas on Ocean Cay?
Beach umbrellas are inexpensive and only cost $14. Usually, you'd want one umbrella per person, but people often share a single umbrella.
How much is a beach cabana on Ocean Cay?
The cabanas start to get a little pricey. For a beach cabana, expect to pay at least $250 and the yacht club cabanas are as much as $450 for the day but include lunch, beverages, full staff service, and snorkel gear.
2023 Ocean Cay excursions with prices:
EXCURSION NAME
Length
Adult
Child
OCEAN CAY WAVERUNNER TOUR (1 DRIVER & 1 RIDER)
(min 18 yrs old to drive with a valid driver's license, min 10 yrs old to ride, the maximum combined weight is 170kg (375lbs)
1.5hrs
$120
SHIPWRECK SNORKELING & SECLUDED GETAWAY
(min age to participate is 5 yrs old. min 21 yrs old to consume alcohol, unsuitable for guests with mobility
problems)
2hrs
$69
$59
OCEAN CAY BAHAMA BREEZE ESCAPE (min 21 yrs old to consurne olcohol)
2hrs
$83
$59
OCEAN CAYLIGHTHOUSE CLIMB
30min
$11
$11
BEACHSIDE STARGAZING
1hr
$61
—
TWILIGHT SCENIC ISLAND CRUISE & LIGHTSHOW
1hr
$64
$47
SUNRISE MIMOSA CRUISE
1hr
$67
$51
PADDLEBOARD TOUR
1.5hrs
$44
—
KAYAK EXPLORER TOUR
1.5hrs
$44
$31
SUNSET CHAMPAGNE CRUISE
1hr
$76
$53
GLOW NIGHTTIME STAND-UP PADDLEBOARDING
1hr
$44
$44
RENTALS
MARINE RESERVESNORKEL (FULL-DAY RENTAL)
DAY
$34
$27
PADDLEBOARD RENTAL (14yrs+)
1hr
$31
—
KAYAK RENTAL (MAX 2 PEOPLE MAX) –
1hr
$31
—
FLOATING BEACH MAT (FULL-DAY RENTAL)
DAY
$17
UMBRELLA RENTAL (FULL-DAY RENTAL)
DAY
$14
BEACH CABANA RENTAL (FULL-DAY) – per cabana price, 6 People max
DAY
$250
OCEAN VIEW YACHT CLUB CABANA (max. 6 people)
(price per cabana, including fruit skewers, complimentary lunch and beverages, fresh water, beach towels, 4 flooring
mats, and 4 snorkeling gear rentals. Unused rentals are nonrefundable.) (BEACHFRONT CABANA = $450)
DAY
$450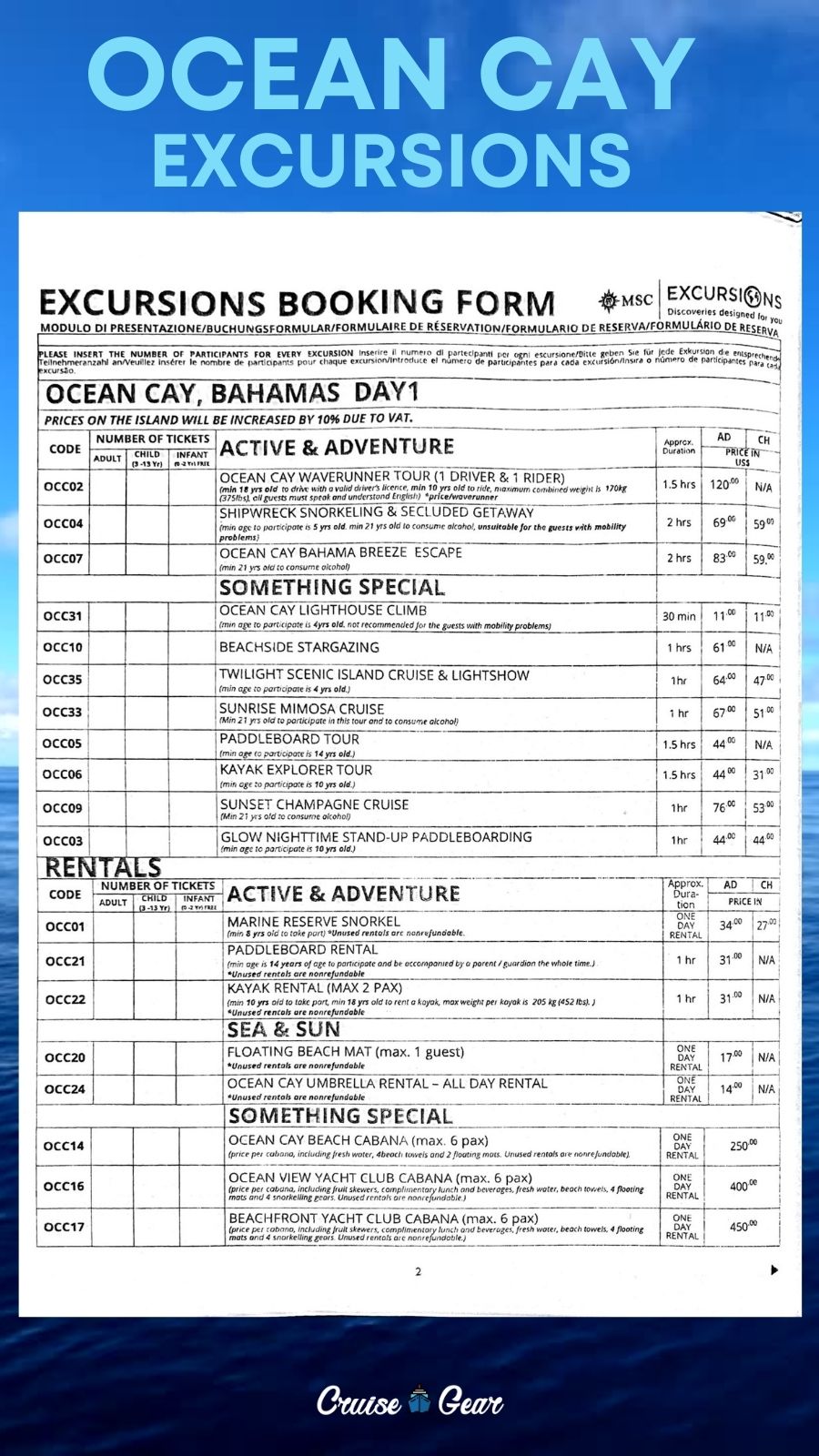 Other helpful information about MSC's private island / marine reserve:
Is there anything to do on Ocean Cay if you don't pay for an excursion?
Not really, it's just a beach with less infrastructure than other cruise line private islands. But if you're not up for paying for an excursion, you can bring your own floaties or snorkel gear and be entertained the whole time without spending an additional dollar!
Cruisers love these floats:
Do drink packages work on Ocean Cay?
Yes! This is a huge benefit to MSC cruisers who've purchased drink packages. The packages can be used, unlike most other cruise line private islands.
Is food included on Ocean Cay?
For the most part, the food is included with a few exceptions. There are a number of food trucks, general food service in the form of a buffet, and some snacks throughout the island. Nearly all of it is included, but expect to find a few up-charge items during your visit.
I forgot my sunscreen, is there a shop on Ocean Cay?
Yes, there is a sundry shop with souvenirs and essentials for purchase.
What's the weather like on MSC Ocean Cay?
Nestled just 65 miles east of Miami and 20 miles south of Bimini, Ocean Cay boasts ideal weather for cruisers year-round, with balmy daytime highs ranging from the 80s to mid 90s. While summer and early fall bring higher temperatures, humidity, and increased chances of rain, winter welcomes cooler temperatures and less precipitation, offering the driest conditions of the year. With highs hovering in the 80s, evenings can still get cool. Visitors can look forward to more sunny days during winter, and water temperatures remain consistent, hovering in the 70s to 80s range.
Getting more information about Ocean Cay private Marine Reserve:
Interested in knowing more? Check out MSC's official website for Ocean Cay – with a beautiful interactive map of the private island!