Moderno NCL Menu & Prices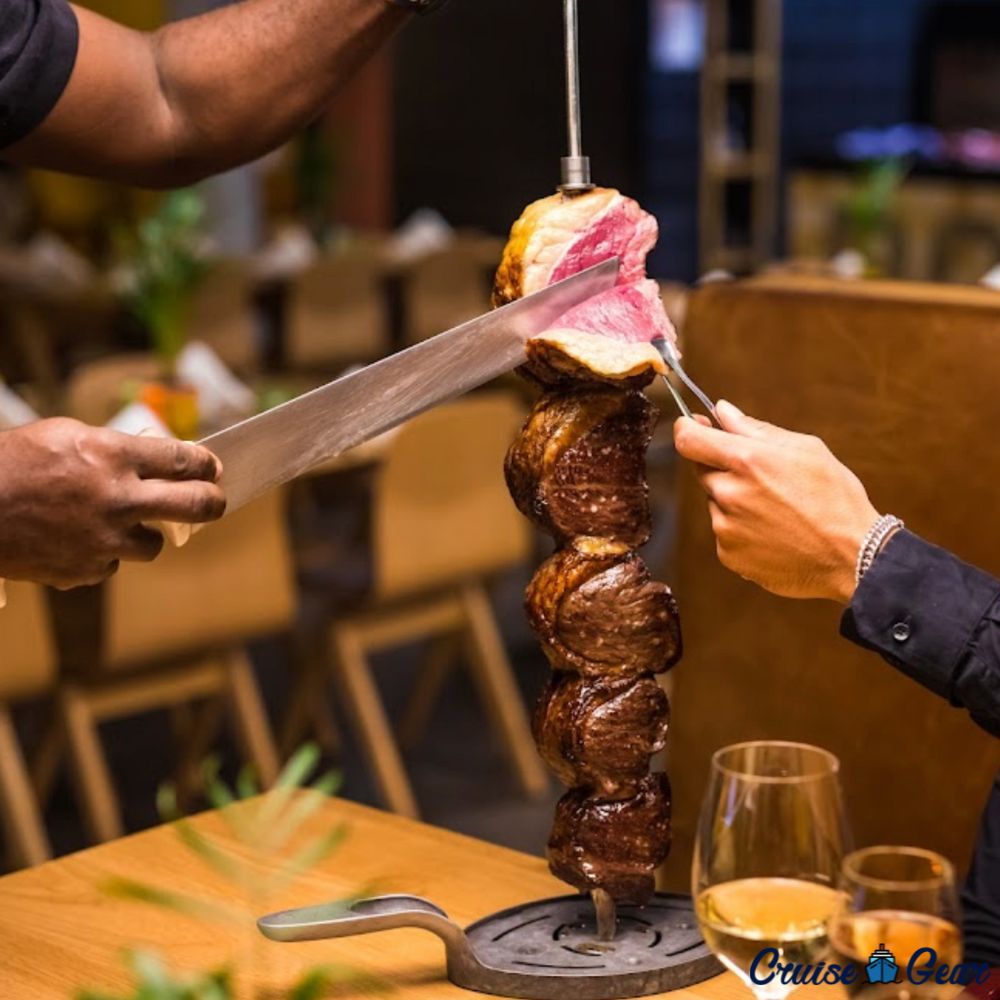 Moderno Brazilian Churrascaria is one of the staples of Norwegian Cruise Line specialty dining restaurants found on nearly every NCL cruise ship. It's one of our go-to restaurants whenever we have a specialty dining package!
For some cruisers, especially those new to Norwegian Cruise line, the concept of a churrascaria may be unknown, so let us answer the question…
What is a churrascaria?
A churrascaria is a carnivore's paradise, a meat lover's dream… a place where vegetarians go to cry. It's a restaurant where skewered slabs of meat are brought to your table until you're so full you feel like a stuffed sausage.
The servers, who are essentially meat ninjas, will slice off pieces of juicy, succulent meat with precision and grace, while you sit there salivating like a dog waiting for a treat.
It's not just any meat, mind you. Its quality cuts of beef, chicken, lamb, and pork, are seasoned to perfection and are usually cooked over an open flame until they reach a state of carnivorous nirvana.
So if you're looking for a place to get your protein fix, a churrascaria is the spot for you. Just don't forget to wear your stretchy pants, because you'll be rolling out of there feeling like a well-fed cow.
Norwegian Cruises Lines does a great job keeping up with what a Brazilian steak house or churrascaria is meant to be and almost never disappoints.
Moderno churrascaria menu on Norwegian Cruise Line
SALAD BAR
Begin your feast with your favorite
selections from the 43-item salad bar.
TRADITIONAL BRAZILIAN SIDES
Complement your entree with these classic
Gaucho sides served at your table:

White Rice, Black Beans, Sautéed Mushrooms, Garlic Mashed Potatoes, Fried Yucca, and enjoy our Pão de Queijo, a traditional
Brazilian cheese bread
Meat – Enjoy ongoing tableside service of perfectly grilled meats
FILÉ MIGNON* Beef Tenderloin
FILÉ COM BACON* – Bacon-Wrapped Filet Mignon
FRALDINHA* – Flank Steak
PICANHA* – Brazil's Signature Cut of Prime Top Sirloin
COSTELA DE BOI* – BeefRibs
ASINHAS DE FRANGO – Parmesan-Crusted Chicken Drumettes
PEITO DE FRANGO COM BACON – Bacon-Wrapped Chicken Breast
COSTELA DE CORDEIRO* – Lamb Chops
PERNIL DE CORDEIRO* – Leg of Lamb
LOMBINHO DE PORCO – Pork Loin
LINGUIÇA – Brazilian Pork Sausage
SALSICHA – Parmesan &Wine Pork Sausage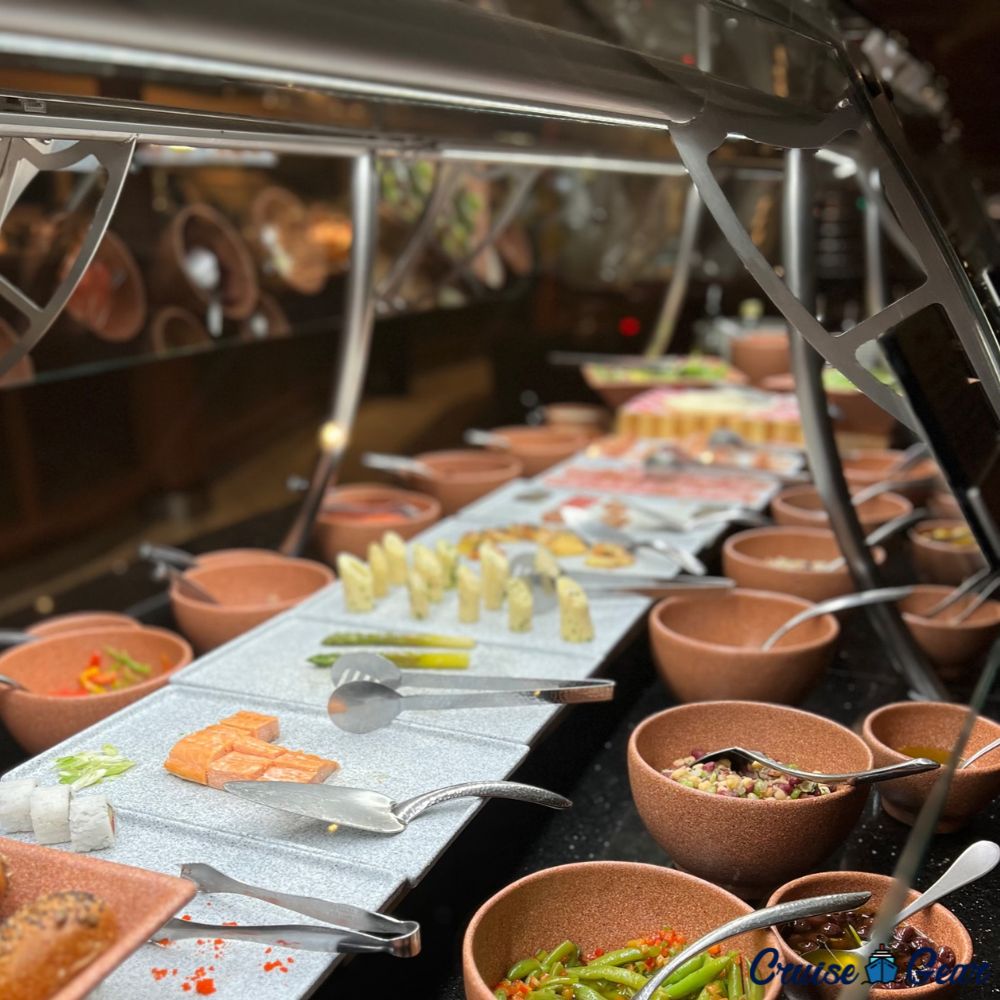 How Moderno works on NCL
The cost of dining at Moderno on NCL is a flat $59 cover charge + 20% gratuity OR, you can use a specialty dining package credit. This entitles you to unlimited rounds of meat served tableside, a number of appetizers as well as many trips as you want to the 40+ item salad bar and desserts.
On the larger ships, the Moderno salad bar is extensive including traditional lettuce-based salads, pasta salads, sushi, hearts of palm, cheeses, and an amazing array of other random bites. Some people who aren't as much meat eaters will still join their partners or friends at Moderno just for the salad bar and desserts.
Once seated, you are free to visit the salad bar and when you're ready for the meat to arrive, a small card sits on your table where you can flip from red to green, a signal for the meat carvers to visit your table. They wander around constantly with a variety of meats, and if there's something specific you're craving, just ask!
It's as simple as that!
NCL Moderno dress code
As with most other NCL Specialty restaurants, the dress is relatively casual – jeans and a t-shirt are even acceptable. It's not unusual to see men in dress shorts and polo shirts at Moderno.
Which ships have Moderno Brazillian Steakhouse on board?
Norwegian Breakaway, Norwegian Dawn, Norwegian Epic, Norwegian Escape, Norwegian Gem, Norwegian Getaway, Norwegian Jade, Norwegian Jewel, Norwegian Pearl, Norwegian Star, Norwegian Sun, and Pride of America