Cagney's Steakhouse NCL Menu, Prices & Helpful Information

Perhaps the most popular specialty dining restaurant on Norwegian Cruise Line is the beloved Cagney's Steakhouse.
Cagney's Steakhouse on NCL is a dining destination that is a must-visit for foodies at sea and steak connoisseurs alike. This upscale specialty dining restaurant on Norwegian cruise ships offers a sophisticated atmosphere, complete with dark wood furnishings, plush seating, and an elegant ambiance that is the perfect backdrop for an amazing meal.
On most ships, Cagney's Steakhouse replicates an old-world, beautiful steakhouse you would find in major cities like Chicago, New York, Dallas, etc.
One of our favorite tips is that Cagney's (usually shared with Moderno) has a bar within the restaurant on some ships. This bar is usually one of the best on the ship and is never crowded!
The menu is centered around premium cuts of meat, expertly grilled to perfection and served with an array of gourmet sides and sauces. For those who prefer a lighter meal, there are plenty of options on the menu that cater to their tastes. From succulent seafood dishes to crisp salads and savory sides, there is something to suit every palate.
Passengers generally rave about impeccable service and attention to detail, with knowledgeable servers and wine sommeliers who are passionate about food and eager to recommend the perfect pairing.
Cagney's Steakhouse NCL menu
What does Cagney's on NCL Cost?
Steaks now start at about $30 and appetizers can't be had for less than $10 (including a mandatory 20% service charge. Cagney's is an a la carte specialty dining restaurant so unlike other Norwegian Cruise Line restaurants that have a flat cover charge, you'll be paying per item at Cagney's. However, if you have a dining package, it can be used and is a good value, as NCL has raised prices considerably in recent years. ).
Using a dining package at Cagney's
If you have taken advantage of the Free At Sea, or have a rewards dining package, Cagney's is a great place to use it. The value you receive based on menu item costs is one of the higher returns for the dining package credit. It's important to know that if you are using a dining package credit, you are entitled to a single starter, a main course + a sauce, two sides, and a dessert.
Cagney's on NCL Price Per Item
Starters
JUMBO LUMP CRAB CAKE
Radish Salad | Lemon Mustard Cream
5 DiningPackagesupplemeno
$19
BLACK TIGER SHRIMP TRIO
Classic Cocktail Sauce
$19
AHI TUNA TARTARE
Wasabi | Pickled Ginger | Green Onions
$15
OYSTERS ROCKEFELLER
Mornay Sauce
$15
LOBSTER BISQUE
Roasted Lobster Morsels
$12
BAKED ONION SOUP
Gruyère Cheese Crouton
$10
THE ICEBERG WEDGE
Roma Tomatoes | Garlic | Spring Onions
Blue Cheese | Bacon Bits | Choice of Dressing
$9
CAESAR
Romaine Lettuce | Parmesan Cheese Anchovies | Croutons
$9
BEEFSTEAK TOMATO
Sweet Onions | Balsamic Vinaigrette
$9
Sides:
| | |
| --- | --- |
| Baked Potato | Grilled Zucchini |
| Potatoes Au Gratin | Creamed Spinach |
| Truffle Mashed Potatoes | Steamed Broccoli |
| Parmesan Truffle Fries | Sautéed Mushrooms |
| Onion Rinks | Barley Risotto |
Sides $8 each
Mains
SLOW ROAST PRIME RIB 16 OZ
Au Jus
$35
SURF &TURF
Filet Mignon 8 oz | Lobster Tail
('25 Dining Package Supplement)
$55
DOUBLE – CUT AUSTRALIAN
LAMB CHOPS 12 OZ
Pearl Barley Risotto | Red Wine Sauce
$39
RIBEYE• 16oz
$35
DOUBLE – CUT BERKSHIRE PORK CHOP
14 OZ
Roasted Sweet Potato
$29
PETITE FILETMIGNON
5oz
$29
FILET MIGNON
8oz
$39
PORTERHOUSE
20oz
$45
NEW YORK STRIP
12 oz
$35
BONE-INTOMAHAWK
32oz – ($30 Dining Package Supplement)
$75
CEDAR PLANK STEELHEAD TROUT
Applewood Bacon | Creamed Leeks | Red Wine Sauce
$29
GRILLED JUMBO SHRIMP SKEWER
Grilled Asparagus | Sautéed Mushrooms
Garlic – Herb Drawn Butter
$35
GRILLED FISHERMAN'S PLATTER
Shrimp | Scallops | Calamari | Branzino | Crab Cake Mustard Remoulade | Sweet Chili Dip
$45
** Lobster tail added to any entree
$25
Don't forget the desserts at Cagney's Steakhouse on NCL! They're some of the best on the ship! ❤️
The most important part of a steak dinner is of course the desserts 🙂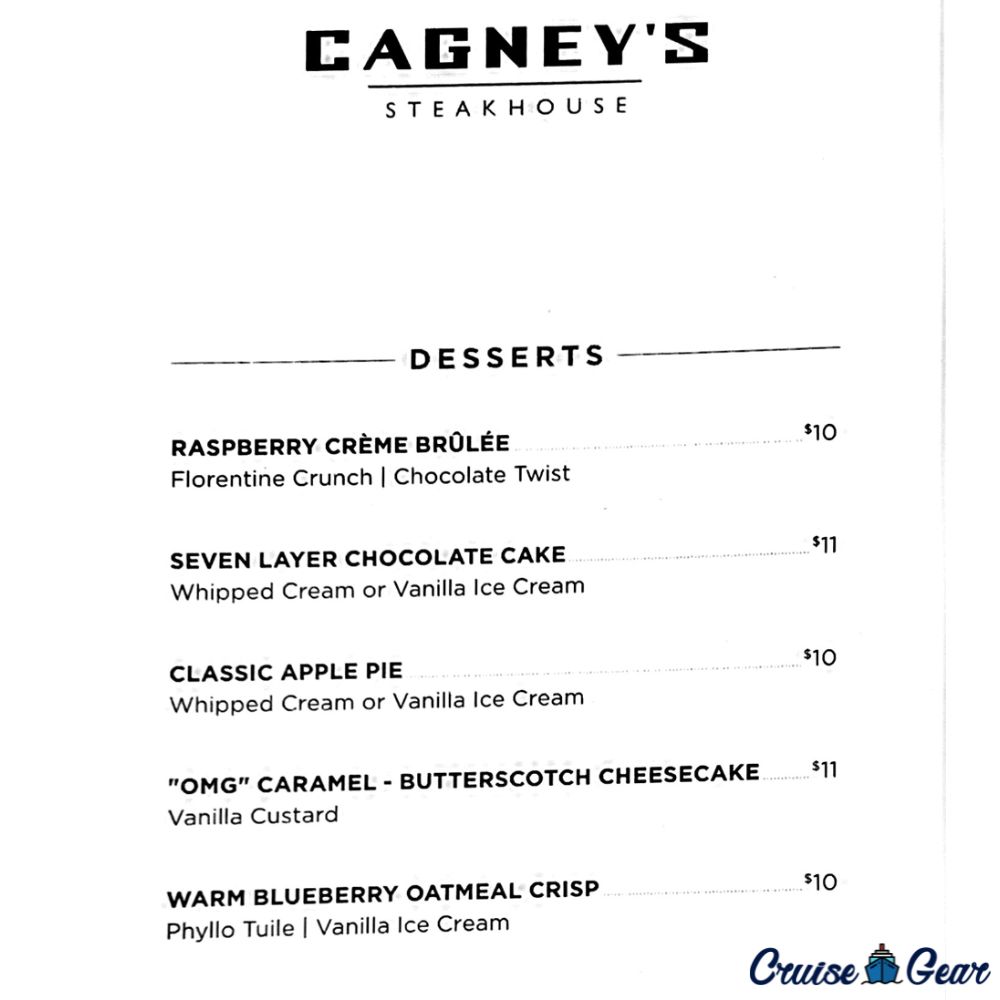 Cagney's Steakhouse Wine Menu With Prices
You'll generally find a better wine selection in the specialty dining restaurants than throughout the rest of the ship. The wine list complements the menu quite well, offering an extensive selection of red and white wines, as well as bubbly and specialty cocktails to pair with your meal.
Is Cagney's Steakhouse Worth It?
Comparing food quality and prices to a land-based steakhouse, Cagney's is definitely worth it. If you have a dining package, it's a no-brainer! We think this is one of the best values for the dining package credit, even with a few items that have surcharges (i.e. Tomahawk or lobster tail).
Does Cagney's Have a Dress Code?
Norwegian's official policy is no swimwear in restaurants, but there is no specific dress code for Cagney's. You'll see everything from men in suits to guys wearing dress shorts. Most people in the dining room are usually seen wearing jeans or slacks with a collared shirt.
Our tips for Dining at Cagney's Steakhouse on Norwegian Cruise Line
The steaks are where it's at. Stick with the filet mignon and you can't go wrong.
If you're considering prime rib, skip it. It's often served at the buffet or during a special dining night in the main dining rooms, and having tried the prime rib at Cagney's, it's not really much better.
The cream spinach side dish is often watery – try something else
The Oysters Rockefeller are the biggest disappointment in Cagney's. There are 3 shriveled-up dry pucks that they sadly overcook and call Oysters Rockefeller – Definitely choose any other starter! (The lettuce wedge is a favorite and consistent)
For chocolate lovers, the 7 layer cake is a MUST
MOST IMPORTANT: Always make a reservation right when you get on board. Prime dining hours fill up fast for most voyages.
More Specialty Dining Restaurant Menus on Norwegian Cruise Line