Los Lobos NCL Menu, Prices & Review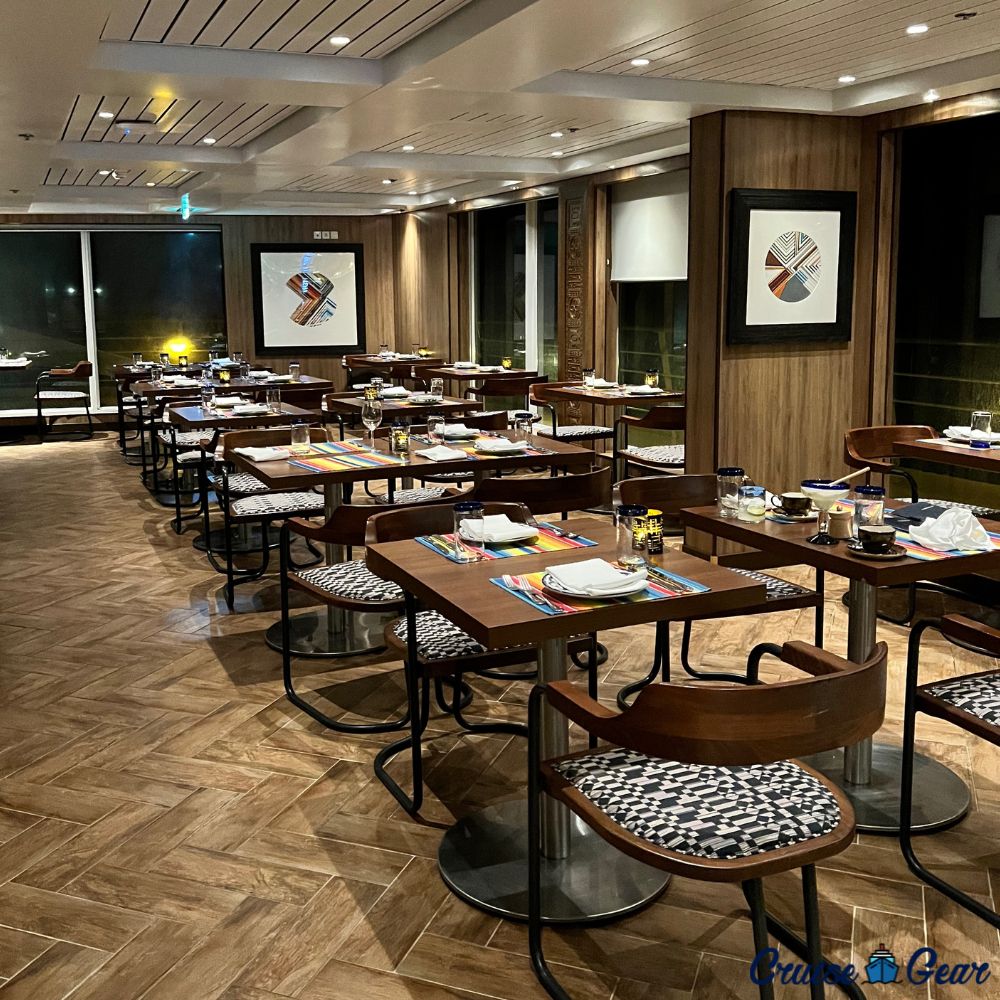 Los Lobos on Norwegian Cruise Line is the Mexican specialty dining concept on about half of their ships. For years, I'd not bothered with trying Los Lobos since I grew up near the Texas / Mexico border and there is little to compete with food from that part of the country!
But if you're on the hunt for delicious Mexican cuisine, this specialty restaurant is a must-visit. You'll find a variety of standard, gringo-friendly Mexican specialties on the menu that are sure to satisfy even picky Tex-Mex aficionados like me. Here's our experience as well as the Los Lobos NCL menu.
Drinks at Los Lobos
Before you order ANY food, though, you must take a look at the unique cocktail menu where nearly all drinks are covered by the basic Premium Beverage Package / Unlimited Open Bar package! Margarita lovers will be in for a treat, as these are the best anywhere on the ship with a number of specialty varieties available.
Don't miss the bar, even if you don't eat at Los Lobos!
Many passengers don't realize that you can head to the bar found within Los Lobos (on most ships with this restaurant) and enjoy drinks that aren't found anywhere else.
The food at Los Lobos on NCL
Start your meal off with the fresh guacamole that's prepared tableside, allowing you to witness the yummy, hand-crafted creation up close. Served with an array of crispy chips, the guacamole is bursting with flavor and the perfect balance of creamy and tangy.
Next, you can't go wrong with the quesadillas, which come in shrimp, chicken, or cheese varieties. The cheese quesadilla is a personal favorite, with its melty and gooey texture that's reminiscent of the Tex-Mex I miss.
If you're a seafood lover, the fish dishes are the only disappointment. The fish is cooked to perfection and paired with various fresh toppings but it's relatively unseasoned and flavorless.
For those who prefer meat, the carne asada is just amazing. This classic Mexican dish features Grilled Skirt Steak Marinated in Guajillo Chiles & Tequila and is served with Corn Tortillas served with a grilled lime creating a unique and memorable flavor profile.
The enchiladas are a standout option, filled with savory meat and smothered in flavorful sauces that add an extra kick of taste.
Last but not least, the desserts are insane. For anyone who can actually fit a dessert in after a meal here, the tres leches is a must-have. There are plenty of other options such as Flan, Beignets, and various ice creams.
Los Lobos NCL Menu & Prices
Appetizers
GUACAMOLE FRESCO EN MOLCAJETE
Prepared Table Side / Jalapeño / Tomato /Onion / Cilantro
$11
QUESO FUNDIDO
Cheese Fondue Baked in a Skillet with Mexican Chorizo Sausage / Cor Tortillas
$10
TOTOPOS
Crispy Corn Nachos / Refried Beans / Guacamole / Crema Mexicana / Monterrey Jack Cheese
$10
SOPA DE TORTILLA
Queso Fresco / Avocado
$7
QUESADILLA DE TRES QUESOS
Melted Chihuahua, Oaxaca, and Cotija Cheese Pico de Gallo / Guacamole / Crema Mexicana Additions / Fire Roasted Shrimp $5
Grilled, Mesquite Smoked Chicken Breast $3
$9
EMPANADAS DE CARNE
Beef Turnovers / Pico de Gallo / Guacamole
$10
AGUACHILE DE CAMARONES
Mexican Style Shrimp Ceviche / Lime Cucumber / Onion / Garlic / Radish / Serrano Pepper
$11
Salads
BETABEL
Roasted Beets / licama / Tomato /Cucumber Watercress / Pumpkin Seed / Honey Lime Dressing
$10
NOPALES
Cactus / Onion / Tomato / Avocado / Jalapeño
Cotija Cheese / Herb Vinaigrette
Additions / Fire Roasted Shrimp $5
Grilled, Mesquite Smoked Chicken Breast $3
$10
Tacos with Guacamole & Salsa
DE PESCADO
Grilled Mahi – Mahi / Cabbage / Pico de Gallo Chipotle Cream
$16
AL PASTOR
Choice of Annatto Marinated pork or Chicken Grilled Pineapple
$16
RAJAS & CREMA
Grilled Poblano Peppers / Toasted Corn Crema Mexicana / Queso Fresco
$12
ENCHILADAS
2 pieces with Mexican Rice + Refried beans
DE MOLE
Chicken Ting / Traditional Mole Poblano Sauce
$15
VERDES
Slow Roasted Shredded Pork / Onion / Cilantro Cotija Cheese / TomatilloSauce
$15
DE MARISCOS
Scallops /Shrimp / Mahi – Mahi / Tomato Caldillo Queso Fresco / Cilantro
$19
HOUSE SPECIALTIES
CARNE ASADA
Grilled Skirt Steak MarinatedinGuaiillo Chiles &Tequila / Corn Tortillas
$27
COCHINITA PIBIL
SlowBraised Pork in Bitter Orange Juice with Annatto Seeds / Served Shredded on Banana Leaf / Corn Tortillas
$23
ALAMBRE DE CAMARONES
Grilled Giant Spiced Shrimp Skewer / Tomatillo Sauce
$29
POBLANO RELLENO
Stuffed Poblano Pepper / QuesoFresco / Mild Caldillo Sauce
$17
HUACHINANGO A LA VERACRUZANA
Veracruz- Style Snapper / Tomato / Onion / Bel Peppers / Olives / Capers / Raisins
$29
BURRITO ROJO
Refried Beans / Red Rice / Queso Fresco / Cilantro / Choice of: ChipotleSeasoned Ground Beet $22 Chicken Tinga / Shredded Pork with Salsa Verde
$22
Sides
Mexican Street Corn, Blistered Jalapenos, Refried Pinto Beans, Mexican Rice, White Rice, Tamales – priced each
$5
Desserts
Fried Beignets, Tres Leches, Chocoflan, Torta de Chocolate, Ice Cream – priced each
$11
It's worth noting that using the specialty dining package is possible at Los Lobos, however, if you are just interested in trying the restaurant with one of the main dishes, you won't receive a great value for the dining package. It's better to save the dining credit for something like Le Bistro or Cagney's where you get more "bang for your buck". However, if you're looking for a way to use extra specialty dining credits, this is a good way to use them!