Norwegian Cruise Line Restaurants – an abundance of amazing food options on board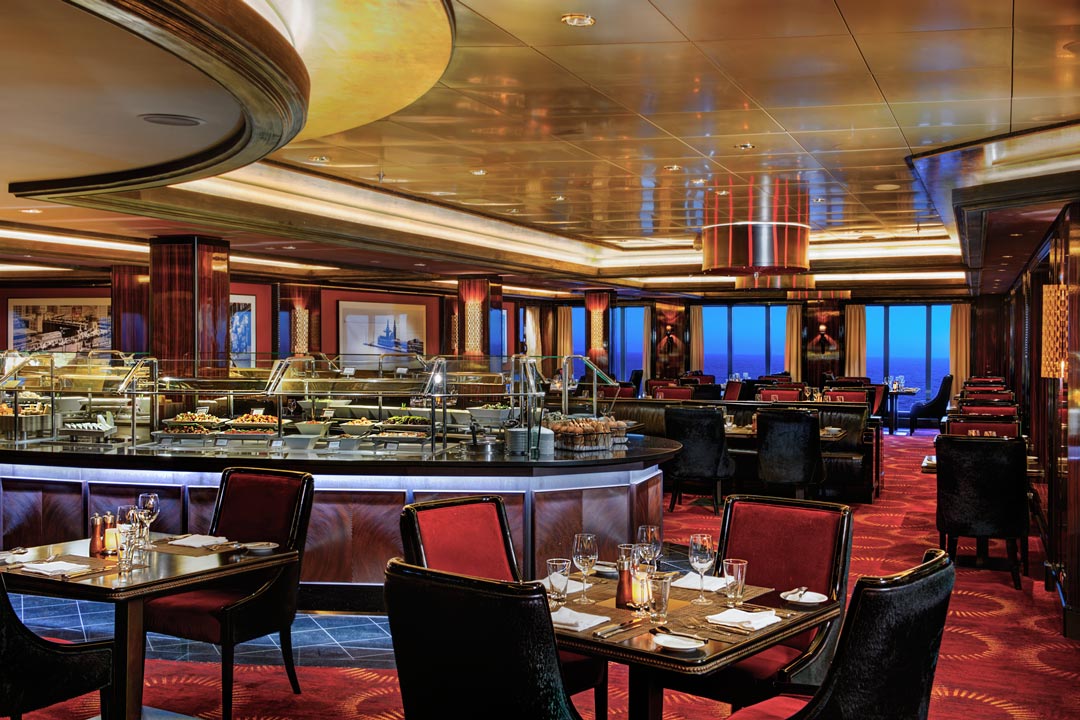 Dining & Restaurants on NCL Cruise Ships
Norwegian Cruise Line has made an incredible effort to stand apart from other large cruise lines by offering extensive dining options on every ship. With the NCL Brand, a focus on food is at the core of their business, and guests love it!
While cruise lines were making major dining changes after reopening from a complete shutdown during the pandemic, NCL came back strong and with a commitment to good food and dining options. As with all of the large cruise lines, Norwegian Cruise Line Restaurants had supply chain issues resulting in some quality concerns, but fast forward a couple of years later, they seem to have sorted everything out and are back on track to having some of the best food options at sea.
There's an incredible number of dining options on the Norwegian Cruise Line ships. Many of the signature restaurants that Norwegian Cruise Line is known for are available on all of their ships with the exception of the newer Q Texas Smokehouse and Food Republic. With the introduction of the VIVA class ships, even more dining options are being offered!
The Norwegian Cruise Line Restaurants & Dining Options Explained
We've been lucky to experience every restaurant on the several NCL Cruise ships including the EPIC, Dawn, Sun, Sky, and Encore, here's an overview of each dining option.
Specialty Dining Restaurants on NCL
Norwegian has a selection of up-charge dining options. They're all generally quite good and reasonably priced, especially when purchasing "dining package" credits prior to sailing (about $35 per person per meal).
Moderno Churrascaria
Moderno is a literal meat fiesta. I've dined at the Churrascaria on every ship it's available and the only disappointment was the NCL Sun. The experience is generally quite good and consistent. This is not for the faint of heart or vegetarians 🙂 – Arrive hungry! In addition to the endless meats served tableside, there's a huge salad bar and a buffet of small bites that vary which include grilled veggies, sometimes sushi rolls, various arrays of bread, and dips, etc. See the Moderno Menu on NCL
Usually, Moderno shares the same general space and entry as Cagney's. 
Cagney's Steak House
Cagney's is the premium steakhouse on NCL Ships). While it's consistently good I never leave there feeling like it was "worth" the visit. If you're truly a steak lover, a land-based steakhouse may be a better choice. Not that Cagney's is BAD, it's absolutely not bad. But with so many options for specialty dining, it's not usually one that I'd recommend, especially if you have a limited number of dining credits to use during your voyage. It's most certainly not a dining option I'd recommend paying a la carte for! This opinion surely won't be popular among many Norwegian loyal customers! See Cagney's Menu on NCL
La Cucina Italian
La Cucina is generally quite good! This is not Italian food like you think of typical Italian restaurants in America. It's more classic with dishes that are less Lasagne and spaghetti (though, they're available) and more elevated with dishes like Osso Buco, Calamari, and Various elegant seafood dishes. Following the traditional Italian dining style, courses are served with pasta dishes as the starter (along with salads and antipasti) followed by the main course and then dessert. It's a LOT of food and it's all quite good! The only downside of La Cucina in some ships is the venue. It shares some space with the Garden Cafe (the buffet restaurant on the EPIC) – or is sometimes just in a weird location.
One great thing to know about La Cucina is that if you don't have a dining package credit left to use, you can visit for an a la carte meal and just order a couple of appetizers. The appetizers are large and a great value for an a la carte specialty restaurant on Norwegian Cruise Line. See the La Cucina Menu
Le Bistro
The French restaurant on the NCL ships is generally very good. However, recent experiences on the ships and dining at Le Bistro have been disappointing. In the past, it has always been a favorite, but in 2022, in the Med (EPIC), it was not great. I chalk some of this up to the fact there were supply chain and personnel issues during the restart of cruising. In general, with that aside, it's usually quite good. See the Le Bistro Menu on NCL
Teppanyaki
Teppanyaki on the ships is always a great option especially if it's not the type of food you normally dine out for. It's as good or better than any land-based teppanyaki-themed restaurant and the chefs are always enjoyable to watch and the vibe is always fun. TIP: The Teppanyaki is a flat-fee specialty dining restaurant. It may be better to use your Free At Sea dining credits towards other restaurants and simply pay for the Teppanyaki.
Sushi Bar
The small and cozy sushi bar on most of the NCL ships is a great spot for a few bites of sushi that are quite good! The location is also great for people-watching, with the seating usually looking over the main interior halls or public spaces of the ship. While this isn't included in any dining package*, the prices are a la carte and are reasonable by sushi standards. For a few dollars, you can get a typical sushi dish such as a salmon roll, California roll, Rainbow roll, etc.
Q Texas Smokehouse
For BBQ and Meat lovers, the addition of the Q Texas Smokehouse on some of the newer Norwegian Ships is a real treat. Coming from Texas originally, I know (and LOVE) my BBQ! This restaurant doesn't disappoint. The interior decor feels like you could be at any well-known southern Barbecue joint and never realize you were at sea. The selection of meats and preparation are spot-on, plentiful, and messy as all hell! PERFECT! You can see the Q Texas Menu here.
In addition to the above specialty restaurants, there are plenty of places on the ship to get a great meal, all included in your cruise fare.
Included dining on Norwegian Cruise line:
O'Sheehan's Irish Pub
The all-day, Irish pub-themed restaurant and bar are where you'll find all of the reliable eats and basics you need for a quick meal or aren't up to a full sit-down experience at one of the main restaurants on the ship. The pub serves everything you'd expect including burgers, wings, salads, club sandwiches, etc. Additionally, they have a regular "blue plate special" that is served at dinner and is different almost every evening. O'Sheehan's is also where you'll find sports events broadcast and with an incredibly large bar, there's never a shortage of socializing. Fancy a game of darts or air hockey, it can be found in the back portion of the pub. Unique to the Epic, the pub even has full-size bowling lanes! Truly bizarre but quite fun to watch people bowl while enjoying your pub food.
The Local
On newer ships that don't have O'Sheehans, the replacement is called "the Local" – which has a higher end feeling and is ore of a nice cafeteria-style experience with different food stations.
Main Dining Room(s)
Most Norwegian cruise ships have two "main dining rooms" serving the same menu at dinner (one is generally open for Breakfast as well). The only real difference between the two is the decor and ambiance. Some main dining rooms feature entertainment on a large stage area surrounded by tables whereas secondary dining rooms are more traditional restaurant settings. The NCL menus on some ships still change nightly, but the cruise line is going to a fixed menu that will feature a special or two but they will now have the majority of the menu with items that do not change. You can see more about how Norwegian Cruise Line is changing their main dining room restaurant menus.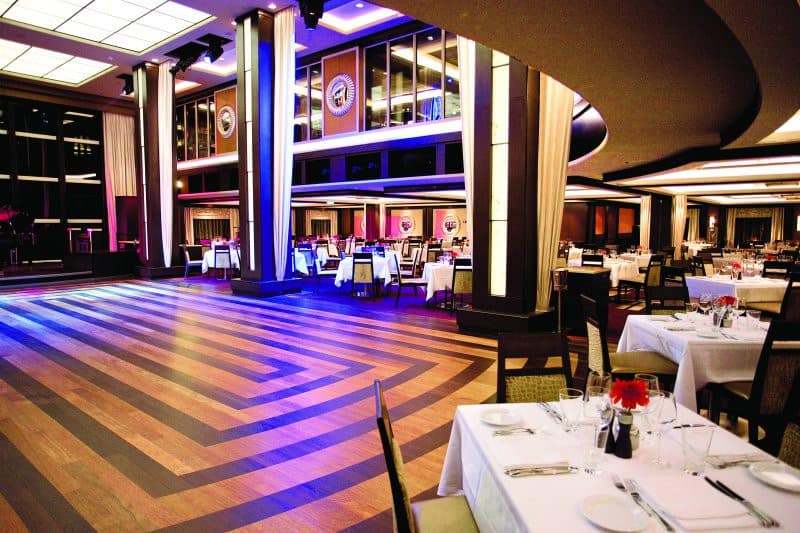 Additional Dining Options
In addition to the main restaurants and specialty dining options, the ships have the Buffet which is surprisingly good with a lot of seating. It's open for breakfast, lunch, and dinner. There are also smaller ancillary food options located by the pools for afternoon bites like burgers and hotdogs.