Our Norwegian Dawn Review – A Classic Cruise Experience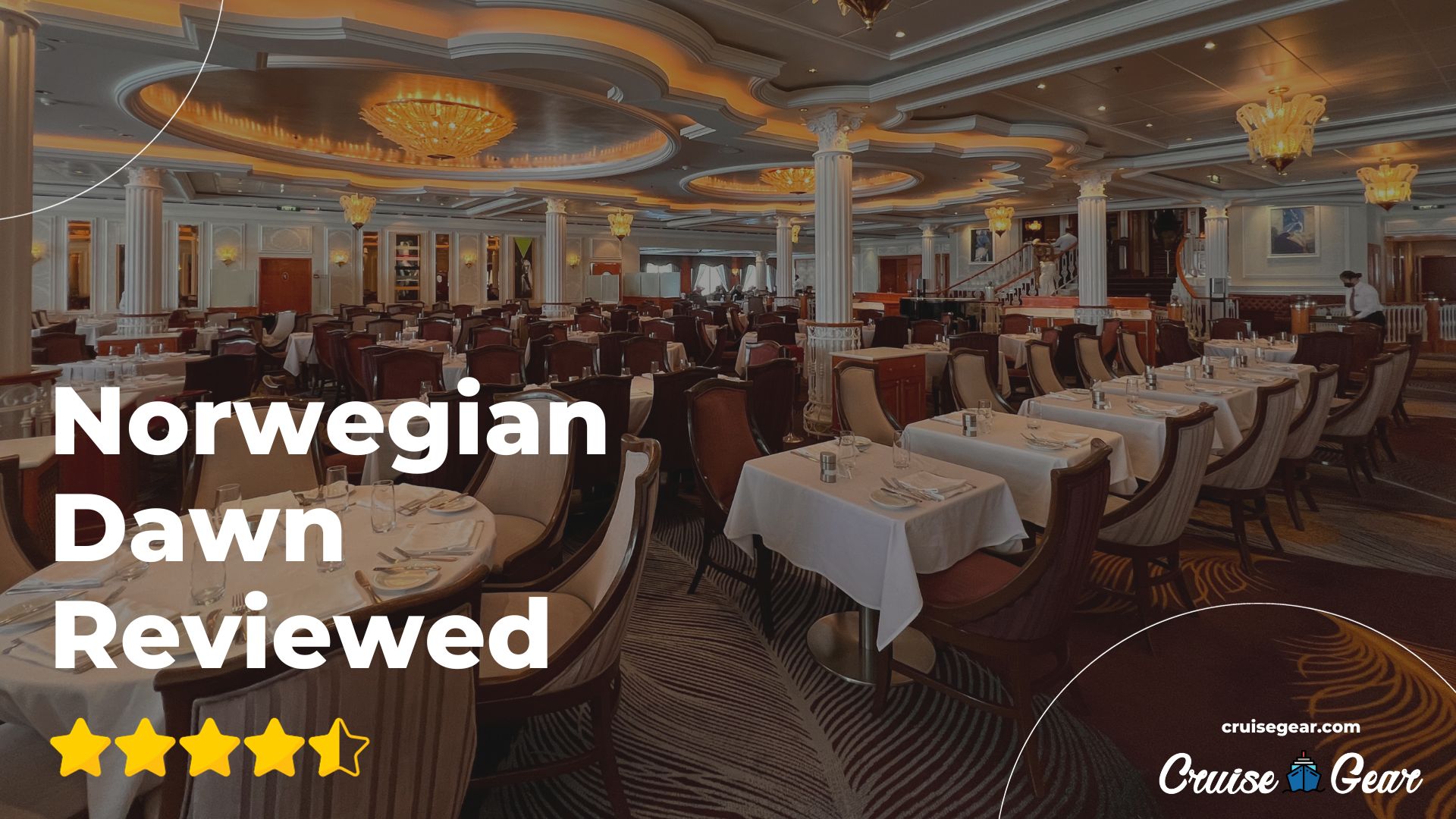 What can you expect when cruising on board – Our Norwegian Dawn Review
Norwegian Dawn is a beautiful ship that offers a great vacation experience and feels like the "good old days" of cruising. While it's an older ship from 2002, it was refurbished in 2016 and the modernization was extremely well done! NCL has modernized older ships in the fleet, and those updates make it feel like you're cruising on a nearly new ship, just smaller and more intimate and often more affordable than the newer large mega-ships.
The cabins come in different sizes to suit everyone's budget, from the expected inside cabins, oceanview staterooms, balcony staterooms, and a selection of suites. It's important to know though, that the Dawn does NOT have the "Haven" experience. Even though the ship was renovated in recent years, the concept of the Haven was not implemented.
Norwegian Dawn is equipped with several dining options, like the Garden Café, Aqua and Venetian restaurants, and specialty dining. Its entertainment shows and activities are good yet simple (think old-fashioned cruise entertainment) including comedy shows and live music events. The ship has a sports court, arcade, and multiple swimming pools and hot tubs, providing plenty of leisure options for cruisers. The staff is always available and welcoming, ensuring a pleasurable experience. The ports of call on this cruise include beautiful destinations, like the Caribbean, the Bahamas, and Bermuda. Norwegian Dawn has everything a cruiser desires, making it a perfect option for a delightful getaway.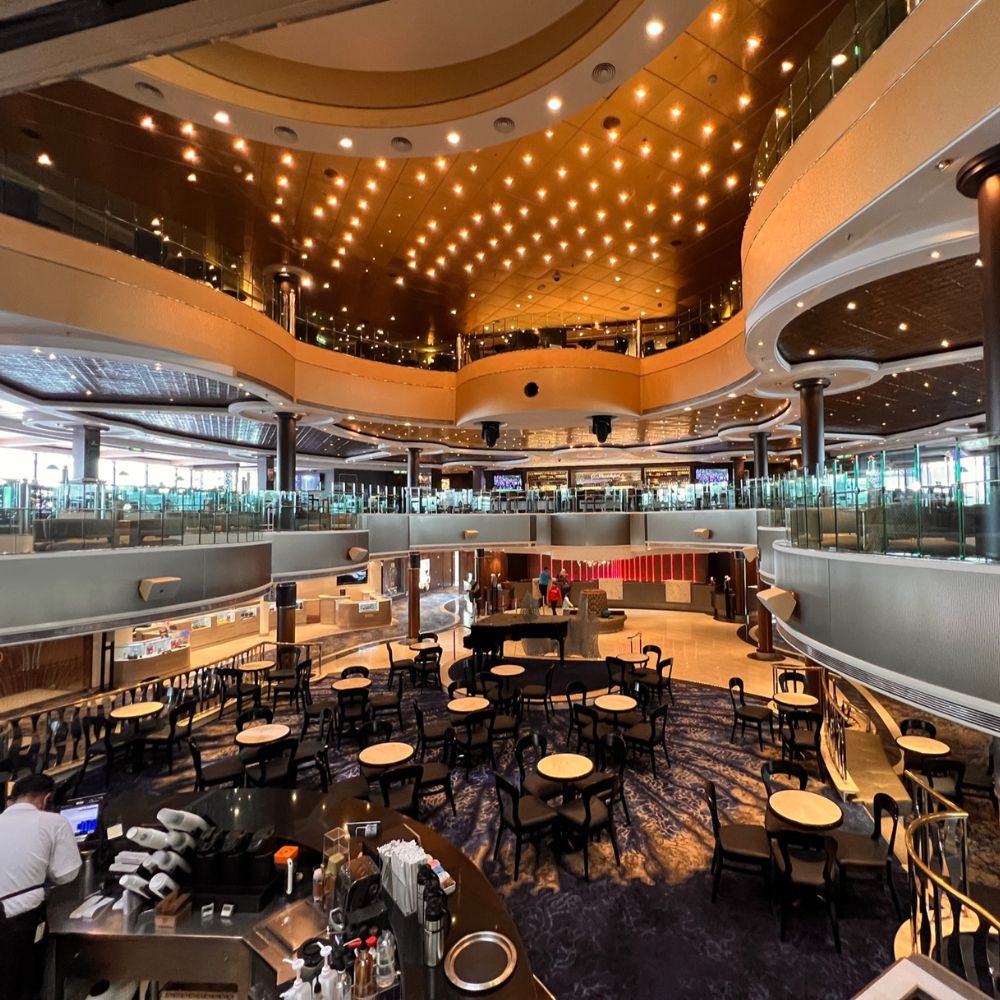 What we love about the Norwegian Dawn
The staff on the Dawn seem to be more seasoned making them friendlier and more capable than cruises we've been on since the cruise industry has restarted.
For a smaller ship, the food options and quality exceeded expectations
The ship is beautiful and the refit under the "Edge" program with NCL was executed beautifully.
The Bliss Lounge! What a great purpose-built space! Not an afterthought like on some smaller and older ships.
The cruise ship is exceptionally clean
The outdoor promenade/walking track
The Mondavi Wine Bar
What we didn't like about the Norwegian Dawn
While the ship had a refit in 2016, the staterooms were left nearly untouched.
Itineraries often stopped in ports too far from the intended destination. While this isn't specific to this ship (It's an NCL issue), it is overall displeasure with the choice of ports.
The layout is strange and some people complain about difficulty getting from one space to another, though this is typical of older and smaller ships.
Keep reading for our full Norwegian Dawn Review!
What to Know About the NCL Dawn Cruise Experience
If you're planning to embark on an NCL Dawn cruise, there are a few things you should know to help you get the best possible experience. First, you'll find that the cabins are comfortable and well-appointed, albeit slightly dated and a bit on the small side.
The dining options are incredible and the ship has all of the legacy restaurants you'd expect from NCL including O'Sheehan's Pub, Garden Cafe, and Bamboo Asian food. There are also the staple specialty dining restaurants including Le Bistro, La Cucina, Los Lobos, Teppanyaki, Sushi, Cagney's & Moderno.
The entertainment is average, with live shows, solo musicians, comedy acts, and dancing in the Bliss Lounge to keep you entertained throughout the evening.
If you're interested in activities and wellness, you'll find plenty to keep you occupied, including fitness centers, pools, spas, and more. The fitness center and spa are s surprisingly large and well-equipped for a ship of this size and age!
As with other NCL ships, the Free at Sea program is almost unbeatable when it comes to value. Almost everything is included in the price of your cruise, including meals, activities, and even most drinks. However, be aware that there are some exceptions, such as premium dining options and certain beverages.
If you're traveling with kids, you'll find that the NCL Dawn is a decent choice for families. Even though a kids club exists, there aren't many kid-friendly spaces on the ship like there are on newer larger cruise ships. There is a distinct lack of outdoor recreational space geared towards children, there is still a small dedicated kids pool in the rear of the ship. There are also plenty of activities and programs geared towards children of all ages, including supervised activities for younger kids, video games, sports, and more.
Overall, the NCL Dawn cruise experience is one of relaxation, comfort, and simple (but good) entertainment. You'll have plenty of options for how to spend your time, whether you want to kick back and relax by the pool or take part in activities and excursions. With great food, decent entertainment, and full NCL amenities, it's a fantastic choice for anyone looking to experience a quality cruise vacation.
The various dining options
There are noticeable cost-saving measures in place since cruise lines started sailing again after the pandemic shutdown. This can be most often seen in the food on most cruises. Surprisingly, aside from a few items, the chefs on the NCL Dawn have kept the food at a very high standard in both the main dining rooms and the specialty restaurants!
Included dining on the Dawn
The beloved O'Sheehans occupies a beautiful spot on the ship where you can see out both sides through the vast open space and includes the requisite bar that has everything you could imagine. It's the only 24-hour restaurant on the ship and does a good job of making staple items like salads, burgers, and chicken wings. The space is less "Pub" feeling than on other ships with the O'Sheehans which is actually a nice change. It felt a little more upscale than the same venue on say, the Norwegian Epic. The bar, unfortunately, feels a bit sterile and less welcoming. During our time there, we didn't observe people sitting at the bar as much as on other ships. O'Sheehans is a great alternative to the buffet!
The Garden Cafe is typical of any NCL buffet area and is a popular option on most days. The setup is nice considering they don't serve identical food on both sides of the buffet, giving passengers more options. An extension of the buffet outside is the area called "Topsiders" which has its own lunch buffet line with typical burgers and dogs. If the selection isn't enough outside, just grab anything from the buffet and take it outside!
In addition to the typically included dining, the Dawn has "Bamboo", which is the yummy Chinese restaurant on the ship! It is nearly all included with a few exceptions (Lobster dishes & sushi mainly). This restaurant is quite a gem and isn't known by most of the passengers for the first couple of days. So be sure to book early in your voyage to avoid lines!
Main Dining Rooms (MDR)
The Dawn has two dining spaces called Aqua and Venetian. The main restaurants are primarily open for dinner with the Venetian being open for breakfast and sometimes open for lunch.
The Venetian dining room is what is typical of cruise ships this age with large open spaces, tons of tables, and windows overlooking the ocean.
The Aqua dining room is interesting, considering it's basically the same food as the main dining room. It's a space tucked away and easy to miss, but it's great for a more intimate feeling rather than a vast restaurant space. We preferred the Aqua dining room because of the vibe and being less 'busy' feeling.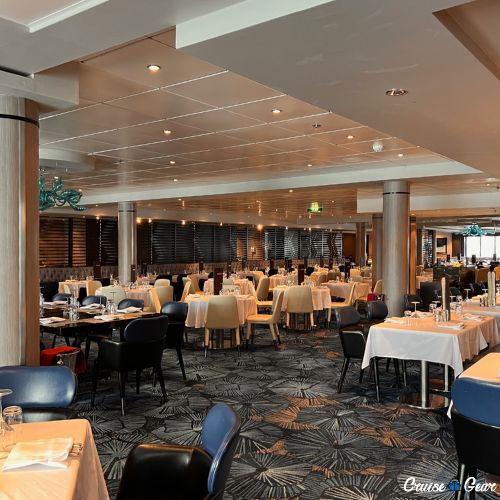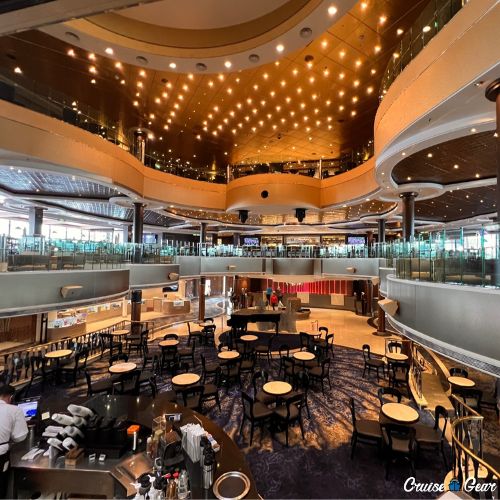 Specialty Restaurants (For a fee)
The number of restaurants on the Dawn is pretty shocking given the size of the ship! Amazingly, after the refresh of the Dawn, all of the "go-to" specialty dining restaurants are represented! And they're ALL good.
Cagney's – The Steakhouse every NCL Fanboy (and fangirl) raves about. Our experience was as expected, nearly flawless and perfectly cooked steak. See the Cagney's Menu
Le Bistro – French cuisine with a modern twist. I've always found Le Bistro to be hit or miss on NCL, but on the Dawn they did a nice job with everything. Know it's the one restaurant that has a dress code (not fancy, just no shorts, flip flops, and torn jeans, essentially). See the Le Bistro Menu
La Cucina – This was one of our favorites. The modern Italian venue on the Norwegian Dawn exceeded the experience we've had in the same restaurant on other ships. The space is less "fancy" than on other ships, as it almost seems like a carved-out afterthought – but the food is quite good. See the La Cucina Menu
Los Lobos Mexican Cantina – A great treat for Mexican food lovers. The menu thought, has a bit of an identity crisis. You can't tell if the restaurant is trying to be tex-mex or more "interior" Mexico. Either way, we'll take it! Tableside guac and enchiladas to die for. See the Los Lobos Menu. A PRO TIP: Go to the Mojito bar. Just do it. Even if you don't eat dinner at Los Lobos. If you have a drink package, you'll discover a world of Mojitos and margaritas that will give you a 3-day hangover 😉 . They're all SO good. Drink responsibly (or not)
Teppanyaki & Sushi – The staple of Asian food across the NCL fleet. The shared dining experience can be great fun if you get lucky with the tablemates seated at your grill. We found this to be a typical experience and would probably skip it if you've done this on other ships. If you find yourself with a dining credit to spare, it's a fun activity with expected food quality. Paying for it, however, doesn't seem like a great value. See the Teppanyaki Menu
As for the sushi, it's generally good, but being a sushi snob, it's tough for me to pay real money for cruise ship sushi these days.
Moderno Churrascaria – One of my favorites, this is the "meat fiesta" I crave! Unfortunately with supply chain issues, the meats didn't seem to be quite as good as in years past. If you've done Moderno on other ships and have limited dining credits to use, I'd probably advise skipping this. The space is small, and the lovely buffet of salads and sides you find on other ships is extremely small in comparison. See the Moderno Menu
Norwegian Dawn Bars and Lounges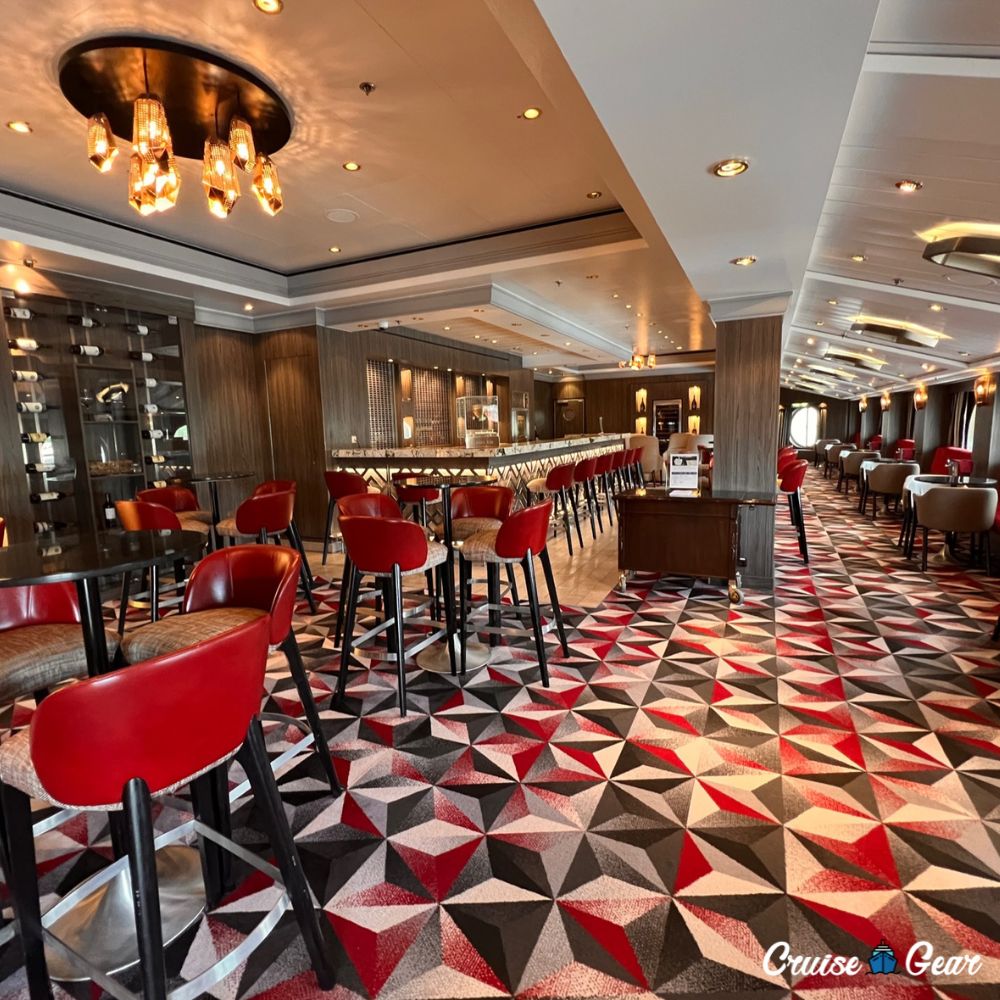 Not surprising, but this cruise ship has a TON of bars and lounges. For a ship this size, there's a huge selection including:
Havana Club (Cigar Bar) – where drinks are served from the neighboring Gatsby's
Gatsby's Champagne Bar – It's not really a champagne bar, it's a full bar that is the main bar/lounge area of the ship
Casino Bar – it is as it says… the bar in the casino!
Bliss Lounge – the bar open in the rear of the nightclub "Bliss"
Bamboo Bar – this odd little bar is just outside of the Bamboo & Teppanyaki sort of in the walkway. It's an odd afterthought and not frequently open. Sometimes in the evening, they'll have sake cocktails available
The Cellars by Mondavi – Our absolute favorite space on the ship. It's feels unique unlike any space on the ship and really does have an upscale feel of a wine bar. The selections and service are amazing.
O'Sheehan's – The large central bar space above the central atrium on the ship
Los Lobos Tequila bar – GO HERE! Even if you don't have reservations at Los Lobos – you'll discover margaritas in a totally new way!
Sugarcane Mojito Bar – Inside Moderno – a must for Mojito Lovers. You don't need reservations to enjoy the bar.
Topsiders & Bimini outdoor bars – referred to as the "Pool Bars" – are as expected, a bar by the pool 🙂
Lounges & Public Spaces
The ship feels incredibly modern and updated in all public areas despite the age of the ship. The renovations and refits of the Dawn over the past years have made every space feel like you were on a nearly new ship. Almost no area was left untouched during the previous renovation.
Something we loved the most about the Dawn was the abundant space on board to relax and get away from other passengers to read a book, check email, or just relax in relative silence. Above the atrium, up several floors is a whole space that is largely unused and full of lounge chairs, sofas, and tables. This was a great space to just relax, play some cards, have a drink, and get away from people in general. The atrium itself is also quite lovely to relax, have a coffee and people-watch. Unlike other central atriums on larger ships, it's quiet and has a nice relaxing vibe to it. Unfortunately, the choice to have the off-brand coffee bar smack in the middle of the atrium seemed out of place, but any other service like a bar would have made the atrium a much busier place and detracted from the vibe. It's more of just a surprise that NCL didn't take advantage of such a great space for a more popular venue like an atrium bar.
Norwegian Dawn entertainment & onboard activities
Activities on the NCL Dawn are what you'd expect from Norwegian Cruise Line including game shows like "Deal or No Deal", Not So Newly Wed game, and a few other fun things like bingo, trivia, and slot tournaments. Another nice touch for some downtime is the current movies often screened in the Bliss Lounge. For people looking for a ton of onboard activities, they might be a little bored on the Dawn. The ship is more relaxed and less back-to-back "things to do" all day long.
Since NCL has cut back on entertainment fleet-wide, the lower caliber of entertainment is evident across almost all ships. However, with the Dawn not being equipped with large stages and Broadway-style production environments, the cutback on entertainment didn't seem to negatively impact the Dawn. This is mostly due to the fact that the entertainment venue, "Stardust Theater", is more traditional and hosts simpler types of old-school music, dance, and more simplified theatre-style performances. Expect performances like Michael Jackson's tributes, the house band performing music through the decades, and well-known solo vocalists.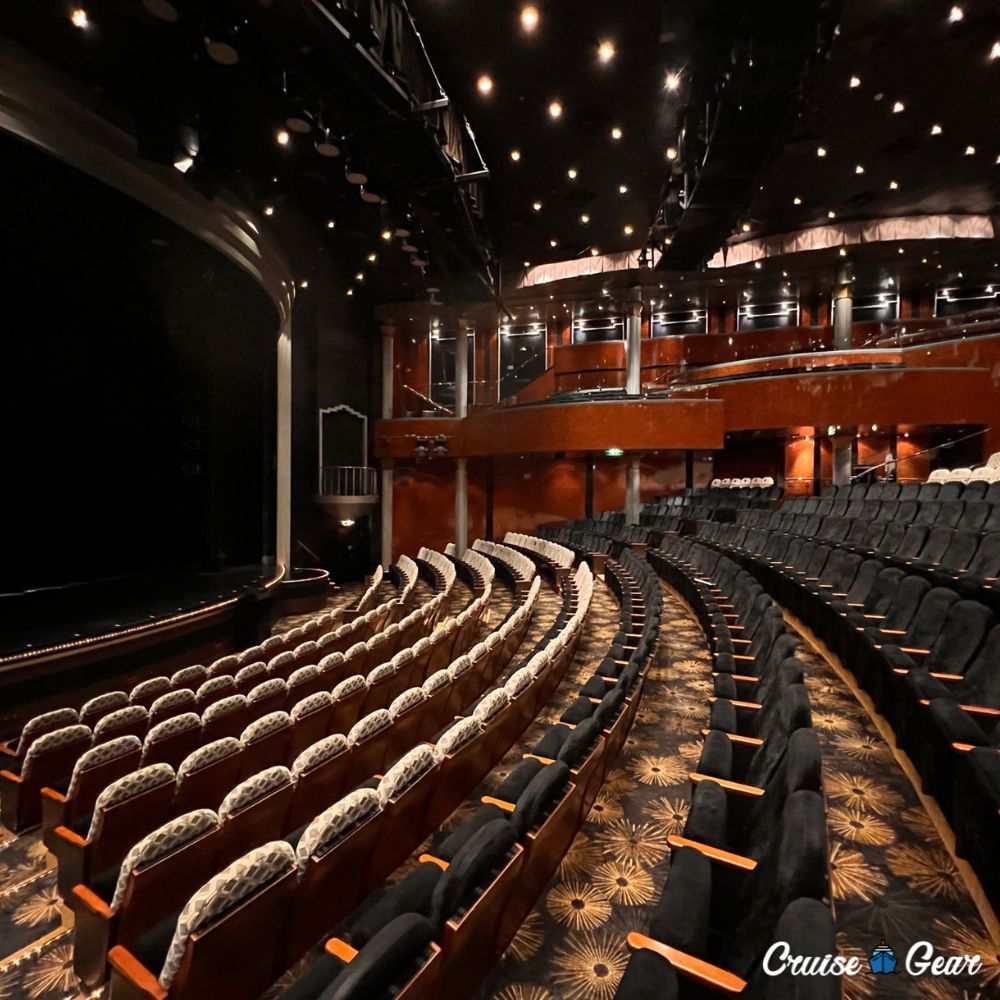 Pools on the Dawn
Since the size of the Dawn is smaller than more modern ships, you'd expect the pool and pool areas to be smaller as well. While they are in fact smaller than mega-ship pools, the way the Dawn creatively has seating around the pool makes up for the actual size! In a unique "stadium style" seating arrangement around the pain pool and various spaces with loungers, it's easy to actually get a space in a time where chair hogs run wild.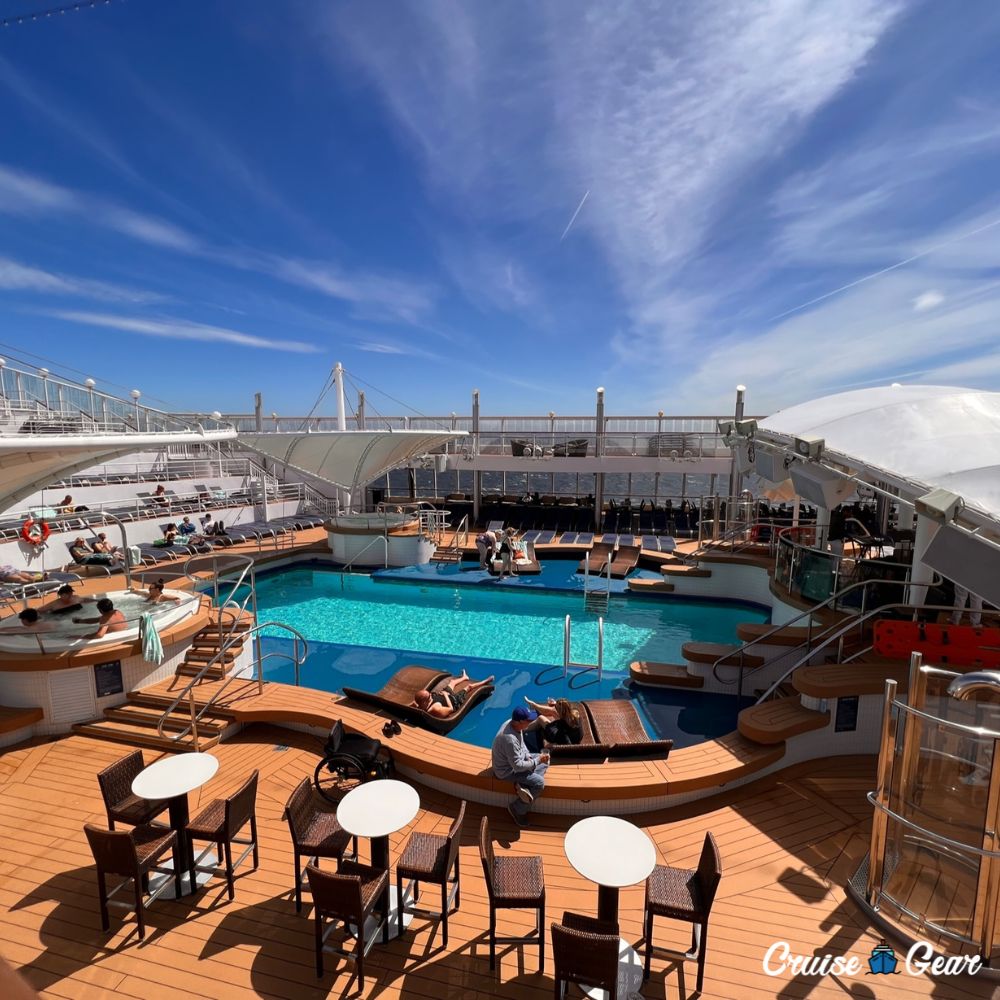 There are multiple hot tubs with additional hot tubs (or should I say one hot tub) on a sun deck towards the front of the ship (strange, though more private).
There are also plenty of shaded spots to enjoy the pool scene without too much sun.
For kids, there's a small "water park" known as the T-Rex Pool. It's in the rear of the ship on deck 13 making it a little difficult to find. Having it separate from the main pool is pretty smart, keeping kids occupied in a different wet area.
By the end of the cruise, we felt the size of the pool and dedicated lounger space was more than sufficient for sailing at near capacity. This can't be said by even some of the largest ships these days!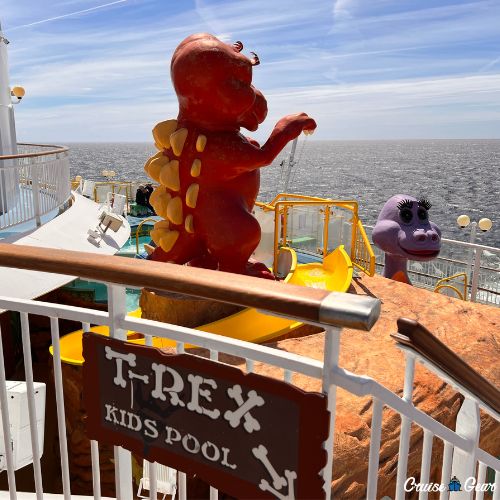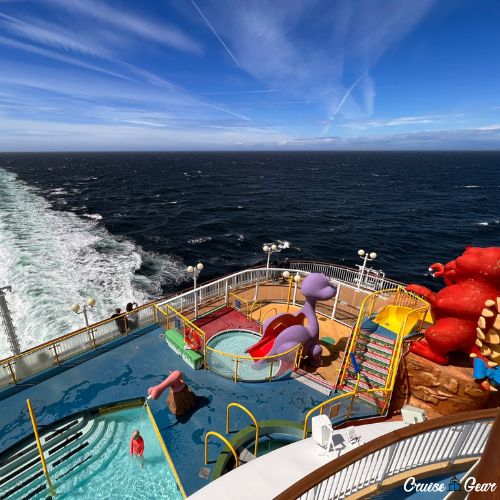 The Staterooms & Cabins on the Dawn
While the ship was refurbished in 2016, the cabins were left mostly untouched. Even though they feel a little dated, the staterooms are extremely clean and well-maintained considering they're mostly original materials and fixtures.
For limited mobility cruisers, the Norwegian Dawn offers 26 wheelchair-accessible cabins across every category.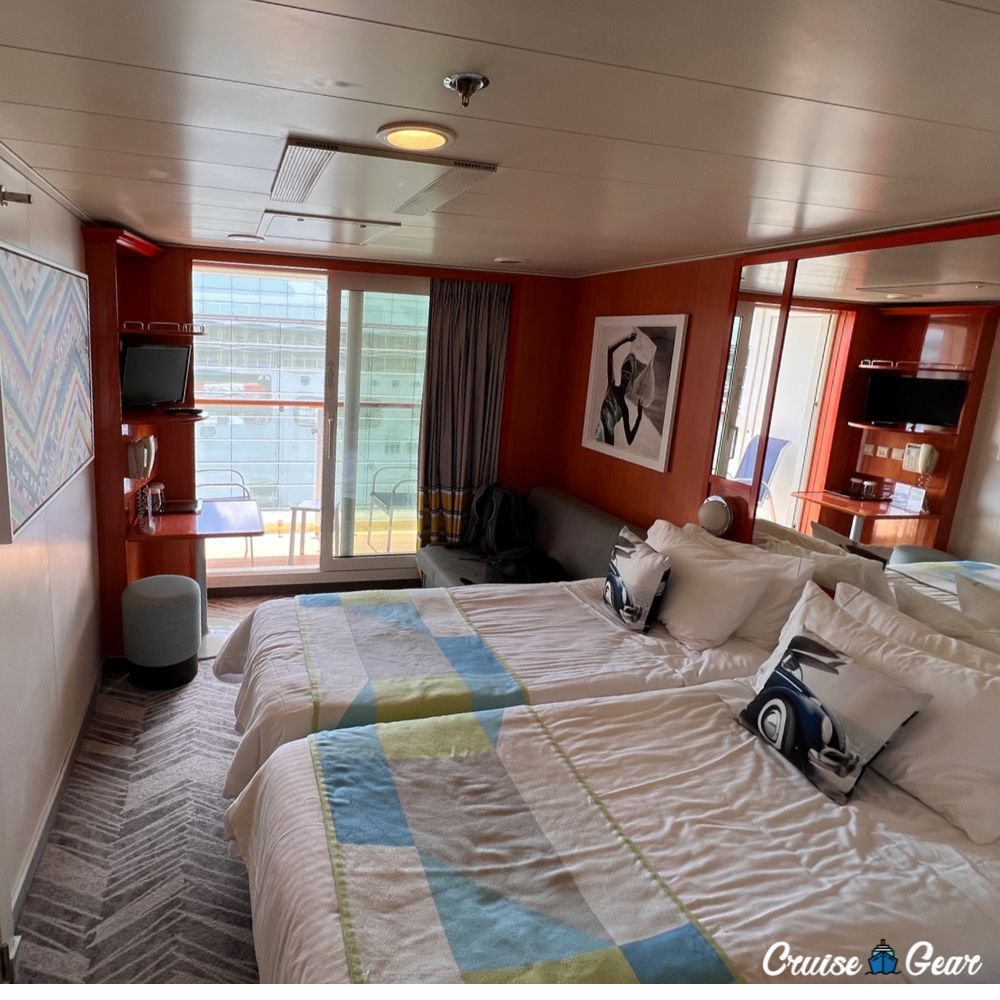 Interior Cabins
Inside cabins are 'cozy' and have about 140 square feet and a large mirror on the wall behind the bed instead of a window. While the cabin may lack windows, the large mirror on the wall behind the bed reflects a world of possibilities 😂😂😂. They can accommodate up to four people.
Oceanview Cabins
Outside cabins measure about 150 square feet and have a porthole or picture window above the bed. Some obstructed-view outsides on Deck 8, situated behind the lifeboats, can measure up to 196 square feet. This is a good option for people who want a bit of natural light and more space (usually for the price of an inside). These cabins can also sleep up to four guests.
Balcony Staterooms:
Balcony cabins are 160+/- square feet, plus an additional 37-square-foot veranda. These staterooms have a small pullout sofa, which can sleep one person though it's not the comfiest place for sleeping. It's worth noting that the pullout sofa is quite firm. The balconies are furnished with two chairs and a small table. Aft-facing balconies on decks 8 through 10 are the same size as regular balcony cabins but offer a larger veranda, ranging in size from 71 to 136 square feet.
Club Balcony Cabin
These "Mini-suites" are similar in layout to balcony cabins but are more spacious, measuring about 230 square feet with a 54-square-foot veranda. They upgrade to shower-tub combos and queen-sized pullout sofas. One of the biggest differences between the balcony and the club balcony suite, in regards to the room, is the size of the bathroom. The club balcony suite has two sinks and a larger shower – but the Club Balcony "Suite" does not get the perks of the actual "suites" on the ship.
Suites & Penthouses on the Norwegian Dawn
The Dawn does not have the "Haven" experience found on the newer ships. But NCL has tried to elevate the 64 "Suites" on board with Haven-like amenities. The suites come with a butler and concierge service, exclusive breakfast and lunch at Moderno, priority embarkation and disembarkation, and tendering. Suite guests also receive L'Occitane toiletries, espresso machines, priority restaurant reservations, the option to have meals from specialty restaurants delivered to their cabins (additional fees may apply), and a special room service menu featuring full breakfast, canapes, and treats. Suite guests receive a pillow menu and sparkling wine on embarkation day. Depending on the itinerary, Owner's Suite and Garden Villa residents enjoy a complimentary liquor setup, and Villa residents receive a limo transfer from the pier to the airport. (Check on this service, as it may not be available in all locations)
Suites Can Be Confusing
We strongly recommend any passenger looking to book a "Suite" class stateroom on the NCL Dawn to use a qualified travel agent! These cabins are so incredibly unique across the Norwegian Cruise Line fleet, that it would be helpful to have the insight of someone who works in the industry and knows these rooms well.
Penthouse Suites
Penthouses are available at the forward or aft locations of the ship. Forward-facing penthouses on decks 9 and 10 range in size from 448 to 568 square feet, with balconies sized from 134 to 252 square feet. Aft-facing penthouses on decks 8, 9, and 10 are slightly smaller, measuring 365 to 411 square feet, with 78- to 123-square-foot balconies. Most penthouses can sleep three people, while a few can accommodate four. Penthouse suites come with a walk-in closet, living area with a couch, coffee table, and chair, as well as a small dining table with four chairs. Balconies in penthouses have full-sized lounge chairs.
Owner's Suites
There are four Owner's Suites on Deck 12 forward, measuring 667 to 732 square feet. These suites may be large BUT, they do not have balconies! This may not bother some people, but many travelers that pay for a "suite" experience, will likely want a balcony. Additionally, two Owner's Suites each on decks 9 and 10 forward range in size from 721 to 900 square feet (including the balcony) and feature forward- and side-facing balconies, totaling 150 square feet of balcony space. Each suite can sleep four people with a pullout sofa. The Deck 12 suites have a large living area with a couch, coffee table, two easy chairs, a dining table for four, a full desk, flat-screen TV, and a bar setup with alcohol and coffee (three complimentary bottles of alcohol, plus bottled water and soda). The bedroom has a vanity table, a closet (not walk-in), and a second TV. The huge bathroom includes double sinks, a whirlpool tub, a separate shower, and a toilet behind a closed door. L'Occitane toiletries are provided, alongside the standard Norwegian soap and shampoo dispensers. Slanted floor-to-ceiling windows in both the living and sleeping areas offer stunning views. In contrast, the Owner's Suites with balconies feature a walk-in closet in the bathroom, a second guest half-bath by the entrance, and a smaller bedroom space. One balcony offers a dining table and chairs, while the other balcony provides loungers.
Garden Villas
The two Garden Villas on Deck 14 are the most luxurious accommodations on Norwegian Dawn, and they are accessible only by keycard. These are marketed by NCL as "The Largest Suites at Sea". These expansive 6,694-square-foot cabins consist of three bedrooms with en-suite bathrooms and enormous two-story outside deck areas. They can comfortably sleep seven people, providing more space than one could possibly need. The individual bedrooms vary in size and come with impressive bathrooms and closet space. Two bedrooms have king-sized beds and whirlpool tubs, while the third bedroom has a queen-sized bed, a standard bathtub, and a shower. The living room offers a breathtaking view of the pool deck and is equipped with a grand piano, dining table, couches, chairs, and a bar/kitchen area with six complimentary bottles of alcohol, plus bottled water and soda. The Garden Villas also boast private outdoor deck areas with whirlpools, lounge chairs, top-of-the-ship sunbathing decks, and steam rooms. If a large group books both Garden Villas together, the walls in the living room and outer decks can be opened up to create an enormous social space.
Family Suites
Norwegian Dawn offers three types of family suites: Family Suites without a balcony, Family Suites with a balcony, and Two-Bedroom Family Suites. The no-balcony suites are located on Deck 12, ranging in size from about 400 to 450 square feet and accommodating up to six guests. The room includes a living area with a pullout couch, two chairs, a small dining table for four, a walk-in closet, and a bathroom with double sinks and a separate tub and shower. The family suites with a balcony have the same layout as the no-balcony suites but come with an additional 110-square-foot balcony featuring two upright chairs and a drinks table.
Family Suites on Deck 11 are 587 square feet in size, with a 50+ square-foot balcony located off the living area. These suites include a small inside kids' room, which can sleep three people with a queen-sized pullout couch and a pulldown bunk bed. The kids' room has its own bathroom, similar to a regular inside cabin, and a separate TV. The living room is furnished with a sitting area, couches, easy chairs, a dining table, and a coffee bar. The balcony provides two padded wicker loungers and a drinks table. A door leads to a walk-in closet. On one side is the master bedroom, separated from the closet by a curtain, and on the other side is a large bathroom with double sinks, a shower stall, a toilet behind a door, and a whirlpool tub with a window. Some find the master bed area a bit enclosed when the curtains are drawn, but the abundance of space more than compensates for this minor inconvenience.
There are only a few cabins to avoid on the NCL Dawn. It's worth mentioning that these aren't necessarily BAD Cabins, they just may have some noise from above.
Most notably on Deck 11 the cabins in the center of the deck may experience some noise during breakfast and dinner service from the buffet above. Additionally some rooms will be under a pool deck where sound from a DJ spinning music may come through (cabin 11069, I'm looking at you!) This may not bother many people since the Buffet closes at 11 and doesn't get really busy very early in the morning.
Secondly, there are a number of cabins that are incredibly close to elevators or other facilities such as Cabin 8118 and 8618 which are close to the central elevator bank and public restrooms. These are also obstructed-view cabins.
Spa, and Fitness On Norwegian Dawn
The fitness center is well equipped, albeit slightly dated. The location is perfect to allow for views upon views upon views as you are working out. The facility is connected to the spa area and shares the locker rooms with the Mandara Spa.
About that spa. The spa experience used to be a real treat on a cruise. In recent years the hard upsell and eyewatering prices have made this treat less pleasant. There is nothing like having an overpriced 90-minute massage to be rattled out of your zen state by someone trying to sell you creams and serums that you don't need or want. It's not only jarring, it's disrespectful.
Mandara on Norwegian Cruise Lines is one of the biggest offenders, even though it's pretty typical across all cruise line spas now. For this reason, I refuse to pay for a spa treatment from a Mandara-branded spa on NCL. But if you're inclined to have a treatment, they offer everything from unique massage experiences to simple hair cuts. You'll also find acupuncture, medispa services (botox, etc), and teeth whitening.
However, the thermal suite is a bit different 🙂
On the Dawn, there is a generous space dedicated to the thermal pool / suite area which includes a small heated pool, whirlpool, hydrotherapy, and heated loungers. The price varies based on cruise length, but we were offered a pass for $139/person for a 7 day cruise prior to embarkation… which is quite a good deal compared to some of the larger and newer ships! Day passes are available as well (check for current pricing).
Unfortunately, unlike the 'good ole' days' – you no longer get access to the thermal suite when purchasing a service from the spa. Very short-sighted in my opinion, but hey, it's not my business – but it will contribute to not purchasing a massage or other treatment now.
The Casino on the NCL Dawn
The casino is located in the center of the ship making it difficult to avoid. If you're a gambler and casino person, there are plenty of games available to keep you entertained, we even won a few hundred dollars as non-gamblers! 🙂
Unfortunately, the lack of air circulation and restricted space mixed with smoking makes the environment very unpleasant for non-smokers. Even our smoking friends thought it was a bit much.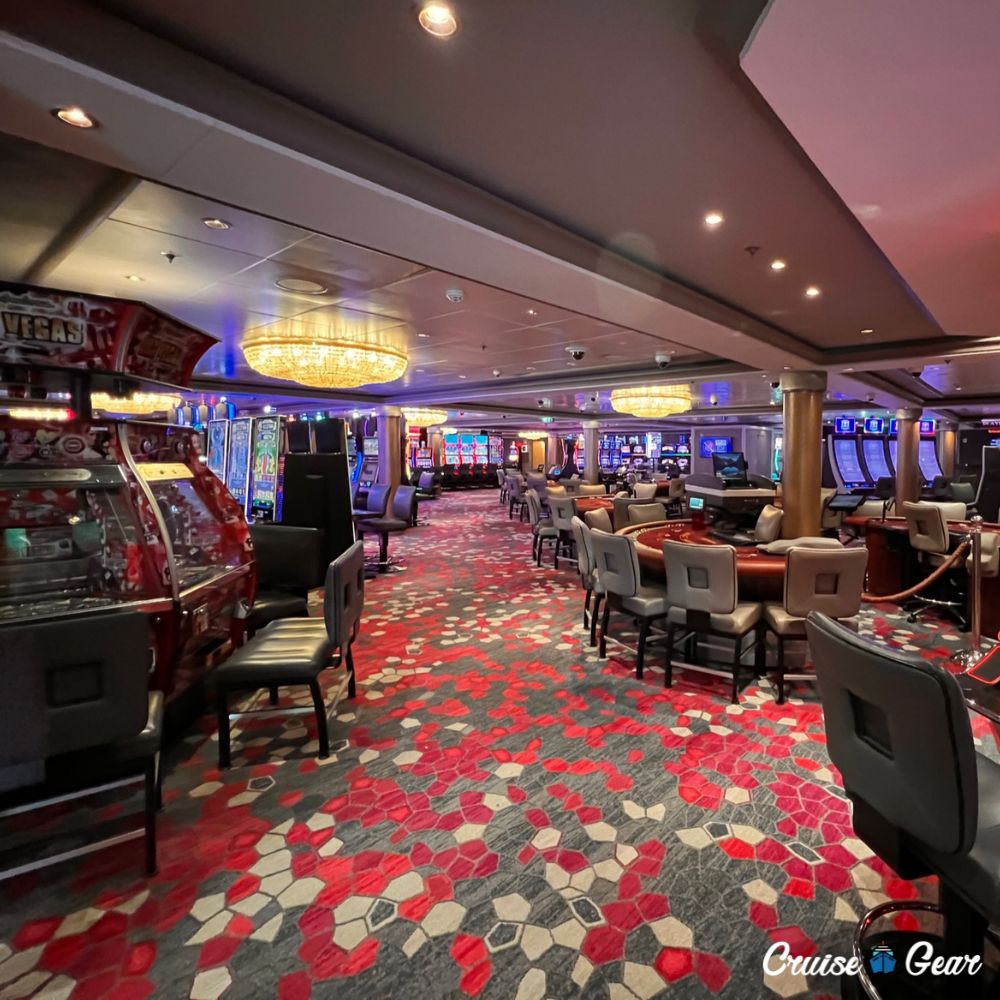 Norwegian Dawn Itineraries
The Dawn is hugely popular for Baltic Itineraries as well as British Isle Itineraries. The ship is perfect for these routes as it's not too big and the ship wasn't built around outdoor entertaining, meaning in cooler weather, it can accommodate passengers inside without relying on spreading people out across pool decks in bad weather.
The Dawn also sails the Mediterranean, but less frequently these days.
In 2025, you'll see quite a few Middle East itineraries show up for the Norwegian Dawn. These are a newer addition to the Dawn
It appears that USA/Caribbean And Transatlantic sailings no longer come up for the NCL Dawn. The focus seems to be on the above routes, which is unfortunate as people I know who have sailed the Dawn on transatlantic voyages really enjoyed it!
Norwegian Dawn Dress Code
One of the things that guests often ask about is the dress code on board the ship. The good news is that Norwegian Dawn has a relaxed dress code for most of the public areas of the ship, allowing guests to enjoy their holiday in comfort, in line with their "Freestyle" Branding. However, Le Bistro does have a policy that includes no shorts, torn jeans, flip flops. Here, smart casual attire is required for dinner, which means that guests should wear items such as trousers or skirts with a collared shirt or blouse. It's not necessary to wear a jacket or tie, but it's always a good idea to dress up a little.
Guests are encouraged to wear casual clothing such as jeans, shorts, and t-shirts in public spaces (not swimwear!). At night, guests are free to dress as they like in most areas of the ship.
Do you have a comment?
Did we miss something? Have you had a different experience? Did we get it wrong?
Norwegian Dawn Reviews and comments
Having sailed on the Dawn, I can say that it's an all-around winner! However, this cruise ship is not for everyone. See what other passengers have to say about the NCL Dawn cruise ship:
Norwegian Dawn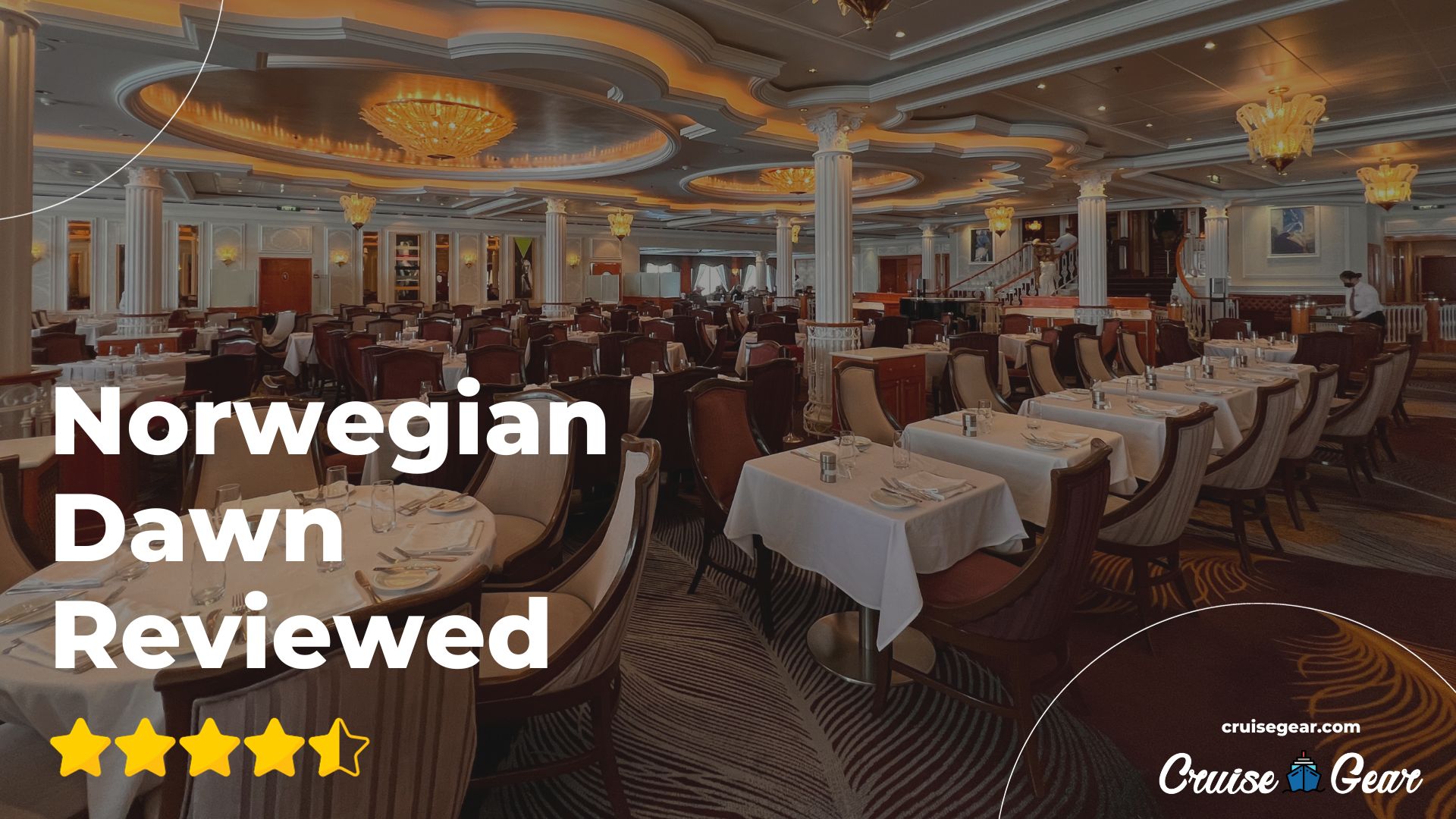 Embark on a wonderful journey aboard the Norwegian Dawn, a lovely ship that promises an quality and value vacation reminiscent of the era of cruising before 'mega ships'. Despite originating in 2002, this vessel underwent a remarkable refurbishment in 2016, resulting in a beautiful modernization that has breathed new life into its design. Norwegian Cruise Line (NCL) has taken great care to update their older ships like the Dawn, ensuring a fresh and contemporary ambiance that mirrors the experience of sailing on a brand-new vessel, albeit more intimate and affordable! We loved this ship and wouldn't hesitate to sail on it again.
Product Brand: Norwegian Cruise Line
Pros
Beautiful & Modern Spaces
Wonderful Food Options
Plentiful Bars & Lounges
Good Itineraries
Better for a more adult experience
Cons
Smokey Casino
Some bars get overcrowded
Entertainment is strange
Cabins not updated