Le Bistro NCL Menu With Prices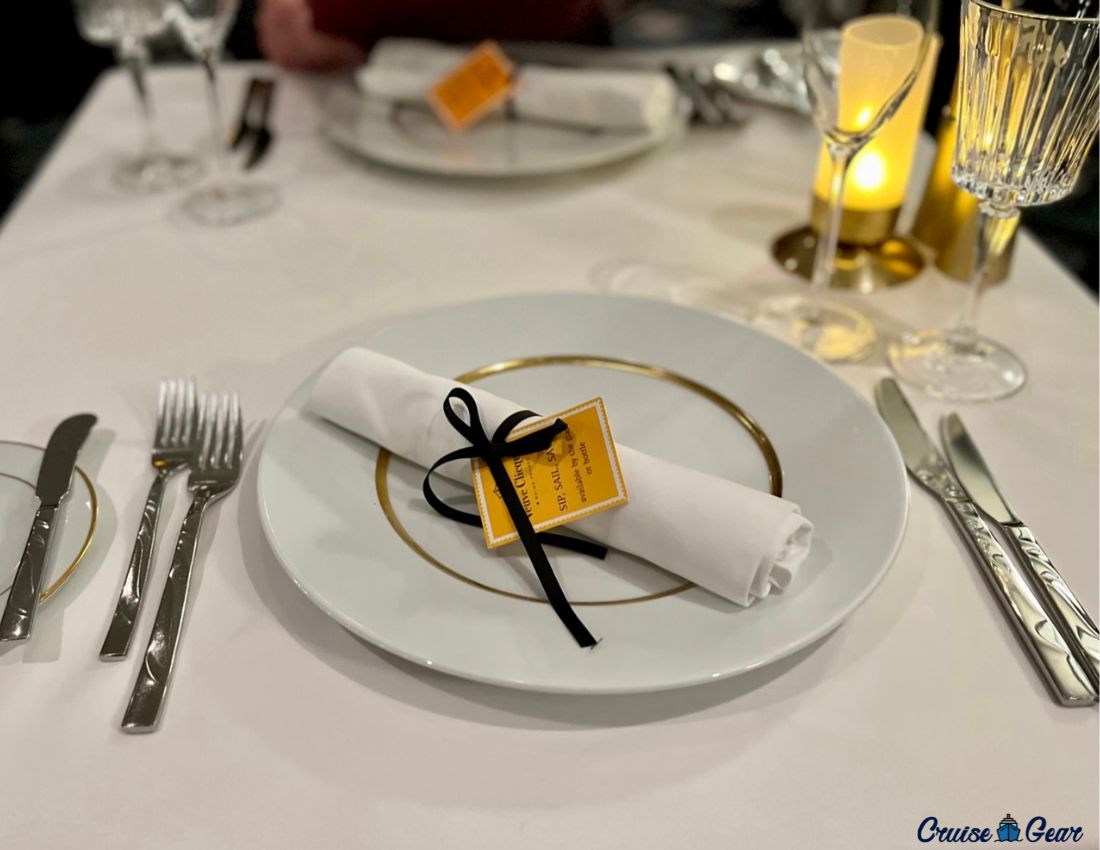 Fellow foodies, Are you ready for a night of sophistication and elegance? Then Le Bistro on any Norwegian Cruise Line Ship is the place.
You'll be greeted with crisp white linens and an intimate atmosphere that will make you feel like a special guest. The service? It's generally so attentive, you might feel like you're the only one in the room.
But let's get to the real reason we're here: the food. Le Bistro serves a contemporary take on classic French cuisine, meaning you'll be enjoying plates of escargot and coq au vin like a true connoisseur. It's like you've been transported to a small eatery in France, except at sea (with more attentive waiters!)
NCL has a lovely wine selection to complement every dish. Whether you prefer white, red, or sparkling, Le Bistro has something to tickle your taste buds. Raise a glass to Le Bistro – the fanciest restaurant in the NCL fleet, and the only one with an actual dress code.
Using the dining package at Le Bistro
If you have a dining package credit or a Lattitudes Reward dining credit, Le Bistro is a good place to use it to obtain the best value for your package. With the credit, you are entitled to an appetizer, a soup or salad, a main course, and a dessert.
While it's one of our favorites, not everything is perfect at Le Bistro.
No matter how many times we try Le Bistro, for some reason, they just can't get the Steak Tartare right. So if you are an aficionado of beef tartare, it's probably best you skip this dish.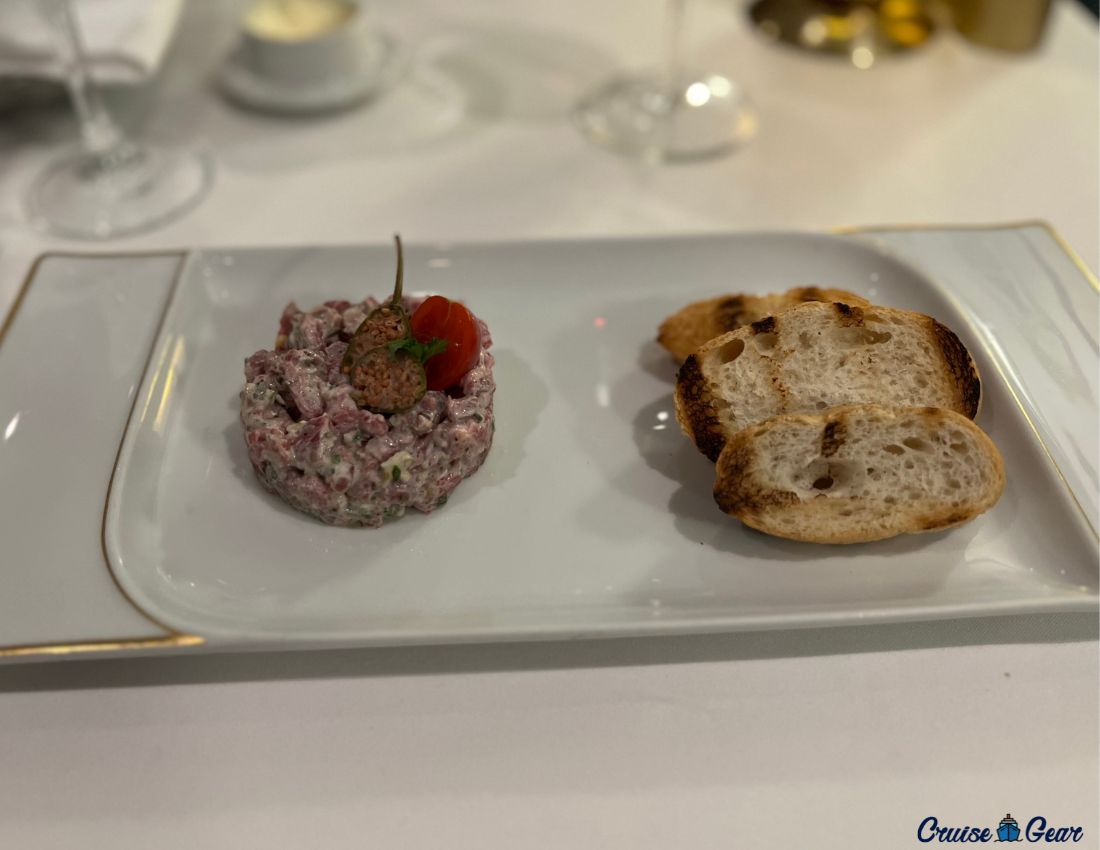 Le Bistro NCL Menu & Prices
APPETIZERS
Steak Tartare au Couteau
Hand Cut Beef Tenderloin, Traditional Garnish, Grilled Baguette
$15
Escargots à la Bourguilgnonne
HerbedGarlic Butter Snails
$12
Pétoncles Dubarry, Hule de Truffe
PanSeared Bay Scallops, Cauliflower Veloute, Truffle Oil

$12
SOUPS AND SALADS
Soupe à L'Oignon Gratinée
Baked Orion Soup, Beef Consommé, Gruyère Cheese,Crôutons
$9
Soupe aux Quatre Champignons
Cream of Mushroom Soup
$9
Roulade de Crabe et Saumon Fumé
JumboLump CrabSalad and Smoked Salmon Roulade Horseradish. CitrusSauce
$16
Cromesquils de Chèvre
Goa tCheese Croquettes, Beets, Granny Smith Apple, Arugula, Rosemary infused honey
$12
Salade d'Endive
Belgian Endive Salad, Roquefort Cheese, toasted walnuts
$12
MEAT
Filet deBœuf Rossini
Beef Tenderloin, Foie Gras, Fondant Potato, Mushrooms, Périgord Sauce
$45
Côte de Veau Rôti
Roasted Veal Chop, Green Peppercorn Sauce, Twice Fried Potato, Seasonal Vegetables
$42
Braised Shank and Roasted Lamb Chop
Moroccan Spices, Dried Fruits, Sweet Potatoes, Cilantro
$42
POULTRY
Fiet de Canette Rôti
Roasted Maple Leaf DuckBreast, GlazedCarrots. Sweet Peas, Mashed Potatoes, Orange Sauce
$29
Coq Au Vin
Red Wine Braised Chicken, Mushrooms, Potatoes, Pearl Onions, Bacon
$26
SEAFOOD
Sole Grenobloise
Sautéed DoverSole. Lemon Caper Butter, Croutons, Chäteau Potatoes
$45
Homard Thermidor
LobsterThermidor, Mushroom Cream Sauce. Pilaf Rice (+$25)
$49
Fruits de Mer
Butter •Roasted Jumbo ShrimpandScalloos, Litle Neck Clams. Celery Roo tPuree, Asparagus, Saffron Sauce
$35
Filet de Loup de Mer
Mediterranean Sea Bass. Black Olive Tapenade Crushed Lemon Potatoes, Artichoke, Tomato Confit, Zucchini, Pesto
$32
VEGETARIAN
Napoléon De Légumes
Napoléon of Portobello Mushrooms and Vegetable Puff Pastry, Goat Cheese, Red Pepper, Sweet Potato, Beurre Blanc Sauce
$24
Dress Code at Le Bistro on Norwegian Cruise Line
So many people ask what the dress code is for Le Bistro on NCL. It's really the only specialty dining restaurant on the Norwegian cruise ships that adheres to a strict dress code, and yes, they do usually enforce it! While it's still "resort" casual, they expect a slightly elevated look for the guests. This translates into no jeans with holes, no shorts, and no hats, and while I have seen plenty of passengers wearing T-shirts, the hostess will likely purse his/her lips. So it doesn't have to be elegant, but it's also a bit at odds with the overall casual atmosphere of the rest of the ship.
Which Norwegian ships have Le Bistro?
Norwegian Breakaway, Norwegian Bliss, Norwegian Dawn, Norwegian Epic, Norwegian Escape, Norwegian Gem, Norwegian Getaway, Norwegian Jade, Norwegian Jewel, Norwegian Joy, Norwegian Pearl, Norwegian Prima, Norwegian Sky, Norwegian Spirit, Norwegian Star, Norwegian Sun and Norwegian Viva, Norwegian Encore