14 tips for saving money booking a cruise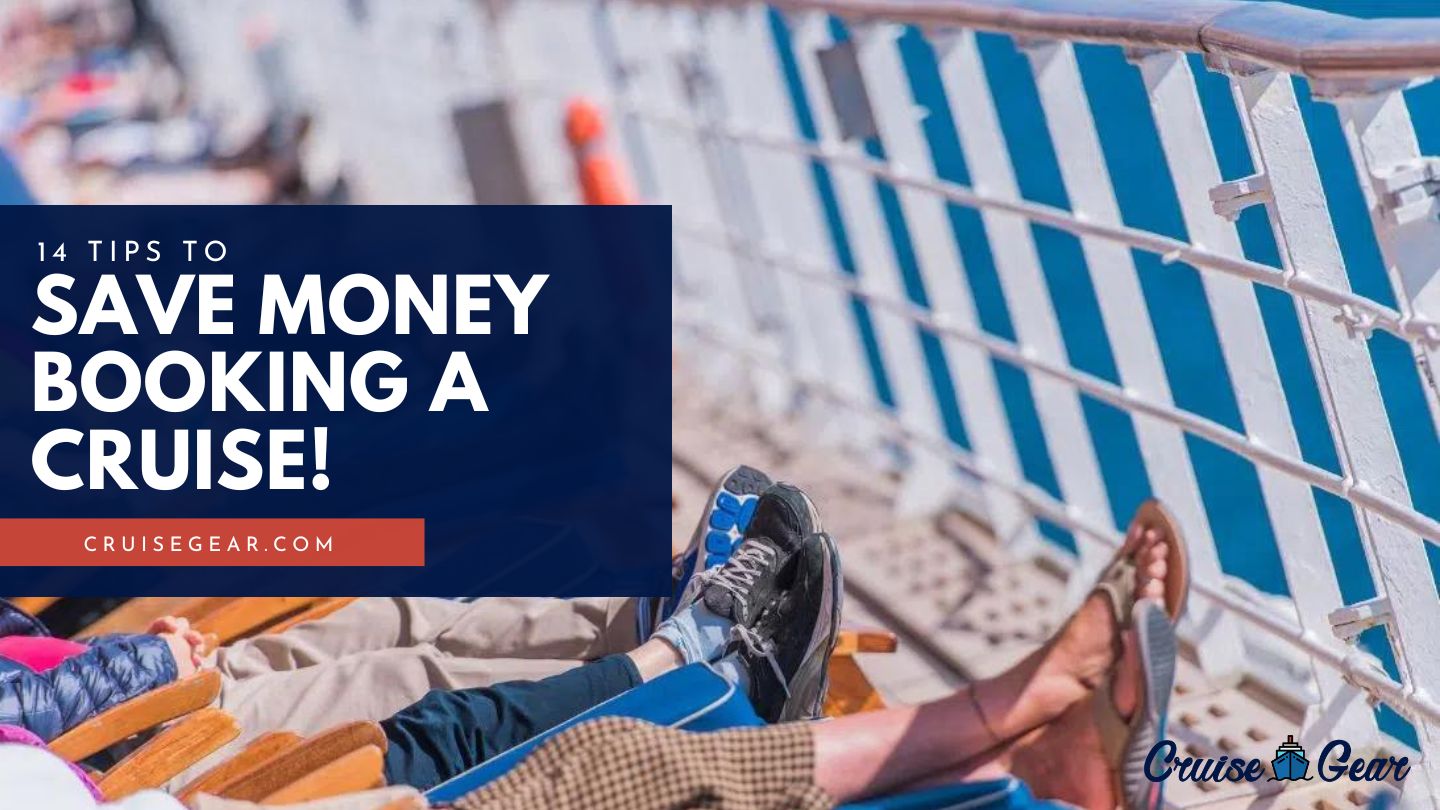 Looking for a cruise deal? Just like with any kind of travel, there are specific times when you can score great cruise fares and times when it may seem impossible. Saving money planning and booking a cruise often comes down to timing and flexibility, but it's not just the time of year or season that dictates what deals you can find! Here are some expert tips on scoring some of the best cruise deals.
When is the cheapest time to take a cruise?
Avoid major holidays and school breaks if you want to save some serious cash. Instead, consider cruising during the off-season, like the week after New Year's. You'll have a better selection of cabins and can potentially save up to half the price! According to most travel agents, don't even bother trying to find a bargain over Christmas – it's just not happening without some luck.
Take a repositioning cruise to get the best bang for your cruise buck
The best value cruises will often be repositioning cruises where the cruise companies are relocating ships between major markets. We prefer transatlantic repositioning cruises because not only are they very affordable, but they give you plenty of time to explore the ship and experience everything it has to offer. Additionally, if you have the time, it's a great way to get to Europe (or back to America)
Book during "Wave Season" – cruise lines' biggest deals
We suggest keeping your eyes peeled during "wave season" from January to March. This is when cruise lines try to fill their future bookings and usually offer great incentives. It's often best to book as far in advance as possible to ensure availability.
Check out last-minute cruise deals
If you're really flexible, try to look for last-minute cruises. We've saved 70% or more on a cruise just by waiting relatively "last minute". But remember, these cruises will require 100% of the fare paid immediately and won't be refundable. Check cruise line websites, most have a dedicated section to last-minute cruise deals. However, some cruise lines now state they are no longer discounting last minute bookings (Princess Cruises). Assuming ships are sailing at near full capacity now, there are fewer empty cabins to fill and therefore less incentive to lower prices at the last minute.
But don't let this stop you from looking! We were able to get a 7-day Northern European cruise for only $219 on MSC Cruises! So the deals still exist.
Keep in mind that certain destinations have a limited cruising season, like Alaska from May to September which generally makes it a little more difficult to find cruise deals. However, the Caribbean has a much longer season and some companies sail year-round, so there will be deals to be had!
Book a cruise while still on board
Booking a future cruise while still on board a current cruise is a money-saving option that many new cruisers don't know about. It's often referred to as a "next cruise" or "future cruise" booking, and almost every cruise line offers it.
Booking a future cruise while on vacation can offer cheaper deposits, competitive rates or discounts, and onboard credit gifts. The process is facilitated on most large ships in a specific office or desk, and you'll need to schedule an appointment with a consultant to walk you through the savings and terms and conditions of the booking.
You'll generally be offered a discounted cruise fare, onboard credit, and a lower-than-normal deposit. You may even have access to cabin inventory not yet available to the public, including on new ships. If you booked your current cruise with a travel agent, the next-cruise booking will transfer to the same agent automatically.
It's important to understand the terms and conditions before booking a future cruise during your vacation. Deposits may be nonrefundable, and there may be a cutoff date to apply the onboard deposit to a specific cruise. Changes to your booking could also result in your reservation reverting to the prevailing rate at the time of the change, which could be a higher amount than what you paid on board.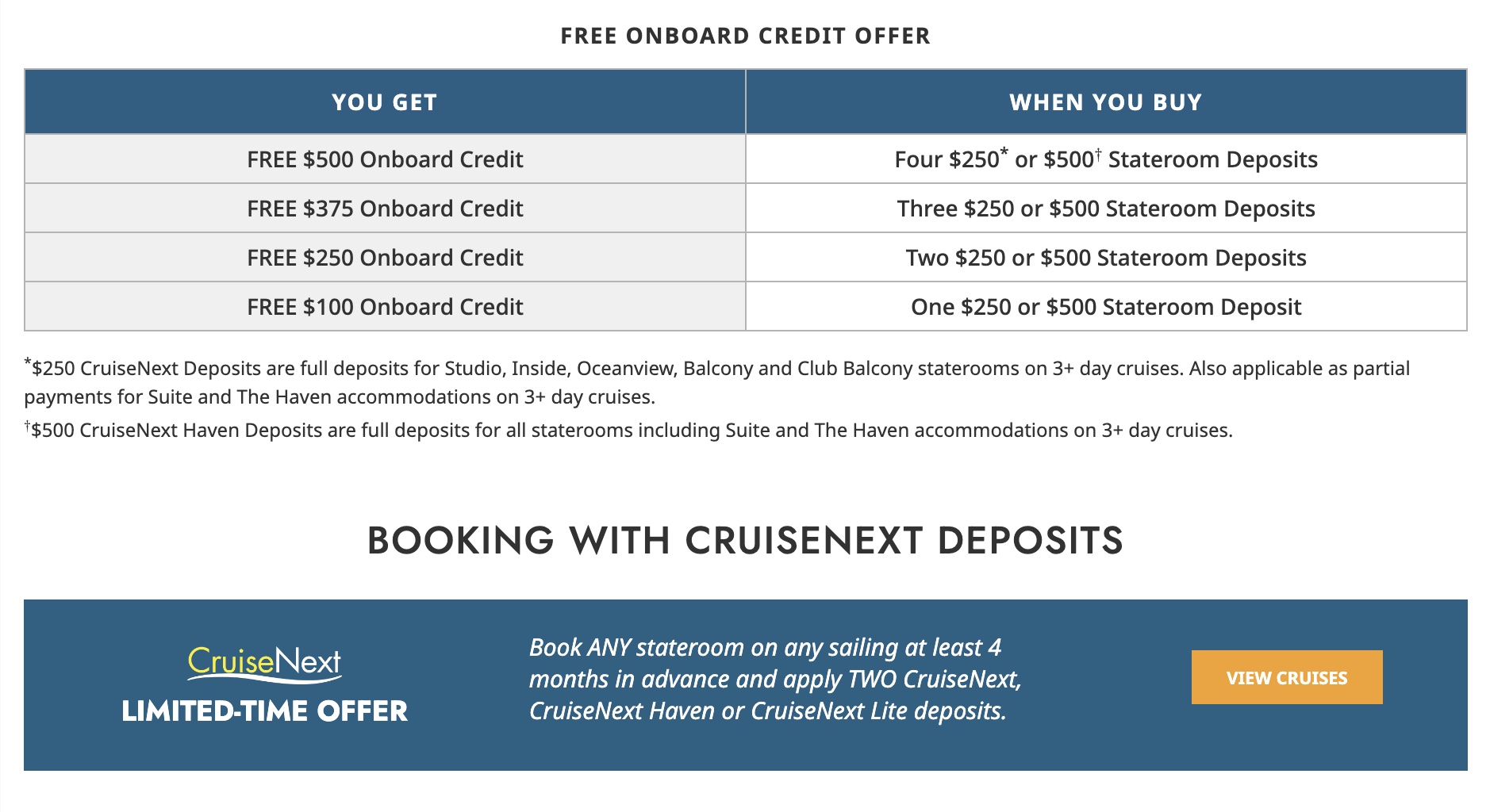 Shareholder Benefit Cruise Booking Discounts
If you're a shareholder of a major cruise line, then you may be able to get a free onboard credit on your next cruise! All you need is to have a minimum of 100 shares at the time of sailing (usually you must prove this at least 90 days prior to sailing), and you can get onboard credits of up to $250 per stateroom. The amount of credit you get depends on the length of your sailing and depends on each cruise line. For example, on Royal Caribbean, for sailings of 14 or more nights, you'll get $250 per stateroom, for six to 13 nights, you'll get $100, and for five or fewer nights, you'll get $50. The credit is only applicable for the stateroom where the shareholder is staying, and it's based on double occupancy. If you hold shares jointly and are booking more than one stateroom, then you need to have 100 shares for each stateroom. Single guests will have to pay 200% of the fare to receive the offer.
It's important to note that you can't use the credit for daily service charges or activities you pay for before sailing. The credit won't be applied to your account until you board the ship. Also, please keep in mind that sailings on chartered cruises on Royal Caribbean ships are excluded from this offer.
Pre-book drinks, dining, spa, paid entertainment and internet packages
Cruise lines such as MSC Cruises and Royal Caribbean often offer discounts & deals for pre-booking packages. Sometimes these discounts are significant, for example, on a recent Norwegian Cruise, booking the thermal suite was $129 for a 7-day cruise if booked in advance, and onboard that same package was $299! The same goes for MSC and the dining, drink, and entertainment offers. Booking your packages on the MSC website before departure is always less expensive.
Don't forget loyalty benefits
Many cruise lines offer a loyalty program that could score a discount on a booking or other freebies. MSC Cruises offers 5% off of every booking with their loyalty program and even further discounting on cruises booked 9+ months from the sailing date. Even better, if you're not yet an MSC Voyagers Club member, but have status with another line, you can status match with MSC and get these discounts.
On occasion, Cunard will offer incentives such as prepaid gratuities for loyal cruisers (you must call to get these benefits if available).
Sometimes loyalty programs with hotels, casinos, and other travel providers have reciprocal agreements with cruise lines to offer discounts on cruises. For example, Caesars Entertainment has an exclusive agreement with Norwegian Cruise Line. You can contact a dedicated cruise booking representative at Caesars and get p to 30% off of a cruise. See the Caesars Rewards benefits here.
It is always worth inquiring about loyalty discounts!
Sign up for private tours
It's no hidden fact that excursions booked through cruise lines are usually more expensive than venturing out on your own.
Booking a shore excursion directly through the cruise line is a convenient option, but it's not always the best one. Sometimes, it's worth exploring other options to get a more authentic and memorable experience (and more affordable)!
When you book through an independent tour operator or a tour booking service, you can often save money and enjoy a more personalized tour. Instead of being crammed onto a big motorcoach with dozens of other passengers, you might travel in a small van with just a handful of people. If you're traveling with a group, you might even be able to book a private tour with a group rate.
Try Viator for tours with cruises in North America and the Caribbean. (though GetYourGuide is also a good option)
One of the best things about independent tours is that they can take you to places that cruise line-organized tours don't. You might discover hidden gems and off-the-beaten-path destinations that you wouldn't have seen otherwise. Plus, the service is often excellent. Tour operators like ToursByLocals have staff available 24/7 to answer any questions you might have, and they even offer a return-to-ship guarantee to ensure that you'll make it back to the ship on time.
Overall, while booking through the cruise line might be easy, it's worth considering all your options to find the tour that's right for you. You might just end up with a more memorable, rewarding experience at a significantly lower cost.
Use a points credit card
A lot of cruise lines now offer private-label credit cards with incredible bonuses and incentives just for signing up! A few credit card offers include Norwegian Cruise Line Worldpoints credit card that offers 20,000 bonus points for signing up. Those points can be redeemed for upgrades, discounts, and onboard credits.
Another great offer is the Royal Caribbean Visa which offers 25,000 points for signing up and will help getting some onboard credit, upgrades, discounts merchandise, etc.
Scroll to the footer of your preferred cruise line website, you'll usually see if they have a current offer!

Sail on older ships
New ships sell at a premium, so explore older ships that tend to be significantly less expensive. Even ships a few years old tend to be considerably cheaper to book than freshly released cruise ships. Once the hype dies down over the newly launched vessel, the prices generally go down. It's also worth remembering that even older vessels on most cruise lines go through extensive refurbishment and often deliver equivalent if not better service than the newly released mega-ships.
On a recent trip aboard the Norwegian Dawn, we were able to score a cruise for less than $500 per person for a balcony room, sailing the Baltics, an incredible value!
Use a travel agent
Cruise travel agents are often knowledgeable about how to request group rates or can sometimes find an "open group" their cruise customers can join, getting the benefits the group has negotiated with the cruise line. If you're flexible, a travel agent can send you information about open groups! Additionally, agents often have access to incentives like onboard credit and free or discounted packages.
Get seniors discounts through membership organizations
Organizations like AARP often have great discounts for members. These membership organizations partner with large travel providers and negotiate rates that are unavailable to the general public. See the AARP cruise portal (partnered with Expedia). Also, consider AMAC and their Travel Sherlock program.
Finally, check out warehouse-buying clubs like Costco to book your next cruise
Some members don't realize that their buying club likely has a travel department or arrangements with multiple cruise lines!
booking a cruise through Costco comes with its own perks. First and foremost, each booking is accompanied by a Digital Costco Shop Card and/or onboard credit, adding value to your overall travel experience. Furthermore, if you are an Executive Member, you can earn 2% back on qualifying Costco purchases (up to $1,000), including many travel purchases. Although taxes, fees, auto-gratuities, surcharges, and trip protection are not included in this offer, you can still earn 2% back on the cruise fare. This means that you have the opportunity to save money and earn rewards that you can spend on your next Costco warehouse visit or on the ship.
In addition, Costco Travel offers competitive rates on cruises, making it easier to find discounted deals or at least pay rates similar to those offered by other travel sellers. Furthermore, the "Buyer's Choice" and "Kirkland Signature" cruise deals offered by Costco come with exclusive savings and included extras, which vary depending on the cruise line. These added-value perks can include additional shipboard credit, specialty dinners, spa treatments onboard, etc.
Costco's Royal Caribbean and Norwegian Cruise Line cruises typically offer the most value if you're looking for the most added extras. Norwegian cruises even offer free perks such as spa access and photo sessions which are combinable with the line's Free at Sea promotions. Costco's Carnival cruise deals generally offer onboard credit and a Costco shop card. Celebrity cruise deals are geared towards food-and-wine benefits.