First Day Cruise Tips – What to do your first day onboard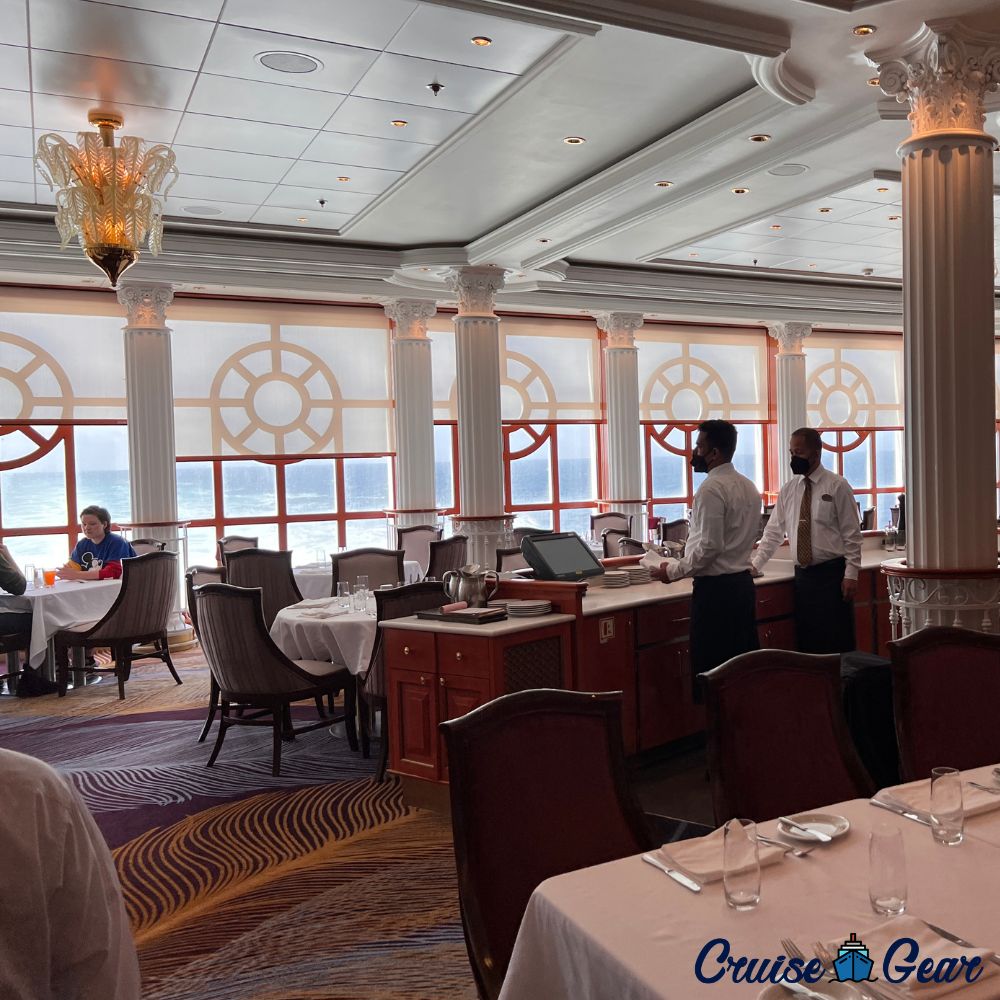 Whether or not you are a first-time cruiser, there are things people don't know about the first day onboard a cruise ship that could set the tone for the rest of the vacation!
Tips from experienced cruisers on what you should (or shouldn't do) right when you board a cruise ship
When you first get on board a cruise ship, it's important to take some time to explore and familiarize yourself with the layout. This will help you avoid getting lost and wasting time trying to find your way around. One seasoned cruiser, warns against the common mistake of wandering aimlessly and getting frustrated with a companion. To avoid this, take a look at the deck plan, figure out which side of the ship your cabin is on, and take a deck-by-deck walkthrough to get to know the public spaces.
Before The First Day
A helpful tip is to join a private Facebook group for your cruise line. This can provide insight into what other travelers have enjoyed and what to avoid. Additionally, it's a good idea to download the cruise line app before you set sail to familiarize yourself with its features.
Don't head straight for the buffet!
Most of the time when you board a cruise ship, staff will be directing you to the buffet for a quick meal, however, if you're boarding during standard lunch hours, the main dining rooms are usually open for lunch! Find your way to the main dining room and avoid the crowds at the buffet. It's a much more relaxing way to start your vacation! Cruise lines that have sports bars that serve food like O'Sheehans on Norwegian Cruise Line, will have food service as well.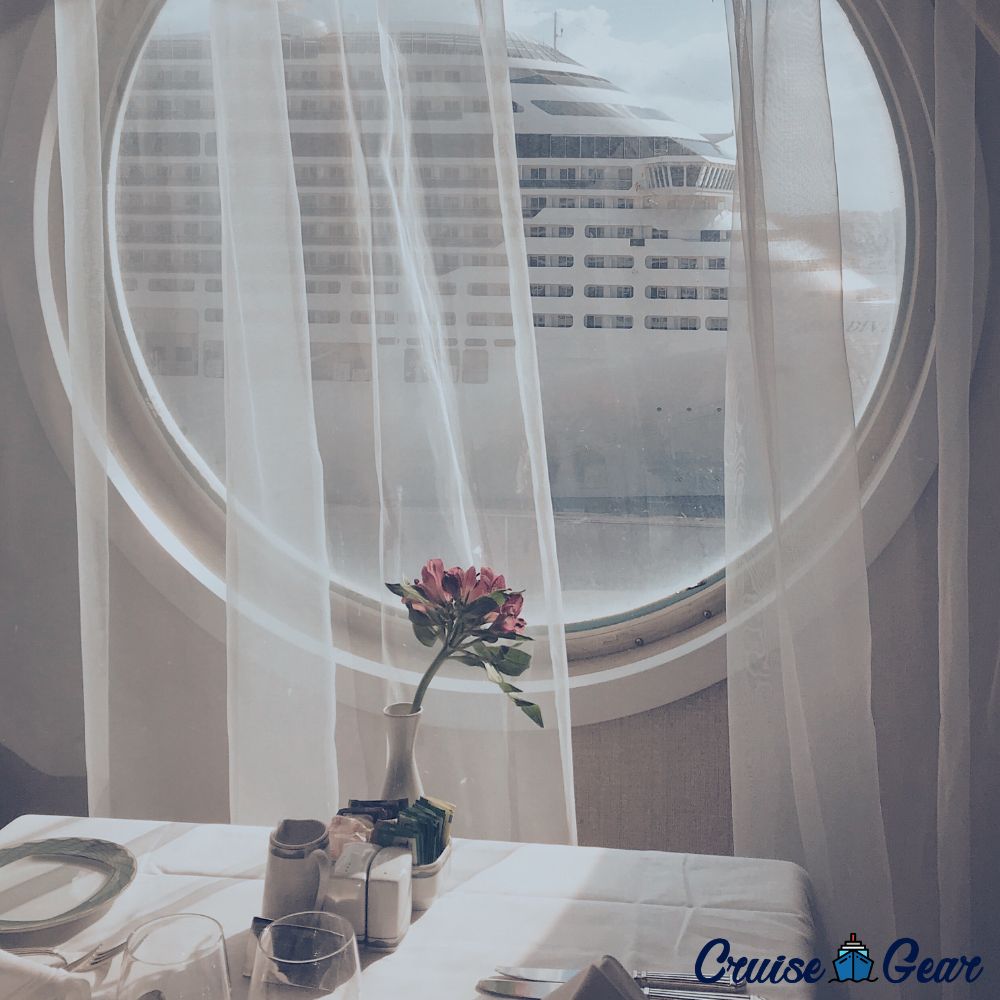 Upgrade or purchase specialty dining and drink packages if you haven't yet
On the first day of a cruise, most cruise lines will offer their full beverage package and dining package options in case you've not booked them in advance. However, it's important to know, once the ship sets sail, the packages are not available anymore. It's ALSO important to know, if you've had a change of heart and decided to upgrade a beverage package, you should do it before you have your first drink. Many times, the cruise lines lock in the package once the first transaction has occurred.
Make specialty dining reservations
Getting your preferred day/time for specialty dining can be challenging the later you wait. Ideally, the cruise line will allow bookings before the voyage, but if you don't have that option, or just didn't book anything, get this done right away. Prime dining times fill up fast as well as reservations on sea days.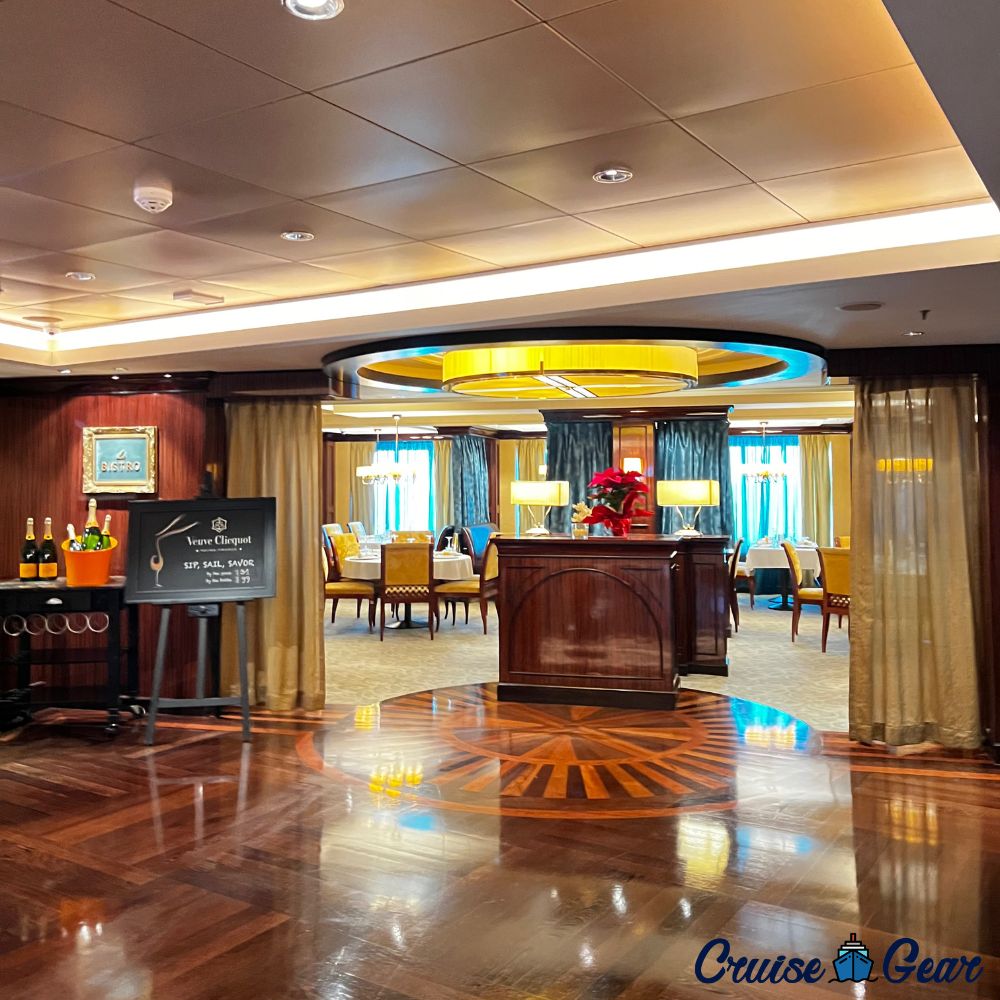 Tour the spa, book treatments early
If you are a spa person, don't miss the spa tour. You can visit the thermal areas, see the treatment rooms and even participate in raffles to win free treatments, all on the first day. While this is usually an event to promote selling spa services, it's also quite fun and a great way to get acquainted with the spa area. For cruise ship spas that sell packages like access to the thermal suites, this is the time to buy if you're interested. These passes or packages are usually sold in limited numbers and can sell out quickly, especially on voyages with a lot of sea days.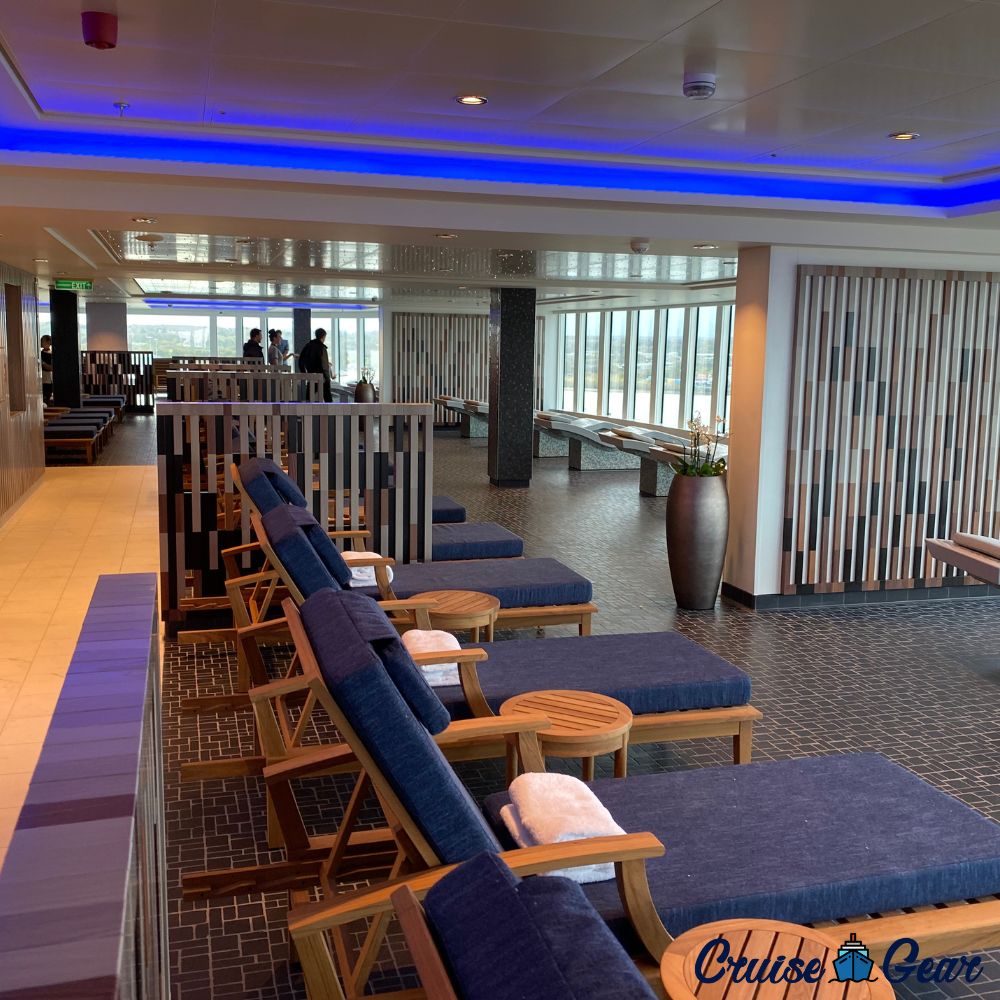 Book Excursions & Adventures!
If you haven't booked excursions online before the cruise, take time on the first day to know what is available at the excursion desk and book what you're most interested in on the first day. The best excursions sell out. Avoid disappointment and book the adventure(s) you really want on the first day of your cruise.
Make show reservations
Most shows and performances on cruise ships allow for standby entry in case you don't book in advance, but the popular productions usually fill up, so you don't assume walking up to the show moments before it starts will get you access. So if there are shows that are popular on your voyage, be sure to inquire about booking a day and time. For cruise lines that charge extra for some shows like MSC Cruises, it's important to book the shows on the first day because the best times and seats usually sell out quickly.
If you haven't downloaded the cruise line app, do it before you set sail
While you still have land-based cellular data, be sure you download the ship's app and any other apps, books, or movies you may want during your cruise. Cellular at sea is unpredictable, so after the ship departs, getting things downloaded may be a challenge (or very expensive!)
Don't miss the muster drill!
Each cruise line has unique muster drill requirements, especially since restarting the cruise industry after the shutdown. Some cruise lines still do the traditional muster drill, where you arrive in person and get scanned in for verification, others will do an "e-muster" – where you watch a video and go to your station to scan your card, confirming you know where your muster station is. However, if you do NOT arrive at your muster station to get scanned, expect to be inconvenienced the following day. Several things happen if you skip the muster drill including your card being locked from being able to purchase drinks. But then there is the public shaming where everyone who has skipped the muster drill is gathered together, usually in a theater and required to spend upwards of an hour listening to how important the drill is, and how skipping it makes you a bad person! (not that serious, but it's still a public shaming session).
Common first-day question on a cruise:
When will my cabin be ready?
Cabins are generally ready mid-afternoon. The ship will make an announcement when it's ok to go to your cabin. This largely depends on how busy the cruise was prior to your voyage. I've seen cabins and staterooms ready early in the morning, but have also had to wait until 3pm to get access, so be prepared.
When will my luggage arrive at my stateroom?
Depending on how full the cruise is, you may have to wait until the early evening (5 pm) for your luggage to arrive. I've seen luggage being unloaded well into the evening, so it's best to plan on not having access to anything in your packed bags before dinner time!
Having said that, pack your essentials in a carry bag so you have access to them during the first day. Packing a swimsuit and a change of clothes isn't a bad idea either!
Do I need to carry my key card everywhere?
Your key card doesn't just give you access to your cabin, it's also how you'll be charged for drinks and food onboard. So be sure to have the ship card with you at all times. Some people even use a lanyard to keep up with their cards!
Do you have a comment?
Did we miss something? Have you had a different experience? Did we get it wrong?