Celebrity Cruises Drink Packages & Prices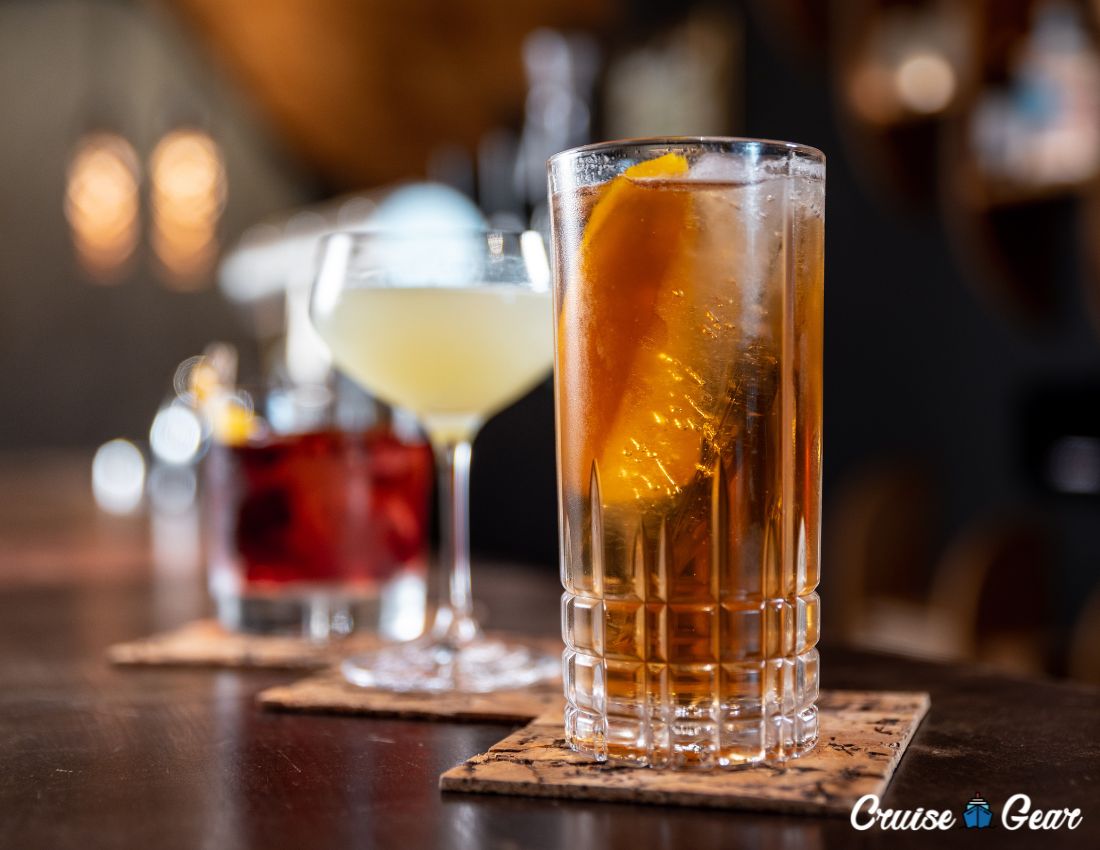 Celebrity Cruises has done a good job making their beverage packages simple to understand making it easier than most other cruise lines to choose which drink package makes the most sense. However, the prices of the Celebrity drink packages have risen to an eyewatering price, so knowing if the drink package is even worth it anymore is the first step.
See our drink package calculator for Celebrity Cruises and decide if it's worth it to buy a drink package at all. You could be surprised that it might not be worth it if you just want a drink here and there.
Now, of course, we're not judging! We've been able to make use of beverage packages MANY times on a cruise, and usually come out ahead, but at these prices, it would be a challenge even for a seasoned drinker!
The Celebrity Cruises Drink Package Prices
With Celebrity Cruises there are 3 beverage packages available which make the choice simpler than some other cruise lines. There is the Classic Drinks Package, Premium Drinks Package, and the Zero Proof alcohol-free package.
| Package | Package Cost Per Day | Service Charge | Total Per Day |
| --- | --- | --- | --- |
| Zero Proof Package | $30 | $6.00 | $36 |
| Classic Drink Package | $89 | $17.80 | $106.80 |
| Premium Drink Package | $109 | $21.80 | $130.80 |
Buy a beverage package before the cruise and save 20%
Before considering a drink package, remember that there are plenty of Free drink options on the cruise. Just like most major cruise lines, Water, tea and coffee along with some juices are available at no charge.
Celebrity Cruises Classic Drink Package
The basic beverage package that includes alcoholic drinks is the Classic package, and is also the package that is included with the "All Included Fare". The Classic Package costs $89/day per person and entitles you to order any drink up to $10 ($12 for AUS & UK sailings), which is a large majority of drinks onboard.
While it may seem limited compared to the more expensive Premium Package, most cruise passengers find it more than sufficient. Now that Celebrity allows you to purchase a drink above the $10 per drink price allowed by the package and just pay the difference in price (plus gratuity).
With so many drinks being covered by the Classic package, it's hard to justify the price of the really expensive Premium Package (below).
Note that the Classic Drink Package is what is included with the All Included fare with Celebrity
What does the Classic Beverage Package include on Celebrity Cruises?
Vodkas: Absolut and flavors, New Amsterdam, Smirnoff, Tito's
Whiskeys: Dewar's White Label, Famous Grouse, Jim Beam, Johnnie Walker Red, Monkey Shoulder, Seagram's VO
Rums: Bacardi, Captain Morgan's, Kraken Black Spiced, Malibu, Myer's, Wray & Nephew
Tequilas: Don Julio Blanco, Teremana Blanco
Beers: Alaska Brewing beers on Alaska sailings. Coors Light, Corona, Franziskaner, Heineken, Kirin, Kirin Light, Miller Lite, Moretti, Newcastle Brown Ale, Strongbow hard ciders, Budweiser, Bud Light, Michelob Ultra
Gins: Beefeater, Gordon's, Praire Gin
Liqueurs and Cognacs: Campari, Galliano, Hennessy VS, Kahlua, Licor 43, Ouzo, Romana Sambuca, Southern Comfort, Tia Maria
A large selection of wines from various regions around the world, including California, France, Italy, Spain, Germany, Argentina, Chile, and Australia
Additionally, for coffee drinkers, premium coffees are included with the Classic Beverage Package. As for bottled water, basic non-branded bottled water is included in the Premium Package as are Sodas & Juices (Not the Fresh Juices / Spa Cafe Juices)
For what it's worth, there is a discount of 15% on wine by the bottle purchases, but the reality is most of the wine is served by the glass, so buying a bottle of wine doesn't make a lot of sense.
Celebrity Cruises Premium Drink Package
The Premium Drink Package is the closest to "all-inclusive" as you'll get with Celebrity Cruises. The Premium Package costs an insane $109/day per person + a 20% gratuity and covers drinks up to $17 ($20 for sailings departing from UK and AUS ports). This beverage package also includes energy drinks, premium bottled tea, and a few other branded items like Evian water. Additionally the discount on bottles of wine increased to 20%
What does the premium beverage package include on Celebrity Cruises?
The Premium Beverage Package on Celebrity includes all classic as well as the following higher-end alcohol brands:
Gins: Bombay Sapphire, Hendrick's, Plymouth, Star of Bombay, Tanqueray, Gunpowder
Rums: Bacardi 8 Años, Brugal, Flor de Caña, Pyrat XO, Zacapa 23, Bumbu Rum
Tequilas: Cazadores Reposado, Patrón Reposado, Patrón Silver, Ghost Tequila, Don Julio Reposado, Teremana Reposado
Vodkas: Belvedere, Chopin, Christiania, Cîroc Snap Frost & Flavors, Grey Goose, Ketel One & Botanicals, Pearl, Reyka
Liqueurs and Cognacs: Baileys Irish Cream, Chambord, Cointreau, Courvousier VSOP, Disarronno amaretto, Drambuie, Godiva, Remy Martin VSOP, St-Germain, Disarronno Velvet, Aperol
Cocktails: Craft cocktails, large martinis, and long drinks, all made with Premium Beverage Package spirits
Champagnes and favorite wines such as Conundrum White and Red Blends, Decoy Cabernet Sauvignon, J&H Selbach Riesling Kabine, Mouton Cadet Bordeaux Blend, and Edmeades Zinfandel
Beers: Anchor Steam, Blue Moon, Blue Moon Haze, Dogfish Head 90 Minute, Grolsch, Guinness, Kronenbourg 1664, La Fin du Monde, Lagunitas Ale, Leffe Blonde Rogue, Peroni, Sapporo, Sierra Nevada, Stella Artois, Terrapin Luau, Topo Chico Seltzer
Non Alcoholic Beverages: Acqua Panna water, Evian water, San Pellegrino, Premium coffees, Red Bull & Editions, Sodas, Premium teas, Vitamin water, Bottled Iced Teas, Aqua Spa Fresh Juices, Zero Proof Cocktails Frozen & Non-Frozen
Whiskeys: Aberfeldy 12, Bulleit Bourbon, Chivas Regal 12, Dewar's 12, Gentleman Jack, The Glenlivet, Jack Daniel's Black, Jack Daniel's Rye, Jack Daniel's Single Barrel, Johnnie Walker Black, Johnnie Walker Double Black, The Macallan Lumina, The Macallan Quest, Maker's Mark, Rittenhouse Rye, Wild Turkey, Woodford Reserve
For an added bonus, The Premium Drink Package includes Vitamin Water, Energy Drinks, Bottled Ice Tea (like HONEST brand), Fresh Juices, and what Celebrity calls "Premium Bottled Water" – which is basically any name brand like Evian, Aqua Panna, and Pellegrino.
For people that don't think the Classic Package is sufficient, it's possible to upgrade to the Premium Drink package for the difference in price (plus gratuity).
The Celebrity Cruises Zero Proof Package
The Zero Proof Drink Package is Celebrity's version of the non-alcoholic package. The package price is $30/day per person (Plus 20% Gratuity). It includes
What's Included in the Celebrity Zero Proof non-alcoholic drink package?
Premium Coffees
Premium Teas
Acqua Panna Water
Evian Water
San Pellegrino
Vitamin Water
Red Bull and Editions
Bottled Iced Teas
Sodas
Spa Café Fresh Juice
Upgrading from the Classic to Premium Beverage Package
Celebrity allows for upgrading a drink package, which might be worth it for people with the All Included fare. The cost is the price difference plus gratuity in the packages which is approximately $24 per person per day.
How much are the drinks on Celebrity Cruises?
Beer prices are generally $7-$10, cocktail prices range from about $9-$15 with Martinis being at the high end. Wine prices are all over the place and range from about $9 for a basic wine to more than $17 for a nice wine by a premium vineyard like Grgich Hills Estate.
The cruise line went to an "All Included" model several years ago and has since changed to a "fare only" pricing model where you can choose what packages you want, while they maintained the "all-inclusive" option. We'll go over whether or not the all-inclusive pricing model makes sense in a separate post.
Just know that the Classic Drinks Package is what comes with the All Included fare, so it doesn't REALLY make the experience an all-inclusive cruise.
Is a Celebrity Drink Package Worth It?
Celebrity (and parent Company Royal Caribbean) have some of the most expensive drink packages in the cruise industry. The cost alone really should make people think twice about a beverage package. In reality, it's hard to "break-even" if you don't drink enough every day of your cruise. If you don't drink a lot, it's likely these packages are not worth it
Some helpful FAQs about the Celebrity Cruises Drink Packages