La Cucina NCL Menu With Prices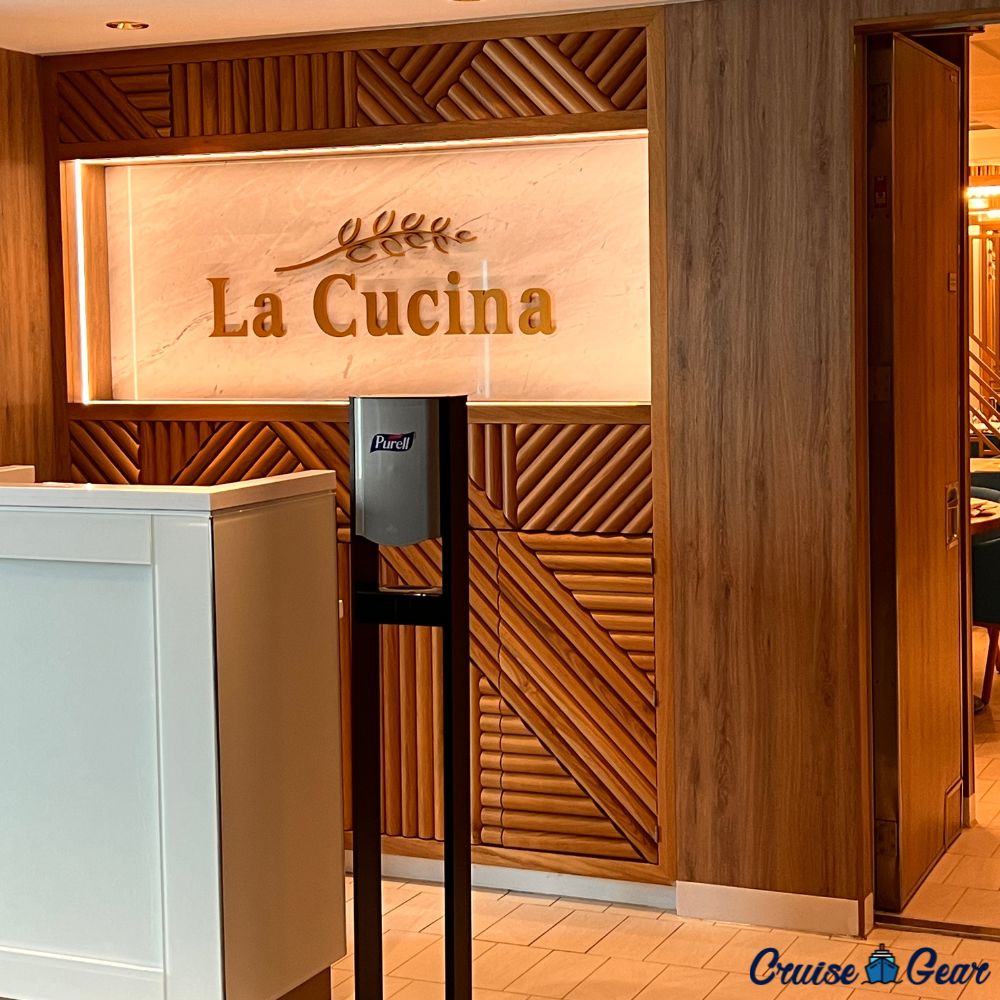 Welcome to La Cucina, an Italian ristorante concept on Norwegian Cruise Line that's sure to delight your senses and satisfy your cravings. From the moment you step inside, you'll be greeted by the friendly staff with a warm "Buona sera!" and lead you to your table.
The Food of La Cucina
As you discover unique items on the menu, you'll feel like you've been transported to a cozy trattoria in the heart of Italy. you'll find that La Cucina is all about traditional Italian dishes and fewer meatballs & pizza. Every dish is made with care and attention to detail, using fresh, seasonal produce, and professionally sourced meats and seafood. Whether you're in the mood for a classic pasta dish or something more adventurous, the chefs at La Cucina will have you covered.
Using the dining package
If you have a dining package or a Latitude Reward dining credit, using it at La Cucina will get you great value for the package. The pricing is on an a la carte basis and the costs can add up quickly if you don't use your dining package credits. If you do use the dining package / credit you can choose an appetizer, pasta, and a main – of course all desserts are included as well.
La Cucina Menu – Norwegian Cruise Line
ZUPPA / ANTIPASTI/ INSALATE
Pasta E Fagioli
Cannellini Bean Soup, Pancetta, Pasta
$7
Antipasti Di Salumi Misti, Formaggi EVerdure
Salami, Capicola, San Daniele Prosciutto,
Mortadella, Parmesan Cheese, Pickled Vegetables, Olives
$12
Burrata "Caprese"
Heirloom Tomatoes, Basil
$14
Bresaola
Thinly Sliced Air-Dried Beef on Arugula, Lemon and Olive Oil Dressing
$12
Calamari Fritti
Marinara Sauce
$12
Insalata Mista
Mixed Greens, Cherry Tomatoes, Fennel, Carrots, Artichokes, Strawberries
$10
Insalata Di Rucola EGrana
Arugula Salad with Parmesan Cheese Shavings, Lemon and Olive Oil Dressing
$10
Insalata Con Pere, Noci EGorgonzola
Mixed Greens, Pear, Walnuts, Gorgonzola Cheese, Choice of Dressing
$10
PASTA & RISOTTO
Spaghetti Carbonara
Pancetta, Egg Yolk, Black Pepper, Pecorino Cheese
$16
Beef Lasagne Al Forno
Beef Bolognese, Parmesan Cheese, Mozzarella Cream Sauce
$22
Fettuccini Alfredo Con Funghi
Button Mushrooms, Parmesan Cheese, Parsley
$16
Ravioli Di Gamberi Con Salsa Di Aragosta Dragoncello
Shrimp Ravioli, Lobster Tarragon Sauce
$24
Gnocchi Di Patate Al Pesto
Potato Dumplings, Creamy Basil Pesto Sauce
$15
Risotto Ai Funghi Di Bosco
Wild Mushroom Risotto
$18
12 inch PIZZAS
Margherita
Mozzarella, Fresh Tomatoes, Basil
$15
Prosciutto E Arugula
Mozzarella, Prosciutto, Arugula
$16
Salame Picante
Mozzarella, Pepperoni, Basil
$18
Vegetali
Mozzarella, Peppers, Onions, Mushrooms, Black Olives, Garlic
$16
Meat Lovers
Mozzarella, Pepperoni, Sausage, Ham, Mild Peppers, Onions
$19
SECONDI (AKA MAIN COURSE)
Salmone Grigliato Con Crema Di Cannellini E Croccantino Di Prosciutto*
Grilled Salmon, White Beans, Crispy Cured Ham
$29
Gamberi Fra Diavolo
Sautéed Shrimp, Spicy Tomato Sauce, Linguini
$32
Cartoccio Di Dentice Rosso Ai Frutti Di Mare
Red Snapper Livornese Style, Shrimp,Clams, Mussels, Chery Tomatoes, Herbs, Potatoes, Braised Fennel, Black Olives
$39
Scaloppina Di Vitello Marsala*
Sautéed Veal Scaloppini, Dry Marsala Sauce, Mushrooms
$32
Filetto Di Manzo Al Pepe Verde
8 oz Beef Tenderloin, Green Peppercorn Sauce, Blue Cheese Ravioli
$39
Pollo Cacciatore
Chicken Simmered in Fresh Tomatoes, Rosemary Garlic Sauce, Peppers, Onions
$26
Osso Bucco Alla Milanese
Braised Veal Shank, Lemon, Garlic and Parsley Gremolata, Saffron Risotto
$32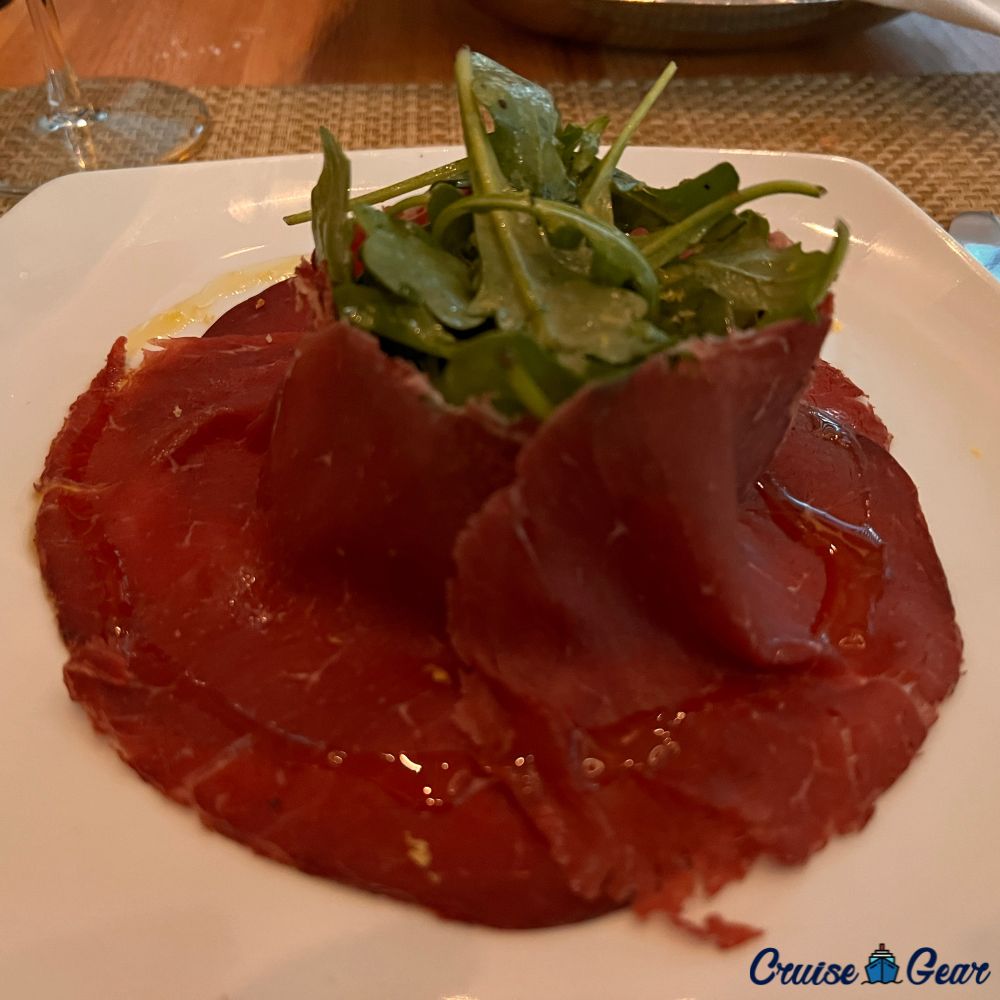 A few helpful tips about La Cucina on NCL
The portion sizes
The sizes of each starter, pasta dish, and main course are relatively huge. If you're not terribly hungry and want to try the amazing food, get a table and have just one of the pasta dishes! It'll fill you up and you won't have to use a dining package credit (though you can if you want)
SHARE if you can! No one will go hungry and you can have a taste of everything when sharing. Given the portion sizes, there will be plenty to go around.
Reserve a table
La Cucina restaurant is one of the more popular on NCL, so it often fills up for premium dining times. Reserve as soon as you can.
Availability of some food ingredients
When you take a look at the La Cucina NCL menu, it's important to know that there may be availability issues in some regions. For example, on a recent Mediterranean itinerary, the Osso Bucco wasn't available from the suppliers in the region.
Onda by Scarpetta
The newer Italian concept found on Norwegian is now called Onda by Scarpetta. We've tried the restaurant on the NCL Encore, and found it to be equal if not superior in some ways to La Cucina.