Gunbae Restaurant on Virgin Voyages – The Menu, Review & 360 Virtual Tour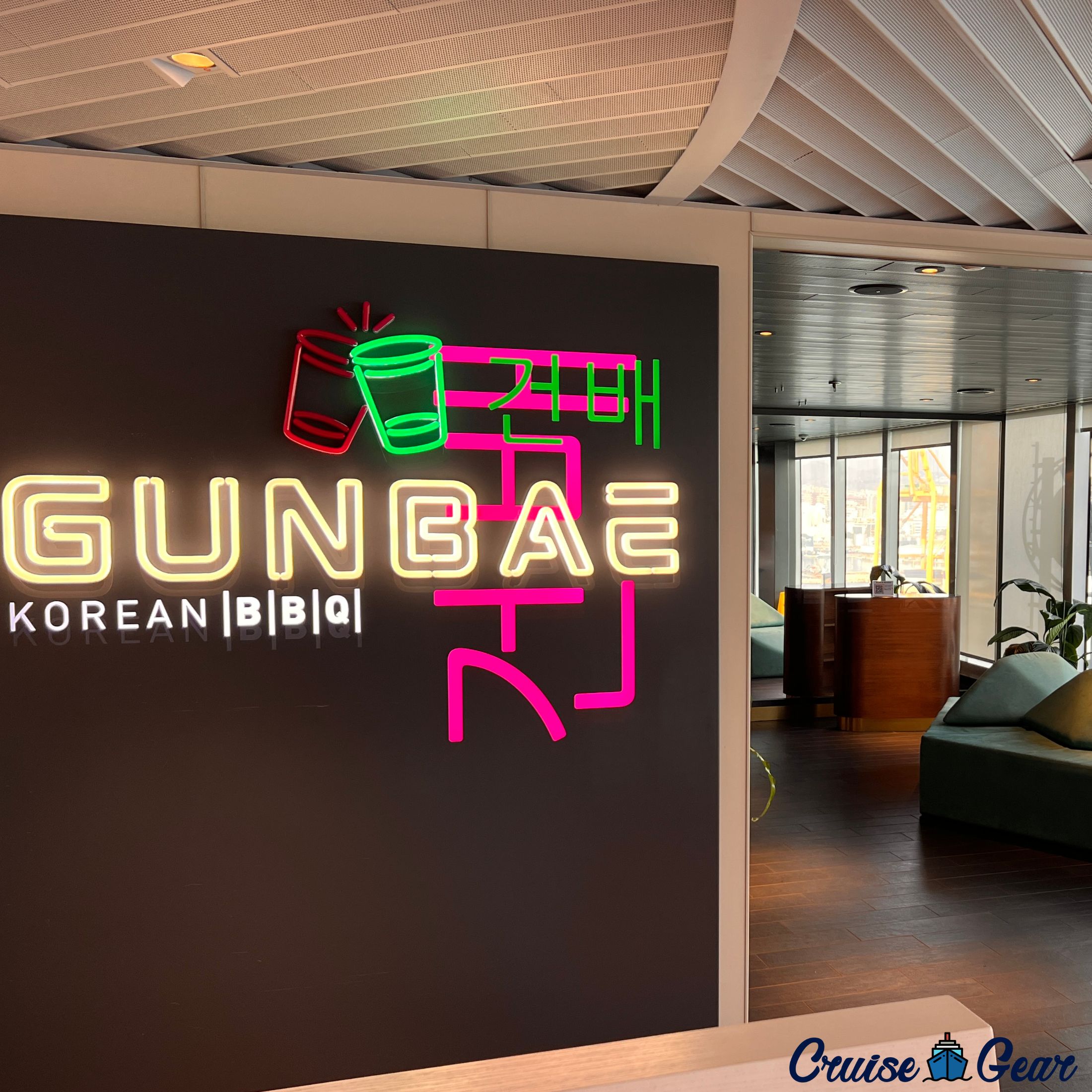 Gunbae Restaurant on the Virgin Voyages ships is their answer to social dining where 6 people (possibly all strangers) are seated together around the table where a meal will be prepared on the large center hot plate. Think teppanyaki, with a twist.
Our Review & Menu for Gunbae
It's great for getting to know other passengers while sharing a meal. It's a good answer to communal dining tables found on other cruise lines. Since there are no dining rooms where you would normally meet fellow cruisers, Gunbae closes that gap a little.
What makes Gunbae more entertaining are the "games" that the host plays with the guests. (See back of the menu). Most notable is a drinking game where people interact and competitively try to outdo each others speed skills
Here's how Virgin Voyages describes Gunbae:
Be the master of your own grill at our vibrant and first-to-sed Korean BBQ spot on board. If you're into hands-on meat-grilling and soju drinking, our Korean BBQ is the perfect spot to do all of that with maximum social engagement (in real life of course, but feel free to 'gram it if you want). It's a catalyst for great conversation, and since we all have that one friend who insists on being the meat-master – go ahead and roast the master while they roast the meat

Virgin Voyages
Gunbae Virgin Voyages Menu
The "Small Bites" aka appetizers are a great mix of tasty items that most people would not ever encounter in their daily eating experience. The table favorite on multiple occasions is the Dakgang Jeong chicken which is similar to General Tso's crispy chicken found in many Chinese restaurants in America.
Offered are also a few noodle & stew bowls, each unique and all very good. They're small enough that you can have an appetizer or two + a bowl and still have room for the main course.
The Main course is the "show cooking" on the center grill. The server will likely recommend getting all of the items to share which is fine for the adventurous eater, but be sure to order what YOU want. The portions are not large, so it is important to tell the server that you want a dedicated portion of an item if you're not interested in sharing.
The only complaint we have with the BBQ Grill concept is the decision to not season the meats. This resulted in a relatively bland main course. Though each person gets a variety of dipping sauces, they're not well explained and don't replace the flavors of even the most basic seasonings.
Take a look at the full Virgin Voyages Gunbae Menu with Drinks (PDF):
Unable to see the PDF? Scroll down for the menu in text.
The Experience
Gunbae is a high-energy and highly social experience, not ideal for shy people or those with picky eating habits.
The server will likely recommend ordering everything on the menu. This can be extremely overwhelming when food is being flung in front of you with minimal explanation and everyone in a frenzy to try a bite of each course.
Having tried Gunbae several times, the best experience was when we explained to the server that they needed to slow it down a little and allow us to really understand (read) the menu and what the options were. It resulted in everyone ordering what they really wanted and enjoying the meal rather than a lot of food waste from just bringing everything on the menu.
The "games" at the table were unfortunately limited to just the "GUNBAE" game. When I asked why the others weren't played, it was explained that they can get very personal and borderline offensive making for an awkward dining situation with strangers. Honestly, I wish they would have encouraged the other games as it would have made for great conversation (and possibly a few enemies!). 🙂
360 Virtual Tour of Gunbae Restaurant (Valiant Lady)
Do you have a comment?
Did we miss something? Have you had a different experience? Did we get it wrong?
Gunbae Virgin Voyages Menu (Dinner):
SMALL BITES
BUGAK vegan – gluten free
nori rice crisps
MIYEOK MUCHIM vegan – gluten free
seaweed salad, cucumber, shiitake mushrooms
BINDAE-TTEOK vegan
kimchi & mung bean pancake
"HOT BAR"
mixed seafood "corn dog"
HAEMUL PAJEON
mixed seafood & scallion pancake
DAKGANGJEONG
forever crispy chicken, pickled daikon, chili sauce
RICE/ NOODLES/ STEWS
BIBIMBAP*
vegetarian- gluten free
short grain rice, egg, mixed vegetables
JAPCHAE – vegan – gluten free
Stir-fried vegetables, egg, vermicelli noodles
KIMCHI-JJIGAE
Kimchi stew with pork belly, gochujang
BBQ GRILL
choice of white rice. brown rice or kimchi fried rice
BOESUT VACHE MODUM
assorted mushrooms & seasonal vegetable combo
OJINGEO, NAKJI & SAEWOO- gluten free
squid, octopus, shrimp
KALBI*
marinated beef short ribs
KALBI SAMGYEOPSAL SAEWOO MODUM*- gluten free
chef's combo: short ribs, pork belly, shrimp
TREAT YOURSELF"
WAGYU BEEF PLATTER
Ribeye + tenderloin + $45