Test Kitchen Virgin Voyages Menu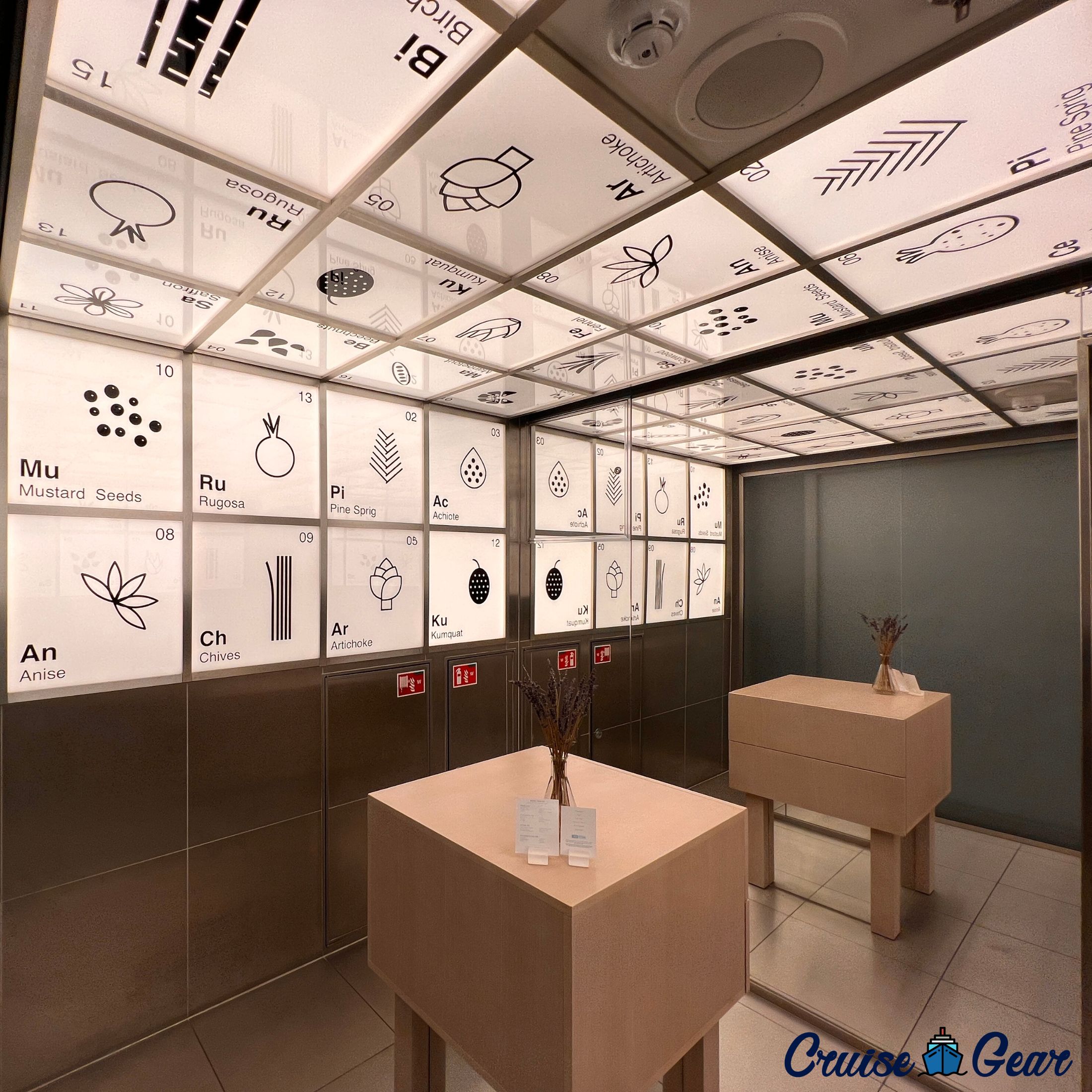 The Test Kitchen on Virgin Voyages ships is quite possibly the most unique restaurant many people will have ever experienced. But 'unique' doesn't necessarily mean good for some people. The restaurant is set up to have a laboratory feel and the concept is designed around unique creations crafted by the chefs in small tasting menu portions. Think – Elegant Tapas.
The menu is a bit of a mystery. Each table is presented with a simple card that highlights the main ingredient in each course, however, how that ingredient is presented is exceptionally unusual. For example, on one visit to The Test Kitchen, the ingredient highlighted was "Mushrooms". The course was presented as a mushroom paté molded in the shape of an actual mushroom. A funky and interesting presentation will exist for most of the courses.
What Virgin Voyages says about the Test Kitchen
Inspired by Escoffier's Ma Cuisine, this laboratory-like eatery is part cooking school and part restaurant. It's educational, experiential and social. With classes and evolving tasting menus, this is for the curious, boundary-pushing tastebuds on board.

Virgin Voyages
Test Kitchen Menu – Virgin Voyages
Enjoy an exciting dining experience in the Test Kitchen
Entering into the Test Kitchen, you notice an almost sterile environment that is meant to replicate a lab where things are being, well, tested. It's a great idea but isn't very "cozy".
The menu is presented with a list of components that will be the primary ingredient in each course. There are alternatives to some courses in the event that a particular ingredient isn't terribly appealing. However, I recommend going ahead with something even if it doesn't seem appealing (barring a food allergy) since the chefs are making a great effort to transform the ingredients.
The courses are extremely small, but no one in our travel group was left feeling hungry at the end of the meal, surprisingly.
There is an option to do a drink pairing with each course and we found this to be quite interesting and worth the $35. The Test Kitchen staff made great choices pairing wines and not only did it add to the experience, but it was also a learning opportunity to understand better what wines go with what types of foods.
Important Tip: There are TWO menus
The Test Kitchen has two menus. Menus are rotated throughout each week, but only one is available in a given night. Before committing to a reservation, you may want to speak to the host/hostess first and review each menu and inquire when it will be served. There is a big difference between each menu (A or B)!
Discover Unique Flavors and Experimental Recipes
In The Test Kitchen, explore the art of cooking with unprecedented curiosity as chefs churn out creative dishes. Every plate is carefully crafted to bring you the ultimate gastronomic experience – discover everything from tantalizingly exotic flavors to experimental recipes and beautiful presentations! Something good to know: there is a twice-changing menu, so when on board, be sure to check for menu "A" or "B" and plan your reservation accordingly (The host/hostess will be able to tell you when the menus change). There's going to be something new and exciting awaiting your palate on one of these menus. Savor the unique flavors at The Test Kitchen aboard Virgin Voyages & prepare your taste buds for a unique foodie adventure!
Photo Gallery
360 View of the Test Kitchen – Valiant Lady