Razzle Dazzle Virgin Voyages – Menu, 360 Virtual Tour & More

Razzle Dazzle is a unique concept on Virgin Voyages ships with a primarily vegetarian menu. For people, like myself, who aren't really vegetarians, the food is still quite unique and very good. For those who are die-hard meat eaters, there are a couple of options that include meat.
At dinner, be sure to inquire about the "secret" menu which at the time of dining at Razzle Dazzle was a butter chicken dish (it was amazing) and a salmon dish.
Additionally, it's one of only two full-service restaurants available for breakfast and dinner (reservations are usually required).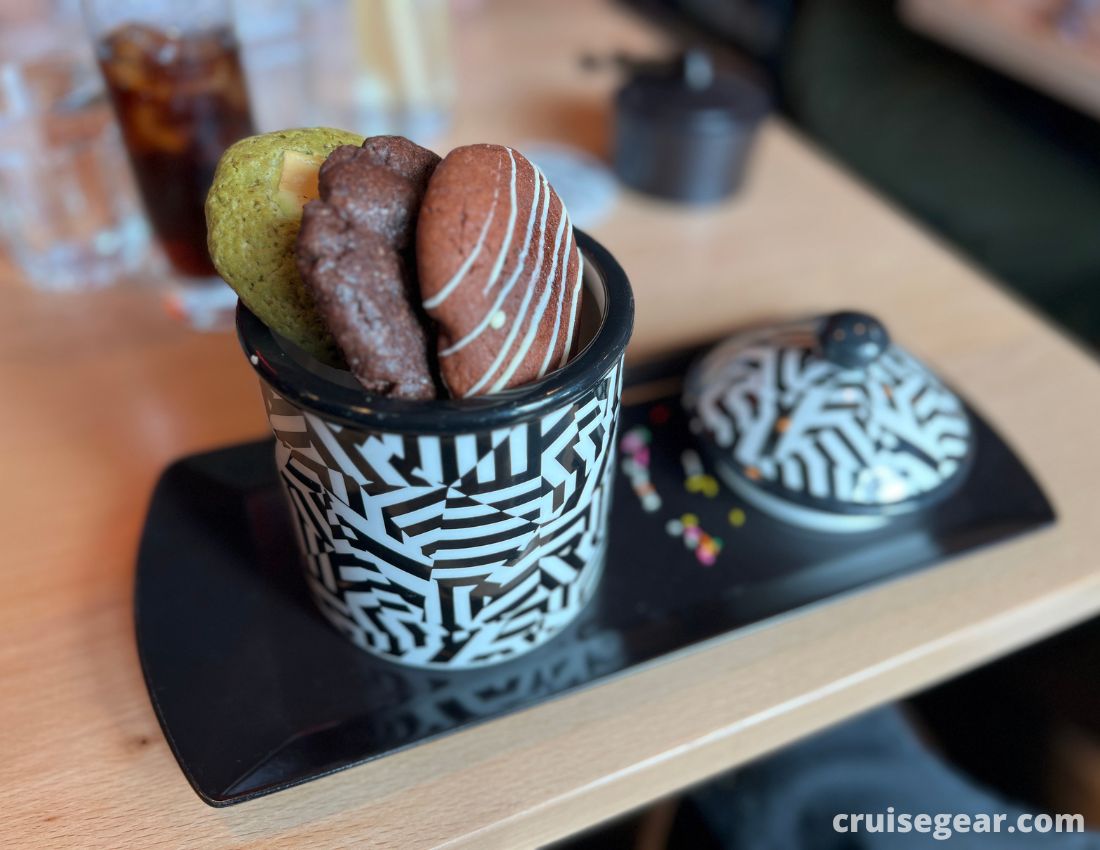 Here's how Virgin Voyages describes Razzle Dazzle
The go-to option for cool and casual dining on board serving dinner, and brunch. So your best friend wants something light and healthy, and you want.. unicorn toast? This is that place. Boasting a bold interior, this happening spot offers creative surprises on some classic, comfort go-to's. With a menu that's being coined "naughty or nice", you can choose from one side that skews toward plant-based vegetarian dishes, or the indulgent side – meats, sweets, and gluttonous treats. So whether you're looking for something familiar or something spicy and out of left field, this place does all of that with a (unicorn) twist.

Virgin Voyages
Razzle Dazzle Virgin Menu
Take a look a the full Razzle Dazzle Menu on Virgin Voyages
Razzle Dazzle Virgin Voyages new Mid 2023 menu items
Starting in the middle of 2023, Virgin has introduced new items and a refreshed menu in Razzle Dazzle. This menu is what has been spotted recently on a few voyages: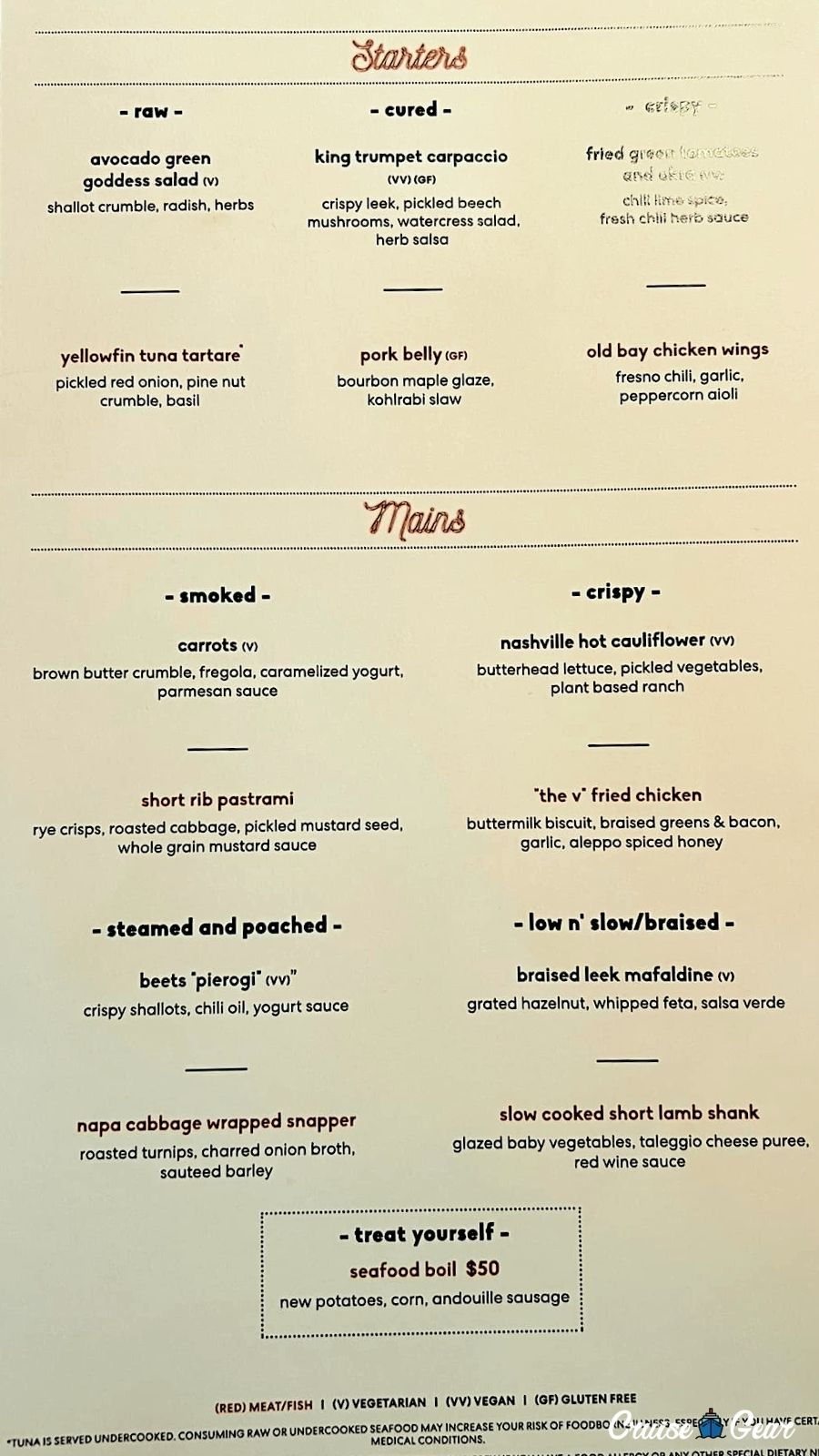 Breakfast / Brunch
Brunch Starters
watermelon & sesame"cream·(v)(gf)
housemade granola, frozen berries, tofu "cream"
avotoast(VV)
sriracha watermelon radish, finger lime, toasted seeds
mushroom "tartare"(vv)
tarragon salsa verde & house-made crostini
coconut milk fairy toast (v)
brioche, condensed milk, rainbow sprinkles
Mains:
acai bowl(v)
coconut, banana, mango, pineapple
sunny side hash
sunny side eggs, napa cabbage kimchi, root vegetables, scallion yogurt
razzle dazzle breakfast (v) (gf)
eggs your way, sage Impossible™ patty, roasted mushrooms, Yukon gold potatoes
malted buckwheat waffle (v)
pistachios, mixed berries, chantilly cream, maple syrup
lmpossible burger (vv)
poblano salsa paprika veganaise, avocado, choice of salad or fries
"Naughty" (i.e. not vegetarian)
everything salmon bowl
brown rice, poached egg, pickles, avocado, sherry vinaigrette
crazy cobb salad
chicken, bacon, blue cheese, avocado, asparagus, beef-stained egg.
fried chicken sandwich
beet aioli, black bun, salad or fries
Wake & Bakery
apple cruffin(v)
smoked cheddar jalapeno croissant(V)
banana muffin(vv) (gf)
chocolate chips cone(v)
Salads:
melon salad (v) (gf)
cured lemon yogurt, cucumber, vinaigrette. smoked salt
nutty gazpacho (vv)
cucumbers, peppers, almonds, roasted garlic croutons
Sides
Sliced Fruit
Fries
Cheese tots
Impossible Patty
egg
smoked salmon
Smoked Bacon
Desserts
blueberry green tea cheesecake
pistachio crust
razzle cake
chocolate ganache & toffee crunch
rainbow churros
ice cream, strawberry caramel
loaded cookies
mudslide, stuffed red velvet, matcha white chocolate
vegan cookies
cocoa-o's, coconut chocolate chip, coffee & date newton
Add Milk
toasted cinnamon
biscoff cookie
vanilla cinnamon – almond
Here is the full bar/drinks menu for Razzle Dazzle (Valiant Lady)
Use controls for zoom and viewing
The Experience
Once you get past the seizure-inducing decor, Razzle Dazzle Virgin Voyages is actually a great experience. It's more casual and laid back than the other restaurants on board Virgin Voyages ships and has more of a diner/cafeteria feel. The service was always attentive and professional and the food came out hot which is unfortunately a rarity on the ship. The only real complaint about Razzle Dazzle is how close the seating is. When it's busy, it can feel quite claustrophobic.
You might also be interested in:
See the 360 Virtual Tour of Razzle Dazzle (Valiant Lady)