The Galley Virgin Voyages menus, information & 360 virtual tour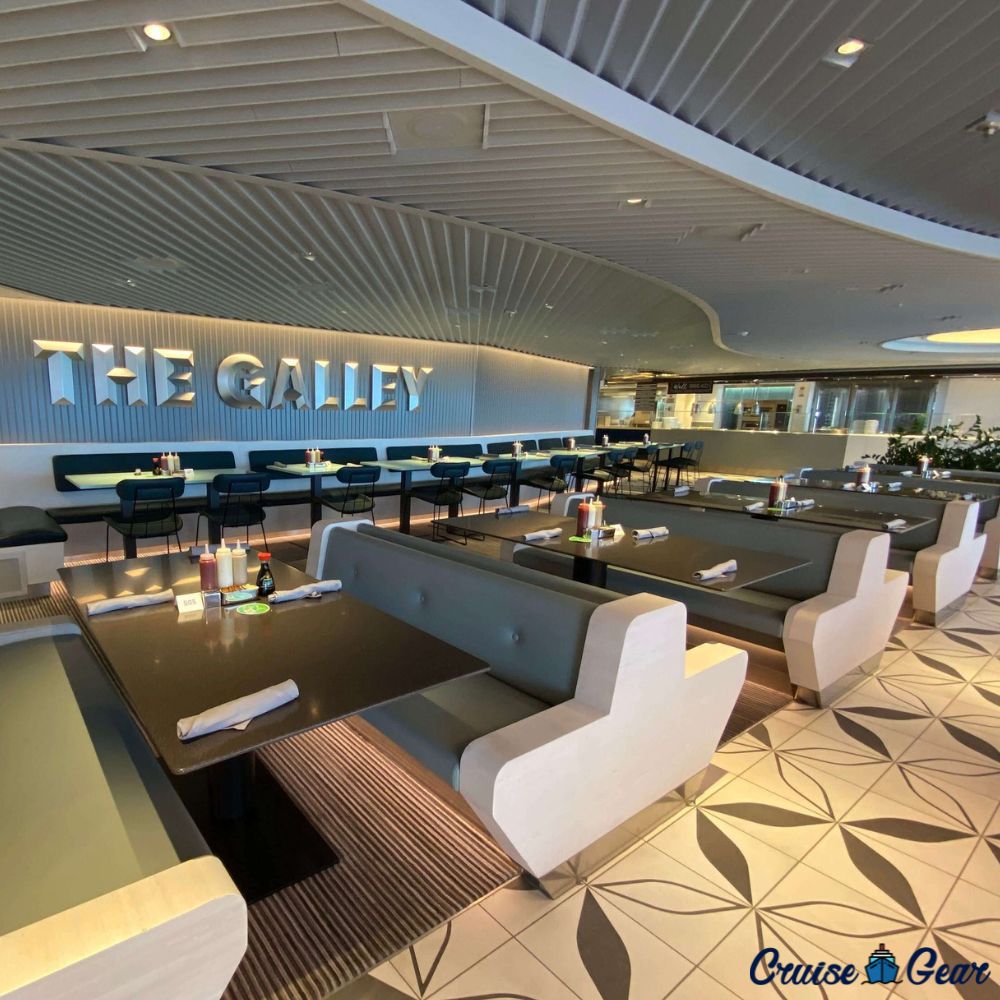 The Galley is Virgin Voyages' answer to the traditional cruise buffet, but it's no buffet at all. The concept is like a food hall where you sit down and are greeted by servers where you place an order from the various food stall menus and have it delivered to the table. This is a unique concept among cruise lines and will please those who find the traditional buffet offputting.
The Galley has 8 separate food stalls plus a fun popsicle stand! Here they are:
The Daily Mix
The Daily Mix is a salad bar concept where you have the choice of waiting in line for a completely custom salad or ordering from the menu to have a salad delivered to your table. For breakfast, it's the go-to for bagels & lox along with other toppings, cereals, and spreads.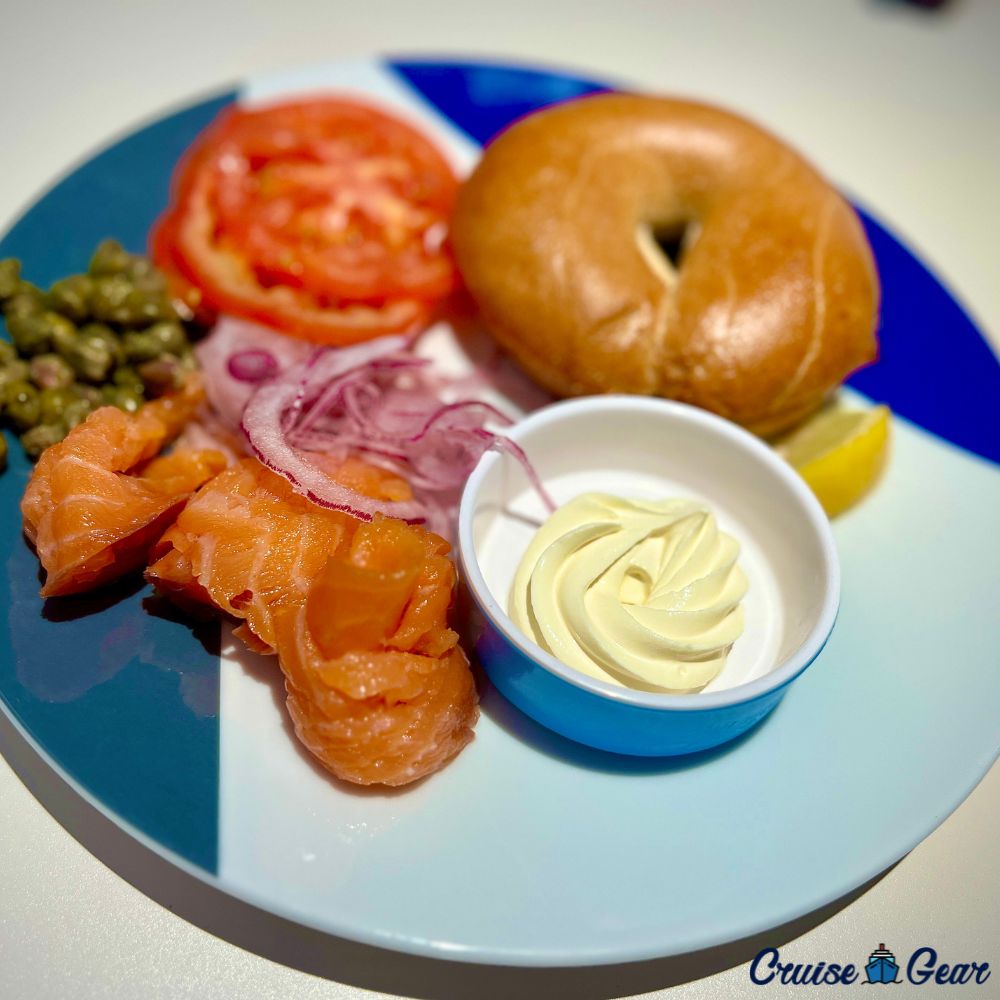 Diner & Dash
Diner & Dash is the 24-hour Diner kiosk allowing all-day breakfast as well as diner-inspired dinners which vary with specials. You can choose to have items delivered to your table or take a seat around the cooking station like in an old-school traditional diner.
Bento Baby
As expected, this bento concept serves various sushi for lunch and dinner along with sides such as seaweed salad. The bento concept is extended to breakfast to include fruit and yogurt options, quite clever.
Unfortunately, the sushi was generally not great since it was made in bulk and the rice started to harden while sitting in the chill box.
Burger Bar
The burger bar is as you would expect, where you get your burgers 🙂
The lunch and dinner options for burgers are a little misleading & disappointing. It's not really much of a burger "bar" where you'd expect a variety of burger types, but rather offers just a classic burger and a vegetarian burger using IMPOSSIBLE meat. Having more burger options would make this a real standout in the Galley. On a positive note, the burgers were actually pretty good.
They served breakfast which included tasty pancakes and french toast.
Let's Taco bout it
The taco food stall was probably the most successful and the food option most fellow cruisers spoke highly about in the Galley. While the selection was limited to just a few taco types, they were all done quite well. Expect street taco sizes, so order multiple!
The breakfast options included breakfast burritos that were always consistent, albeit a little bland.
Hot Off The Press
With a ton of sandwich and panini options, there's something for everyone at this panini concept food stall. Breakfast and lunch options both had vegetarian and vegan options as well as well flavored basic paninis like Turkey & Swiss, Pastrami on Rye, etc. You almost can't go wrong with this food kiosk.
Noodle Around
The quick-serve noodle food stall was open for more limited hours. Lunch and a small window during dinner, which sort of made no sense (Hopefully this will change!). With only a few options, most were unfortunately disappointing and rarely arrived hot.
Bread, Dessert & Pastry, The Sweet Side
There is an amazing walk-up pastry station where you can choose from some incredibly good sweet bites during every meal service. So often, desserts are an afterthought on cruises, but Virgin Voyages has gone out of its way to create some really lovely small sweet treats including healthy options. Choose from basic cookies to elaborate fruit tarts and danishes, all offered during opening hours.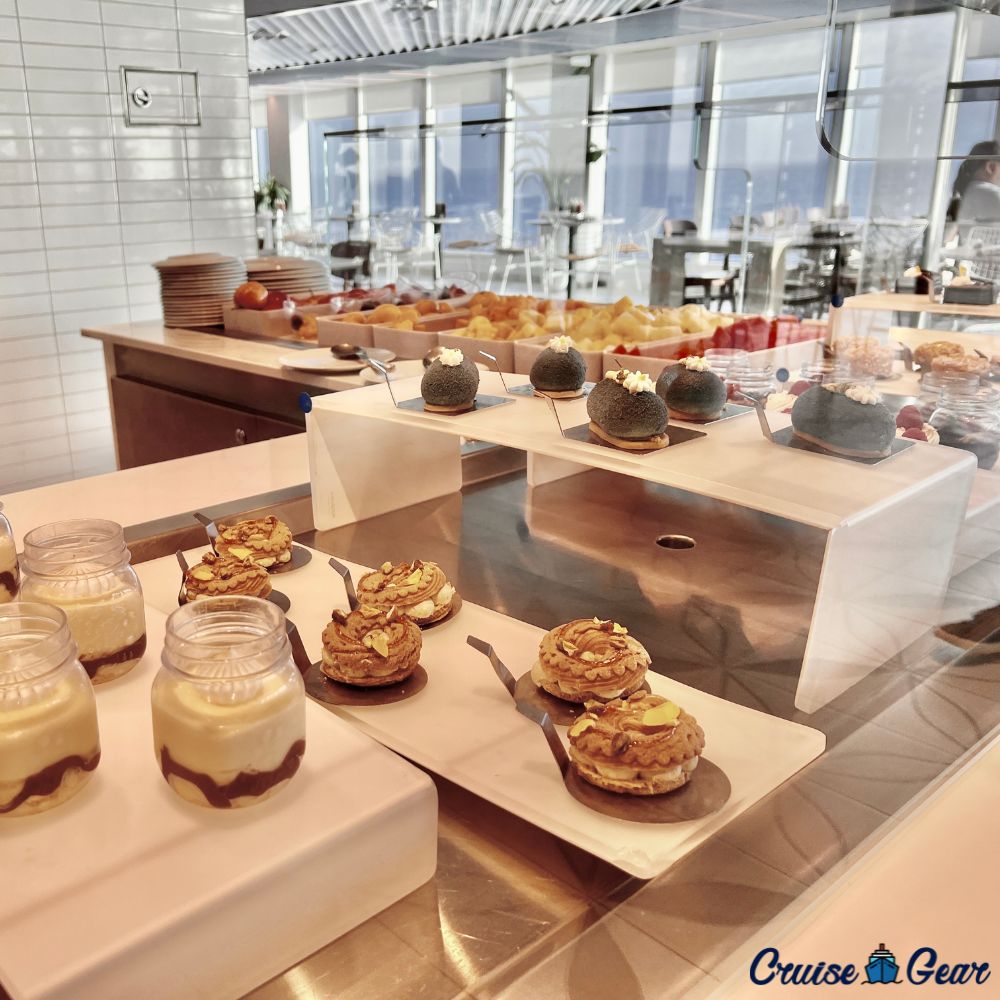 Another coffee bar extension of the Grounds Club sits within the Galley as well, which is convenient for breakfast considering the complimentary drip coffee served throughout the ship isn't very good. So for a better coffee experience with breakfast, head over to the Grounds Club which was generally not crowded, and make a great cappuccino!
The Galley Menus
360 Views of The Galley – Valiant Lady
The Galley outdoor seating: