Virgin Voyages Review & Complete Guide – Everything You Need to Know!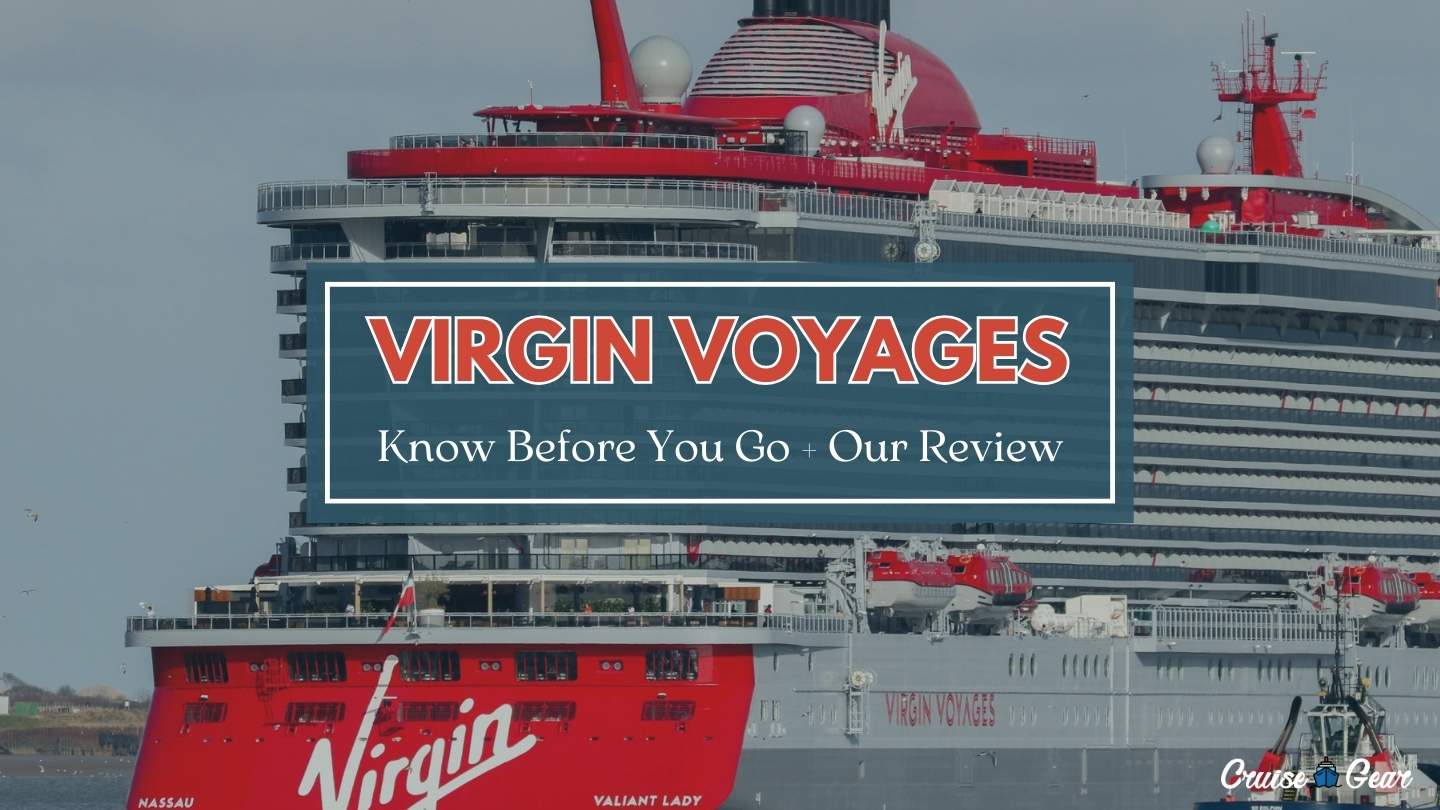 From the moment you step onto a Lady Ship, as they call them, you realize this is a cruise line like no other.
Virgin Voyages has created something unique, something special. The vibe of the cruise ships instantly comes across as cool but casual. Elegant but not snobby. Modern but not cold or stark. It feels like just the right mix of cool & sexy without an accompanying jackass vibe that usually comes with being cool… and sexy. Virgin Voyages' vessels distinguish themselves with a luxurious yacht-inspired ambiance, sophisticated dining options, complimentary Wi-Fi, stylish cabins, and wellness-focused activities.
Let's not forget, the complete absence of children running around touching all the surfaces and licking all the salt shakers.
Everything you need to know about Virgin Voyages Cruises
For experienced cruisers, Virgin Voyages may come as a bit of a sensory overload. Since there aren't staff members pitching beverage packages, dining packages, or upgrades at every turn, you can immediately start taking it all in and exploring without interruption.
What is immediately apparent is the staff. They are ALSO unlike anything you'll experience with other cruise lines. Many are tattooed, pierced, and have funky choices of hairstyles (more on this later) though no less friendly… usually.
The Virgin Voyages concept is all-adult and nearly all-inclusive where the fare you pay covers all food, tips, service fees, wifi, entertainment, etc. pretty much leaving only your bar tab & shore excursions to pay for.
This concept, I believe, will be amazingly successful, if they (Virgin) can hammer out some problems, which I'm confident they can and will.
Virgin Voyages is for Adults Only
The first thing that always comes up about Virgin Voyages is how it's all adult. This is something that the cruise market has needed for decades. With cruises becoming more affordable and family-oriented, travelers who want an adult-only vacation are limited in choices. Virgin has created a playground for grown-ups to enjoy themselves without having to worry about unsupervised and crying children.
What are the age requirements for Virgin Voyages?
To book a cruise, a passenger must be 18 years old or older.
What is the drinking age on Virgin Voyages?
This should be a black-and-white answer, but it's grey. The official answer is if you're sailing from US ports and in US waters, you must be 21 or older, however, in reality, the practice seems to be that 18+ can drink after leaving US waters and on Bimini, in Mexico, etc. The FAQ on the Virgin website contradicts the published alcohol policy 21+, but at the end of the day it's what happens on the ship that matters and in practice, everyone we've spoken with has had no issue being 18+ and getting a drink. In fact, it's rarely even questioned when on board.
Virgin Voyages is nearly all inclusive
Nearly everything is included when you book a Virgin cruise which includes all food, entertainment, basic beverages, tips, WiFi, and gratuities. It's nice to go on a cruise and not have a bill at the end of the voyage for a bunch of daily gratuities. It's also nice to not have tips and gratuities tacked on to every beverage purchase or other miscellaneous purchases. The only thing not included is alcoholic beverages, excursions, and nominal port fees. The only other charges you'll likely encounter will be some specialty meal upgrades such as a tomahawk steak or seafood tower. These are few and far between and are clearly marked on menus.
The Cabins on the cruise ships are modern & comfortable
Once you enter your cabin on one of the Virgin ships, in our case, a Sea Terrace on the Valiant Lady, you'll quickly realize it just feels fresh, trendy, and "hip" without going overboard (pun intended). Absent in the staterooms are the heavy wood accents and floral carpets you often find on more traditional cruise ships. The rooms and cabins feel modern but not uncomfortable.
The cabins on the Lady Ships feel quite large compared to newer ships with other cruise lines in contrast though, the bathrooms are incredibly small and tight, some of the smallest I've ever experienced.
A real game changer in these staterooms is the technology. Virgin Voyages has invested heavily in technology on their ships from start to finish and the cabins are no exception. You're greeted with a "scene" when you open the door of your cabin which opens all of the curtains and sets the lighting. There is a tablet in the room where you can control the mood lighting, shades, television, and movies, and request service from the cabin steward. The tablet was a little flakey throughout the voyage and messages to the steward got missed on occasion.
The best part of the cabin is the convertible bed/sofa system. Each cabin has a queen bed that converts into a sofa making the space INCREDIBLE and HUGE feeling. The setup is great for the day when you want to relax and watch TV or get some work done and not be forced to sit on the bed. The conversion can be requested by the stateroom attendant and they'll convert it on their first rounds of the day and make it back to a bed during the evening rounds. I couldn't tell if the cabin stewards were a bit grumpy when we asked for this conversion service, but they accommodated the request without question. By the middle of the voyage, I had figured out how to convert the bed into a sofa on my own (and there's a handy little instruction guide on the tablet), but I left it up to the stewards to convert it back to a bed in the evening. It's important to know, however, that the cabin attendants usually end their day around 7 pm, so if you don't have your evening service for whatever reason, you're going to be making the sofa into a bed on your own!
The real show stopper of the Virgin Voyages cabins (Sea Terrace and suites with balconies) are the terraces with the beautiful red hammocks. This is a passenger favorite whenever discussing the Virgin Voyages ships. These hammocks are a real treat allowing you to float over the balcony gently swinging in the breeze as the ship is underway. What a clever and innovative design feature for a cruise ship!
In addition to the hammock, the balcony has the traditional table and chairs for seating, but realistically the hammock takes up so much space that it becomes crowded quickly with the other furniture items.
As for storage in the staterooms, because of the converting bed, it's not possible or practical to put empty bags under the bed, so that all goes into the closet space. The closet area is the only thing that really feels like an afterthought with a cloth curtain as a divider rather than traditional doors. I'm sure it's a "design feature" but it just makes the room look a little cheap. Otherwise, there is plenty of storage space for any length of cruise (it fits everything for 2 people on a 14-day transatlantic just fine!). It's worth noting, that if you need more hangars, just ask, and the cabin steward will bring more for you.
Finally, a nice touch is that you are left with a couple of bottles of water daily in the cabin. One is cooled in the mini-fridge and the other is left out. For those looking for a minibar, it doesn't exist in the standard balcony cabins / Sea Terrace rooms. Though in the suites, there are complimentary beverages available.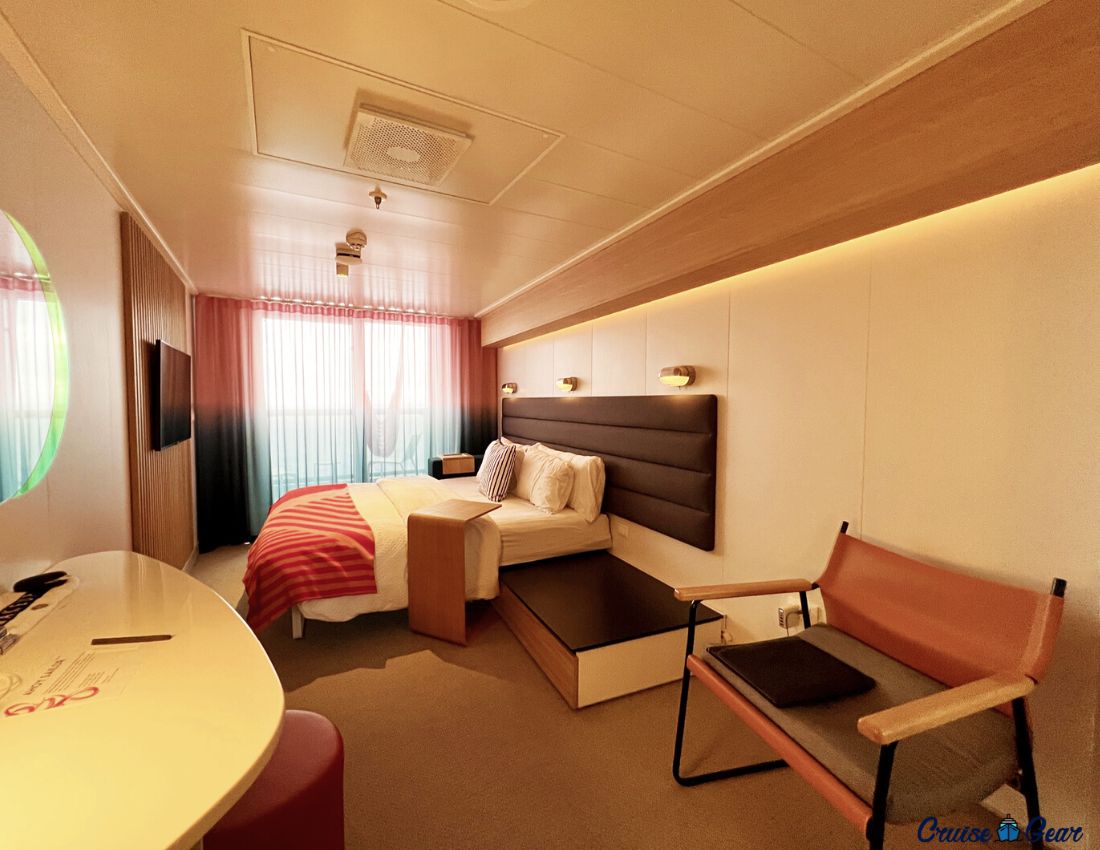 The Suites on Virgin ships:
There are unique themed suites available on all of the Virgin Voyages ships called the "Rockstar and Mega Rockstar" suites. These are the largest and most expensive accommodations on the ship, but they come with some great perks!
What do you get with a Mega Rockstar Suite?
The most expensive and lavish suites range from 570 sq feet to over 2000 sq feet and are reminiscent of 5-star hotel suites with whirlpools, outdoor jacuzzis, and huge private terraces (depending on the suite). Each suite is adorned with music memorabilia and a record table to spin some tunes. The guests in these suites have exclusive access to Richard's Rooftop as well as daily spa access. Additional perks are premium wifi, early access to the ships with priority check-in, and transfer to and from the ship to your hotel or airport.
For those Mega RockStar guests that like to indulge, the suite comes with a bottomless mini bar that is restocked at your request as well as essentially an unlimited bar tab to use during the voyage. While Virgin states that there are limits to the bar tab (reasonable), I've never spoken to anyone that's experienced being told they can't order more.
What do you get with a Rockstar Suite?
As with the Mega RockStar suites, you have access to the exclusive Richard's Rooftop, priority boarding, and a stocked minibar (single use, not unlimited). These suites are a bit smaller and range from aft cabins / suites that are a bit more than 400 sq feet to really large corner suites measuring more than 850 sq feet.
Finally, these suites come with a private concierge to help you with bookings, excursions, transportation, etc.
How much do the RockStar and Mega RockStar suites cost?
Expect to spend $6000 for a 5-7 day RockStar suite and more than $10,000 for the Mega RockStar suite. This is based on pricing for a typical Caribbean 7-day cruise where a SeaTerrace rate was approximately $2900
Activities, Shows & Entertainment on the Virgin Voyages ships
There is an impressive lineup of things to do from early-morning yoga to late-night parties. I expected initially that the ship would be more of a "party" ship with nonstop pool parties and day drinking, but surprisingly, Virgin Voyages has put together a good program and schedule for their cruises that includes many activities that aren't parties. Of course, there's more of a party vibe once the sun sets, which adds to the allure of the brand and ship.
During the day, there is a variety of planned activities to do from trivia, games, foodie classes, bingo, and a ton of workouts. (see the sample week-long itinerary below)
Our favorite was the daily trivia where "The Gamer" compiles the best of pop culture, history, current events, and beyond in a multi-round trivia event that he's uniquely created. Each team will have a booklet to fill out for each round of 10 questions. But this isn't your average trivia game-the highly curated, weirdly specific genres cater to the weird, the wacky, and the nerdy among us-expanding beyond generations and giving you the freshest, funniest brain-twisters you can find
For people worried about what there is to do during the day on one of these cruises, fear not! There are PLENTY of activities not to mention the obligatory pool time.
The shows and nighttime entertainment
Virgin Voyages has curated a unique lineup of entertainment for each cruise which includes everything from variety and talent show-style entertainment to drag shows and beyond. An example of some of the shows you can expect to see on a Virgin Voyages cruise are:
It's a Ship Show: Think of this as a dinner show + variety hour with some live music, comedy, and random performances. The food was included but was slightly disappointing, but overall it was good fun. Note: If you are in the front row(s), there is audience participation and you may be called upon!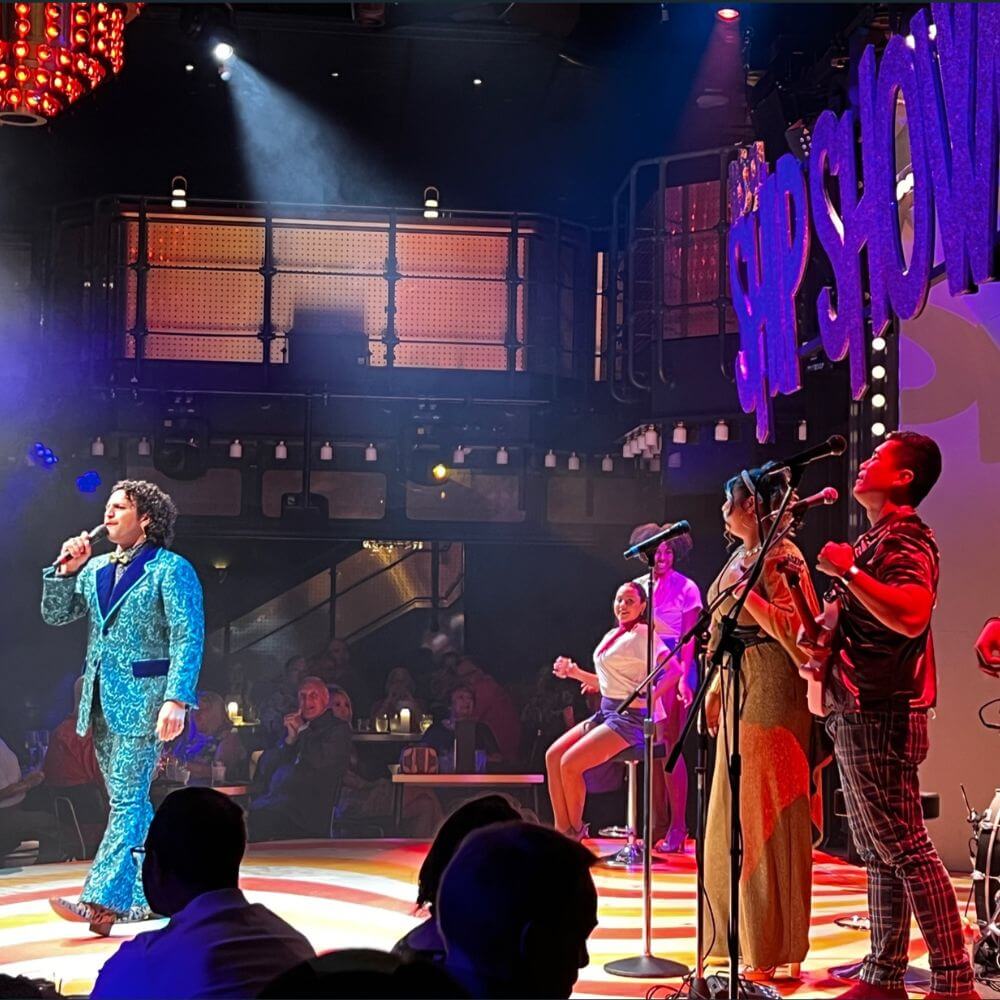 Duel Reality: Seen in the Red Room, this is part dance performance and part theater. It's "strange" but worth the effort to see. Important to know: once you are seated, you cannot leave for any reason (bathroom, drinks, etc).
Untitled Danceshow Thing: Think of this as ship performers in a nightclub filming an influencer-inspired show. None of the people in our group quite got the purpose. This is the only show on the ship(s) that I wouldn't recommend going out of your way to experience unless you had nothing else to do.
There are other acts and shows that cycle throughout the voyage, and they're all different than anything else you've likely seen on a cruise, so give them a try!
In addition to the production-style shows that are held within the Manor and Red Room, there are always musicians or DJs scattered throughout the ship that are all quite good. Most bars and lounges have various types of live music featuring solo artists to multi-piece bands.
The inclusion of music on the ship is in the DNA of the Virgin brand and it creates a wonderful vibe day and night.
Virgin Cruise Ships are a Health & Wellness anomaly at sea with fitness classes unmatched by other cruise lines
You've probably never seen a cruise ship that has such a focus on wellness! Most traditional cruisers go for the bottomless buffet, all-day ice cream, and beverage packages, whereas Virgin Voyages has put a substantial effort into balancing those activities with an abundance of wellness & fitness classes – ALL INCLUDED! Yep, that's right, the wellness and exercise classes are all part of the fare.
The ships have professional instructors dedicated to certain activities and classes, for example:
Spin Class – only about 6 people at a time and for someone who's into spin classes, they are relatively beginner-level.
Bungee Class– low-impact bungee cord workout. Unusual but fun use of bungee cords for balance and stretching.
Yoga – There are several varieties of yoga but the best was the Low impact, a guided class where beginners didn't feel out of place.
HIIT Class – Outdoors on deck 16 in the outdoor gym area.
For passengers that are interested in doing their own thing, there are plenty of options with a sports court/basketball court, outdoor workout areas, outdoor gym area, and post-workout chillout spaces.
The Gym(s)
Another standout feature of the Virgin Voyages cruise ships is the beautiful cardio space full of the latest Technogym equipment. It's fully integrated with Apple Watch and the "my wellness" app by Technogym for syncing your workout data. In a separate space across from the pool is the weight lifting and workout space, equally impressive. There's nothing you can't do in the gym and cardio rooms, they are some of the nicest and best-equipped gyms I've seen, much less those at sea!
For passengers who are looking for an outdoor run, there's the running track on deck 17.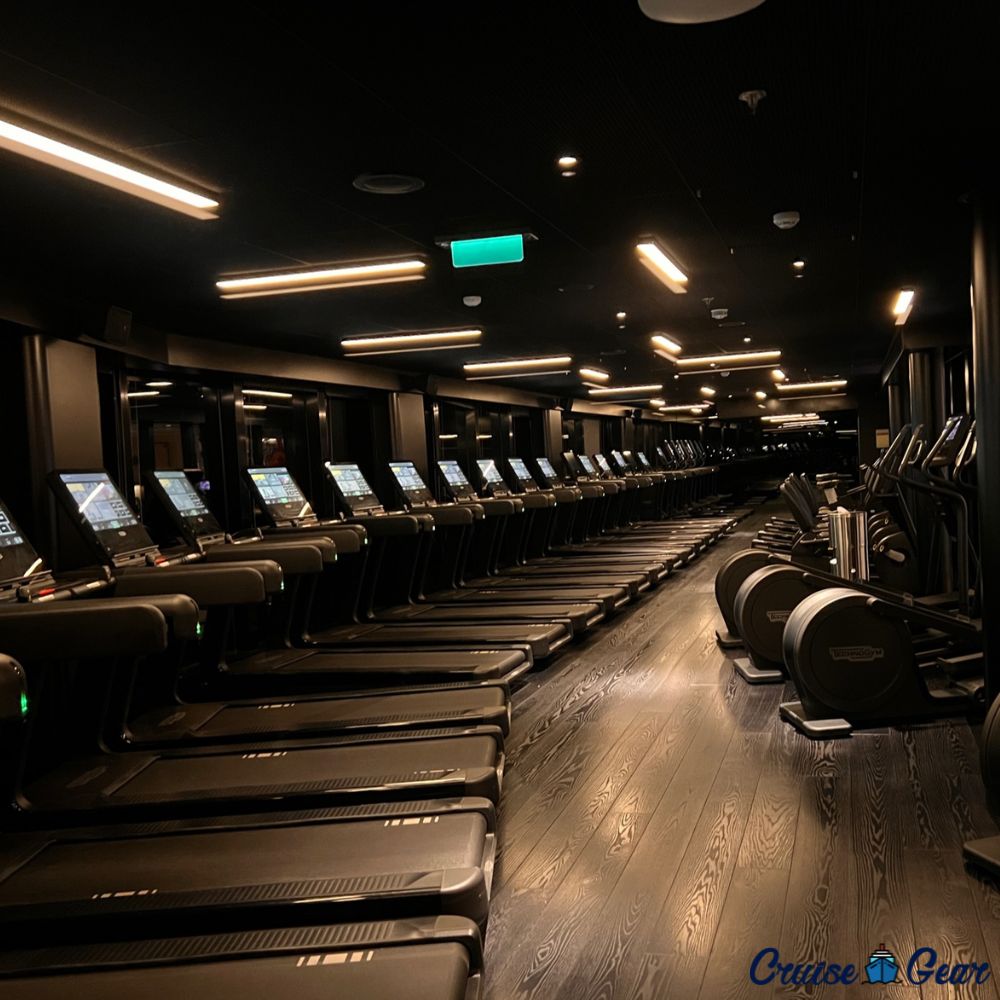 The pool decks on Virgin Voyages ships
There are two pools on the Virgin ships referred to as the "Aquatic Club". These pool areas are what most passengers lament about. The consensus is that the pool and sun decks are way too small for the passenger capacity. In reality, we found that there were always loungers to be found and a place to soak in the sun was never a problem. I can only guess that it's because there is so much to do on the ships that people don't lay around the pool all day as they would while on a typical cruise ship.
The main pool is more like an oversized plunge pool surrounded by loungers and day beds with music playing all day long while the smaller pool towards the rear of the pool deck is quiet and more of an oversized jacuzzi whirlpool.
The pools and pool decks on board the Virgin Voyages ships are much more intimate and have a day club feel about them than the sprawling pool decks that are now common on mega-ships.
The Redemption Spa
The spa & thermal suite is always something I look forward to on a modern cruise ship. This is one of the areas where I feel like Virgin Voyages has failed. That sentiment wasn't unique to me, however, some people loved it. So let's explain:
If you are used to the glamorous spas and the thermal suite on other mass-market cruise lines, you'll likely be disappointed. The Redemption Spa is beautiful like the rest of the ship, but it is like a nice piece of art, where it is ok to look at but doesn't offer much else. While they have amenities that look like they stack up to other spas at sea, they are impractical and downright uncomfortable. For example, where you would normally find heated stone loungers in modern spas, Virgin Voyages has chosen to heat a floor space, like a large swath of marble heated in which you are supposed to just lay on. I liken this to laying on the ground at some Roman monument in the summer, not at all comfortable.
Additionally, the whirlpool tubs are small, so small in fact that you better be really comfortable with whoever is sharing it with you because it's "intimate" to say the least. While there is a plunge pool, it's room temperature and it's also extremely small.
There are the typical sauna and steam rooms you'd expect in any modern spa, and they are what they are. Very basic.
The most unique room is the mud room where you slather buckets of mud all over your body and sit there like a hog fresh out of the mud pit. Not only is it weird, they, unfortunately, don't clean it often or very well, meaning it looks like it could be the backdrop of a high-end mud wrestling tournament.
Finally, the booking process for this spa was overly complicated and poorly managed. You are only able to block 3 hours at a time and you are required to use time all within those three hours, so you can't come and go throughout the day.
Another real turn-off was the fact that if you chose to purchase a service like a massage, you weren't able to use the spa area as a part of that service. It seems petty to not allow people that are already paying an exorbitant rate for a massage, you'd think that using the steam room before or after would be included.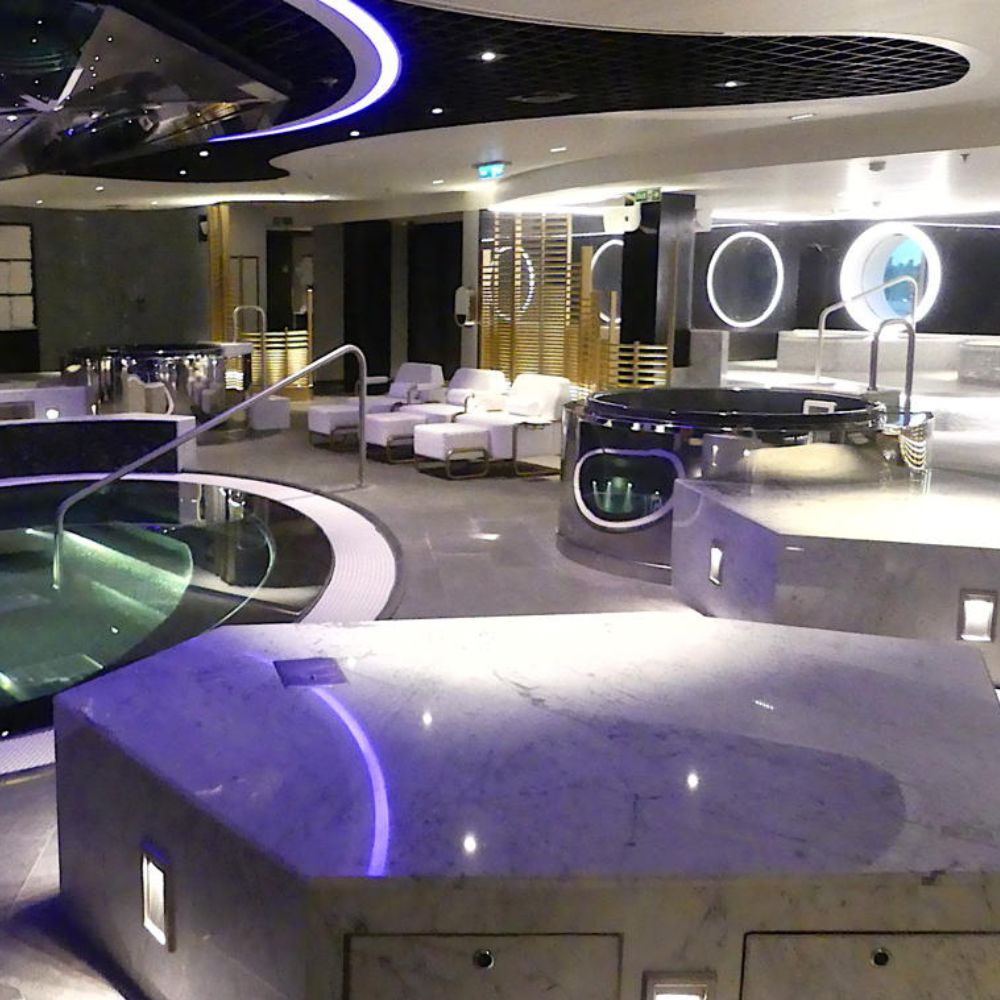 Our group found the spa so generally unappealing, that even though we were comped anytime access for our entire voyage, most of us only used it once while some of the ladies used it two or three times at most.
What does the day pass cost for the Redemption Spa?
The costs: $39 – But first, it's worth noting that the "day pass" is really only a 3-hour pass for use during one day. The price is not outrageous but not an amazing value either. For a spa person, it's worth checking out. You can also get a day pass included if you buy some packages such as the "Splash of Romance" Package.
Some passengers have said they've been able to purchase a come-and-go pass for the full day for $70. This option may vary by ship and itinerary.
A full voyage pass was available to us for a 3-hour time block once per day during the cruise, but that price wasn't published (and I forgot to ask). I was told that this offering was being tested and wasn't necessarily going to be available in the future.
This is how Virgin Voyages explains its spa:
Inspired by an underwater cave, Redemption Spa is a luxury hideaway complete with a hydrotherapy pool, mud room, salt room, cold plunge pools, quartz beds, and a myriad of rejuvenating treatments. Strategically located far from the bustle of the fitness areas, you won't be mid-massage hearing a nearby cycling instructor telling you to "push through the last climb."

Virgin Voyages
How much are spa services in the Redemption Spa on Virgin Voyages?
Every service you could imagine was available at the Redemption Spa and they come at a pretty steep price.
A traditional Swedish massage is $179 for 50 minutes and $229 for 75 minutes.
A deep tissue massage is $379 for 50 minutes or $469 for 75 minutes (yes, you're reading that right)
Bamboo massage is $209 for 50 minutes and $249 for 75 minutes.
A 50-minute facial is $179 – $229 depending on the variety
There are other massages & services available, but this gives you an idea of what to expect when planning for your spa treatments
Dining is all specialty and it's all included with no main dining room to be found
Absent are traditional specialty restaurants, a main dining room, and high cover charges. Virgin Voyages made the choice to have all specialty dining options or themed dining included in the cruise fare. This is by far the biggest part of the "all-inclusive" concept that Virgin has going for them. It's a great concept and the restaurants are all amazing with a high-quality dining experience in each location.
Only one reservation per restaurant
Virgin Voyages has the policy to allow one reservation per restaurant per voyage (at dinner). This is in an effort to make sure every passenger or "sailor" has the opportunity to try the eateries.
Virgin Voyages Menus & Restaurants
The Wake – The upscale "steak and seafood" restaurant that is also available for brunch most days with unique brunch items and a variety of egg preparations. This is the most popular restaurant and fills up fast, so reserve early. See The Wake Menu and wine list.
Extra Virgin – The Italian concept that also sometimes does daytime tapas tastings. See the Extra Virgin menu.
Razzle Dazzle – An eclectic mix of feel-good food with a focus on vegetarian options. This restaurant is open for breakfast/brunch and dinner. See the Razzle Dazzle menu.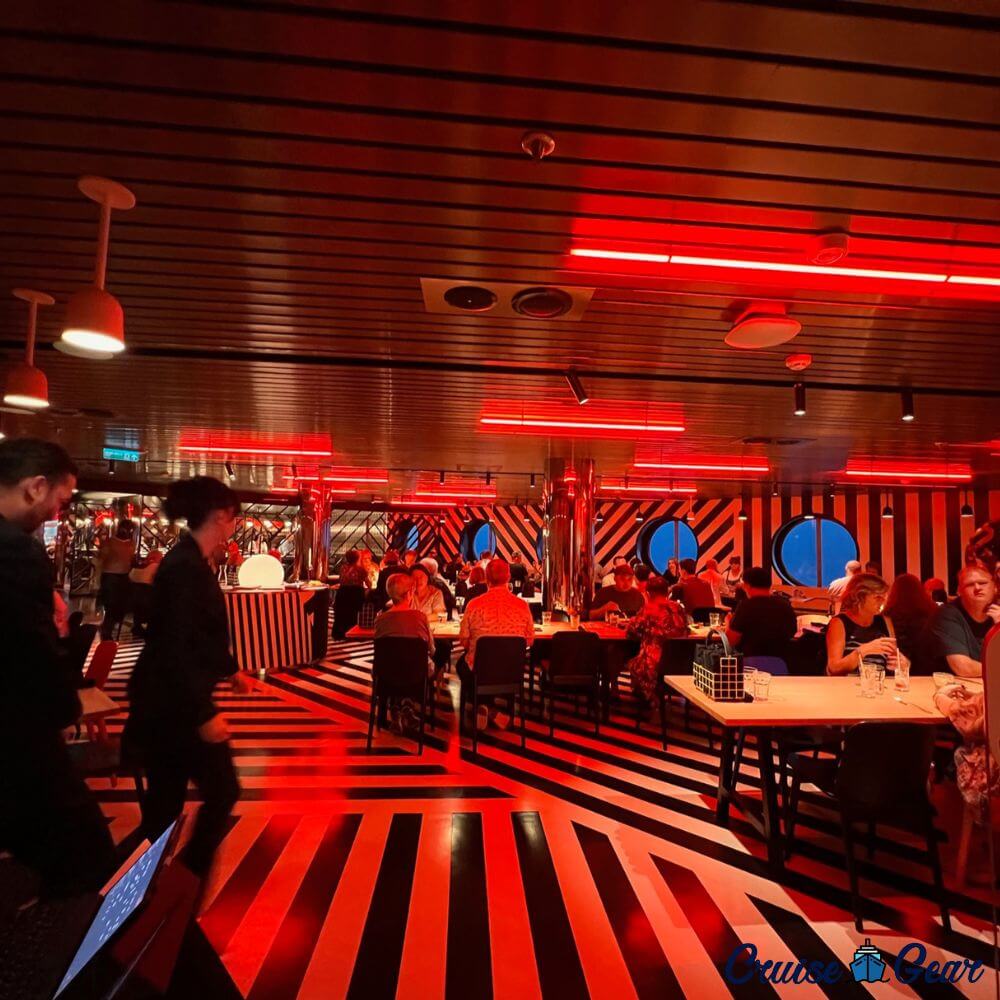 Gunbae – A fun group dining event where everyone sits around a hibachi-style grill while the food is cooked 'on stage'. A unique dining experience! (until you realize the strangers you're dining with might just be unfriendly) – See the Gunbae Menu
Test Kitchen – Probably the strangest concept on the Virgin Voyages cruise ships is the Test Kitchen where food is served in a laboratory setting which signifies that the chef experiments with food, flavor, and presentation. There are 2 menus served at different times during a voyage (only one menu per night) and each is an unusual dining experience when matched with the suggested wine pairing making for a memorable and quite educational dinner to remember. See the Test Kitchen menu & virtual tour.
Pink Agave – One of our favorites! A Mexican-inspired, small bites eatery that has a little bit of everything. Being from Texas and being an Expat in Europe at the moment, I just missed Mexican food, so whether it's really that good is subjective, but I thought it was pretty amazing. Small enchiladas, guacamole, tacos, and a variety of other dishes were always good. The only problem we really had was often the items weren't very warm by the time they got to the table. I suspect they premake many of the items on a line in the kitchen so they have the opportunity to cool down before making it to the table. More than anything, though, the bar is a great secret spot that few people realize is open to just have drinks if you want and the interior + vibe is some of the best on the ship. Groovy, cozy, and feels decidedly luxe (especially for a few tacos!) – If you're a tequila or mezcal aficionado, this is the place for you, don't forget to check out the menu for all varieties and tasting options. See the Pink Agave menu & virtual tour.
Other restaurants on the Lady Ships include
The Galley – This is Virgin Voyages' answer to the buffet, when in fact it's no buffet at all. It's a food hall where you can select from a variety of menu options from basic burgers and salads to greasy spoon-style all-American breakfast dishes. You can get sushi, noodles, salads, burgers, pasta, diner-inspired meals, etc. It's a great option for breakfast, lunch, or dinner. For those who are looking for their soda / soft drink fix, there are self-service soda fountains throughout The Galley – take as much as you want. There is also a pastry corner with some of the best desserts and cookies I've had on a cruise ship (with a few misses, as well).
The Pizza Place – a grab-and-go small pizza joint with a few different pizza options. On a nice day, there is some lovely outdoor seating as well.
Lick Me Til Ice Cream – A passenger favorite! Just a good ole fashioned icecream parlor style walk-up bar. Full of homemade icecreams where flavors rotate regularly.
The Dock House – which is part bar and part outdoor tapas-style bites. Think shrimp skewers, mini sandwiches, chicken skewers, and random small bites.
Sun Club Cafe – An outdoor top deck area serving things like Poke' Bowls during the afternoon.
Social Club – A random area on the ship that has things like sweets, popcorn, quick bites (hot dogs, chicken wings, nachos, etc), and pastries so you'll never go hungry…. ever!
Finally, there is the Sip Champagne bar that hosts afternoon tea most days. This is a paid event that includes towers of scones and cakes with optional champagne.
Virgin Voyages Bars, beverages, and beverage packages (Bar Tab)
All essential beverages are included with Virgin Voyages which includes bottomless soda from the fountains, tea, coffee (except specialty coffee), and water. In general, the drink prices are what you would expect in land-based bars and restaurants, not excessively marked up like other cruise lines.
Drink Package & the "Bar Tab"
There is no beverage package or alcohol package offered for Virgin Voyages ships, however, they do have the "Bar Tab" system which is a prepaid amount in $300 increments where Virgin will often add bonus amounts depending on promotions. Typically for every $300 purchased, Virgin Voyages will add an additional $50, however, on a recent voyage we were able to get $100 in addition to our bar tab purchases and we were able to purchase multiple bar tabs and receive multiple bonuses. On occasion, Virgin Voyages will throw in bar tabs for certain itineraries valued up to $600. So while it's not exactly a drink package, it is a nice way to provide a bit of a bonus.
Specialty Coffee
It's worth noting that while all non-alcoholic beverages are included on the ships, however, specialty coffee is NOT included. There are two coffee shops on each ship that serves every coffee drink you could imagine, albeit for an extra fee, the Grounds Club which feels like you're in an actual coffee shop with complimentary pastries and other sweets. In the Galley, there is another Grounds Club as well. Everyone that had a specialty coffee in our travel group was quite pleased with it, even though it was an extra fee.
The bars and lounges on the Virgin Voyages ships
Not surprisingly, there are bars and bar services EVERYWHERE. While some of the bars maintain strange hours, there's always something open and somewhere to get a drink.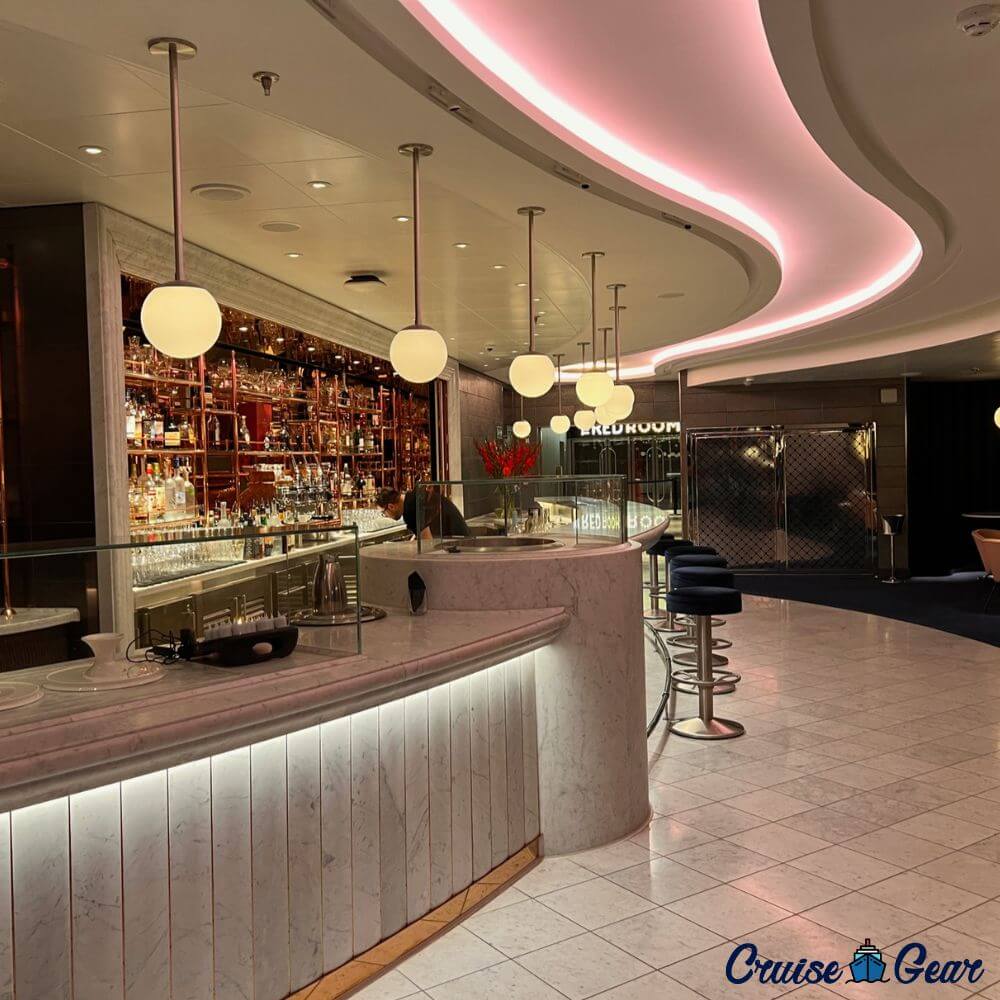 The Manor – An amazing nightclub at sea with a swanky London club vibe.
On The Rocks – This bar is the main watering hole in the center of the ship that has everything the entire ship has to offer and is the best place to find craft cocktails. Afternoon trivia and early evening til late night bands and solo singers are found here almost daily.
Sip Champagne Bar – The champagne bar of the ship is an elegant space that makes a good meeting spot for pre-dinner cocktails. This is generally a quieter area which is also great for spending time reading or working if necessary.
Loose Canon – A nautical-themed pub bar where trivia can also be found on some days. The selection seems limited compared to other locations on the ship.
Social Club – This is where you can find amazing boozy milkshakes and hotdogs
Dock House & The Dock – My favorite space on the ship in the aft (rear). It is an entire outdoor area with seating, loungers, beds, and umbrellas with bar service. It's like being in a swanky beach club. On the inside is the Dock House with a similar chill vibe and an attached full bar serving cocktails and small bites where music happens in the evenings.
Aquatic Club – This is the outdoor pool bar in the center of the ship typical of any pool bar on any cruise ship.
Finally, there is Richard's Rooftop for the exclusive use of the Rock Star and Mega Rock Star guests. It's part relaxation space and part bar service, a great escape for passengers that have booked suites.
Let's not forget the "Shake For Champagne"
A fun and one-of-a-kind experience is shaking your phone for a bottle of champagne! The price for Shake for Champagne is $95, or the cost of the Moet which comes with glasses and an ice bucket straight to your location within minutes (Usually). We tried this several times around the ship and generally within 10 minutes, a champagne steward found us based on our phone's location and accurately delivered the "goods". On some of the promotional packages like a Splash of Romance, there is an included Shake for Champagne.
Solo Travelers
While there are no solo cabins as there are on some other cruise lines, Virgin Voyages has a program where there is no additional charge or single supplement if you want to cruise alone. An amazing advantage to those that just want to have their own good time! This may be somewhat deceiving as the pricing on Virgin tends to be on a PER CABIN basis anyway. So to say there is no supplement for a single traveler is a bit of a gray area.
The staff & crew on Virgin cruise ships
Virgin embraces diversity in a big way. This is why the brand and cruise line is popular with all walks of life and the same can be said for their onboard staff. You'll see tattoos, piercings, long hair, shaved heads, every ethnicity, and every possible variety of humans working on a Virgin ship. It's great to see at a corporate level, diversity is embraced. HOWEVER, sometimes it felt like the hiring process prioritized unusual people and unique looks rather than those qualified to provide the best service.
As someone who's been on countless cruises on almost all major cruise lines, there's always something that is consistent and it's the incredible desire to serve the guests. It's rare to come across a crew member on a cruise ship that isn't happy to help or at least appears happy to be there doing their job whereas on the 14-day Virgin Voyages transatlantic cruise we took, it appeared there was a large portion of the staff that weren't terribly friendly or happy to be doing their jobs.
This was noticeable not only with our entire group sailing together but with other passengers as well. Enough so that we mentioned to one of the department managers that it felt like we, the guests, were interrupting the staff holiday when we asked for anything.
In some instances, some of the staff were downright dismissive and rude, a real turn-off considering everything else on the ship was pretty flawless.
Know before you go on a Virgin Voyages cruise. The most common questions with a few helpful tips:
Other fun & unique things on the Virgin Voyages cruise ships
The Net – Unless you've been on a luxury yacht, you probably haven't seen a suspended net like this. A neat feature located in the aft area of the ship on Deck 16 is a sprawling nautical net to lounge on at your leisure. But I must say, it's really uncomfortable, but fun to try.
Squid Ink Tattoo Parlor on Virgin Voyages
Squid Ink on Virgin Voyages is the onboard tattoo parlor, the only ones offered at sea. You can indulge in an inked memory for as little as $150 for a standard design (think small anchor or wave) or have the talented artists work magic on something completely custom. Speaking to other sailors it seems the custom work always comes out around $450 for something the size of a playing card, but they will quote you on an individual basis.
Here are the "house" designs offered for about $150 on the Virgin Ships: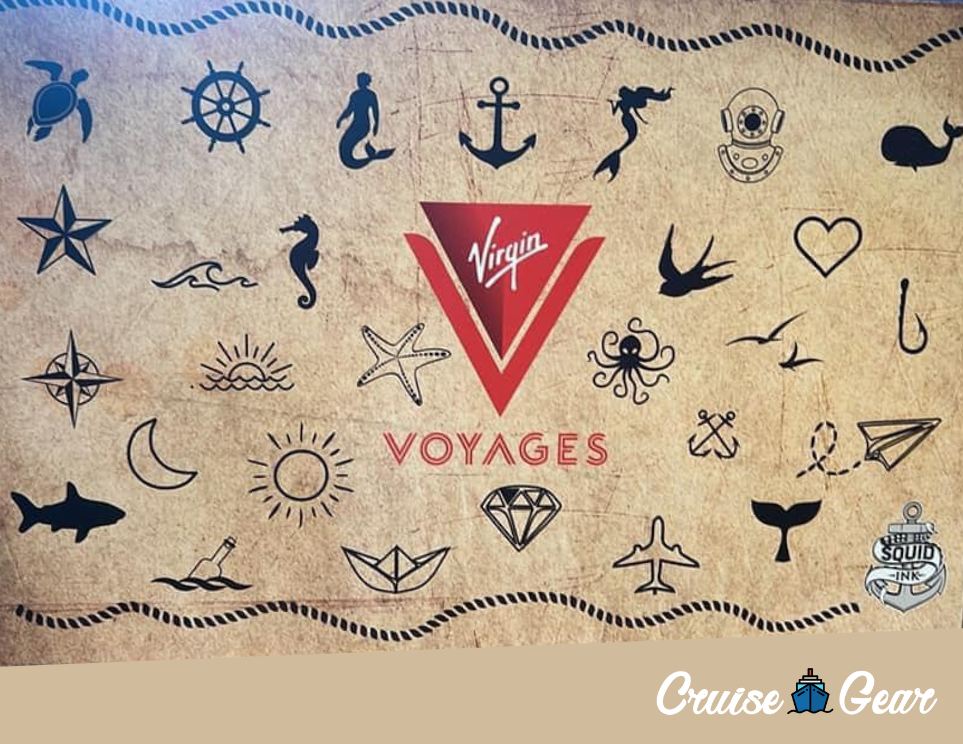 Private Karaoke Rooms – Who knew you could book a private karaoke room at sea, totally free! Just look for the "Groupie" sign towards the front of the ship on deck 7. These rooms range in size and just require you to sign in, no fee is necessary. Sing your heart out!
Record Store – Just when you think you've seen it all, you stumble upon a corner that is full of music (Vinyl) available to purchase. The Voyage Vinyl will be a treat to any music collector!
The Free Video Game Arcade – Another bit of fun to be had on the ship is the arcade, pool tables and air hockey, all complimentary!
The Casino – Casinos on ships are a big draw for so many passengers, and Virgin Voyages has made sure to provide a gaming experience to meet or exceed a gambler's expectations. Slots and video poker games are plentiful while there are numerous card tables, roulette wheels, and craps tables as well.
Sail away party – Don't miss the famous Sail Away party with complimentary sparkling wine that flows freely for about an hour. +/- It's a ton of fun and sets the vibe of the voyage and allows you to discover who's on board. It's a great social exercise to have people meet and greet as well as get a glimpse of the "Happenings Crew" which are the on board entertainers.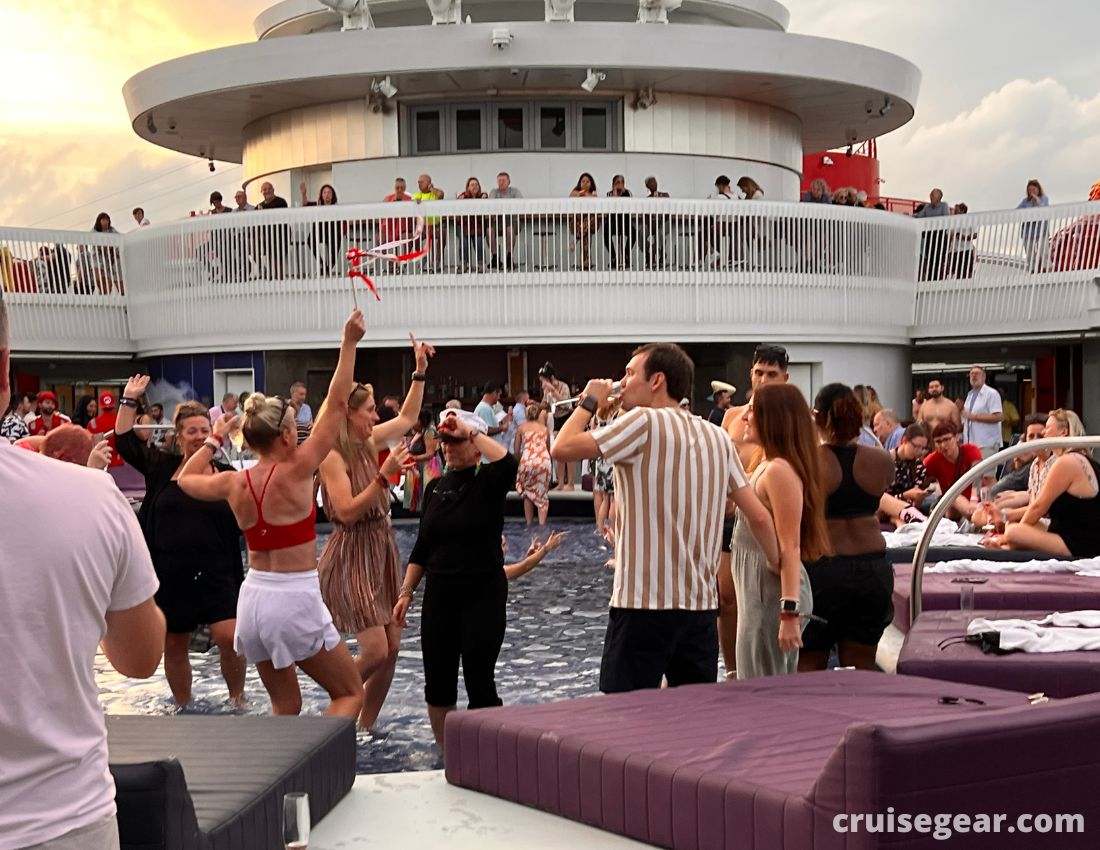 Virgin Voyages Reviews – From the passengers' mouths (or keyboards)…
Just a few comments from passengers who've experienced these amazing ships
The restaurants are all really good. Like REALLY good. We had a blast at Test Kitchen. Good food and so much fun. I'd suggest you pair your meals with alcohol for an even better experience. The Wake (I love a steakhouse) was good, but maybe a bit slow. Gunbae was a blast. The food was great. The interactivity was incredible. And Pink Agave was our favourite. Get everything. And then order more of the stuff you loved. There will be a lot of it.

On board the Scarlet Lady
The ship is great. I believe it's the smallest I've been on but it feels big with a great layout. Easy to get around. But lots of shops, etc. My only complaint about the size is we experienced a couple of days of high winds and we rolled side-to-side a bit more than I am comfortable with, and a bit more than I believe a bigger ship would have.

On board the Scarlet Lady
24 hours into the trip and I'm completely converted. 100% better than Rcl, Ncl, celebrity and obviously carnival. I've been on multiple of all these other lines and this is something else entirely. The attention to detail is beyond what other lines could comprehend much less accomplish. The crew is super friendly, endlessly attentive and at the same time super relaxed. It's almost impossible to describe but you know what someone looks and sounds like when they enjoy their job.

On board the Valiant Lady