Ravenna, Italy Cruise Port Hotels – where to stay before a cruise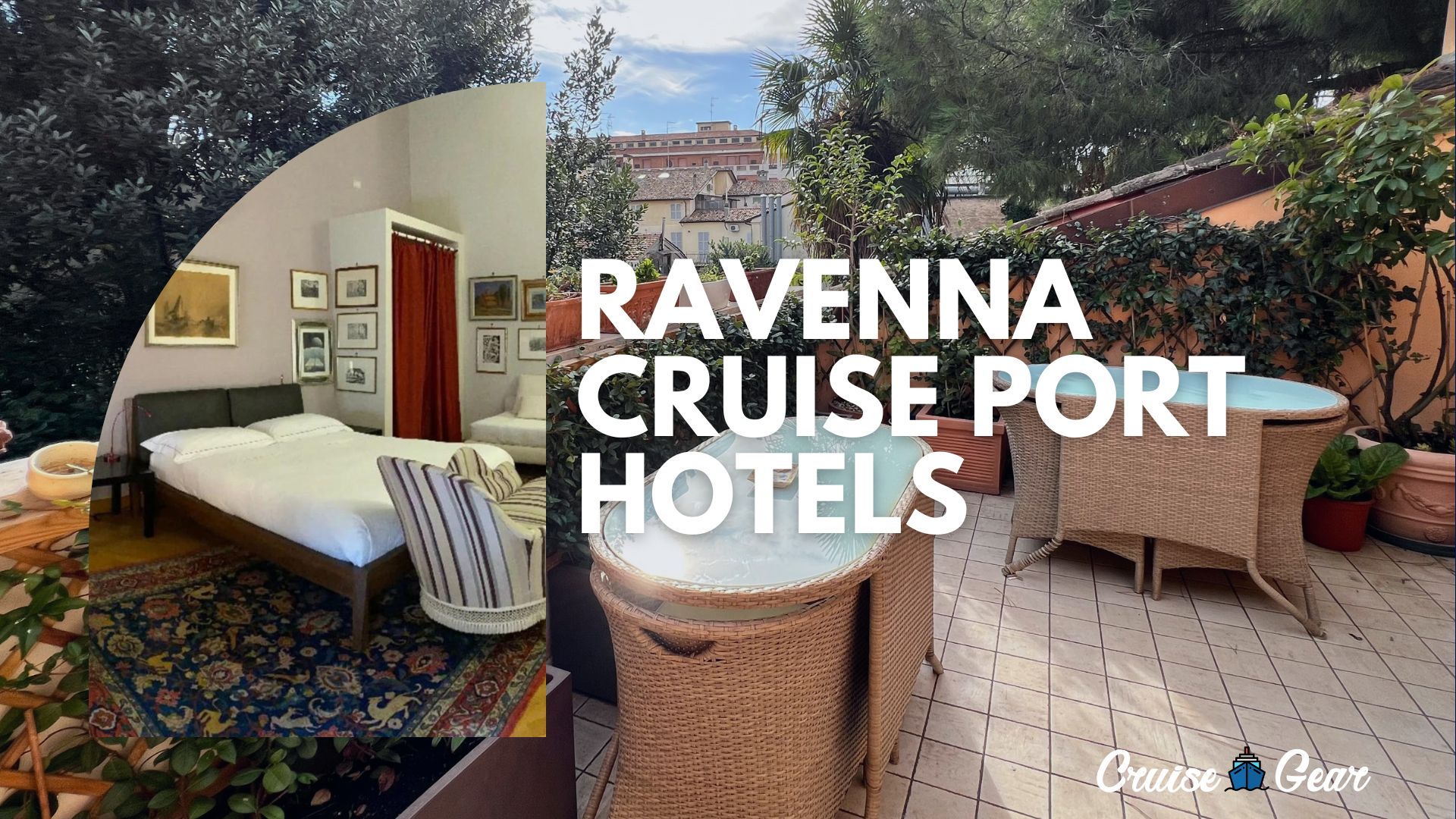 Ravenna is a relatively small town (think, Village) and has limited hotel options. Most accommodations in Ravenna are privately owned guest houses and bed & breakfast businesses. If you're arriving before a cruise, there are a few considerations on where to stay in Ravenna.
Hotels near the Ravenna, Italy cruise port
A few tips for choosing a hotel in Ravenna before your cruise:
Many hotels don't have air conditioning, since your cruise will likely be in the summer months, prepare for this
Most accommodations will have check-ins during the day, but arriving after hours may be a challenge for some properties not equipped to receive visitors late in the evening.
There are port shuttles that stop at a few of the major hotels, but if you choose a private B&B, you'll most likely need to find your way to the train station for a cruise port shuttle or to another larger hotel for pre-arranged pickups with private shuttles.
Where to stay in Ravenna, Italy
The arrival time matters! If you are arriving the night before your cruise, you'll likely want to stay in a traditional hotel with 24-hour reception as the B&B options have a more limited check-in process. If you don't plan on taking advantage of what the city has to offer for a few days, and just looking for a place to "crash" the night before your cruise, the best option is to stay near the Ravenna train station. Unfortunately, this is the least "appealing" area of Ravenna being more commercial and less charming than the center of the city. It is, however, convenient to catch cruise port shuttles!
If you are looking to spend a day or two before a cruise (or even after), looking for something in the center of town near the mosaics and monuments is ideal. This is where the B&B options shine.
Our Favorite Ravenna Cruise Port Hotels
There are really only a couple of hotels we can truly recommend in Ravenna for cruise travelers. There are plenty of options to choose from on sites like booking.com – however these are our go-to places to stay when we're in Ravenna.
This is our first hotel choice when taking a cruise from Ravenna, Italy! The property is family owned with about 14 rooms of all shapes and sizes to accommodate different requirements. It's a lovely Bed & Breakfast with a central courtyard and a communal terrace to enjoy the nice weather. Additionally, the included breakfast is a nice treat so you don't have to sort out what to do for food in the morning. Finally, the owners, when available, might be able to drive you to the cruise port with advance notice (and for a small extra fee). Lovely staff! Just know that if you're checking in at a weird time, you may have to make special arrangements to meet someone for the keys.
Why we love a Casa di Paola (B&B)
Close to all mosaic attractions
Walking distance to Ravenna Train Station
Possible private car to Cruise Terminal (with plenty of advanced notice)
Great included breakfast
Very comfortable rooms
Air Conditioned!
NH Hotel – Ravenna
Close to train station + Pickup Location
For travelers wanting a corporate hotel chain option when traveling to Ravenna for a cruise, the NH Hotel is a good option. It's not in the absolute best location, but not exactly bad either. It's an additional 10 minute walk from most of the mosaics and attractions.
The NH Ravenna is very close to the train station which makes it convenient to grab a cruise port shuttle and it's also one of the stops for the private cruise shuttle services. The rooms are small but clean and for people checking in late, there is a reception area 24/7.
What the hotel lacks in charm is made up by being convenient for most cruise travelers who just need a place to spend a night before departure.
Why we like the NH Hotel in Ravenna, Italy:
A pickup point for private cruise shuttles
Walking distance to Ravenna Train Station (1 minute)
Optional breakfast
Clean rooms
Modern
Air Conditioned!
Search for other hotels in the area
When searching for a hotel, be sure to look at the map and consider the amount of luggage you may have! There aren't many cabs, so you'll likely be walking to whichever hotel you choose.
Exploring Ravenna
Exploring Ravenna on foot allows you to fully immerse yourself in the city's unique atmosphere. As you stroll through the cobblestone streets, you'll encounter stunning basilicas, ancient monuments, and charming piazzas. Some of the must-see attractions that can be easily reached on foot include the Basilica di San Vitale, the Mausoleum of Galla Placidia, and the Basilica di Sant'Apollinare Nuovo. For more information on the attractions in Ravenna, check out our Ravenna Cruise Port Guide
Ravenna is incredibly walkable, so if you are staying in a central location, exploring everything Ravenna has to offer is simple by foot. Since the city is so small, the biggest concern when selecting a Ravenna Hotel is convenience and location when traveling with a lot of luggage (which I know we cruise travelers do well!) This is why we've chosen the above hotels as they are convenient to the train station, convenient to where cruise shuttles pick up from as well and within walking distance to all attractions.
Must-See walkable pre-cruise attractions in Ravenna
Ravenna is renowned for its rich history and stunning architectural wonders. The city is home to several UNESCO World Heritage Sites, showcasing its Byzantine and Roman influences. Here are some of the must-visit attractions in Ravenna:
Mausoleum of Galla Placidia: This small yet breathtaking mausoleum houses stunning mosaics and is considered one of the most important works of Byzantine art.
Basilica di San Vitale: Admire the exquisite mosaics of this 6th-century church, depicting biblical scenes and emperors Justinian and Theodora.
Basilica di Sant'Apollinare in Classe: Located just outside the city, this basilica is known for its beautiful mosaics and peaceful atmosphere.
Dante's Tomb: Pay homage to the great Italian poet Dante Alighieri at his final resting place in Ravenna.
Arian Baptistry: Explore this ancient baptistry and marvel at its intricate mosaics, which depict scenes from the Bible.
For more detailed information about these attractions and other notable sights in Ravenna, refer to our article on the Ravenna Cruise Port.