Day Excursions from Rotterdam or Amsterdam Cruise Ports

Day trips from Rotterdam & Amsterdam to experience authentic Dutch culture
Are you visiting Rotterdam or Amsterdam as a cruise passenger? We've put together some lovely day trips to consider for your next visit. With The Netherlands being so small, it's easy to explore other historic cities and villages by train.
Rotterdam is a modern city that doesn't get as much tourism as its better-known sister, Amsterdam, but it's still worth a visit and worth exploring the surrounding areas with day trips.
All of these Day Trips are a relatively quick train from the Centraal (Central) Stations of Rotterdam and Amsterdam and are so close that you'll be in any of these lovely cities in an hour or so.
Delft Netherlands – Explore an age-old ceramic craft
Delft is famous for its ceramic Delft Blue pottery and is known as the birthplace of the famous painter Vermeer, known for "The Girl with the Pearl Earring" (which is shown in The Hague). It is known as a charming canal-ringed town with historical monuments and medieval architecture. Delft is one of the prettiest and most unspoiled of all Dutch cities. Explore the picturesque city center, visit the Royal Delft factory to witness traditional pottery making, and admire the famous Delft Blue ceramics.
Why we love day trips to Delft.
The small Dutch city has a unique and "cozy" city center with canals, courtyards, and monumental buildings, but at the same time a lively student city with a distinctive atmosphere that only college towns can offer. Enjoy the waterfront cafes, unique shops, or one of the many museums. Delft offers a mix of history, culture, and scenic beauty, making it a popular destination for tourists seeking a day trip from Rotterdam or Amsterdam for an authentic Dutch experience. Delft is a city to be discovered!
Things to do in Delft for a day
Explore the famous Delft Blue pottery at the Royal Delft Factory, also known as Koninklijke Porceleyne Fles. Take an audio tour to learn about the history and production process of this iconic blue and white porcelain. Book your ticket to the Royal Delft Experience.
Explore the historic city center
Delft's city center is known for its charming canals, beautiful architecture, and lively atmosphere. Wander through the streets, visit the Markt square with its stunning City Hall, and explore the Nieuwe Kerk (New Church) where members of the Dutch royal family are buried. Get more out of a city walk with an amazing guided tour of Delft.
Discover the life and works of the renowned Dutch painter, Johannes Vermeer, at the Vermeer Centre Delft. This interactive museum provides insight into Vermeer's artistic techniques and showcases replicas of his famous paintings. Book entry to the Vermeer Center
Immerse yourself in Dutch history at the Prinsenhof Museum. Housed in a former monastery, this museum offers a fascinating collection of art and artifacts, including the bullet holes that marked the spot where William of Orange was assassinated. Book a museum entry.
Experience Delft from a different perspective by taking a leisurely 45-minute – 1.5-hour canal boat tour. Cruising along the Delft canals lets you appreciate the city's picturesque scenery and offers unique views of its historic buildings.
Find out about the city's historical significance with a professional guide
See all the beautiful old canals, canal houses, and city churches
Cruise through the narrow bridges of Delft with an experienced captain
These are just a few highlights of what Delft has to offer. The city is also known for its cozy cafes, and delightful shopping streets, so be sure to leave time to explore and experience Delft.
What to eat in Delft?
There is a shocking number of great restaurants and cafes in the city. But if you are looking for an authentic Dutch experience and want to 'eat how the locals eat' – then head over to the Stads-koffyhuis for brunch or lunch. It's simple but authentic!
How to get to Delft from Rotterdam
The city of Delft is easily accessible by train from either Rotterdam Centraal or Rotterdam Blaak stations. It takes about 25 minutes and only costs about €5 or $5.50 each. Tickets can be purchased at any automated kiosk or at the staffed ticket station in Central Station.
How to get to Delft from Amsterdam
Delft is easily accessible by train from Amsterdam Centraal train station. It takes about 55 minutes and only costs about €15 or $17 each way. Tickets can be purchased at any automated kiosk or at the staffed ticket station in Amsterdam Central Station. IMPORTANT: avoid trains that leave Amsterdam Centraal that stop at the airport. (These are usually labeled as INTERCITY DIRECT). These particular trains have an extra cost for stopping at the airport.
Gouda Netherlands – for foodies & cheese lovers
Board a train to Gouda (Pronounced How-Dah, not GOO-DUH! Remember that, folks!). Gouda is renowned for its delicious cheese and charming historic center. From the center of Rotterdam, you can arrive in the center of Gouda in less than 30 minutes! From Amsterdam it's about 50 minutes from the Central Station.
Gouda is where the famous cheese originated, so be sure to experience this cheese sensation firsthand! Visit the Gouda Cheese Experience, an interactive Gouda cheese exhibit and learn about this well-known cheese's history and tradition while you taste local Gouda cheese.
Aside from cheese, Gouda is also known for its production of candles and stroopwafels, delicious Dutch syrup waffles. These tasty caramel waffle cookies are a staple of Dutch food culture and you can see how they're made along with a tasting tour. Book a visit to a stroopwafel factory and see how they're made (and taste them as well!)
Additionally, the city boasts several historical churches, including the monumental St. John's Church, which houses beautiful stained glass windows.
Things to do in Gouda
(St. John's Church), and wander through the picturesque streets lined with traditional Dutch architecture.
Gouda Cheese Market
Gouda is famous for its delicious cheese, and the Gouda Cheese Market is a must-visit attraction. Held in the city center every Thursday morning from April to August, this lively market showcases traditional cheese weighing and trading rituals. You can taste and purchase various types of Gouda cheese while enjoying the vibrant atmosphere. (Always confirm market dates and times, as they sometimes change)
The Gouda Waffel Factory Tour
What a great way to get a first-hand look at how the world-famous "stroopwafel' is made! It's a fun and inexpensive activity for people of all ages. Book a ticket to see how stroopwafels are made! Not sure what a stroopwafel is? It is a thin, round waffle cookie made from two layers of sweet baked dough sandwiched together by sweet warm caramel filling. It originated from Gouda and is now a national treat of The Netherlands! (They're highly addictive, too)
Gouda's Stadhuis (City Hall)
The Stadhuis is a stunning Gothic-style city hall located in the heart of Gouda. Built in the 15th century, it is known for its impressive architecture and beautiful stained glass windows. Take a guided tour to explore the historic building and learn about its significance in Gouda's history.
Sint Janskerk (St. John's Church):
Visit the Sint Janskerk, a magnificent medieval church famous for its extraordinary stained glass windows. Admire the intricate designs and vibrant colors of the windows, which are considered among the most remarkable in the Netherlands. The church also offers a panoramic view of Gouda from its tower. Tickets are available most days (the cost supports the church upkeep) – Opening hours are Monday to Saturday (March to November) 09:00 AM-5:30 PM – From Monday to Saturday (November to March) 10:00 AM-4:00 PM
Immerse yourself in Gouda's cultural heritage at Museum Gouda. The museum houses a diverse collection of art, historical artifacts, and displays that highlight the city's rich history. Don't miss the masterpieces of Dutch painters like Gerard Pieter Adolfs and Jan de Jong. This is a must-see for art and history museum enthusiasts. Tickets to the museum are available here.
Take a stroll through Gouda's historic center
Gouda's charming historic center is a pleasure to explore on foot. Wander through the picturesque streets, lined with historic buildings, beautiful canals, and quaint shops. Enjoy the laid-back atmosphere and make sure to stop by the Markt square, where you can find the City Hall and experience the local culture. For travelers who like to learn about a city through a guided tour, a few are available including a 2-hour tour that includes a drink and a local snack.
Gouda offers much more to see and do, including bike rides along the canals, visiting the Gouda Museumhaven (museum harbor), and enjoying the city's cozy cafes and restaurants.
How to get to Gouda from Rotterdam
Hopping on a train from Central Station or Blaak in Rotterdam will get you to Gouda in as little as 20 minutes (with an average travel time of 34 minutes). The cost is only about €6 or $7 depending on the time of day. Tickets are available at kiosks as well as by purchasing at the staffed booths inside of Rotterdam Centraal.
How to get to Gouda from Amsterdam
Hopping on a train from Amsterdam Central Station will get you to Gouda in as little as 50 minutes (most routes will include one change of train in Utrecht). The cost is only about €13.40 or $15 depending on the time of day. Tickets are available at kiosks as well as by purchasing at the staffed booths inside of Amsterdam Centraal. If you are reluctant to change trains, look for the train called "Sprinter". It is direct, albeit a little slower (51 minutes)
The Hague & Scheveningen – For museums & the beaches (in the summer)
Hop on a train or tram to reach The Hague, the political center of the Netherlands. Discover iconic landmarks like the Binnenhof (Dutch Parliament) and the Peace Palace, visit world-class museums such as Mauritshuis (home to Vermeer's "Girl with a Pearl Earring"), and relax at the beautiful Scheveningen beach.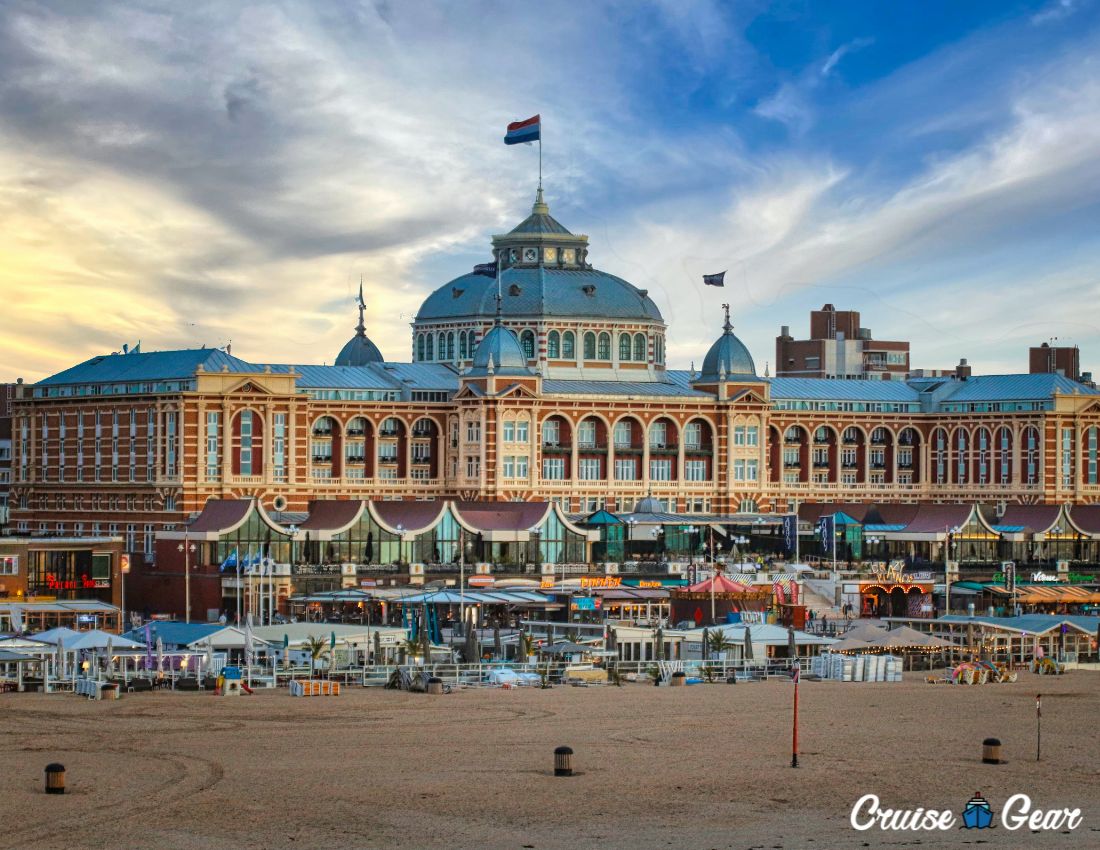 What to do in The Hague for a day
Mauritshuis
Visit the Mauritshuis, a world-renowned art museum that houses a superb collection of Dutch and Flemish paintings from the Golden Age. Marvel at masterpieces like Vermeer's "Girl with a Pearl Earring," Rembrandt's "The Anatomy Lesson of Dr. Nicolaes Tulp," and many other iconic works.
Binnenhof and Ridderzaal
Explore the Binnenhof, a historic complex of buildings that houses the Dutch Parliament. Admire the Gothic-style Ridderzaal (Knight's Hall), where the annual opening of the parliamentary year takes place. The Binnenhof is also surrounded by picturesque courtyards and gardens.
Peace Palace
Visit the Peace Palace, an iconic symbol of The Hague's status as the International City of Peace and Justice. Take a guided tour to learn about its role as the seat of the International Court of Justice and other international organizations dedicated to promoting peace.
Scheveningen Beach
Enjoy the seaside charm of Scheveningen, a lively beach resort located in The Hague. Relax on the sandy shore, take a dip in the North Sea, or indulge in various water sports activities. The beachfront promenade offers a vibrant atmosphere with shops, restaurants, and the iconic Kurhaus building. To get there, it's easily available by tram or metro from The Hague Center, or on a nice day, the beach is walkable from the main city and takes about an hour, but it's a lovely walk.
Madurodam
Discover the Netherlands in miniature at Madurodam, a unique theme park that showcases scaled-down replicas of famous Dutch landmarks and cities. Explore the intricate models, learn about Dutch history, and participate in interactive exhibits that offer a fun and educational experience for all ages. Get tickets to Madurodam!
In addition to these attractions, The Hague also offers a rich cultural scene, with excellent museums, vibrant shopping streets like the Denneweg and Noordeinde, and beautiful parks such as the Haagse Bos and Westbroekpark.
How to get to The Hague from Rotterdam
Getting to the Hague (Den Haag) is easy in two ways. First, using the national rail system from either Rotterdam Centraal or Rotterdam Blaak stations, where tickets are available by kiosk and by staffed ticket stations in Centraal. The trip takes about 25 minutes and costs about €7/$8 each way.
The Rotterdam Metro (RET) is also connected directly to The Hague and can get you there in about 30 minutes. The Metro is just as comfortable as the train but is a little less expensive, especially if you do a Day Ticket which can be purchased online. The day tickets are great if you plan to explore The Hage / Den Haag and/or Rotterdam since it's unlimited use for any bus, tram, and metro operated by RET and is usable in both cities for the day.
How to get to The Hague from Amsterdam
Getting to the Hague (Den Haag) is easy in two ways. There are two stations, Den Haag Centraal – which the name suggests, it's the center of the city. Getting to this station will normally require a change of train along the way. Secondly, there is Den Haag Hollands Spoor (shown as Den Haag HS on train station screens and apps) which is a little further out but serviced by high-speed trains directly without having to change trains. Just expect to walk a bit further (15 minutes) to the center of the city if you're arriving at Hollands Spoor Using the national rail system from Amsterdam Centraal. Tickets are available by kiosk and by staffed ticket stations in Centraal Station. The trip takes about 1 Hour and costs about €13.50/$15 each way.
For perspective, if you're visiting Mauritshuis on your trip to The Hague, the walk from Den Haag Centraal station is 10 minutes (a half mile) and from Den Haag HS station, the walk is 20 minutes and 1 mile. This may help you in your decision-making on which train to take!
Dordrecht – Where history was made
Dordrecht is a hidden gem with its own unique character and attractions, making it an excellent destination for a day trip if you want to experience a more authentic Dutch city away from the typical tourist crowds.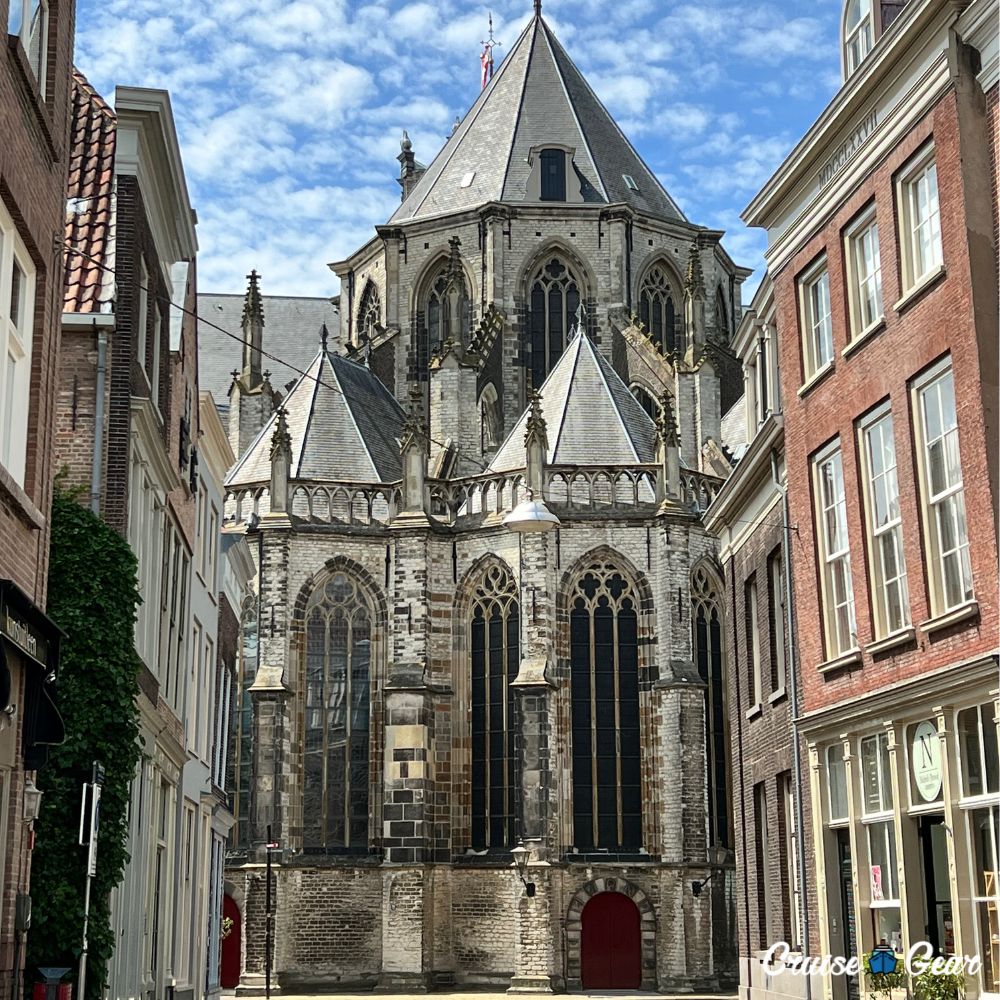 Located only 12 minutes by train from the center of Rotterdam, you'd never know that you were in basically a "suburb" of Rotterdam as the feel, architecture, and history is vastly different than the city of Rotterdam.
With the charming city center and canals that run through the village, visitors often think or feel like it's a miniature version of Amsterdam.
This small village/city is the oldest municipality in Holland, founded in the year 1008 and built up over a few hundred years to be the most prosperous port and trading city in the country. It's also one of the oldest cities in the entire Netherlands.
What to do in Dordrecht
Dordrecht is best explored on foot just wandering the city and experiencing the authentic architecture dating back to the 1400s. It's the perfect day trip for travelers who prefer a low-key self-guided experience in an authentic & historic environment. The entire city center is like walking around a museum.
The history and Dutch culture are well represented with over 1000 monuments along the old city streets and harbors. The most notable monument is the Grote Kerk or "Great Church" standing tall over the city center. It makes for an amazing photo opportunity and often has the doors open to view the interior (with events on some weekends).
Visit the harbor areas that are surrounded by lovely little cafes and restaurants, a great place to spend hours people-watching and seeing the boats come and go from the harbors.
Museums of Dordrecht
Head to the "Hof", to experience where the first version of the Dutch constitution was signed by William of Orange, effectively founding the nation as it is today. When you arrive in the square you suddenly realize how old the city is and it's pretty awesome to be standing exactly where a country was basically founded. (For history lovers, anyway).
The Dordrecht Museum houses a large collection of Dutch paintings and has rotating collections. A real treat is their on-site restaurant which is an amazing place to stop for coffee and a snack or a full lunch.
Huis van Gijn is a lovely historic house converted into a museum. Originally this was the monumental house of banker and collector Simon van Gijn who lived there from 1864 until his death in 1922. Van Gijn left the house and most of his collections to the Old Dordrecht Society. His wish was for the collections to be made publicly accessible and for his home to be converted into a museum, maintaining the interior in its original state as much as possible.
Getting to Dordrecht from Rotterdam
The easiest and fastest way is the 12-minute train ride from Rotterdam Centraal (Or Rotterdam Blaak). Tickets are about €5 ($5.50). BUT The most entertaining method to get to Dordrecht is taking the Waterbus from Rotterdam! It's about a 50-minute ferry ride down the river Maas. It's a beautiful way to experience the waterways of the Netherlands and get to a historic destination at the same time. But even BETTER is if you purchase a day ticket on the Waterbus, you can stop at the historic windmills of Kinderdijk as well. (see the Waterbus Timetable)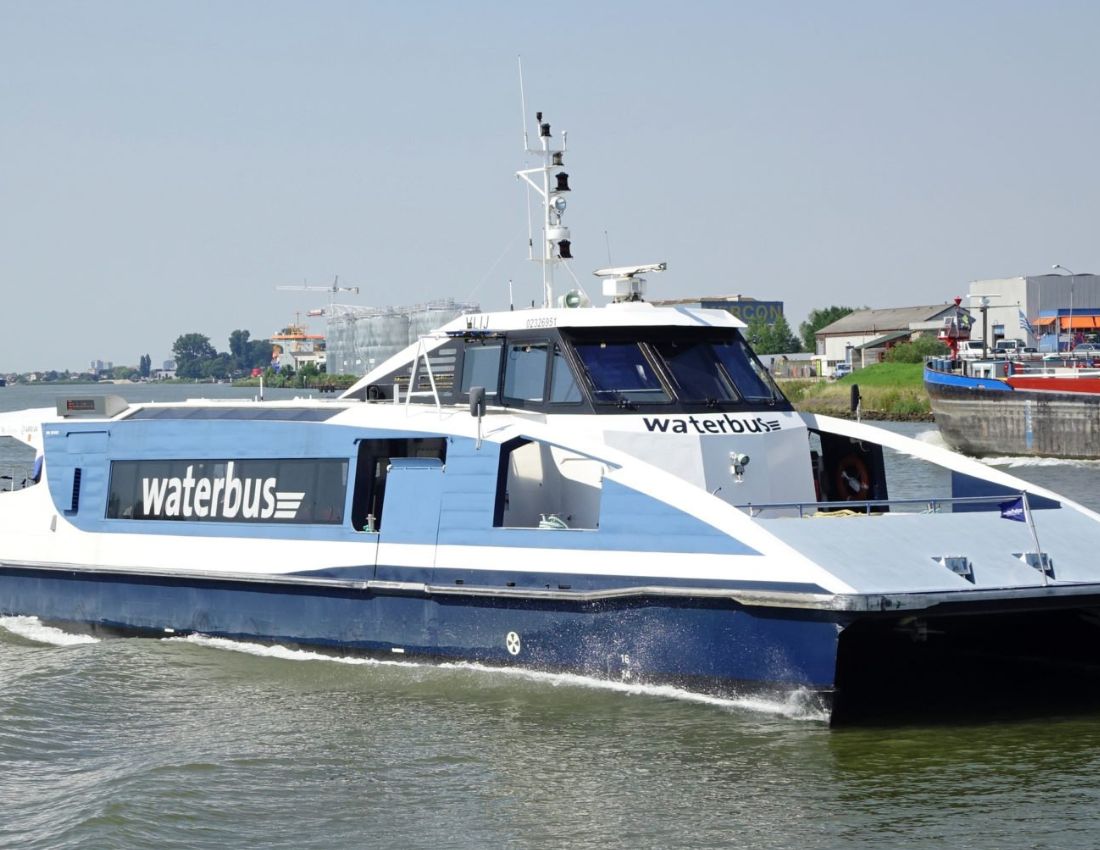 Getting to Dordrecht from Amsterdam
From Amsterdam Centraal, there are two train options. There are 3 fast connections per hour that take approximately 1 hour 10 minutes to get to Dordrecht. BUT! This fast route requires a supplement/extra cost. Expect to pay €21 ($25) PLUS a few dollar supplement.
A slightly slower train which won't require a supplement takes 1 hour and 45 minutes with a cost of €21 ($25). Most trains will require a change (generally in Rotterdam).
Kinderdijk Windmill Tours – For the iconic windmills of Holland
Explore the world of iconic windmills. For more than seven centuries, the canals, mills, and pumping stations of Kinderdijk have safeguarded the dry land of Holland. The 19 windmills spread out over a small area are the iconic symbols of Dutch heritage and are now a UNESCO World Heritage site and a couple are available for tours!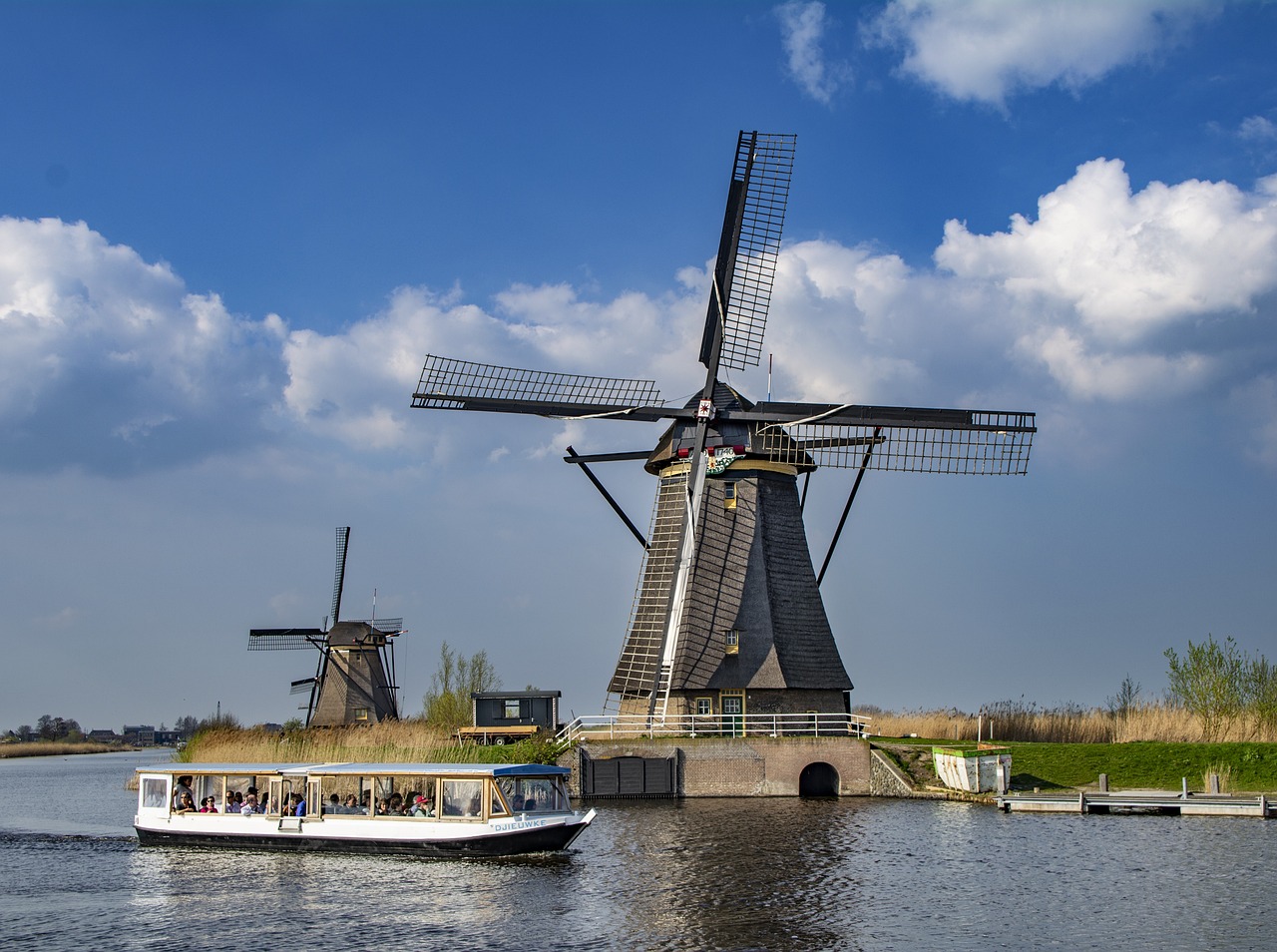 Join a boat tour, explore the area on foot, or bike, or venture into the museum mills, and learn about the tales of the dedicated millers behind these iconic structures.
Be sure to check the calendar on the Kinderdijk website! There are special events throughout the year regularly posted, and if you're able to line up your excursion time with these dates, you'll be in for a real treat!
Here's what you can expect when visiting Kinderdijk:
Windmill Tours: Guided tours are available to explore the windmills from the inside, providing insight into their history, mechanisms, and the lives of the millers who used to operate them. For only about €16 (kids €6) depending on the day – you can get an all-inclusive Kinderdijk entry to the windmills, a boat tour, entry to the village, and entrance to exhibits. Traveling with a group? You can request a private boat tour as well! Book Kinderdijk Windmell tickets here
Bike and Walking Paths: There are beautiful bike and walking paths along the canals, offering scenic views of the windmills and the surrounding countryside.
Visitor Centers: There are two visitor centers at Kinderdijk: the Wisboomgemaal and the Museum Windmill Nederwaard. These centers offer exhibitions, information, and interactive displays about the area's water management and cultural heritage.
Boat Tours: Boat tours are available, providing a different perspective of the windmills from the water.
Picnicking: Kinderdijk is an excellent spot for a leisurely picnic amidst the picturesque setting of the windmills.
Kinderdijk offers a wonderful glimpse into the Netherlands' history, engineering prowess, and ongoing battle against water (most of the country is actually below sea level!). It's an amazing day trip from Rotterdam for anyone interested in experiencing Dutch culture and heritage while enjoying the beauty of the Dutch countryside.
How to get to Kinderdijk
We highly recommend getting a tour to see Kinderdijk, as it's more complex. For the adventurous souls, the Waterbus leaves from Rotterdam and will take you by ferry to the windmills.
Other Dutch Day Trips to consider
Keukenhof
Depending on the time of year you arrive in Rotterdam, taking a trip to the Keukenhof gardens can be an amazing experience! This is best done by an organized tour from Rotterdam, as it's not as straightforward getting to the gardens by train and public transport (but it's definitely possible)
Visit Amsterdam from Rotterdam
Perhaps Amsterdam is a bucket list item for your travels. It's good to know that it's only about 50 minutes away by train! Simply purchase tickets at any kiosk from Centraal or Blaak stations. We certainly won't go into detail about what to do in Amsterdam! If you're headed that way, you probably already have a plan – but if you're going there for the Cruise port or Need a hotel, we can help with these handy articles:
Do you have a comment?
Did we miss something? Have you had a different experience? Did we get it wrong?