Virgin Voyages – A Splash of Romance Reviewed – Is it worth it?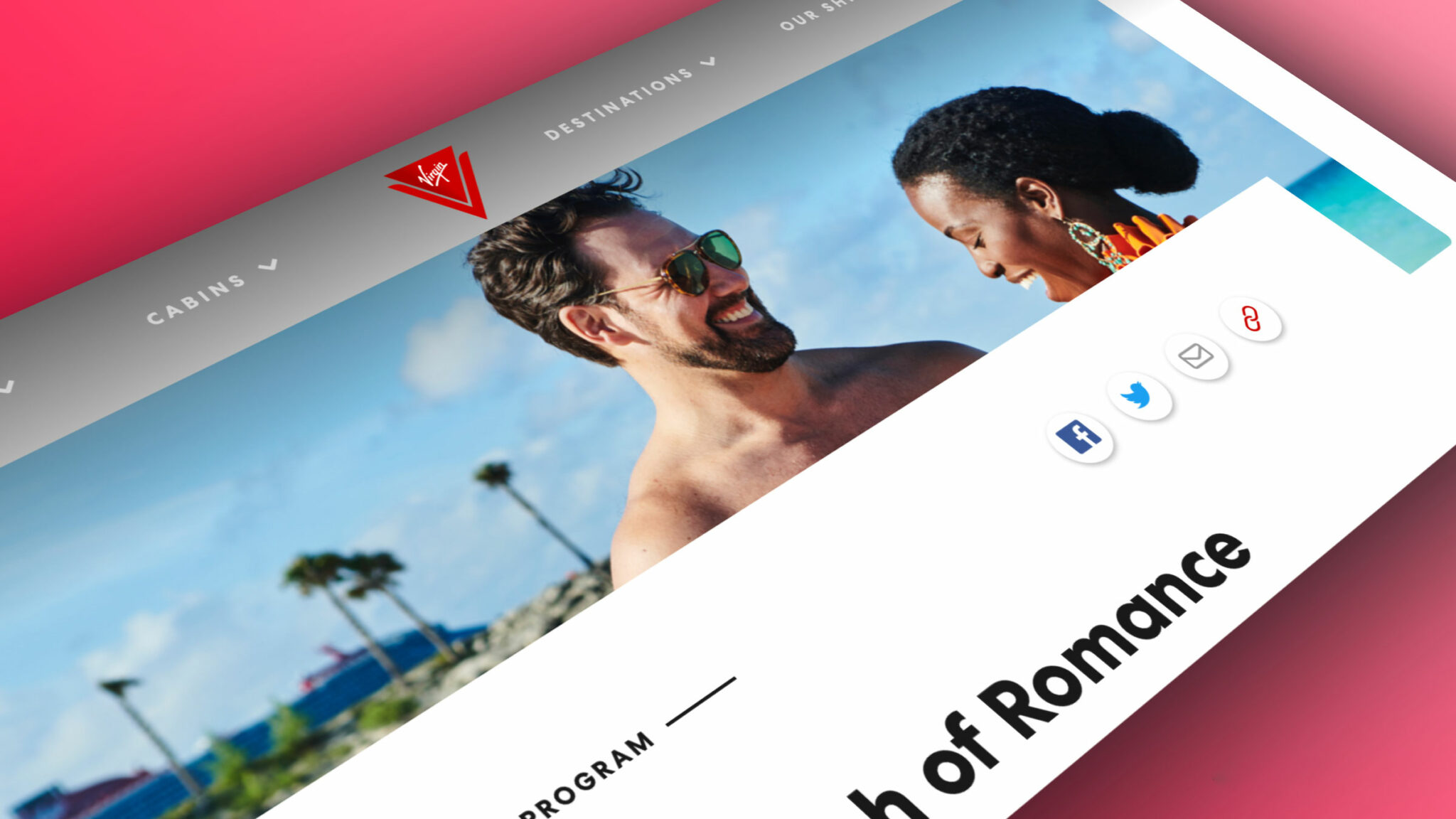 Is the $200 Splash Of Romance package worth it? Here's what to expect – our review.
We've booked the Splash of Romance package for our 14-day transatlantic Virgin Voyages cruise coming up. But we wanted to know from other cruisers who tried out this new promotion what they thought and if it was worth the $200. It's important to realize that these passengers booked this package when it was immediately available, so there is clearly a learning curve with the staff and crew when it comes to a new offering. Allegedly there is a capacity limit of 50 packages available per sailing.
After speaking with a number of "sailors" who've recently taken a Virgin Voyages cruise (most on Valiant Lady), we're getting a better idea of what to expect. So far, the experiences seem to have changed after the first voyage with this package. Of course, we'll document our experience as we write about our 2-week voyage across the Atlantic.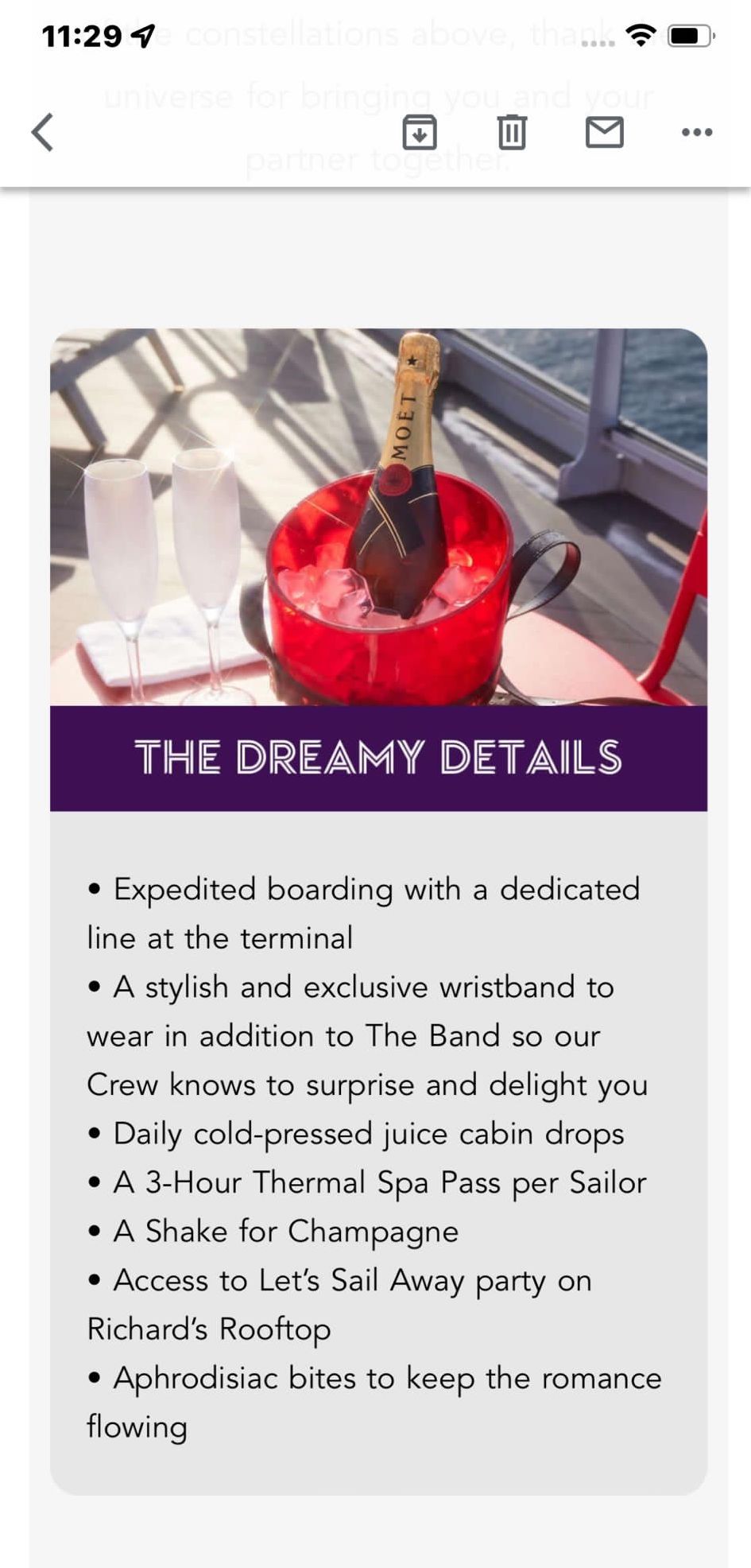 When booking the Splash of Romance package
is it per person or per couple?
The cost is per cabin ($200), with up to two people sharing the package in the cabin. They don't even have to be "romantic" 🙂 – friends can share the package in the same cabin.
Enhanced Boarding
One of the perks is "enhanced" boarding, in Virgin speak. But what that really means is a bit of a gray area. You still have to go through security, and there's no fast-track option. Once past security, it was explained that the signage, if it exists, might be difficult to find (for the package customers). That said, there was a dedicated line but this did not do anything to offer an earlier boarding, simply a dedicated line to collect a wristband.
HERE'S WHAT REALLY HAPPENED:
There is really no enhanced boarding for this package. You go through the same security lines and the same process as every other passenger. There is a dedicated line for Splash of Romance people, but the line was nearly as long as the regular check-in and seems to really only be separate so you can be given your wristband. It's not very "SPECIAL". On a busier cruise, this will likely be beneficial as the regular check-in line will be much longer than we experienced. So whether or not this is a good benefit will depend on how full the ship is.
UPDATE: Friends and fellow passengers have told me now that they get boarding in the first group after the Rockstars & Mega Rockstars.
Special Wristbands for the Splash of Romance
Initially, the concept of the wristband is to show you've participated in this package and get special perks and entry to the sail away party at Richard's Rooftop. These bands are distributed at check-in, though some passengers have said they received theirs ahead of time by mail (but this is unconfirmed, as we've yet to receive wristbands). According to the promotion, when the crew spots these wristbands, you sometimes get an additional perk or in V.V. terms "A surprise and delight" (more on that later).
HERE'S WHAT REALLY HAPPENED:
The bands are collected at check-in. There has been no special acknowledgment by any staff member for simply having the wristband. Ever. The package was oversold on this voyage, and they ran out of the actual Splash of Romance wristbands, giving some people black wristbands. Ultimately, in the last few days, we removed them since they served no purpose and were just getting in the way.
Exclusive Sail Away Hour
This is a benefit that caught my eye when we booked. The initial description of the Exclusive Sail Away Hour was to be at Richard's Rooftop (where the guests in the Suites have their sail away party) and it was to be free-flowing Moet for the duration of the sail away. Guests who we've spoken with on the first sailings with this package said this in fact did occur, but on subsequent sailings, the party was moved to different locations. Virgin has noticeably changed the terms of this promotion after it was offered from specifically stating "Access to Let's Sail Away party on Richards Rooftop" to
Exclusive Sailaway Hour at a designated location at Virgin Voyages' sole discretion
This modification is pretty significant, as the "Sail Away" party on Richard's Rooftop is full of Moet champagne, and it seems they aren't necessarily offering Moet for the Splash of Romance package now. When it comes to the value of the package, this diminishes it quite a bit.
If in fact the party has changed and there is no Moet, we'll call this a MISS.
The upside is that the Splash of Romance event was a separate event and not held on the sail away day. So we were able to attend the original Sail Away party and then attend a separate Splash of Romance gathering.
HERE'S WHAT REALLY HAPPENED:
There was an organized party at the Perch, not at Richard's Rooftop. Additionally, there was no Moet. The cocktails served were the basic sparkling Rose with strawberries. If the guests weren't into sparkling wine, there was bulk sangria available.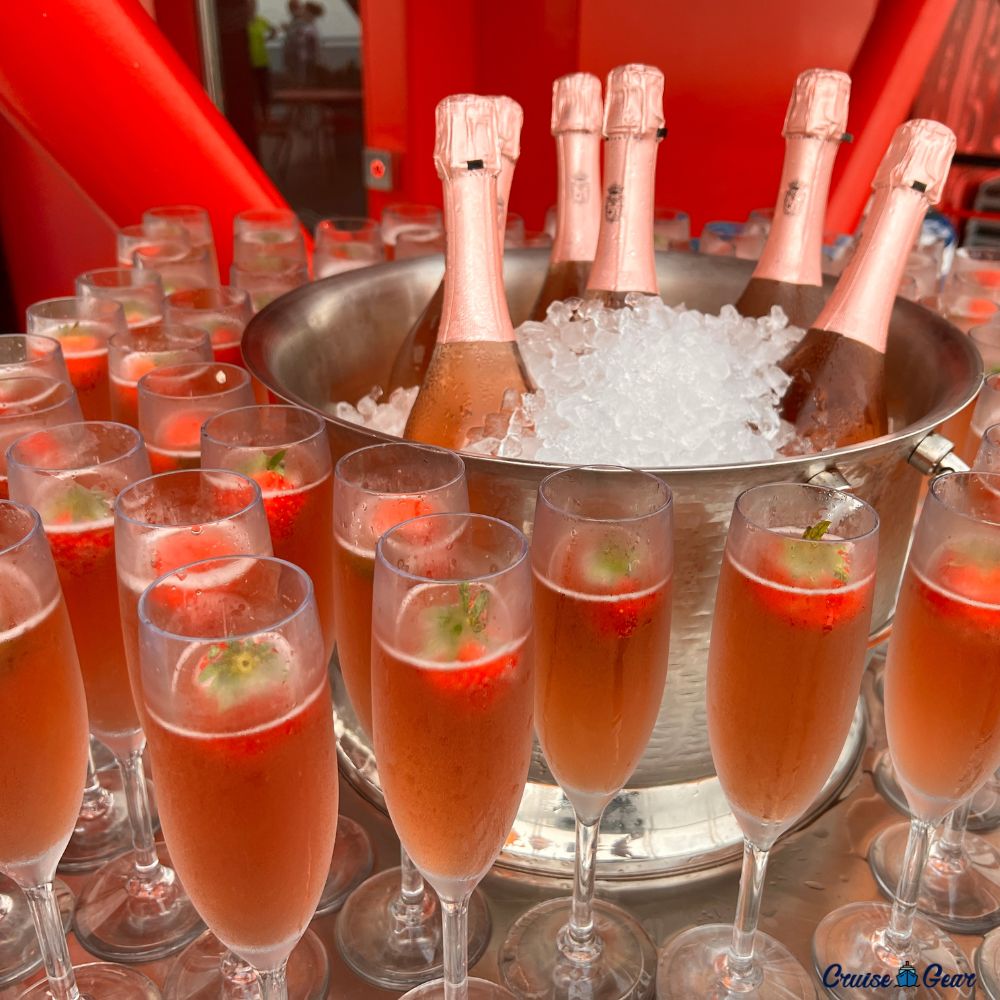 Complimentary Shake for Champagne
Virgin Voyages has made champagne their thing. With the novel idea of shaking your phone and having a bottle of champagne delivered to you wherever you are. With this package, a complimentary bottle of Moet will be delivered to you via the Shake for Champagne method. This is represented as a $100 discount on your bar tab. This has been explained that it must be used for the Champagne and cannot be used for other drinks as a regular bar tab. This is a WIN in our mind, especially if you expect to try the shake for champagne anyway!
As expected: you get a bottle of Moet with the shake for the champagne feature. Delivered anywhere.
HERE'S WHAT REALLY HAPPENED:
Towards the end of the cruise, everyone in our travel group decided to use their shake for champagne included with the Splash of Romance package. They all worked fine (it took between 5 and 15 minutes to get the champagne delivered). Not bad!
Getting The Shake for Champagne Charge Removed
Unfortunately, we had to go to sailor services the last night to get the charge reversed as it never happened automatically as they said it would. Some people report not realizing the charge was never removed and having to deal with it for weeks after the cruise.
Three-Hour Thermal Spa Pass
The Thermal Spa is one of the reasons we're excited about Virgin Voyages. So having a spa pass included in the Splash of Romance package was an extra bonus. We'd have purchased it anyway (A value of $39). You're supposed to be able to use this included perk at a time and day of your choosing, despite what some other people are saying. It was rumored that you can only book this on port days. So far, this is not been the case reported by other passengers. So this is a WIN, but again, we've yet to come up with enough value to justify the $200 promotion, even with this spa pass included.
As expected: Check in with the spa, and you can book 3 hours on any day of your trip to use the thermal suites.
HERE'S WHAT REALLY HAPPENED:
We used the thermal suites once, as expected. There was no issue using the pass on a sea day or port day. Additionally, we were allowed to come back and use the second half of our 3 hours slot later in the day by asking the attendant. This will be completely at the discretion of the person working at the spa, so don't expect it, but it doesn' hurt to ask!
Morning Juice in your cabin, aka "Juice Drop"
The concept is nice and being able to try some of the unique juice options daily is a nice perk. These juices are similar to those purchased at Razzle Dazzle. With people's tastes being so specific, and some people not loving the idea of random flavors of juice first thing in the morning, this may be a hit or miss with passengers. Personally, I call it a WIN since I like to try new things, and this gives me an opportunity to test flavors without committing to a $6 juice every day.
HERE'S WHAT REALLY HAPPENED:
There were no juices left in the room, ever. Instead, you were directed to find the juice bar (by the Dock House) and pick up your juices. You could choose between two flavors that were premade for the day (in bulk) and served in small glasses that were half full. The juices were chosen by staff daily and you couldn't substitute for another juice. You had to collect your juice by 11am or you were out of luck, bar closed!
Aphrodisiac Food Cabin Drops, huh?
Again! Very taste-specific. But more importantly, WTF is Aphrodisiac Food Cabin Drops? One of the cruisers we spoke with described them as daily pastries (small bites) and petit fours. Random but very tasty. That little treat is mostly a WIN if you're into the randomness of things left for you in your cabin. I liken this to some of the higher-end cruise lines that will leave chocolates for you in the evening. Depending on how this goes, I'd consider it a "WIN-ish".
HERE'S WHAT REALLY HAPPENED:
On day 6, a plate of 4 macaroons was delivered to the room randomly. No other treats were offered or delivered. This is unfortunate, as we learned after inquiring about this that Virgin Voyages only planned on sending something to the cabins with the Splash of Romance package 3 times during a 14-day cruise. We only received 1 of those 3 days. Some of our travel companions got all of their treats, others got none.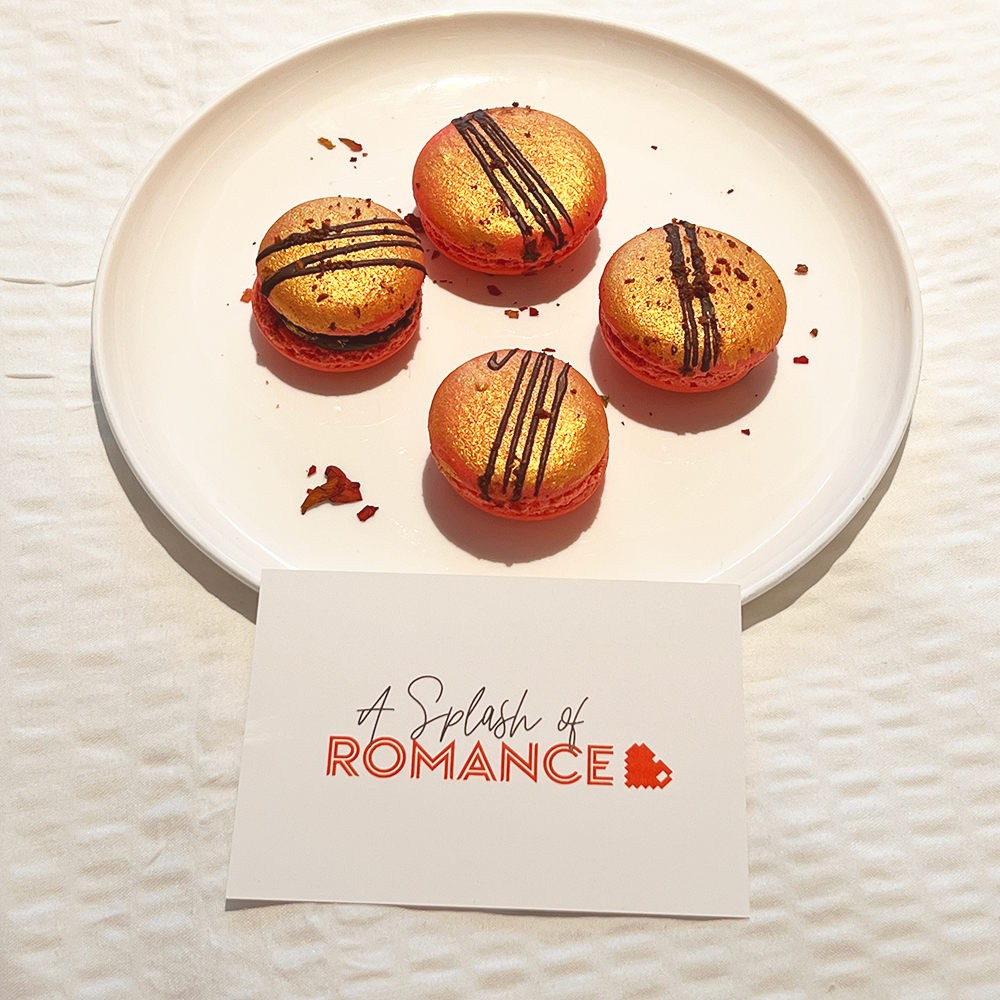 Is the Splash of Romance worth it? In short, it depends.
As one passenger simply put it, the value you derive from this package/promotion is subjective based on your tastes. But, if you're expecting to be showered with gifts and glamorous little things throughout your cruise, adjust your expectations. It won't happen.
However, as cruises start to fill up, getting early boarding will be worth it alone. This will get you on the ship and able to make reservations ahead of the masses.
From a monetary perspective, with the shake for champagne worth $99, the spa passes for two, and an additional event with champagne, it's worth it, assuming you'd pay for these things anyway!
Since Virgin Voyages has made significant changes to the promotion, the first takers of the promotion were the most disappointed. However, people who book the Splash of Romance NOW, may feel different since the expectations have been set on what you really get.
In general, it's hard to say that this is a good value unless you plan on purchasing champagne and spa passes anyway.
Have you had the Splash of Romance Package?
Tell us what your experience was, so other readers know what to expect!
Worth Noting, Virgin states as a disclaimer on their terms & conditions page:
Virgin Voyages reserves the right to modify these terms, or cancel the offering, with or without notice (see them here)
They do seem to be making good on this disclaimer, which is unfortunate.