Virgin Voyages Drink Package – What to know about the "Bar Tab"
Drink packages are some of the most contemplated add-ons for cruise vacations. Virgin Voyages, being mostly all-inclusive excludes drinks but also has chosen to take a different approach to beverages.
Does Virgin Voyages have a drink package?
Virgin Voyages has a unique take on Drink Packages on their cruises. Virgin Voyages drink packages are actually called "Bar Tabs", as Virgin doesn't offer traditional drink packages like other cruise lines. The "Bar Tab" system allows you to prepay for drinks and often get bonus money as an incentive.
Interestingly enough, Virgin Voyages' reason for not having a traditional beverage package is to make things simpler and more straightforward, however, the "Bar Tab" concept raises even more questions on social media and for travel advisers selling Virgin Cruises. So it's not looking like this actually makes it easier for cruisers, it just introduces DIFFERENT questions and further confusion when it comes to beverages. So we'll answer a few common questions on drinks on Virgin Voyages lady ships.
Are drinks included on Virgin Voyages Cruises?
Virgin says that "Essential Drinks are on us". What that means is still and sparkling water (from fountains – not bottled), non-pressed juices (again, from a fountain or from bulk containers), fountain sodas, tea, and drip coffee.
What's NOT included are alcoholic beverages, pressed juices, any coffee beverage ordered that isn't just the basic drip coffee in bulk, and bottles of water.
The "Bar Tab" explained
A Bar Tab is onboard credit that can be used for any beverage not included in the voyage fare. It's a prepaid tab usually in increments of $300 that can be spent at any bar on board, the Bimini beach club as well as the coffee shops and juice bars. The "Bar Tab" is essentially the only option for a Virgin Voyages drink package, if you can really call it that.
How does the bar tab work?
Before sailing, you can purchase the drink package or "Bar Tab" in $300 increments and often benefit from the incentives Virgin gives for prepaying for drinks. The standard incentive is an additional $50 per $300 Bar Tab purchased, but often there are $100 incentives as promotions (or through travel agents).
Once on board, as drinks are ordered they are deducted from the Bar Tab balance.
You can use the Bar Tab to purchase drinks for yourself or anyone else, there are no restrictions. But it's important to know that the Bar Tab can only be used for beverages (and the bottomless brunch purchases), but not for any other services or merchandise.

Why Virgin Voyages doesn't offer drink packages
Officially, Virgin says through many months and rounds of Q&A with potential clients, people weren't interested in unlimited alcohol as much as they were a quality experience. They (Virgin) also wanted to have beverage prices be reasonable and not have nondrinkers subsidize the drinking habits of other people.
The official statement from Virgin regarding beverage packages:
What Sailors Told Us: They weren't interested in all-inclusive alcohol or unlimited package options. They're looking for high-quality cocktails, wine, and beer at reasonable prices that don't give them sticker shock every time they buy a drink. They don't want to subsidize the drinking habits of fellow Sailors with prices increased to cover inclusive options and packages.

Virgin Voyages
Another reason stated by Virgin for not having beverage & drink packages is their research stated that prospective cruisers didn't want to be in an atmosphere of constant and unlimited drinking. They didn't want people to work on breaking even or trying to get "value" from drink packages by calculating the often 10+ drinks needed daily to do just that. Finally, to go against the traditional drink packages where other cruise lines require everyone in a cabin to have packages, the Bar Tab system leaves it as an individual purchase and choice for each person in the same cabin.
Virgin has chosen "reasonable drink pricing" (sort of)
Reasonable is subjective when it comes to costs, especially with drinks. But Virgin Voyages has tried to make drink prices equivalent to or less expensive than land-based resorts and hotels. This is one of the arguments for not having a drink package. Reasonably priced drinks with no sticker shock (hence no need to rely on a package)
Realistically speaking, on a recent transatlantic cruise on the Valiant Lady, we found that the drinks weren't quite as inexpensive as they claim and were closer to other cruise line prices.
For example, they state beer being $5-$6 per bottle, but the only real option was Heineken draught in relatively underpoured glasses. There were also various decent wines available but nearly all were $13-$15 for the most basic wines that were drinkable. Sure, they had one or two for less than that, but not what most people would consider consuming on a "high-end" travel experience.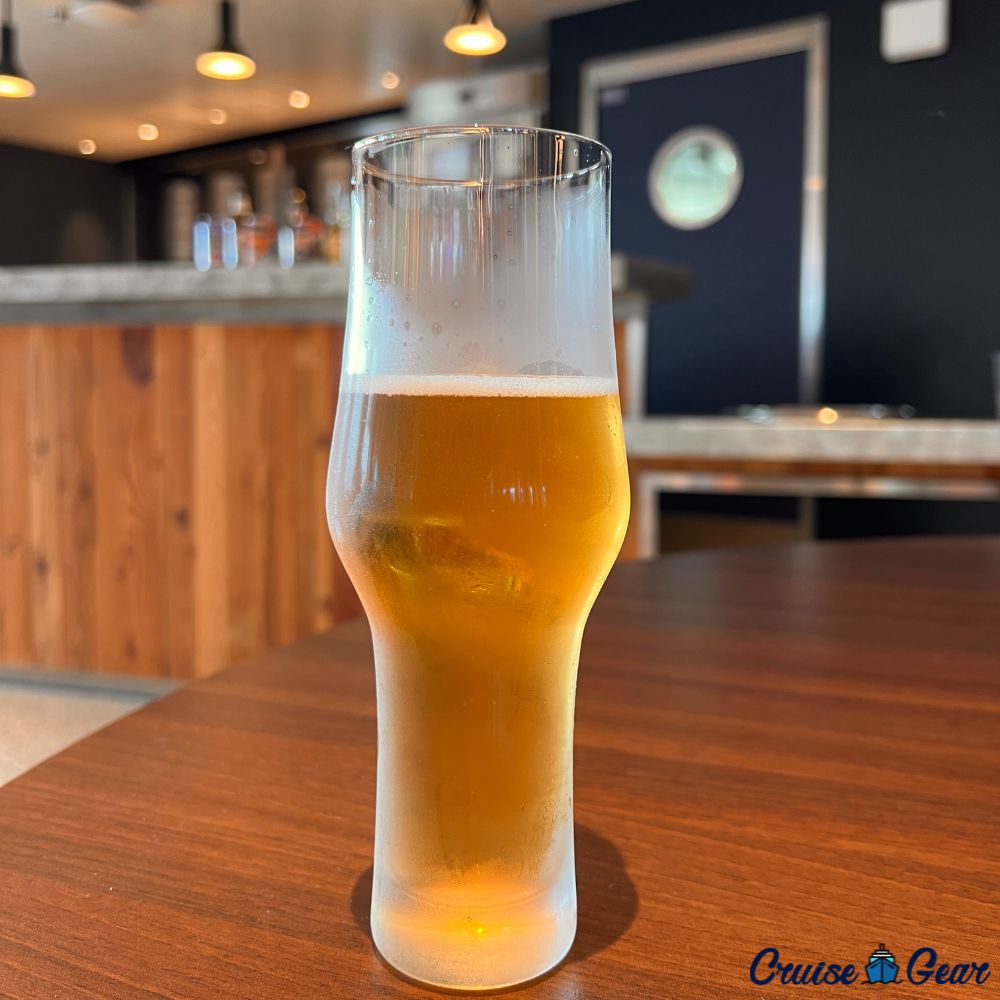 How the bar tab really compares to a drink package
As mentioned, on a recent transatlantic cruise on the Valiant Lady, we found that the drinks weren't quite as inexpensive as they claimed, so we put our multiple Bar Tabs to the test and compared the experience to a cruise with a drink package.
For the transatlantic crossing, we purchased 3 x $300 bar tabs and received 3 x $100 bonuses, giving us $1200 to spend over the course of 14 days.
How much bar tab should you get for a Virgin Voyages cruise?
Obviously, that depends on every person individually and what their drinking habits are.
We're relatively moderate drinkers on cruises but tend to indulge here and there. We were in fact concerned, based on experience, that $1200 would not be enough for two people for two weeks on a cruise where drink prices are usually higher than in 'real life'.
In the end, surprisingly, it worked out pretty well. Not feeling compelled to "break-even" on a drink package definitely kept us from overindulging from morning til night.
With each of us having a few glasses of wine or a few beers during the day with meals or during trivia plus drinks before dinner, during dinner, and the occasional after-dinner drink, we were spending about $100 / day total (for both travelers). In the end, we were left with a balance to pay of approximately $185 over the $1200 Bar Tab included for our cruise.
Comparing that to a Royal Caribbean drink package that usually costs $60-$90 per person per day (depending on promotions), we actually saved money.
Is the Bar Tab worth it on Virgin Voyages?
If you know you're going to drink, even moderately, getting a free $50 (or more) by purchasing a $300 bar tab is likely going to be worth it for most people. Remember, even if you're going to just drink coffee all day long from the coffee bars, you'll get a good value out of the added bonus!
Do you have a comment?
Did we miss something? Have you had a different experience? Did we get it wrong?