Valiant Lady .. Valiant effort… Virgin Voyages Valiant Lady Review & Our Real Experience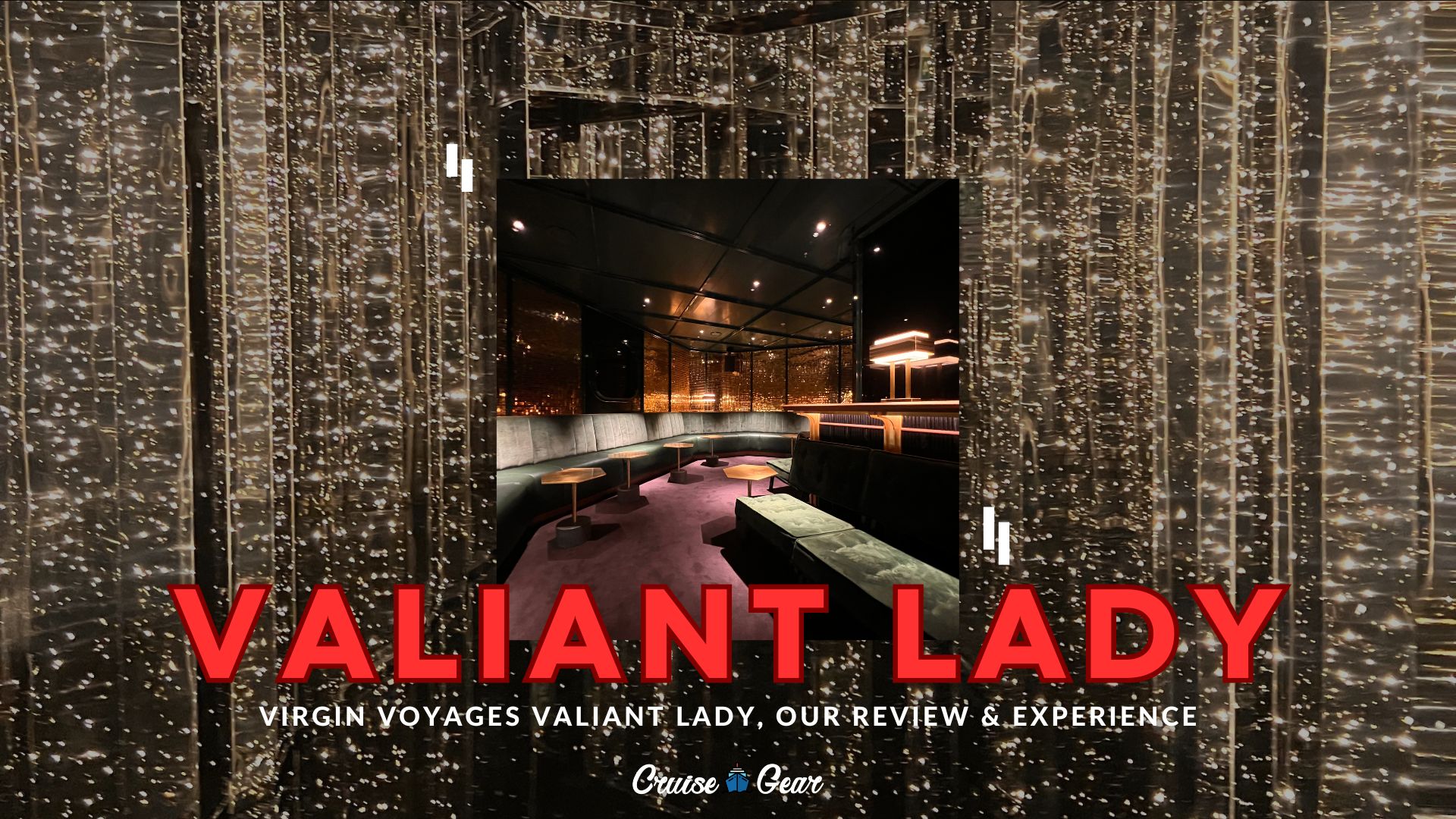 We love to review ships and everything they have to offer. However, because Virgin Voyages' ships are all nearly identical (for now), we're taking a unique approach to "reviewing" the Valiant Lady.
Normally, we'd go over how good the restaurants are, the pools, public spaces & cabins, but we've covered that in a general article recently posted : Virgin Voyages, Everything You Need To Know
So this article is more of an editorial on what to expect when onboard the Valiant Lady from the perspective of seasoned cruisers.
Virgin Voyages has created a following of people that love the brand and the experience. The cruise industry needs something like Virgin to offer unique vacations to the adult-only segment of the travel population. I feel like they are delivering – but I also fear they're missing an opportunity to convert travelers that love cruise experiences, which may make the brand unsustainable. Not only does Virgin need to attract new cruise travelers in specific demographics (young, millennial, solo travelers, etc), they need to wow people that would otherwise seek a cruise on more traditional lines.
Having sailed on the Valiant Lady recently with a group of friends, co-workers, and newfound acquaintances, I thought it was a good opportunity to not sugarcoat the reality of the Virgin experience. At the same time, we know the company is new and quickly learning the industry, so we will likely see many things improve over time.
It's also important to know though, that while this is a candid overview of our Virgin & Valiant Lady experience, we did, overall really enjoy the voyage and would do it again, for the right price. But this commentary will not be well received by hard-core fanboys and fangirls of Virgin Voyages
Requisite "TL;DR."
Valiant Lady is a Valiant Effort but there are a number of challenges to reaching a loyal base of customers who book year after year.
People – the staff issues are bleeding over into the guest experience and are like caused by issues in the internal processes and technology challenges;
Process – primarily a lack of communication between staff members and between staff and passengers;
Technology – the high degree of technological dependence leave both staff and passengers struggling when the "uh oh something went wrong" occurs.
But, read on!
The Virgin Voyages Valiant Lady is a beautiful, modern cruise ship that can be polarizing
The ship is known for its amazing restaurants, bars, fitness classes, spa, and entertainment options such as a nightclub that feels like you're in the middle of a posh London disco. The Valiant Lady and its sister ship the Scarlet Lady are a new breed of ships in the cruise industry bringing adult-only, nearly all-inclusive cruising to the masses. This is long overdue, and a welcome addition to the cruise industry! Virgin Voyages is all adults making the Valiant Lady a cruise ship where the adults can treat it like a playground without being interrupted by children 🙂
We spent 14 days on board the beautiful Valiant Lady and had the opportunity to try every restaurant, bar, class and space on the ship – multiple times. Here's what to expect:
Our opinion in short : Valiant Lady .. Valiant effort…
Halfway thru 14 days of a transatlantic crossing on Virgin Voyages Valiant Lady I had time to reflect on the first week and the time remaining until we were to reach Miami. Because most Virgin cruises will be week-long journeys, I thought it would be appropriate to share what a week on the Valiant Lady was really like.
As an avid cruise traveler and someone who regularly makes the crossing by sea from my home in Europe to visit family in America – this is not an unfamiliar trip. For reference, I often travel on repositioning cruises on Norwegian, Cunard and a few others.
I like the aspect of mixing a holiday into the travel process of getting to the U.S. However, the Virgin Voyages experience has left me at times bewildered, amused, delighted, frustrated, angry, and even offended.
The mantra of this company is to "change the way things are done," "to make cruising better", "to do things differently" but along the way they seem to have lost sight of the fundamental goal of the cruise – delight your customer… and when I weighed up the first seven days the scales are decidedly not falling on the side of joy and delight.
The defenders of the brand who can't stand to hear anything negative about the cruise line usually make comments like:
"Virgin isn't for everyone…" and "maybe you're too old for this" or "your expectations are too high." So let's just take these few in detail.
Let's start with the first one – "Virgin isn't for everyone"
This may be a true statement, but the goal of a business is to attract and hopefully RETAIN customers – why else have a loyalty program – there's an expectation that those people will travel with you again. But the experiences on board I cannot see that being the case for a high repeat cruise rate – maybe I'm wrong but only time will tell. I believe the marketing, the branding, and "the vibe" will get people to give Virgin Voyages a try – that one-off trip to see what the fuss is all about but there will be a struggle to build a large base year over year customers like the more established lines have done.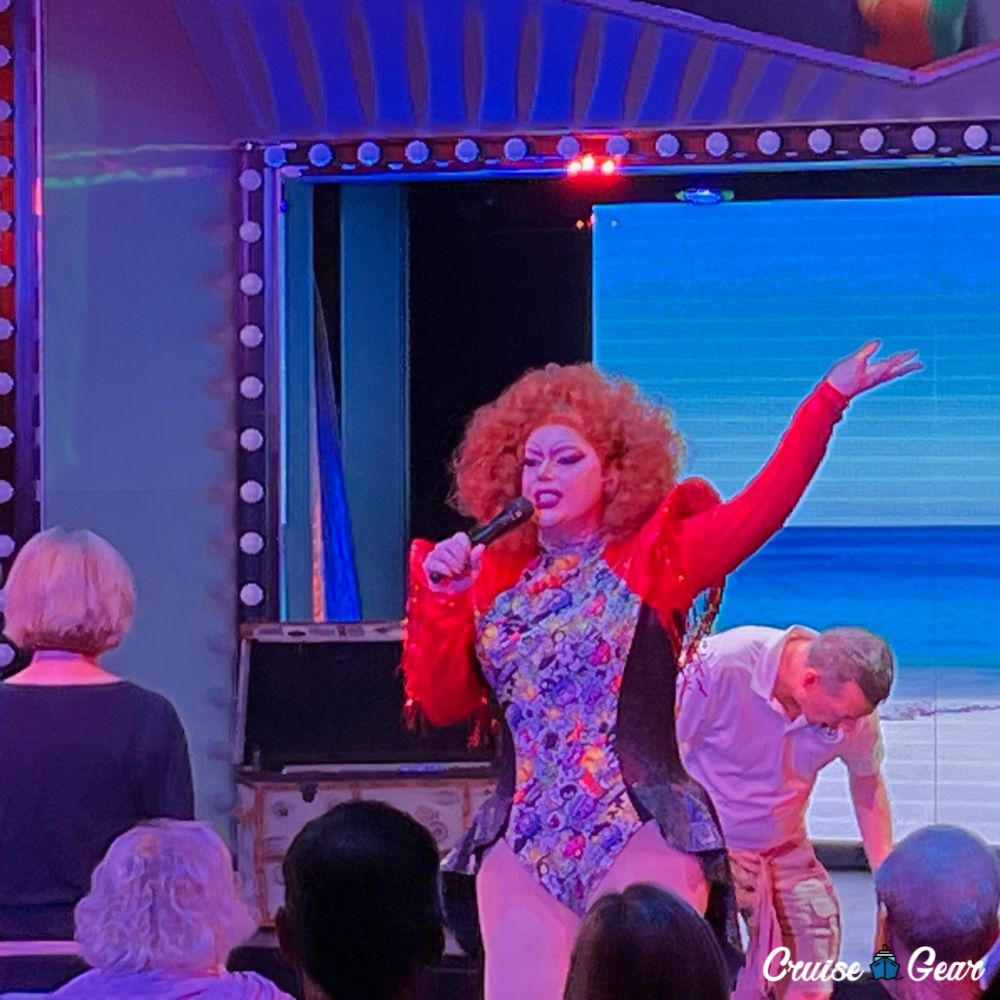 "You're too old…"
Well considering the average age on this voyage was pushing 60… you tell me? Is this a ship full of instagram models, influencers and wannabe's… no.. they're around for sure because that's how math works – they brought that average down to under 60 to account for the large demographic onboard well above that number.
"Your expectations are too high…"
Ok, possibly… but if you signed up for a specific set of services and they are not delivered is that really my fault for expecting what I paid for? or the business for over promising?
So what is really going on here onboard the Valiant Lady. From our meetings with various levels of management from a variety of departments it starts to become clear that there is some discontent at sea and no one is quite sure of the source. What is clear – it's bleeding over into the guest experience. When doing a bit of research I came across this quote from Richard Branson:
"Clients don't come first. Employees come first. If you take care of your employees, they will take care of the clients."

Richard Branson
Unfortunately – for a large number of "sailors" on Valiant Lady the theory that all those happy employees are taking care of guest does not seem to be materializing, and it's causing a relatively high customer dissatisfaction score relative to Virgin Voyage's other ship the Scarlet Lady.
At 7 days in, I had both experienced and witnessed staff at multiple levels and venues on the ship demonstrate behaviors ranging from disinterested to dismissive to actively ignoring a passenger seeking assistance. What is driving this behavior? Are there some behind-the-scenes issues as passengers we are not aware of? Are there incentives in place to reach some internal corporate goal? Or are the crew simply annoyed that paying passengers interrupt their transatlantic holiday? (as an aside this crossing is the first Virgin Voyages ship to have paying passengers for this type of voyage – all previous ones were just crew)
I'm not just a travel writer – but as a management consultant for decades working with executive teams at the largest companies in the world I have some experience with corporate culture and business transformation.
So as I sit and observe, experience, and take note – I'm left with those three fundamental pillars of people, process, and technology. Often preached in prime time by the likes of Marcus Lemonis and others – it is as fundamental as the sun rising in the east. With these three concepts optimized your business – any business can thrive.
So how does this apply to Valiant Lady? Let's walk through them. Starting with the technology. Oddly enough this is how most companies "get it wrong" there is a dependence on technology which make it both a crutch and an excuse when things go wrong. So much so that it's become a running joke onboard "Uh Oh something went wrong" – that's the screen that you will see quite often on the Virgin Voyages app as you use it on a daily basis for your interaction with ship services, entertainment, etc.
The developers of the Virgin Voyage App – clearly have not been onboard for a cruise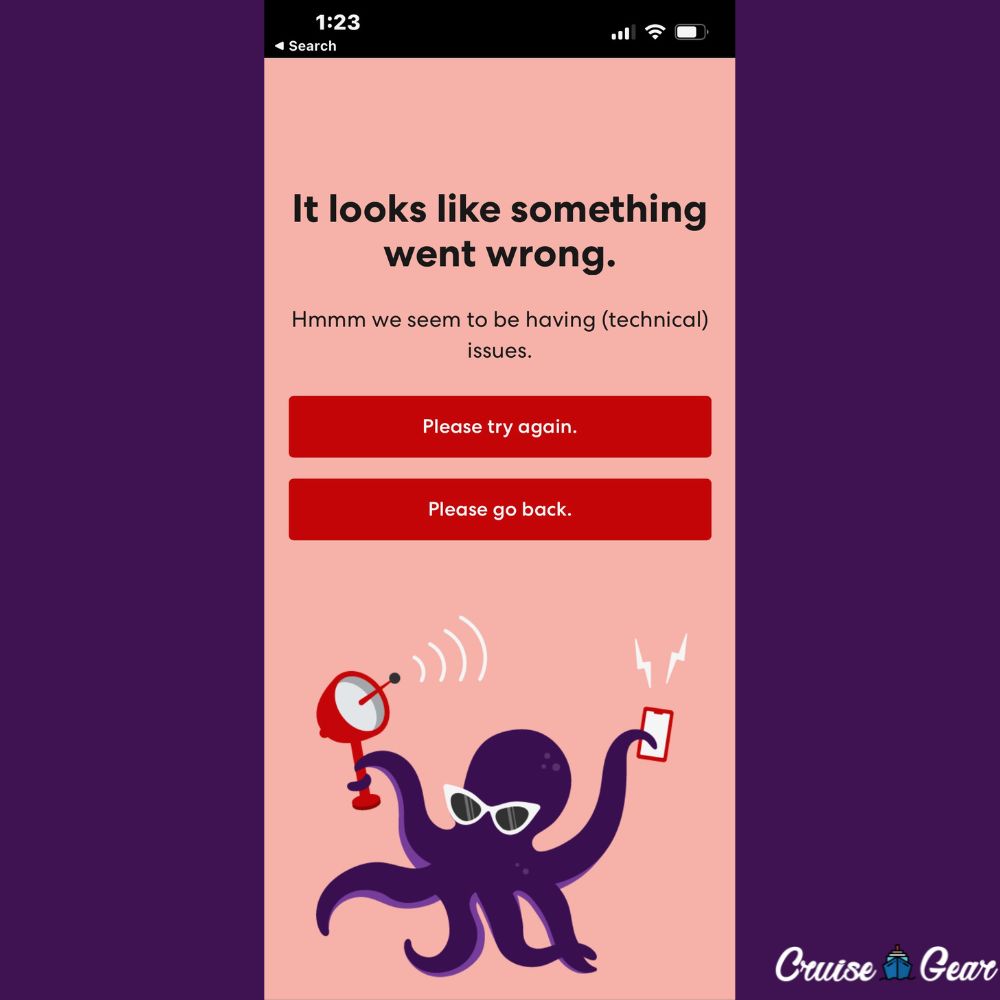 Free-flowing cruise credits, which the line is well known for, should be gifted to the developers. Once they use the app onboard in an unstable internet environment, experience the user interface and realize the shortcomings of seeing WHAT is happening on a specific day, WHAT activities you have booked, and how those things may or may not overlap. The inability to easily find other activities you may be interested in and when they are occurring.
There is a high dependence on using the app onboard with no real fallback situation – I've waited to check in at a restaurant while a diner has a long discussion with a maitre'd to make, change, and verify their booking for nights throughout their cruise. This leads to a "process" issue – bookings for events, dining, etc.
In-room technology. The room is 99% driven by the tablet – when that goes wrong (and let's face it – it's tech – it will go wrong) your experience is severly impacted. In my experience, the tablet completely "detached" itself from the room and could not access the lights, tv, curtains, etc. Thankfully there is a manual set of light switches and a switch for the motorized cutains. However, it took a full day to get this resolved. Next the tablet is used for access to your cabin steward – on multiple occasions requests entered on the tablet – there are preset choices for things like: laundry pickup, more water, change bed to sofa etc. They are not relayed to the actual device the steward carries. Again this seems like a process issue but it's clearly impacted by the technology.
The primary breakdown in process on Valiant Lady is communication
Process – Process is generally viewed as a series of workflows – the transfer of information between people, systems, departments, etc. This flow is enabled by technology but is not necessarily defined by technology. As a passenger, the primary breakdown in process on Valiant Lady is communication. Starting from the online booking, to the purchase of "bar tabs" and other pre-voyage add-ons. The communication between Virgin Voyages and the passenger is a challenge. Again there is a dependence on "the app" to communicate with Virgin Voyages staff – many an hour is wasted waiting in a virtual queue to ask a question only to see them "hang up" once you are "next in line" – The frequency I've heard this story repeated by people in casual conversation makes it difficult to believe in coincidence. Is this a technology or a people issue?
At check-in for embarkation, while relatively smooth during the luggage process and security screening you arrive at a staff member to review your documents and attach your various wrist bands. However, if you purchased any additional add-ons pre-voyage you are simply left on your own to decipher – there is no information or documentation beyond what you saw online when booked. This would be fine, but these people charged with delivering those services onboard often aren't informed what those services are! Again a breakdown in communication leading to a poor guest experience. Mix the lack of knowledge with the previous mentioned level of disinterest in customer service and it's an incendiary mix which the staff's primary recourse is – "here ya go have some bar tab…" What's happens when fuel meets fire…
As a passenger I'm not privy to the behind the scenes processes onboard – only what I can glean by having conversations with friendlier members of staff – and they do love to talk with people who seem genuinely interested in their day, experience, etc. Challenges with the handheld devices they use, challenges with the food order entry and delivery systems, food temperature delivery issues resulting from issues with the systems, bar stock levels, the lack of updates for QR code food menus leading to guest disappointment. Over and over tales of front line service worker telling their managers about the problems only to receive "this is the process" as a response. One said "I can only say I'm sorry so many times in a day!" This may well be one of the driving factors in the PEOPLE issue – they are simply defeated by their internal "process" and have retreated to disinterest – if I ignore that passenger I won't have to deal with saying "sorry your food is cold" or "sorry we don't have that drink" or "sorry this is taking so long"
There are lovely, engaging, happy people working here…. but…..
PEOPLE, namely employees, that key component from the Branson quote. There are lovely, engaging, happy people working here. They make the experience for the guest whether they are a restaurant server in Gunbae or a cocktail server in On the Rocks bar. Those people stand out from the crowd of people who are here for whatever reason other than guest experience. Often times there is a sense that the crew are on holiday and passengers vacillate somewhere between an amusement and annoyance on their trip to America.

One of the guiding principles in business transformation is that 'people do what they are incented.' It encapsulates that we as a species operate inherently in self-interest. How does that apply in business – you must align your employee incentives in a way that aligns with the goals of the organization. The goal of Virgin Voyages should be to surprise and delight guest with a new and innovative way to experience a cruise holiday. To do that they need people aligned with that goal. Instead – it seems the goal is to "disrupt the cruise industry" … honestly, we've had Covid for that. The Valiant Lady experience has been simply to disrupt passenger's holiday by allowing staff to leave mid-dinner service for their own dinner reservation or serve their colleague's birthday party happening on the other side of the same restaurant. People, they are doing what they are incented to do, There is an incentive to go out to nice restaurants because they are available to crew. People want to make their friends happy – so they go serve that table – leaving the paying strangers to whoever isn't on break. Again the incentive – people like to be liked… but that goal isn't in the interest of the paying passengers or the business of growing a loyal customer base for the business.
This has gone on far longer than most people will read and there is far more to say and much more that could be analyzed, so let's distill this to a consensus & sentiment from the group we traveled with:
As in life, you're only a Virgin once…
Without some fundamental changes I suspect this could be the case with most passengers on Virgin Voyages rather than a long happy relationship.
While there are plenty of people that rave about their experience, there are a fair number of people who've tried Virgin Voyages and effectively say "one and done"
In Summary
Of course, this experience isn't for everyone. It's unusual and unique and actually quite enjoyable if you can get past the quirks.
The ship is beautiful, the food is superior to most other cruise lines and the entertainment is unique. There is room in the cruise industry for Virgin, and they'll make their way. There are already plenty of loyal cruisers to Virgin Voyages, but collectively we hope that they work out the kinks sooner than later to keep happy travelers returning to the brand!