The Wake Virgin Voyages Menu & Wine List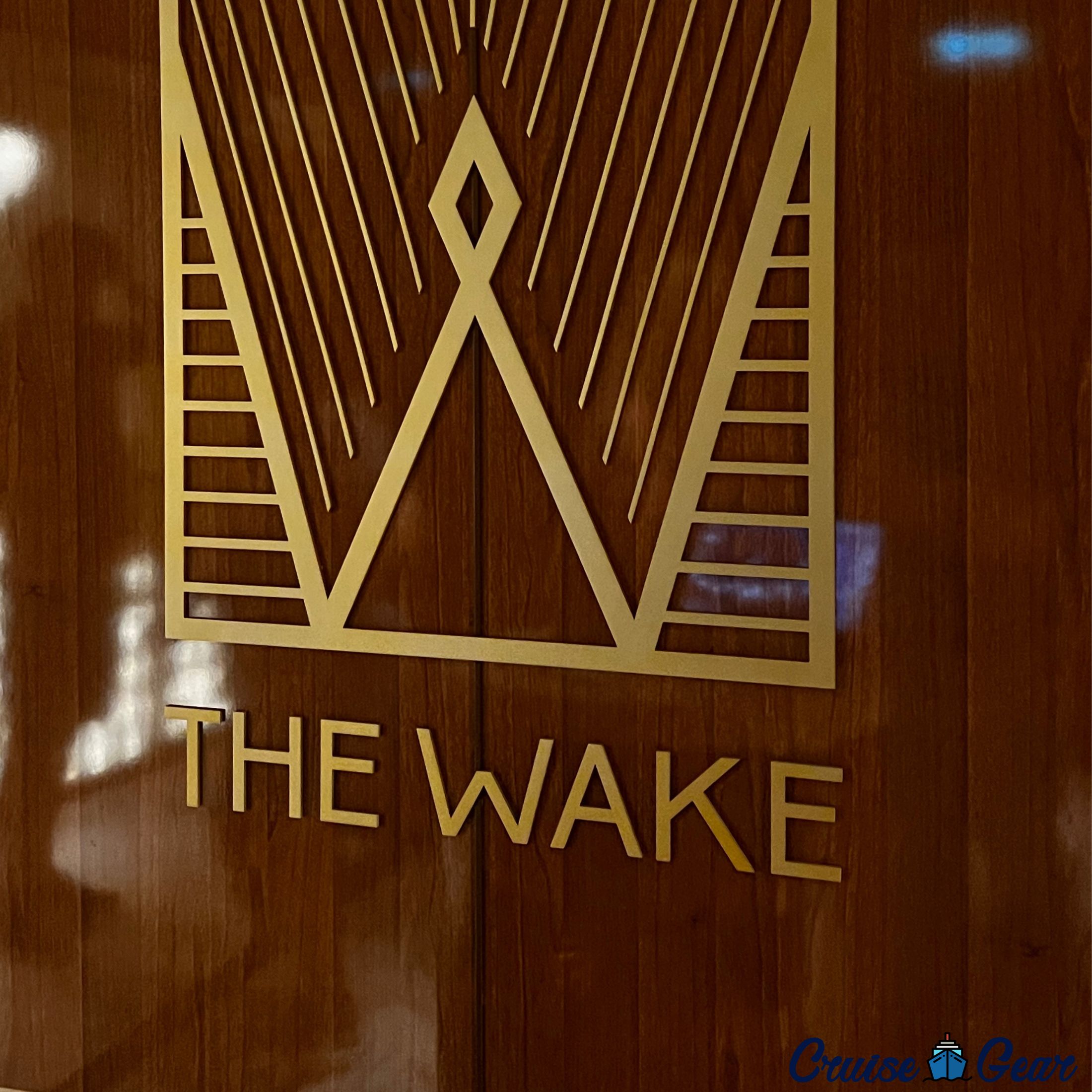 The Wake on Virgin Voyages is their answer to the finer dining experience and steak house found on other mainstream cruise lines. The name appropriately comes from the location in the rear of the ship with large glass windows overlooking the wake of the ship as it moves through the ocean. The experience has a higher-end feel than any of the other restaurants on board the Virgin ships and serves entrees to match. Think filet mignon, rack of lamb, salt-encrusted sea bass, etc. Additionally, you'll find higher-end winds and champagnes available by the glass and bottle.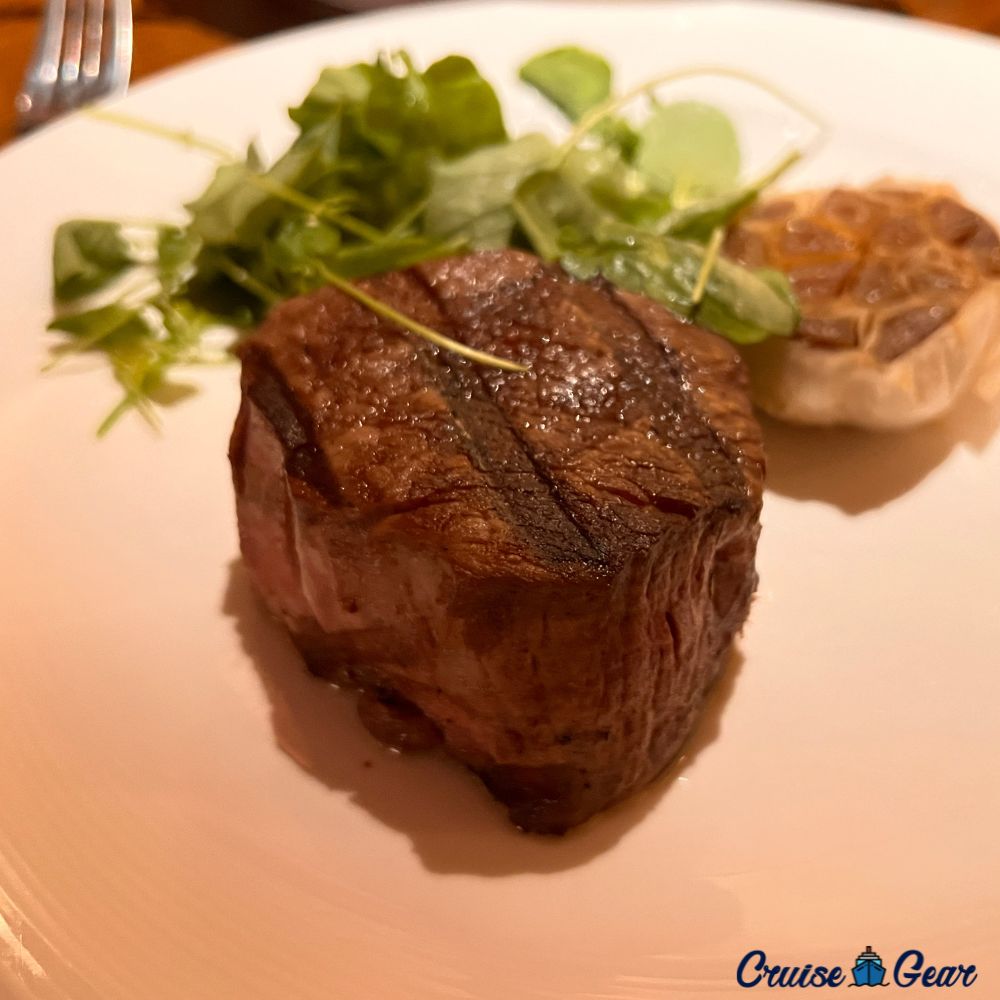 Many first-time cruisers don't realize that The Wake is also available for breakfast / brunch (including their bottomless brunch option), but does require reservations. The phone app used to book restaurants & dining on Virgin Voyages isn't intuitive for morning and lunch reservations so you need to make sure when booking a time that you swipe backwards to find the morning availability since the app generally defaults to dinner times. Reservations are especially important for sailings with fuller capacity, as The Wake is the most desired venue on board.
Our experience for both brunch and dinner (2 times each) was exceptional and the service & atmosphere can't get much better. Food includes amazing Steaks, seafood, and a full raw bar
Tip: Unlike many cruise company specialty restaurants that limit what you can order at specialty restaurants to 1 main course, at this time Virgin Voyages allows ordering multiple entrees.
What Virgin Voyages says about The Wake:
The perfect mix of sophistication, nostalgia and cool — entering The Wake is an event in and of itself. And once you've made your way down the grand staircase, you'll enter a world that harks back to the old steakhouse, three-martini-lunch days of Madison Avenue ad men. But ya know, now with, thankfully, gender equality. And less cigar smoke.

Virgin Voyages
The Wake Dinner & Brunch Menu

DINNER SERVICE
CLAM CHOWDER
Yukon gold potato, bacon, chive batons
CORN CUSTARD & BLACK BEAN SALAD
tomatillo, peppadere, cilantro
WEDGE SALAD
smoked bacon, baby gem lettuce, blue cheese
HAMACHI CRUDO
pickled rhubarb, hibiscus, basil
ROASTED BONE MARROW
pickled red onion fresh herbs.toasted brioche
SIDES

brown butter roasted wild mushrooms
green asparagus & guindilla sauce
creamed spinach
french fries
twice baked potato &caramelized onions

SAUCES
american-style steak sauce
tarragon salsa verde
romesco
bone marrote béarnaise

CRISPY POLENTA
roasted bellpepper, arrow leaf spinach, crème fraîche
SHRIMP & GRITS
smoked bacon, caper tomato sauce, aleppo pepper
PAN-ROASTED ORA KING SALMON
roasted beets, grilled holland leeks, lemon yogurt sauce, caviar

SALT-CRUSTED DORADO
caper lemon butter sauce
FROM THE GRILL HERB ROASTED CHICKEN
HANGER STEAK
FILET MIGNON•
NEW YORK STRIP
NEW ZEALAND LAMB CHOPS
RAWBAR
served with mary rose sauce and sriracha cocktail. & champagne mignonette

PETIT PLATEAU $40
1/2 Maine lobster, oysters, p o a c h e d shrimp, steamed mussels, snow crab claws, clams

GRAND PLATEAU $70
whole Maine lobster, oysters, crawfish, poached shrimp, clams,steamed mussels, snow crab claws, Alaskan king crab legs

OYSTERS- HALFDOZEN $20 / DOZEN $40
east & west coast

FROM THE GRILL : AGED TOMAHAWK STEAK $65
The Wake Wine List (Valiant Lady)
Tasting Menu
The Wake has introduced a tasting menu with wine pairings at an additional cost. This was originally part of the "Eat & Drink Month", but has appeared to be available beyond this event. Here's a sneak peek at the Flavors Uncorked pairing menu
The Wake Interior 360 Tour & Photos (Valiant Lady)