Aurea Thermal Suites & Spa on MSC Meraviglia

When MSC launched in the American market, they made a real "splash" with their large, beautiful ships. We recently had the opportunity to try the MSC Meraviglia and took advantage of the thermal suites to escape the masses on a daily basis.
The MSC Meraviglia spa / Aurea thermal suites – everything you need to know.
If you've ever been on another large ship from a competing cruise line and enjoyed the thermal suites, you'll be pleased to know that MSC has made an experience to match some of the most beautiful spas at sea. Unfortunately, for the size of the ship, the thermal suite spaces are just not large enough.
What is the Thermal Suite/spa?
People may refer to the thermal suites area of a ship as just the "spa" or "thermal spa" and on most newer ships including the Meraviglia, they refer to the "wet" areas of a spa that include steam rooms, whirlpools, heated loungers, saunas, etc. But not all are created equal!
The MSC Meraviglia Thermal Spa overview & what to expect
The thermal suite on the Meraviglia is smaller than comparably sized ships, and although, beautifully designed, some of the features are confusing. Here's what the spa has and our take on it
The Whirl Pool
The central feature of the thermal suite is the oversized whirlpool that is about waist deep and can accommodate 8-10 people in a snug way. The whirlpool is what you'd expect for a jetted hot tub experience with the temp hovering right around 100 degrees. If the spa area is crowded, this feature gets uncomfortably 'cozy' for most people to enjoy.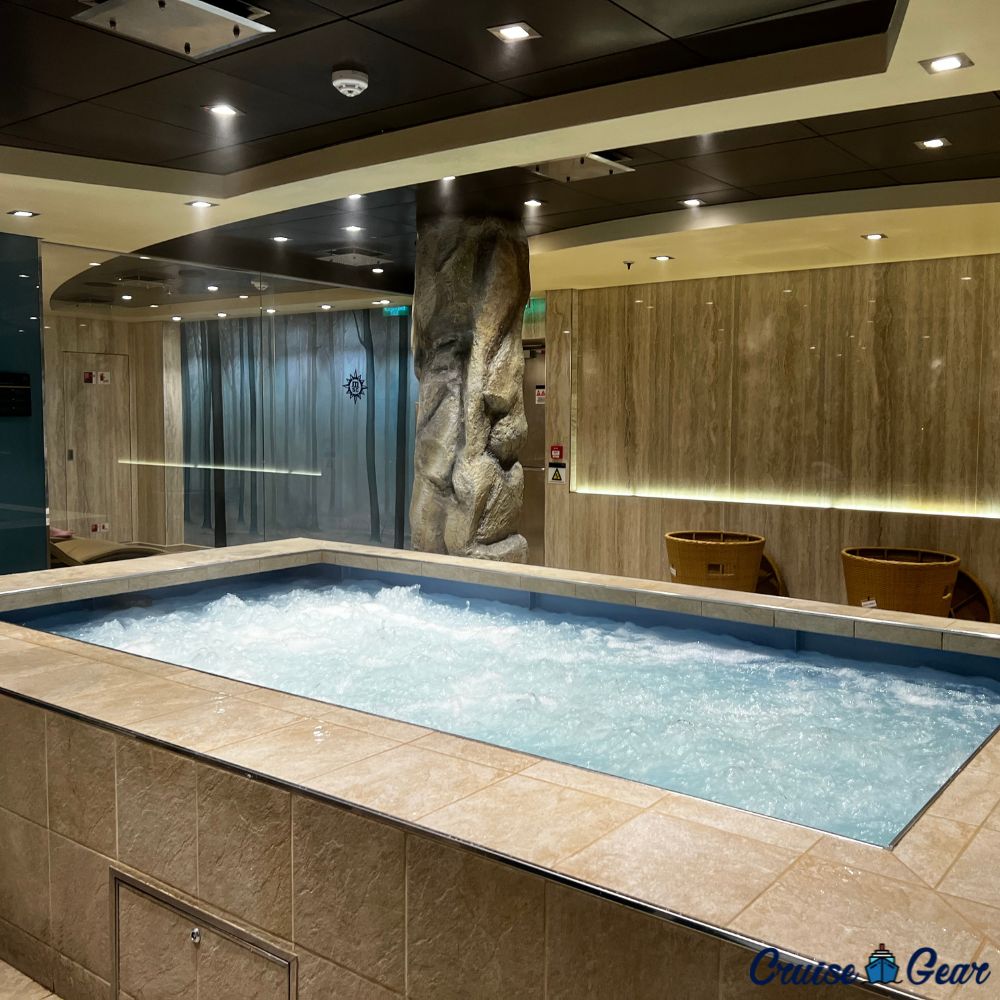 The Relaxation & Salt Rooms
There are multiple relaxation rooms or "chill-out rooms" in the thermal spa. Each can accommodate 8 people on relaxation loungers with soft music playing in the background. One of the rooms is a "salt therapy" room which has become a trend in most newer spas. It's officially called Halotherapy and allegedly the salt has healing benefits for various things including the common cold, and allergies, and helps detox the skin. Science is limited, but people who enjoy holistic therapy really do enjoy these salt rooms and the one on the Meraviglia is as expected, a room with slabs of salt on the walls.
The Hydrotherapy pool & heated loungers:
In a separate room within the spa, there is another whirlpool that is more specifically designated as a hydrotherapy pool where metal tubed benches exist to lay upon while having bubbly water jetted at all parts of your body. Unfortunately, the placement of the metal chairs seems a bit uncomfortable for most normal-sized people, and getting in and out of the hydrotherapy pool is tricky and frankly, a little dangerous. If there are more than a couple of people in the space, you could end up crawling over someone to get in or out.
In the same room, there are 3 heated stone loungers. In most cruise ship spas, these are wildly popular and people have a hard time getting time in one of these chairs. On the Meraviglia, the placement of the chairs is odd, facing directly at the hydrotherapy pool as if you're giving an audience to the people trying to get in and out of the pool. It would have been better if the chairs were in their own separate space, but they're not. They are, however comfortable and nicely heated.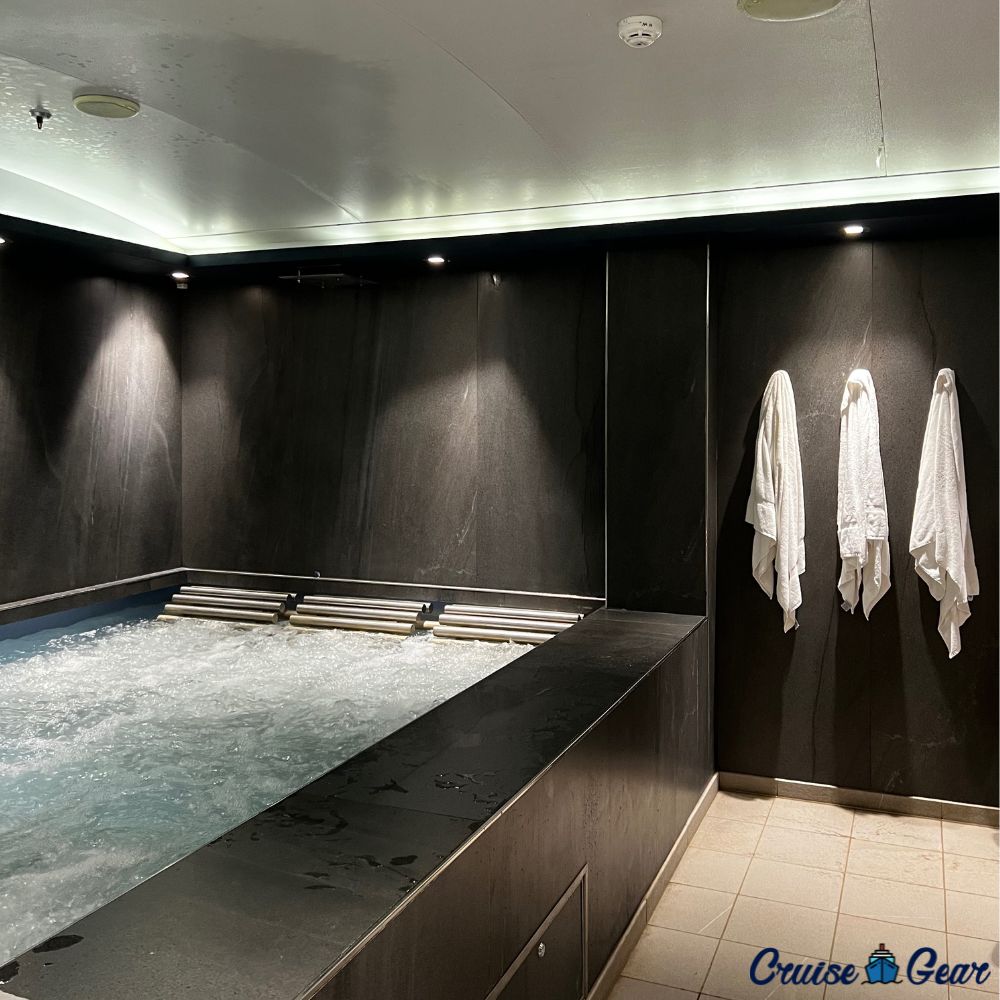 Saunas & Steam Rooms
There are multiple steam rooms in the spa area (co-ed) that range from warm steam to truly hot steam. Additionally, there were multiple saunas. There is what you'd expect from a typical dry hot sauna as well as multiple specialty saunas referred to as Himalayan saunas or rock saunas. There's something for everyone when it comes to saunas and steam rooms. Unfortunately, there are no single-gender steam rooms/saunas in the locker rooms as there are on other ships.
The Cold / Ice room
This is the most unique room in the thermal spa area. A room that remains at about freezing temps which is a joyful feeling after spending a bit of time in the steam rooms or sauna! A rapid cool down (other than possible heart failure!) is truly a sensational experience. This room holds 6-8 people and was generally not busy even during the busiest times of the day at the spa.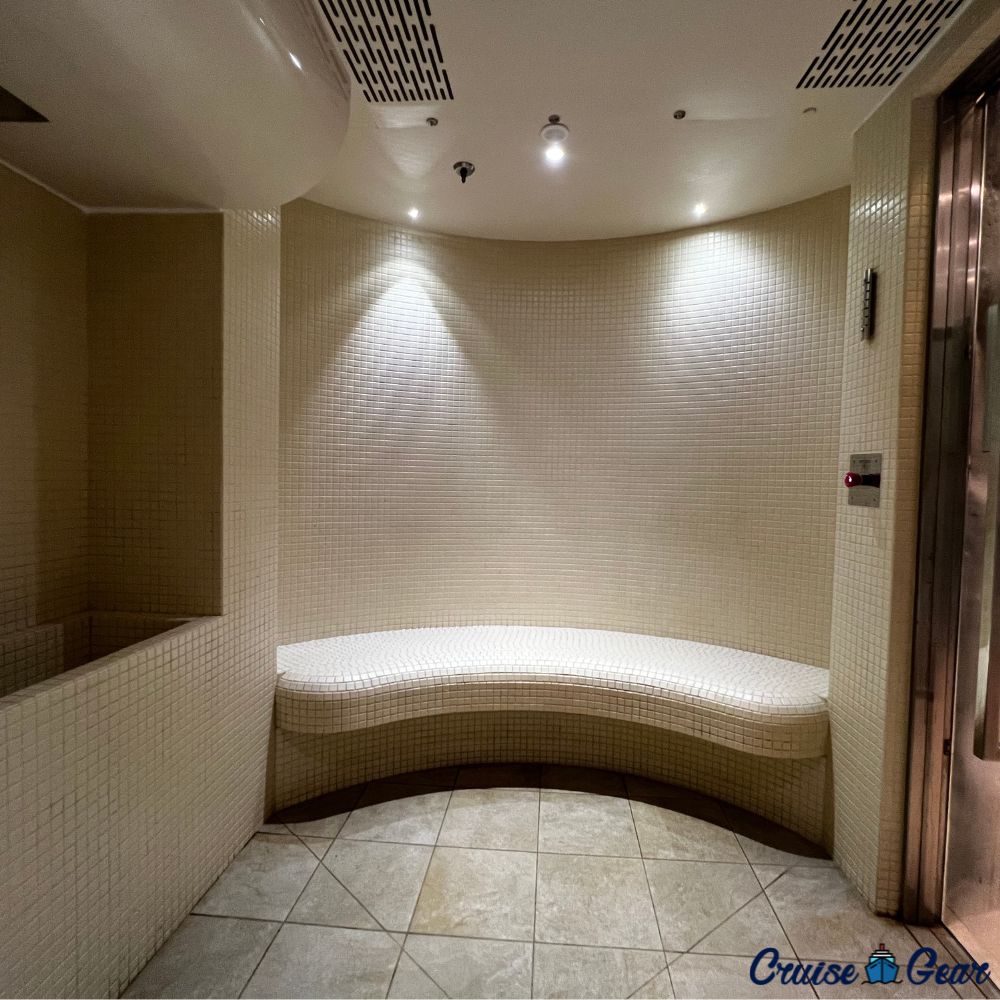 Therapy Shower
The most unusual feature of the thermal suite is the central therapy showers that are a sort of tunnel you walk through for various pressures and temps of water. It's nothing short of bizarre because it's a glass box with shower heads where people just watch the next daring person walk the tunnel to see their reactions. There's nothing "spa like" about this experience and being on display while using this feature is a bit embarrassing. This just begs the question… "why" … why does it exist?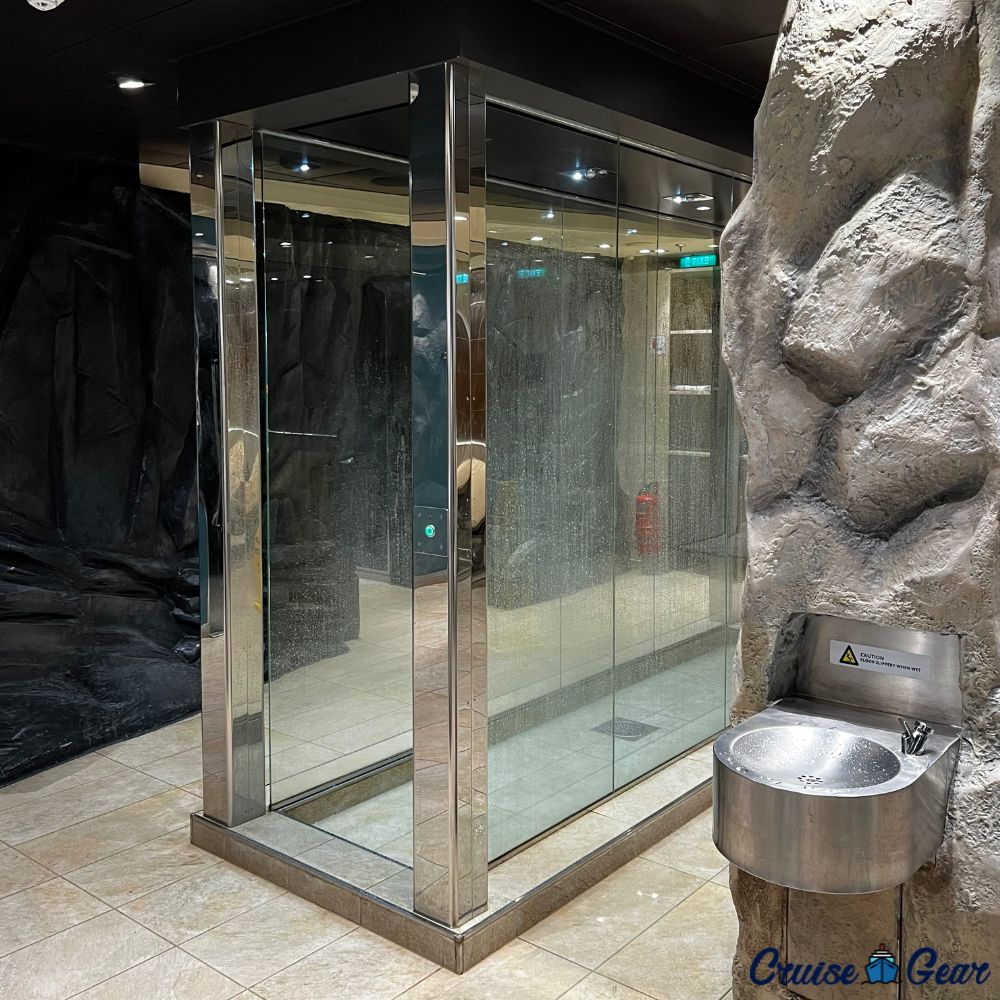 Getting access to the Aurea thermal spa
There are several ways you can experience the thermal suite. First is by having a massage or spa service. At the time of this writing, the thermal suite was being given to customers who had a service (before and after the treatment). Secondly, a thermal spa pass can be purchased pre-cruise or on embarkation day. Finally, booking an Aurea experience with MSC Cruises will give you access to the thermal area (along with other benefits). It's important to note that some status levels of the MSC rewards program give a single 2-hour spa access. Additionally, some voyages will sell a day pass, but it's often not worth it (and is very random on which ships and itineraries allow this, if ever – but it's worth asking).
Important to know: The cruise line does not put a hard limit on how many passes are sold, unlike other cruise lines. So if the Meraviglia has 5000 passengers, they are happy to sell as many passes as people will purchase but limit the number of people inside the spa (albeit, poorly controlled)
MSC Spa Price List & Treatments Prices
Considering how expensive spa treatments usually are on various cruise lines, we found the services to be quite reasonable on MSC Cruises. Compared to Norwegian Cruises, MSC prices are about 40% less expensive overall with comparable quality and offerings.
How much is the thermal suite / spa on MSC Cruises?
The cost to use the spa area on MSC ships varies widely. But booking online before your cruise will achieve the best value. For a week, you can sometimes book the spa pass for as little as $130. On a recent 5-day Caribbean cruise, the spa pass was only $109 for the entire cruise. For reference, had we waited to book it on embarkation day, the price had more than doubled to $249. So if you are a spa person and think you may use it even for a few days, prebook!
Is the thermal spa worth it on the MSC Meraviglia?
This totally depends on a few factors. First the price. When purchasing in advance, if you plan to use the spa for an hour or two for a few days during your cruise, it's likely worth it, especially if you're a "spa person". However, the value diminishes rapidly if you wait to purchase on embarkation day. Another consideration is how full the cruise is. At full capacity, the spa is often too busy to enjoy.
When is the best time to use the spa & thermal suite?
Generally, early in the morning or later in the evening, the spa tends to be less occupied. On sea days, the spa stays generally full except in the evenings during dinner and show times.
Even though the spa manager states they limit access, the limit is still generally more people than the spa area should have at any given time.
We were told that the head count was limited to approximately 30 people and it was based on the number of keys handed out in exchange for a room card but we often observed multiple people sharing a locker so it's possible that you could have well above 50 or 60 people trying to use a small, intimate space that is barely equipped for 20 or 30.
MSC Meraviglia Spa – Photo Gallery
Do you have a comment?
Did we miss something? Have you had a different experience? Did we get it wrong?