Can you bring a fan on a cruise ship? Everything you need to know.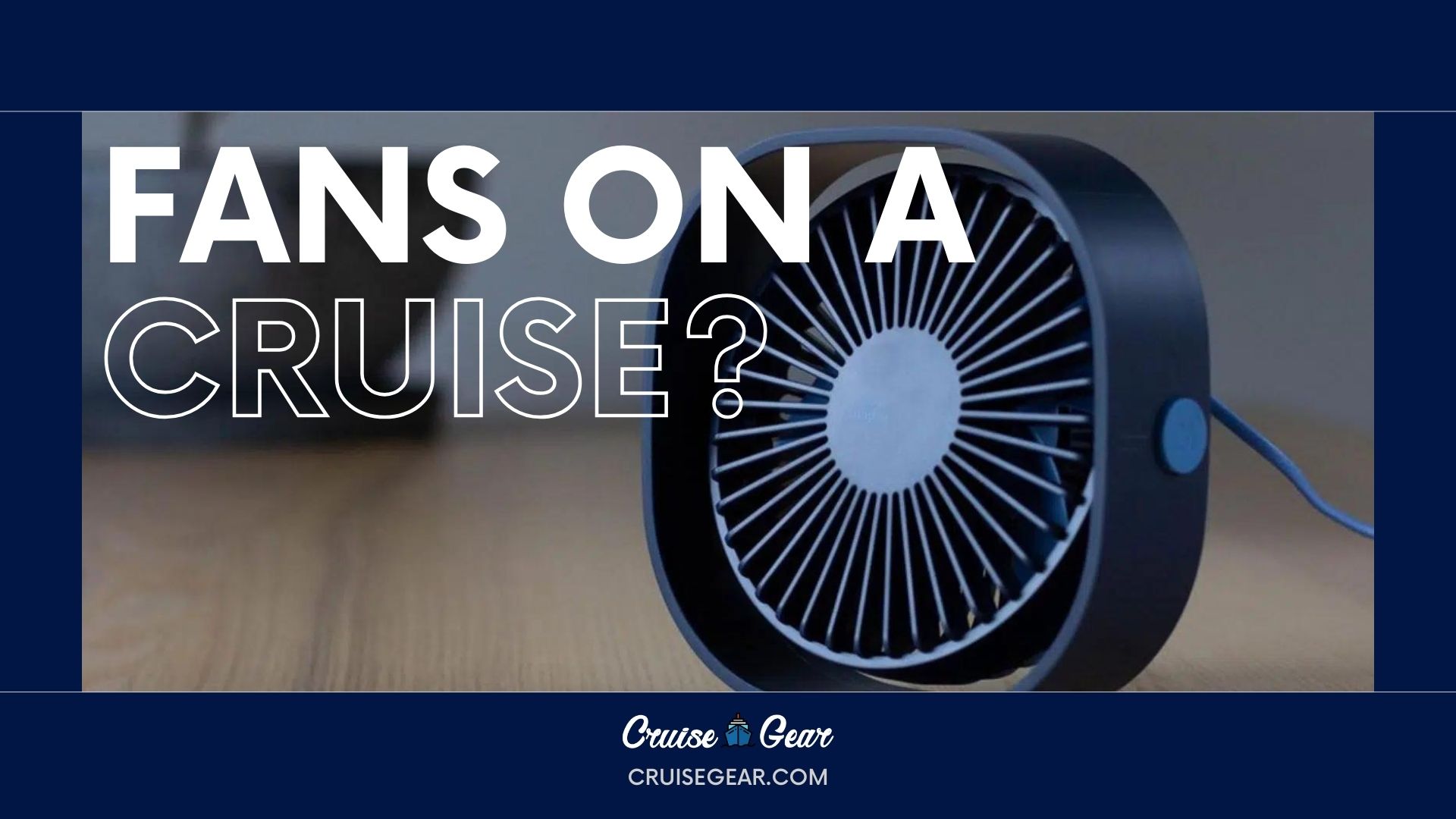 Most cruise lines don't have fans available or provide fans for guests, so if you're used to having a fan when you sleep at night, you may want to bring a fan on a cruise.
Recent announcements by Norwegian Cruise Line about banning all fans, regardless of what size and type they are, left cruise passengers wondering "why" and wondering if other cruise lines prohibited fans as well. It's worth noting, that NCL has since clarified their rules for bringing fans on their cruise ships – more on that below.
Why do people take a fan on a cruise ship?!
A Good question! This topic has been frequently debated in various chat groups and on social media, so let me explain why people usually take a small fan on a cruise. First-time cruisers may not get it… but here are a few reasons:
The staterooms and cabins can often feel a little stuffy, so a fan can help a lot with air circulation!
Many people need something to generate white noise, and a small fan is a great way to accomplish this.
Some people just need a fan to sleep
Some of our readers have pointed out that they're experiencing menopause and have hot flashes, so they consider a simple fan a critical cruise essential!
Which cruise lines allow passengers to bring a fan onboard?
Most major cruise lines allow fans, and some have no fan policy stated at all. This is why the announcement by Norwegian Cruise Line adding fans to their prohibited item list was a bit surprising. When speaking to an NCL representative, the reasons given were vague on why they imposed this rule and even more vague on how they clarified it. Mostly it seems that people were bringing large box fans or room fans with long cords that were considered a hazard. So banning fans sort of makes sense.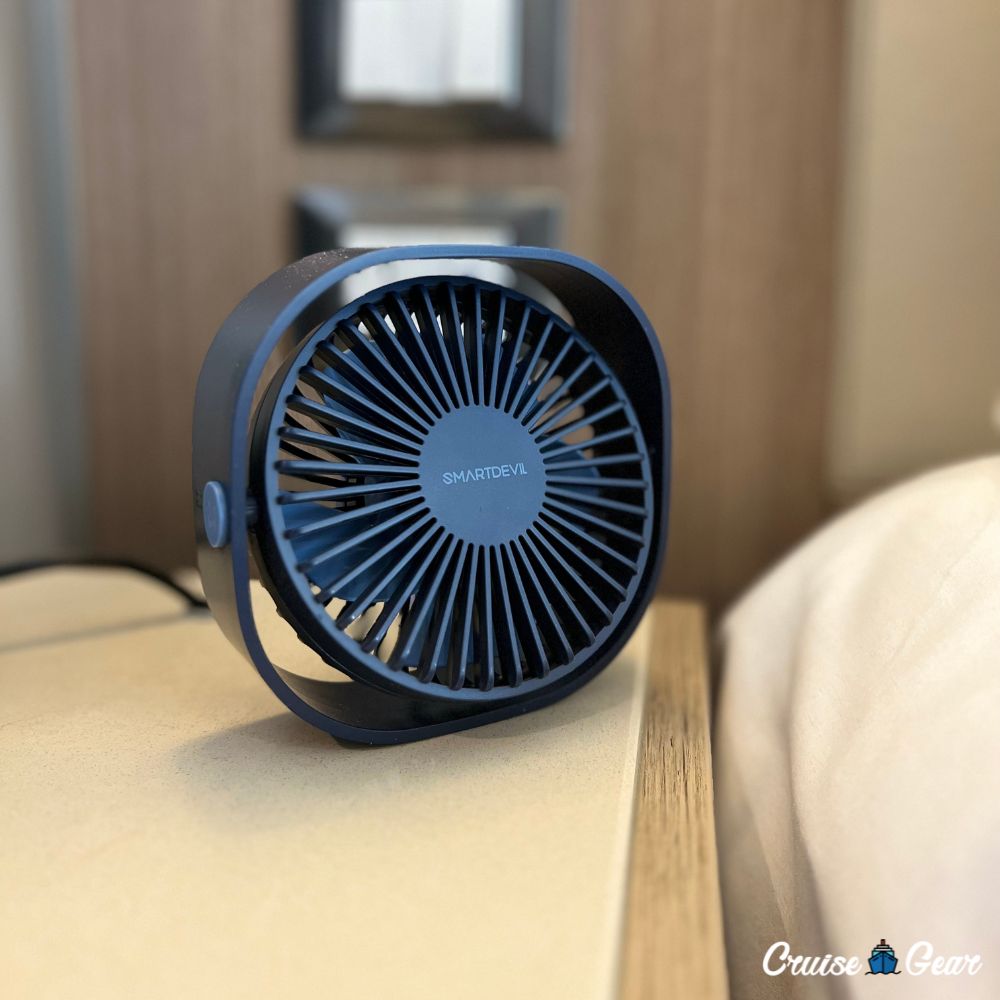 Can you bring a fan on Carnival cruise?
Carnival Cruise Line permits fans that are no larger than 12 inches in diameter but they do not specify battery operation. I've known people who bring large plugin fans on Carnival without any problem.
What type of fan can be brought on a Norwegian Cruise?
Norwegian clarified its policy and states that small battery-operated fans and small electric fans can be brought on board. We tested this policy by bringing a small USB-powered fan on our last Norwegian Cruise and had no problems. We made sure to pack the portable fan in a carry-on.
NCL specifically states that they have the option to confiscate fans at any time.
Can You Take a Fan on a Disney Cruise?
Disney Cruises states that portable fans are allowed but may check the fan for safety. We recommend packing your fan in a carry-on when traveling with Disney.
Cruise lines that do not prohibit a portable fan
Virgin Voyages makes no mention of fans in any prohibited items list or FAQ. We've had no trouble traveling with Virgin and packing a small personal fan.
Viking Cruises does not mention prohibiting fans of any type
Holland America – Fans are permitted and the cruise line specifically states "Electrical devices such as small fans are allowed onboard".
MSC Cruises makes no mention of fans in their prohibited items list. We packed a fan in carry-on luggage because MSC is the only cruise line to specifically prohibit some items that are allowed on other lines (hair irons for example).
Celebrity Cruises Makes no mention of fans in any FAQs or prohibited items list
Princess Cruises allows fans and directly addresses allowing fans in their FAQ
Royal Caribbean Cruise Line makes no mention of fans anywhere, and we've had no issues with fans in past cruises
The Best fan for a cruise? Here's our opinion.
If you want to bring a portable fan on your next cruise, there are some practical things to consider.
First, since there are no specific rules with many cruise lines on which fans are allowed onboard, it's better to be safe than sorry and ask. It's always a good idea to check with your cruise line about what is allowed on their ships, including portable fans.
Second, consider the size and weight. I know so many people that habitually overpack for a cruise so adding a huge fan or tower fans to your packing list should probably be avoided. Larger fans are likely to be scrutinized more than smaller battery-powered fans or clip-on fans. So consider a smaller fan that won't take up much space.
Our choice is usually a small, but high-powered USB fan like the SmartDevil USB fan that can be attached to any universal USB adapter. Electrical outlets in cruise cabins are often in strange places or used for other devices so having a USB fan allows for flexibility in using a standard phone charger, multi-charger, or even a battery pack. With more modern ships equipping rooms with USB ports now, you're likely to be able to use a small USB fan in your stateroom without compromising precious power outlets.
In the end, Bring your fan! Be smart about it and follow cruise line rules! Don't let overpacking unnecessary things become your cruise vacation downfall! 🙂