Rotterdam Cruise Port – Excursions & Things to do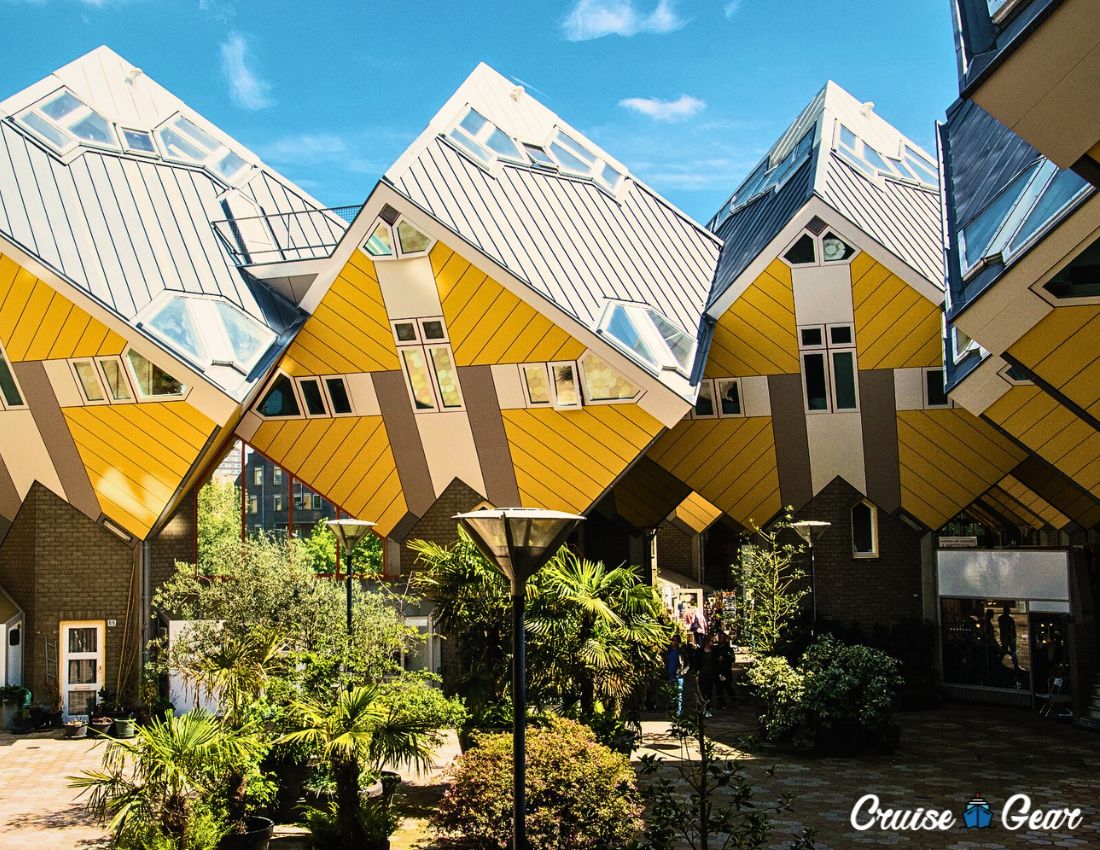 Arriving in Rotterdam, Netherlands on a cruise – what to see & do.
Most people who end up in Rotterdam for a day usually arrive because it's a popular cruise port of call as well as a departure port for a number of major cruise lines. Having called Rotterdam my 'home port' for nearly 5 years now, I'm often asked about things to do for a day while visiting by cruise. Here are some of my favorite recommendations & tips about how to spend a day in Rotterdam.
First, A few things about Rotterdam
Rotterdam is one of the most unique cities in The Netherlands that is often overlooked by tourists who think Amsterdam is the only place the country has to offer. Unlike other Dutch cities, Rotterdam is a city where modern architecture is blended with historic buildings.
The reason for this juxtaposition in design is unfortunate. Rotterdam was nearly leveled during the World War 2 bombing, leaving it in ruins. The Dutch took the opportunity to preserve what was possible and rebuild the city with modern design and sustainability in mind.
There are so many things to do in Rotterdam, but it's important to remember that, unlike Amsterdam, Rotterdam is a working city not focused on mass tourism. Experiencing Rotterdam means existing among the locals and trying foods, seeing architecture, and culture. If you're just passing through or have arrived in Rotterdam on a Cruise, be sure to check out some of our favorite things to do in Rotterdam!
1. Markthal – an Unusual Rotterdam Destination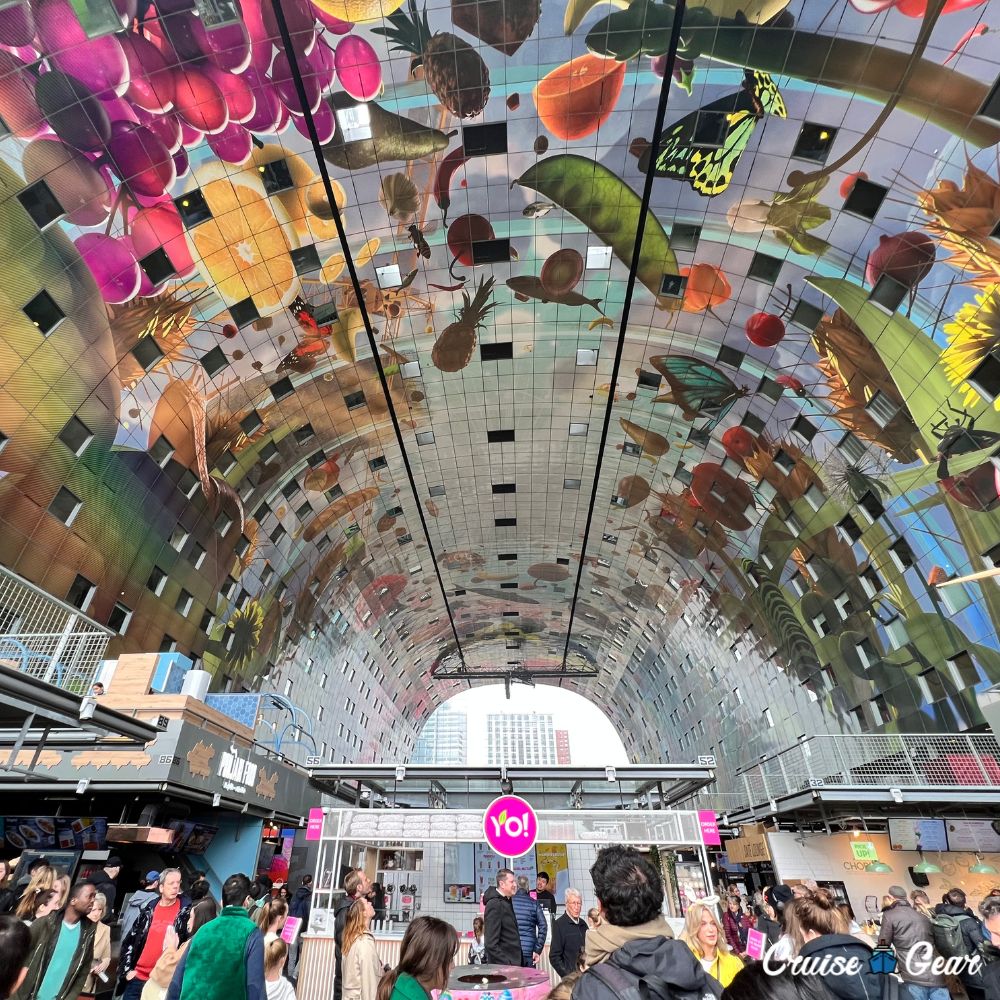 Visit this unique food market and architectural marvel, featuring a vibrant ceiling adorned with colorful artwork.
Markthal is a unique and iconic building located in the center of Rotterdam, easily accessible by foot from the Cruise Port, or by metro. It is a combination of a residential complex and a market hall, making it an innovative multi-use piece of architecture. The interior of the building features a vibrant and colorful mural that wraps around its curved shape, truly visually striking! Look closer, though, and you'll see windows within the mural which are where the residences above can see down into the market.
Inside Markthal, you will find an impressive indoor food market with various food stalls and shops offering a wide range of fresh produce, specialty foods, and international cuisine. The market is known for its diverse selection of high-quality products, allowing visitors to indulge in delicious culinary experiences. It's part food hall and part market where the stalls are popup restaurants and bars. Look for the multi-level restaurants that often have stairs to an above-bar area to overlook the rest of the food hall. If pop-up food venues are not your thing, the Markthal has plenty of permanent traditional restaurants that include local chains as well as international brands.
The interior design of Markthal is equally remarkable. Its arched ceiling is adorned with an expansive artwork called "Horn of Plenty," which showcases larger-than-life images of fruits, vegetables, grains, and flowers which refers to the Cornucopia from ancient Greek mythology.
Markthal has become an iconic landmark in Rotterdam since its opening in 2014. It attracts both locals and tourists alike who come to experience its lively atmosphere, indulge in culinary delights, shop for fresh ingredients, or simply marvel at its splendid architecture.
If you want to see what restaurants and pop-ups are currently in the Markthal, visit the Markthal website for the most current information.
2. Explore the Cube Houses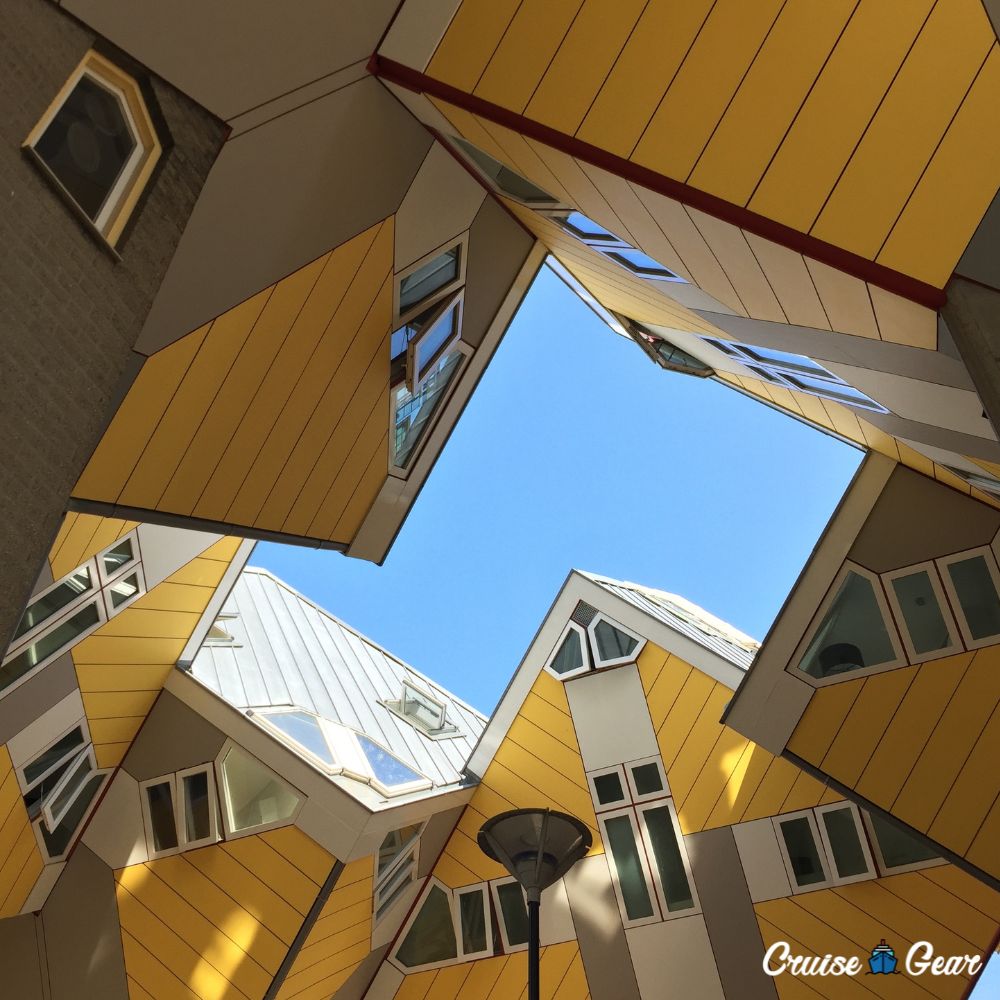 If you're visiting Rotterdam, don't miss the opportunity to explore the Cube Houses and experience this fascinating example of architectural creativity.
The Cube Houses, or Kubuswoningen in Dutch, are one of Rotterdam's most famous architectural landmarks. These quirky apartment blocks were designed by Dutch architect Piet Blom in the 1970s, these innovative houses are located in the city center / Blaak area of Rotterdam just opposite Markthal.
The houses were designed with the idea of creating a "village within a city." Blom's concept was to tilt a traditional house by 45 degrees and place it on top of a concrete hexagon-shaped pylon. Each cube represents a tree, and when all the cubes are put together, they form a forest.
There are a total of 38 cube houses arranged in a cluster, along with two "super-cubes" that contain a museum and a hostel. Each cube house has three floors. The ground floor is used as the entrance area, the first floor serves as the living space, and the top floor is usually used as a bedroom.
The tilted design of the houses creates unique interior spaces and unconventional layouts. Blom's intention was to maximize the living area within a relatively small footprint, while also providing a sense of privacy and community. Despite their seemingly impractical shape, the cube houses are fully functional and offer a distinctive living experience (as long as you don't have any art to hang on the walls!).
The Cube Houses have become an iconic symbol of Rotterdam's architectural innovation and are often featured in postcards and promotional materials. They attract both architecture enthusiasts and curious tourists who are intrigued by their unusual designs.
If you're curious to see the interior of a cube house, you can visit the Show Cube, which is a furnished model cube house open to the public. It allows visitors to experience the unconventional design and get a sense of how the space is utilized. The entry fee is €3 and well worth it! Be sure to bring cash, as they don't accept credit cards (though they do accept Dutch PIN cards).
If you really love architecture and want to experience more of what Rotterdam has to offer, definitely book an architecture tour of Rotterdam by foot!
TIP: Markthal (above) is just next to the Cube Houses, so you can do and see both in one visit.
3. Go SkyHigh in the Euromast – Rotterdam
Enjoy panoramic views of the Rotterdam cityscape from the Euromast observation tower. One of our favorite things to do and take friends to!
Not only is this a fun and unique thing to do for a few hours, but the walk from the Rotterdam Cruise Port is through a beautiful park with amazing historic homes on display.
Plan on about 45 minutes from the ship terminal to the tower (each way) by foot.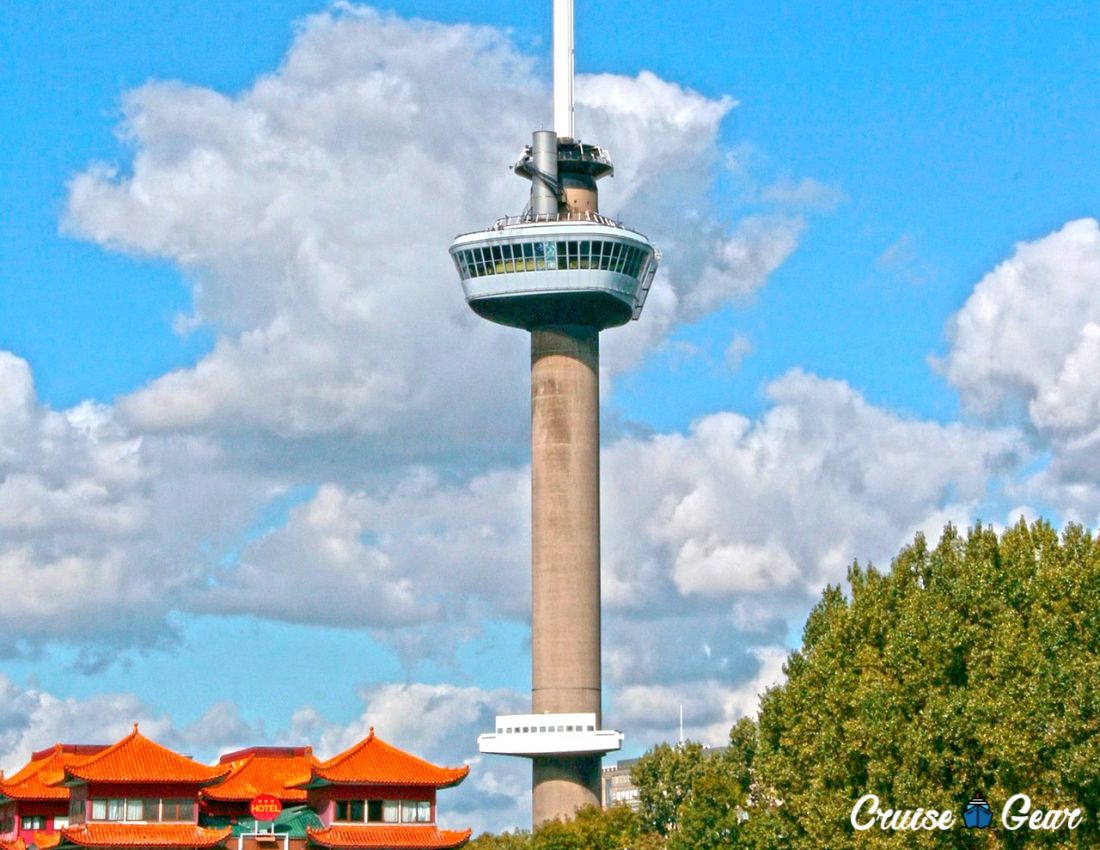 The Euromast Tower is an iconic landmark and observation tower located in Rotterdam, Netherlands, and is one of the most popular Rotterdam attractions. It was designed by Dutch architect Hugh Maaskant and completed in 1960. Standing at a height of 185 meters (607 feet), it offers stunning panoramic views of the city and its surroundings.
What to expect from a visit to the Euromast Tower
Observation Decks – The Euromast Tower features two observation decks accessible by high-speed elevators. The lower deck is situated at a height of 92 meters (302 feet), providing wide views over Rotterdam. The upper deck, located at 112 meters (367 feet), offers a more extensive panorama, allowing you to see even further. On clear days, you can even catch a glimpse of The Hague and the coastline. These are definitely the best views from anywhere in The Netherlands.
Euroscoop: For those seeking an adrenaline rush, the Euromast Tower offers the thrilling "Euroscoop" experience. It is a rotating and tilting elevator with a glass floor that takes you up to a height of 185 meters (607 feet) in under a minute. From the top, you can enjoy an outstanding view while the tower slowly rotates, giving you a 360-degree perspective of the city. The newly installed glass floor can be made opaque with the touch of a button! The cost is €18.50 for adults and €15 for children. Book Euromast Tower Tickets
The Restaurant: Euromast Tower is not just an observation tower; it also houses a full restaurant where you can enjoy a meal with a view. The Brasserie Euromast provides a beautiful and panoramic experience with a cozy atmosphere. The restaurant is open for Brunch, Lunch, and Dinner as well as "High Tea" and cocktail hours. Reservations are required!
We recently had High Tea. Admittedly, hosting our British friends, we were a bit worried about how well a Dutch restaurant could offer High Tea. It's actually quite good! For only about $22/person, you get unlimited tea, coffee, bottled water, and a great selection of sweet and savory snacks. It's well worth the walk to get to the tower.
TIP: Restaurant reservations DO NOT include access to the Euromast! You must purchase a Euromast ticket in order to gain entry to the restaurant. I know, it's strange but once you visit, you'll understand why, as the restaurant is just a feature of the tower and access isn't separate. Even BETTER TIP: If you book reservations for a group of people, head to the Euromast Website and buy an annual ticket for ONE person. If a single person has an annual pass, they can bring guests to the restaurant (with reservations) at no additional charge. For example, we just had a friend visit and 3 passes to the Euromast would have been approximately $45, however, I purchased an annual pass for about $28 and we all got access without having to purchase a ticket for each person. When you arrive at the tower, just tell them you're there to pick up your annual pass and you have reservations for "X" people at the restaurant, and you'll all be admitted. A great money-saving "hack" for the Euromast!
The Hotel: Euromast Tower has a limited number of beautiful suites for an unforgettable overnight stay. The hotel has luxurious suites, allowing guests to enjoy a unique overnight stay high above the city. Expect to pay at least €400 for a one-night stay but that does include breakfast and a bottle of champagne.
4. Walk the Erasmusbrug (Erasmus Bridge)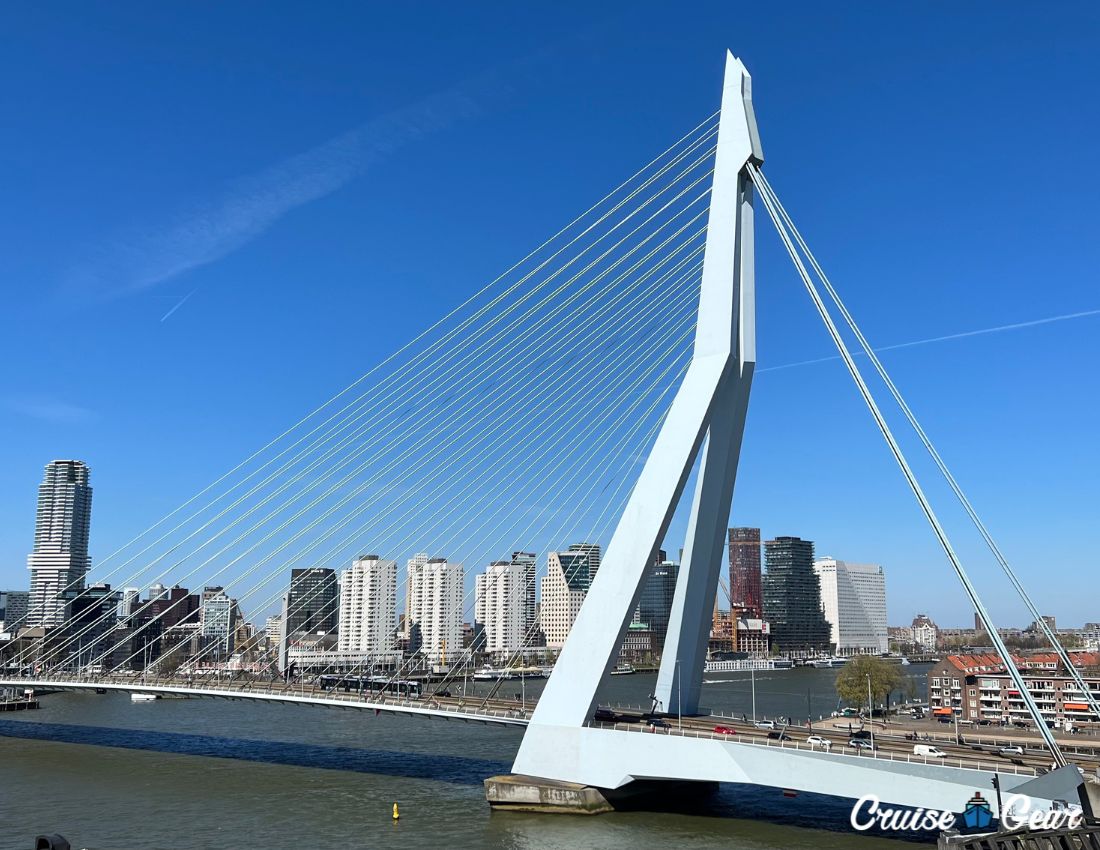 If you're arriving by Cruise at the Rotterdam Cruise Port, getting to the main part of the city means walking across this beautiful piece of modern design. Admire the iconic bridge, known as the "Swan of Rotterdam," offering beautiful views of the city's skyline and the River Maas.
The bridge is a famous landmark and spans the Maas River connecting the north and south parts of the city. The bridge was completed in 1996 and is an iconic piece of modern architecture and has become a symbol of Rotterdam's skyline.
5. Visit Rotterdam Museums
Rotterdam doesn't have the same quantity (or quality) of museums found in other major cities, unfortunately. However, there are definitely a few worth visiting if you have some spare time. The most popular museum is the Maritime Museum, however, there are plenty of other museums that explore art, history, and Dutch culture.
Maritime Museum
The Maritime Museum Rotterdam, also known as Het Maritiem Museum, is a fascinating museum dedicated to the maritime history of Rotterdam and the Netherlands. It is located in the heart of the city's bustling Maritime District. The museum has a wide range of exhibits that showcase the rich maritime heritage of Rotterdam and its significance in global trade and shipping. The exhibits cover various themes, including shipbuilding, exploration, trade routes, naval history, and port operations. You can explore interactive displays, historical artifacts, ship models, and immersive installations that bring the maritime world to life. Tickets are €17.50 for adults and €12.50 for children (free for kids up to 3 years old!)
It's worth noting that while you can pre-purchase tickets to the Museum, it's not really required. I'd normally recommend visiting the Museum if you've done everything else you want in Rotterdam by just walking up and buying your tickets on the spot.
But if you're a planner, you can purchase tickets to the museum and harbor tour.
Museum Boijmans van Beuningen
Delve into the world of art at this renowned museum. It houses an extensive collection of paintings, sculptures, and applied arts spanning various periods, including works by renowned artists like Rembrandt, Van Gogh, and Monet. This museum is for hardcore art lovers (and may bore all others) *** Check the website for the current openings – as there are major renovations happening
An alternative to The Boijmans, you can look at the Kunsthal, another art facility that appeals to true art lovers.
6. Eat, Drink & Shop on the Witte de Withstraat: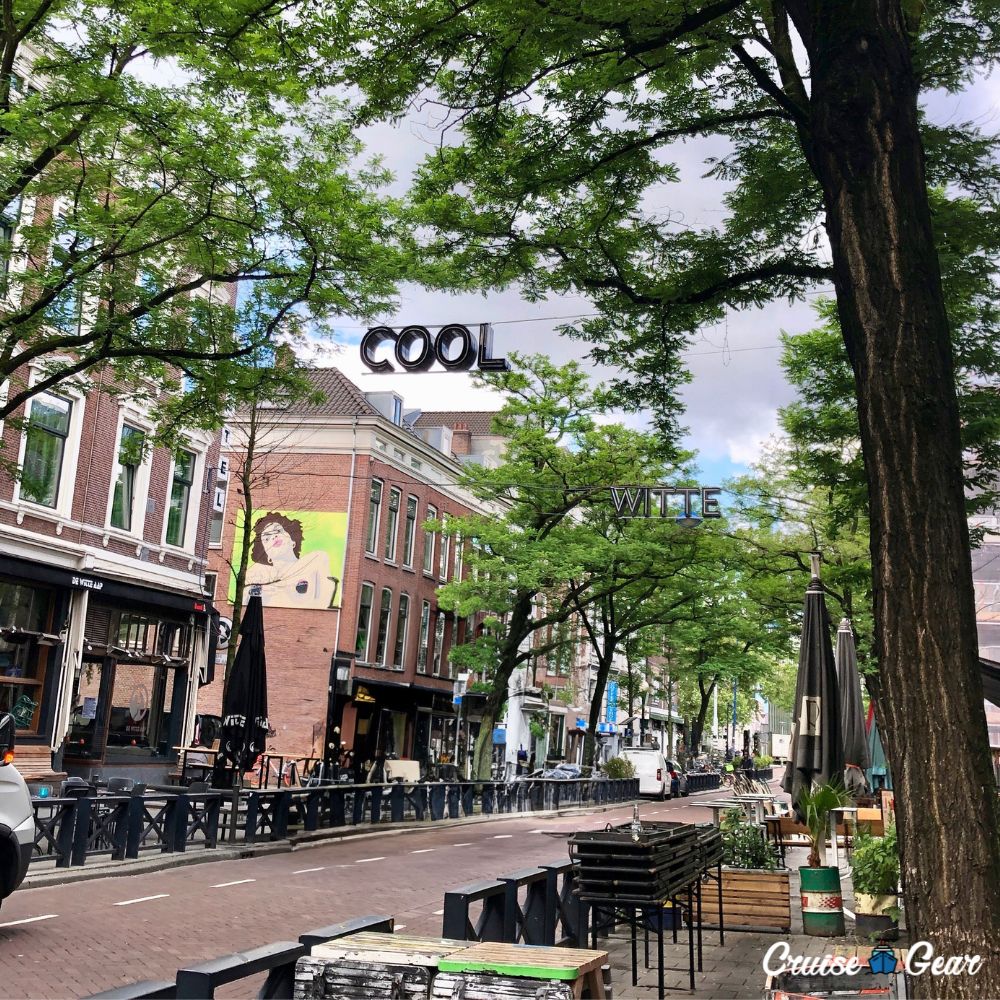 Discover Rotterdam's vibrant arts and culture scene on Witte de Withstraat. This street is lined with art galleries, trendy shops, bars, and restaurants, making it an excellent spot for dining, shopping, and nightlife. Foodies love the area for the eclectic mix of food types from the best hamburger in the Netherlands at Ter Marsche & Co to the funky Restaurant Bazar which serves amazing Moroccan & Turkish foods. So if your ideal travel experience revolves around food, this street full of diverse eating options is worth a visit!
7. SS Rotterdam – The historic Holland America ship: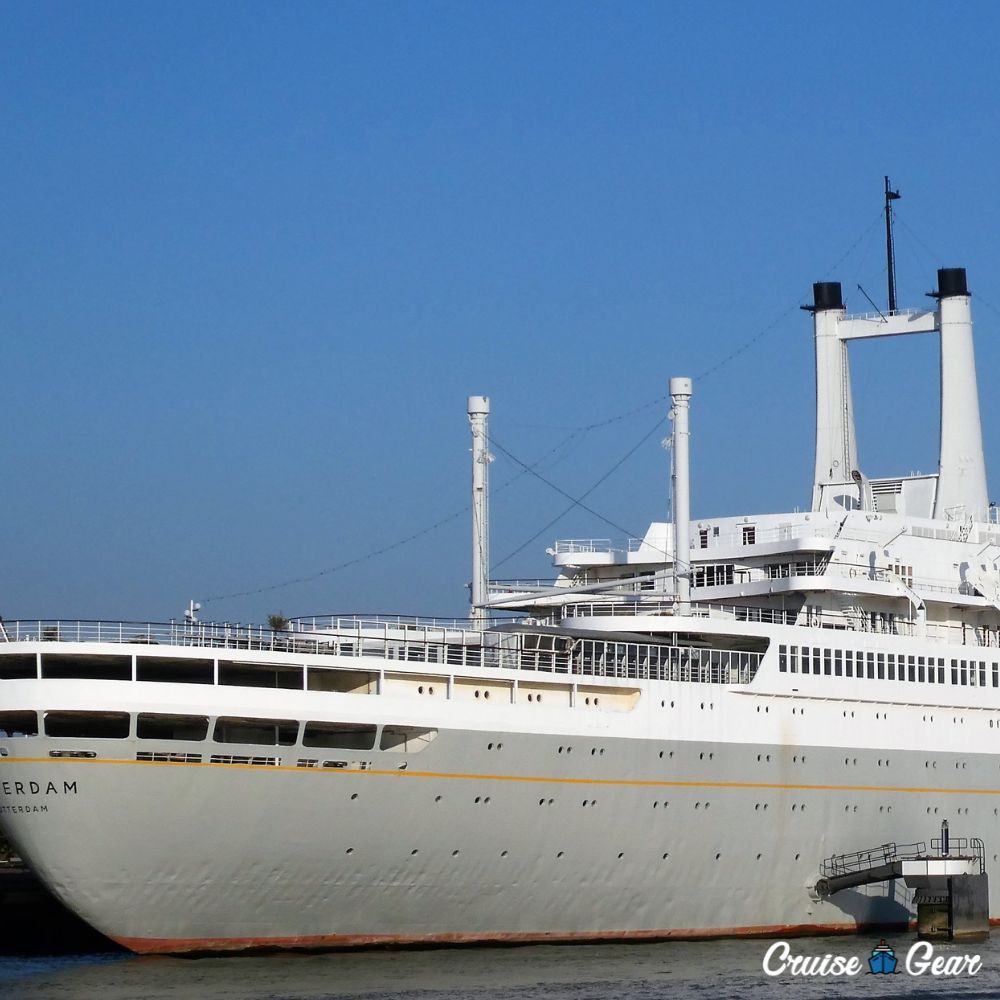 On board the former flagship of the Holland-America Line, now permanently docked as a floating hotel and museum you can take a guided tour to learn about its history, explore the decks, and enjoy the panoramic views from the top.
Built in the 1950s and launched in 1958, the ship served as a transatlantic cruise liner for the Holland-America Line, transporting passengers between Rotterdam and New York. The ship played a significant role in transatlantic travel during the "Golden Age" of ocean liners.
Today, the SS Rotterdam has been transformed into a hotel with 254 rooms and suites. The hotel preserves the ship's original mid-century style while providing modern amenities and comfortable accommodations. Guests can experience the nostalgia of ocean travel while enjoying the convenience of a hotel stay. (note: The SS Rotterdam does NOT have air conditioning – so if you're planning a stay, the summer is not the best time)
Museum and Tours – Visitors can explore the SS Rotterdam through guided tours that take them through various areas of the ship, including the public spaces, passenger cabins, engine rooms, and crew quarters. The tours offer insights into the ship's history, design, and the daily life of passengers and crew during its heyday. Tickets range from €13-€16.50 – and are well worth it for cruise and history enthusiasts!
The SS Rotterdam offers several dining and drinking options. The Lido Restaurant serves international cuisine with panoramic views of the waterfront, while the Club Room provides a sophisticated atmosphere for afternoon tea or evening drinks. The Ocean Bar is a popular spot for cocktails and live music, evoking the ambiance of a bygone era.
Adjacent to the SS Rotterdam, you'll find the Rotterdam Port Experience. This interactive exhibition provides an immersive and educational experience, allowing visitors to learn about the workings of one of the world's largest ports.
The SS Rotterdam is not only a floating hotel but also a living piece of maritime history. It offers a unique opportunity to step back in time and experience the grandeur of ocean travel while enjoying modern comforts. Buy tickets to the SS Rotterdam!
A fun fact – if you are arriving on the Holland America NEW Rotterdam cruise ship, the two ships will blow horns at each other during departure or arrival. It's great fun to witness!
Other Attractions in Rotterdam:
There are many places to see and things to do in Rotterdam with plenty of options to spend a day or two. But one of the best ways to really get the most out of your trip to Rotterdam is to discover it on foot or bike and sample the local food and beer.
8. Rotterdam Central Station (Centraal):
Marvel at the architectural splendor of Rotterdam Central Station (Centraal Station), known for its unique design and striking features. It's not just a transportation hub but also houses shops, cafes, and restaurants. Be sure to explore the area immediately around the station, as it has been improved over recent years with a ton of small cafes and bars.
It's worth noting that while it's called "Central Station" – it is not the most central to the city. If you're looking to get right in the heart of it all, make sure you proceed to Rotterdam Blaak station!
9. Explore Rotterdam with a Walking Tour (Or a Bike tour!)
One of our favorite & fun things to do in Rotterdam is explore the city with a walking tour. There are architectural tours, food tours, and history tours all operated by enthusiastic local guides who know the city inside and out.
Our personal favorite is the guided walking food tour of Rotterdam where locals will take you around to sample foods that are traditionally only "Dutch" including bitterballen and poffertjes.
Check rates and availability for this amazing Rotterdam food tour!
Explore Rotterdam by bike to get the most out of what the city has to offer.
10. Discover local food at the Fenix Food Factory & Other food halls
In addition to the Markthal, food hall experiences exist throughout the city. A local favorite is the Fenix Food Factory, just across a pedestrian bridge from the cruise port of Rotterdam. While they have "food" in the name, most people love the fact that there are usually a lot of craft beer options, while having a small bite.
11. Do a Boat Tour
Since the city is surrounded by water, there are no shortages of unique boat tours. Choose an hour-and-a-half harbor tour for only about €17 per person or do something truly unique and book a "Panckake Cruise". Yep, you read that right. Pancakes. on. a. boat. 🙂 And, the pancakes are bottomless. So eat as much as you want during an hour-and-a-half tour while taking in the amazing views. Expect to spend about €22 per person for bottomless pancakes.
Or just wander the city!
Rotterdam is an incredible walkable city so if you're just there for a day, and don't want to book any excursions or tours, just walk. It's nearly impossible to get lost and finding your way back to the Port isn't difficult. Cabs are available, Uber works and any hotel can hail a ride to get you back to the ship.