Why Bring Travel Mugs & Cups On A Cruise (And which ones to buy!)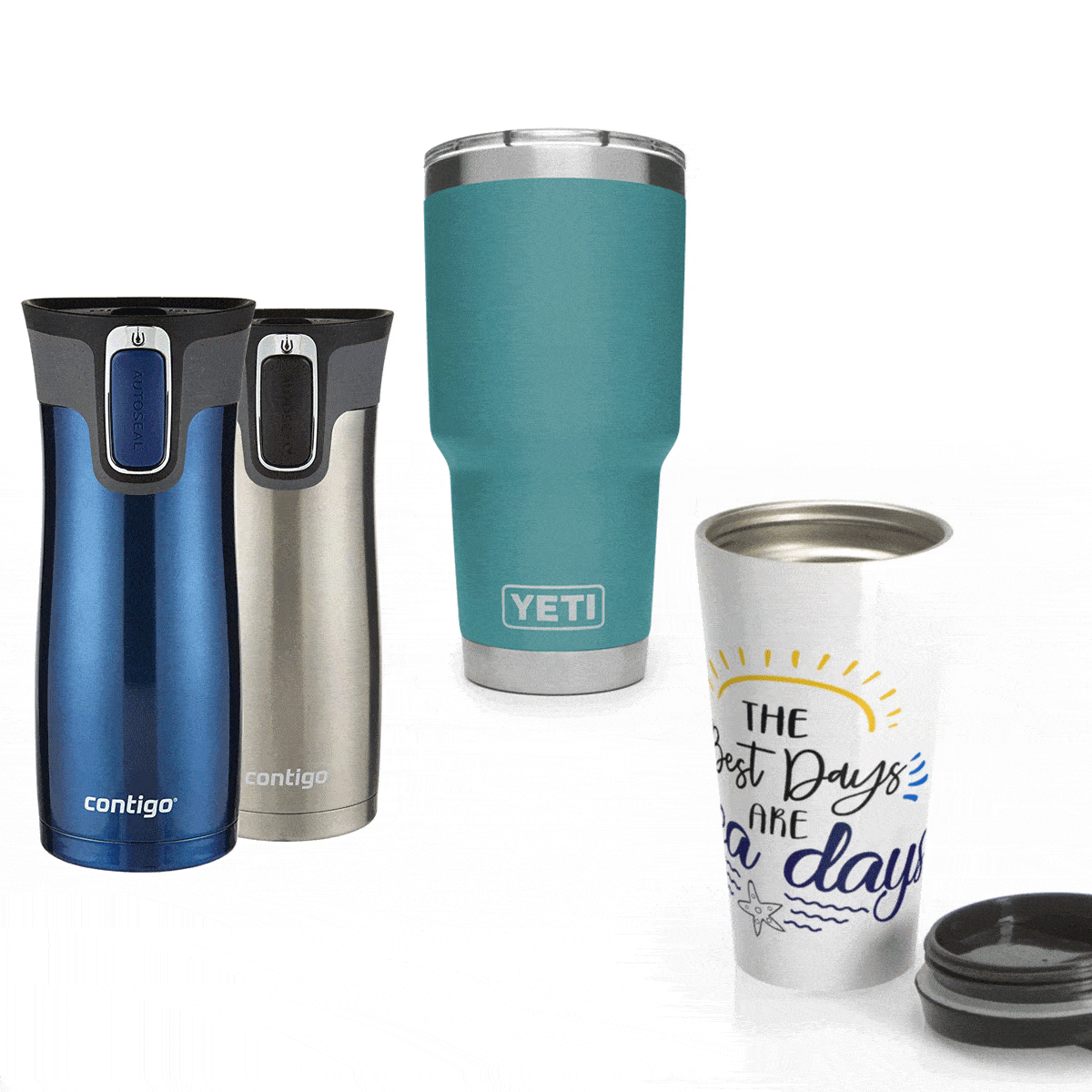 Cruise cups & cruise tumblers for your next vacation
In one of our articles about things, people pack on cruises, a cruise tumbler / travel cup got the most questions from our friends reading the article. As a frequent cruiser myself, I was surprised how often I saw other passengers with their own cruise cups and travel mugs! So I stopped a few and asked why they felt the need to carry a travel mug from home on a cruise. Don't the cruise ships all provide cups? Of course, they do! But the answers will surprise you.
First, some of the responses I got when asking passengers about their choice to bring a travel mug on a cruise. (as if we all don't overpack already!) Second, a list of tumblers and cups people love to travel with!
Number 1, the germaphobe – They bring cups on board so they do not use the cups other people are using. I can appreciate this as a fellow germophobe, however, the logic is flawed 🙂 – Are they also going to bring their own plates, forks, knives, etc? So I get it… but not really.
Number 2, the perfect mixer – Some people spend an inordinate amount of time mixing their coffee, tea, etc with the exact amount of sugar, ice, and beverage. So they can fill up their travel mug with the perfect mix of their beverage choice and not have to remix it at every stop. Again, I get it, sort of.
Number 3, the volume drinker – It's fair to say that most cups provided by the cruise lines are small. Water cups, coffee mugs, etc. So taking your own along means fewer refills of your perfectly mixed tea and coffee 🙂 – all while laying by the pool. I TOTALLY get this one.
Number 4, the environmentalist – Most people pointed to the fact that they drink a lot of water and hate the waste that reusable water bottles create (Hooray! I love you guys!). Also, the above-mentioned small cups mean more wash cycles which creates water and chemical waste. This is me. I'm this person.
Finally, number 5, the practical traveler – These folks just want to keep their beverages cold (or hot) when they are by the pool. The small cups around the Lido decks just aren't great to have on a hot sunny day by the pool, as they warm up and you find yourself with hot water instead of refreshing cold water. Insulated cruise tumblers allow you to fill your bottle once and keep it cool while out by the pool.
The main reasons to have an insulated cruise tumbler on your trip :
When going on a shore excursion – it's a great way to bring your beverage of choice while wandering around. In many ports, prices of drinks are hugely inflated and you'll be annoyed paying $3 for a small bottle of water!
If you want hot coffee or cold juice to drink on your balcony, it's great to fill up your travel mug somewhere on the ship and bring it back to your room. Avoid spilling everywhere and have a good amount of beverage while enjoying your terrace!
Now on to the best insulated cruise tumblers & cups:
1) Contigo : We actually really love the Contigo thermal mugs. They make for the perfect cruise tumbler being insulated and relatively lightweight to pack. They're inexpensive and generally available at Costco or on Amazon (see here)
2) YETI : While expensive, YETI has become the gold standard for road warriors and campers alike. So why not get it as your next cruise tumbler? While you can't beat the quality, they are quite bulky and heavy. A great product but probably not the best option for someone packing for a cruise vacation!
3) Collapsible Water Bottles: While these aren't great for hot beverages (not insulated), they are great water bottles to pack in your excursion bag / tote to take on land. Because they collapse into smaller sizes for travel and expand for a larger volume, they make a great companion for your daily life on a cruise ship or on land during an excursion. See our favorite collapsible water bottles here.