What To Pack For A Cruise – A Complete Cruise Packing List & Guide

Our Ultimate Cruise Vacation Packing List
For first-time cruisers, knowing what to pack can be a bit daunting. We've assembled this cruise packing list & guide on what to pack for a cruise. Our guide comes from many years of experience cruising and forgetting so many essentials. This list combines our experiences as well as the experience of our friends and family.
This cruise packing list isn't only perfect for first-timer, but it's also a great tool for those experienced cruise travelers!
We'll make this in a printable cruise packing list soon!
Pack your own hair care products & shampoo on a cruise.
Many ships and cruise lines have gone to dispensers within shower cabins and don't often fill them with the highest quality shampoo, body wash, and conditioner. If you're picky about your hair products, bring some of your own.
If you're prone to seasickness (or aren't yet sure) – always have some Dramamine handy. If you prefer a natural solution to seasickness, carry some Ginger chewy candy!
Not wanting to ingest anything? Try the pressure bands. Our traveling companions swear by them.
With luggage being misplaced regularly these days, an Air Tag or similar device could save you hours, if not days of headaches tracking down your misplaced baggage.
Downy Wrinkle Release
You pack as neatly as possible, but wrinkles in your clothes are inevitable. Unfortunately, most cruise lines no longer have laundry rooms to iron or wash clothes, so something like wrinkle release will save you from having to send clothing out to be steamed and ironed.
More modern cruise ship cabins often have enough plugs for everyday use, however, many ships have limited outlets. Plan ahead and bring a multi-plug extender.
IMPORTANT: Ships do not allow power strips and extension cords with surge protection. So if you want more plugs for your devices, a compact outlet extender is the best way to go.
You may have seen over-the-door organizers used for shoes, but they're a great way to keep small things organized and handy in a cruise cabin. While there is usually a lot of storage space in a cabin, it's not necessarily convenient for everyday items. There isn't a lot of space to leave things around, so being able to utilize pouches and organizers helps tremendously! Keep your often-needed essentials handy.
Cabins usually have great ventilation but it does sometimes get stuffy and it's impossible to point the A/C toward you. So a portable / USB fan can help you be more comfortable at night.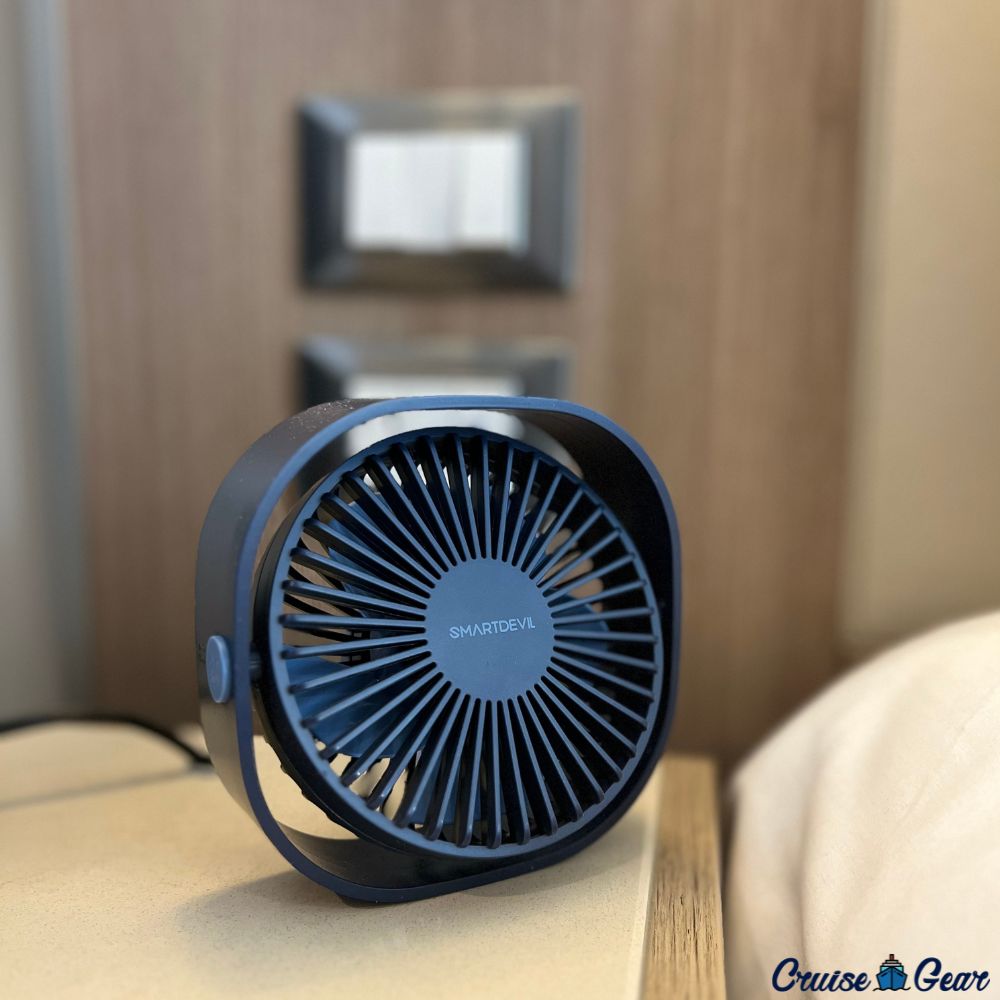 Cruise cabin walls and doors are usually metal, perfect for magnets! Getting a set of magnetic hooks allows you to put things in convenient places. They make a great place to hang hats, lanyards, bags, and even towels!
Cruise ship cabins are DARK at night. So having a couple of little battery-operated, motion-sensing LED lamps is great for finding your way around in the dark without waking up your cabin mate. Your toes will love them too.
You're given a card that handles everything on board from opening your door to making purchases at the bars. You wouldn't believe the number of people who lose their cards! Getting a lanyard will help you keep track of your key card and have it handy at all times.
Attaching printed paper tags to your luggage can lead to disaster if they become ripped or fall off! Get inexpensive luggage tag holders for your bags. They are usually universal and keep your printed tags protected.
It goes without saying that now more than ever, having access to hand sanitizer is crucial! Don't forget to bring pocket-size dispensers everywhere.
This is an item that I never thought I'd recommend packing. However, with most cruise lines going to paper straws, many passengers find soggy straws unappealing…. so reusable straws it is!
These water bottles take less room in your luggage and you'll definitely want them when you go ashore! These water bottles are also convenient while at the pool.
Folding shopping bags / Beach Bags
These great little bags are perfect for putting in your pocket in case you want to do some shopping when in port. You never know when a street vendor or market will or won't have bags for the things you buy. Or use them as a carryall beach bag for your excursions.
There's nothing like watching your towel blow away when you're trying to relax in the hot tub or take a quick dip in the pool. Towel clips will keep your towels secure to the deck chair.
Towel clips (above) are usually good enough for securing your towel to the lounger, but these oversized rubber bands add security to your towels. They're also good to tuck things like t-shirts under and keep them from blowing away while you're in the pool.
Instant Coffee and Tea Bags
If you like premium coffee like Starbucks, you'll be shocked when you see the prices on many cruises for a decent cup of coffee. The stuff they serve out of the large vats is usually quite bad, especially if you're remotely a coffee snob! So bring instant Starbucks coffee (Or Nescafe) to enjoy a coffee, in the morning, without the sticker shock.
Sugar Substitute
A sugar substitute is sometimes difficult to find on a cruise ship. So if you have a preference for something like Sweet & Low or Truvia, be sure to bring some just in case.
If you're going to a location like the Caribbean or South America, then bug bands are essential during excursions! Until recently I had no idea they existed – but my travel companions insist on them. These wristbands are mosquito repellants that are great for tropical locations on your itinerary.
Face it, you're gonna spill things on yourself! Laundry, while available isn't generally economical. So a stain stick will be your new best friend.
A Book or Deck of Cards
You'll find there are times when there's not much to do on a cruise ship. Finding a quiet corner to read or play a game of cards is a great way to pass some time. However, many travelers don't realize that most cruise ships have a game room with a lot of board games and some even have full libraries!
Travel Mug / Insulated Mug
Many people like to take their morning coffee/tea with them while walking around the ship. If this is you, be sure to bring a thermal travel coffee mug! They even make them in compact collapsing versions that take up little space when traveling. (LOVE THESE!)
Even though many newer model phones are water-resistant, consider packing a waterproof pouch for other items including money, your key card, and your ID. While many phones now are water resistant, salt water is never friendly to your phone regardless of its water resistance! So get something to put your phone in if you plan on doing an island or beach excursion.
Sun Hat
Especially useful in warm weather destinations, any sort of sun hat will be a relief during excursions or by the pool.
For music lovers, having a small BlueTooth speaker in your cabin adds to the overall experience considering there are no radios and limited TV on a cruise.
Zip Lock Bags
I always pack a few zip-lock baggies just in case I have liquids I need to travel back with that won't fit in my carry-on bag.
Bandaids & Neosporin
You're going to walk, LOTS! Expect that you could end up with blisters from the extreme amount of walking at each port. Be prepared with bandaids and ointment. While most ships sell these items in their shops, they'll be quite expensive and the ship may run out mid-cruise.
Over-the-Counter Pain Medication
It's always a good idea to have some aspirin or Tylenol on hand if you're prone to headaches. Availability in the shop or onshore is hit or miss for these types of items.
If you're even a moderate drinker, overindulgence on a cruise vacation is likely to happen at least once. Don't let it ruin your next day with a hangover, bring a few tried and true remedies such as Pedialyte powder or even some of the better-known "after-party" packets. Remember those ginger chewables we mentioned for seasickness? Those are a great help for post-imbibing nausea.
The best way to dry wet swimsuits is to wrap them up in a quick-dry towel. Think of those chamois-type towels used at a gym. They're small, easy to pack, and will keep you from having wet bathing suits hanging around the cabin your entire trip. Use them to dry your clothes or your body.
Face Masks
Given the current health situation around the world, having plenty of face masks on a cruise is just good planning. You never know when you'll end up at a port location that suddenly requires the use of a face mask.
Light sweater or hoodie/pullover
Cruise ships are like hotels with their climate control. You'll likely find yourself in a bar, restaurant, or theater that is excessively chilled. Be prepared with a light sweater or hoodie.
For longer voyages, you may want to consider a compact clothes cleaner like the one by Scrubba. While some ships have laundry facilities for long voyages, most require paying for a cleaning service which can be quite expensive.
Travel plug adapter
Most cruise lines have USA plugs, many have multiple types of plugs since ships tend to service different areas at different times of the year. But if you are going on a foreign cruise such as Pullmantur or AIDA, then definitely consider an adapter!
Travel battery
If you love excursions, you'll really want to take an extra charging battery/battery bank. Most people do anyway – but we can't stress it enough. Even if it's just a small one that fits in your pocket. There is no worse time to run out of battery than when you're on an amazing shore excursion wanting to take pics, or worse needing to use the maps to find points of interest and your phone dies.
If you're planning an excursion expect you'll be doing a lot of walking. So carrying a traditional backpack or heavy purse can be cumbersome. We recommend drawstring-style nylon bags. They are lightweight and perfectly suitable for a day out. We love these so much, we're making them now! Check out our selection of draw-string bags great for shore excursions (here).
If you're booking a cruise that includes tropical beach locations, bring water shoes! Stepping on a 'pop top' only sounds good in songs – not in real life. Don't let sharp rocks or broken glass ruin the rest of your vacation, use water shoes.
If you like to use the spa while on vacation, most cruise spas don't supply flip-flops or spa shoes. Bring your own!
Let's face it. A cruise cabin is a small space and the bathrooms lack ventilation. Your cruise companion will love you for bringing a bit of air freshener!
There's nothing worse than packing wet clothes. Bring a wet bag for all of your swim clothes at the end of your cruise. (I usually just pack a plastic garbage bag for this purpose).
Other Things To Not Forget
Sun Screen
Aloe for sunburns
Clothing Items
poncho
portable tissues
Umbrella
Travel Binoculars
What NOT To pack for a Cruise
There's no problem finding resources and advice on what to take on your next cruise, but what about things that shouldn't be packed? People don't often think about what not to pack for a cruise. Some items might surprise you! For example, on a recent Virgin Voyages cruise you'd not believe the number of fuzzy "Handcuffs" that were confiscated and returned at the end of the cruise 😳.
Do you have a comment?
Did we miss something? Have you had a different experience? Did we get it wrong?