A quick guide to ducks on cruise ships – Everything you need to know about cruise ducks
If you've been on a cruise within the past several years, you'll likely have either come across a little rubber duck hiding somewhere or have heard about someone finding one. These ducks on cruise ships sometimes come with little tags with information about who hid the cruising duck and ask the person who found it to re-hide the duck for someone else (or keep it as a fun memory of the cruise). Furthermore, the tags might have instructions on how to share the find on a Facebook group, website, or Instagram with a hashtag.
Why are people hiding these cute little rubber ducks hiding on cruise ships?
The cruising duck phenomenon started a few years ago as a fun hide & seek game for people of all ages on cruise ships. Allegedly started by a young girl and her father as a fun game with no real purpose other than to just make others smile. Hiding ducks on cruise ships has evolved from simple rubber ducks purchased online to elaborate homemade & 3D printed ducks that more creative people love to hide (I can't wait to find one of those!). Some cruisers even enjoy hiding things like duck keychains, stuffed animals, or little charms.
Admittedly, I thought the idea was silly, and there are other cruisers who are downright angry that people hide these ducks on ships. Some passengers even proclaim they'll throw them away if they see them!
Until I found a rubber duck hiding on a cruise ship, I didn't realize the fun of it all. On a Baltics cruise aboard the Norwegian Dawn, I happened to come across TWO ducks and it really just gave me a huge smile and it was at that point, I realized the fun of discovering a cute little creature hiding somewhere discreetly. Finding a couple of rubber ducks on a cruise brought out my inner child and reminded me how the little things in life could be good fun. It's infectious, to say the least. So on our two next cruises, there are a couple of ducks I plan on hiding myself for the first time.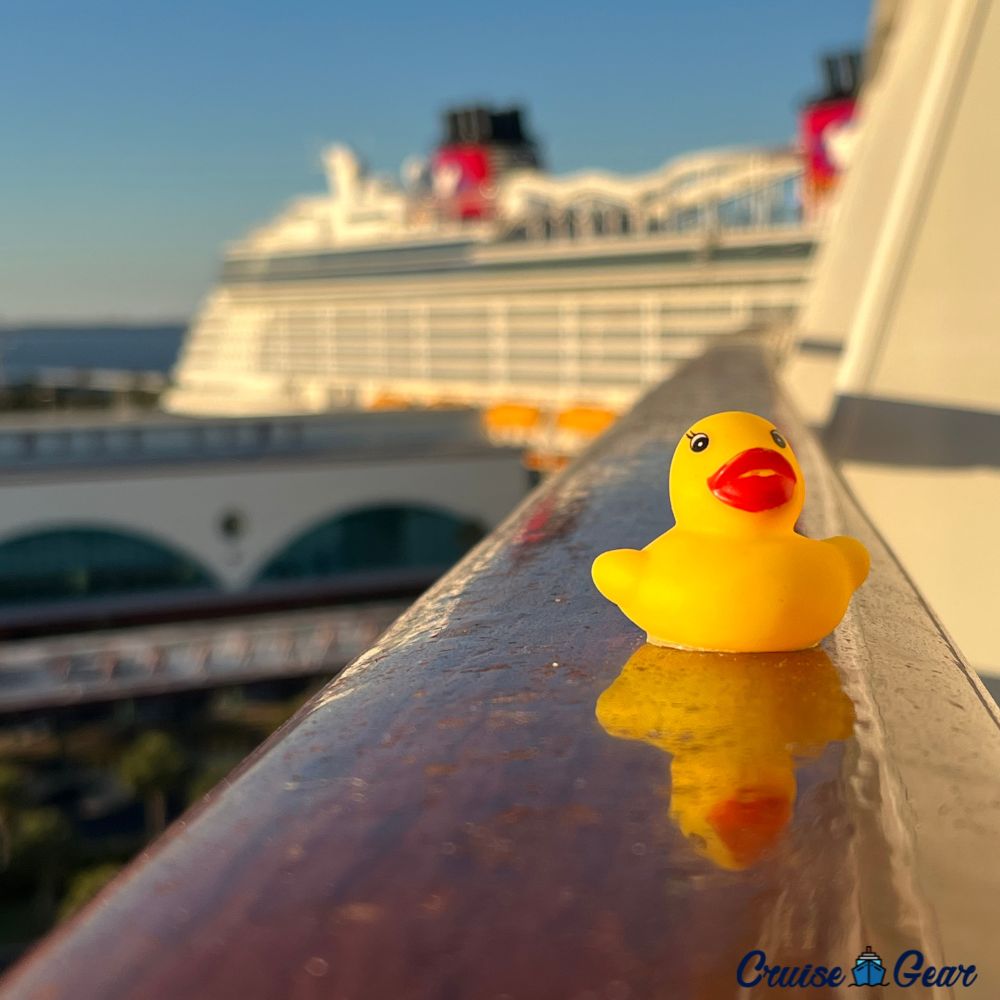 Are there rules to hiding cruise ducks?
In short, not really, but there are some common sense (and common courtesy) things to consider when hiding a duck on a cruise.
Don't hide ducks in shops
Only hide ducks in public areas
Avoid hiding ducks in pool, hot tub, and spa areas,
Don't hide anywhere outside where the cruising ducks could end up flying overboard
We think hiding ducks in restaurants and buffets are not the best idea for sanitary reasons.
Some places where people find ducks on a cruise ship:
•Deep in the plants found in the atrium area
•Discreetly atop a video game
•Behind a piece of furniture peeking out
•In a cabin safe on the day of checkout for the next passenger to occupy the room
Do cruise lines allow rubber ducks to be hidden?
Most cruise lines haven't said one way or the other on whether leaving these ducks around the ship is allowed. In fact, Carnival Cruise Line recently said that they embrace the fun to be had by hiding these little ducks. Furthermore, while some passengers have said they see staff taking the ducks away and fear them being thrown in the trash, it's fun to know that even the staff enjoy finding these ducks and sometimes collect them. Almost all of the cruise crew know about "duck hunting" and know not to throw them away.
If you want to hide ducks of your own on your next cruise, here are a few resources:
Buy some cute (but inexpensive) ducks online. They generally cost less than $1 each
Make or buy tags for your ducks (usually downloadable ready to print). Here are a few examples of tags you can get on Etsy:
Our Cruising Duck tag Template FREE download (Coming Soon!):
Or you can make your own using these tag designs as inspiration.
What to do if you've found a cruising duck : to share your find! Here's where:
CruiseGear duck album (coming soon)
We would love to see a picture of a duck you've found! Share a photo for our gallery and you could be entered into our free cruise contest!