MSC Cruises Drink & Bar Menus With Prices

We spent a lot of time on a recent voyage with MSC Cruises trying to decipher the MSC drink menus and drink packages. We are posting the entire range of MSC drink menus to accompany the information recently published comparing the drink packages. These menus will also help people with the MSC Easy drink package better understand what's included!
TRY IT : We've created an MSC Drink Calculator to see if buying a beverage package is worth it on your next cruise!
MSC Drink Menus
Ship wide drink list with prices
This is the shipwide menu for bars, pool areas, main dining rooms, and lounges. This menu does not apply to specialty restaurants that have their own specific menus.
Master Wine List – Available in main dining rooms
This list is what is generally presented in any dining area or main dining room on MSC ships.
MSC Champagne Bar Menu
For MSC cruise ships with a Champagne Bar, this menu is presented, but they often have a full bar as well.
Brass Anchor Pub
The pub features quite a few beer options but pay attention to the prices if you are planning on using a drink package. Additionally, there are paid items to eat at certain times.
For people who have chosen the Easy Package or get it free with their cruise fare, there is a separate menu: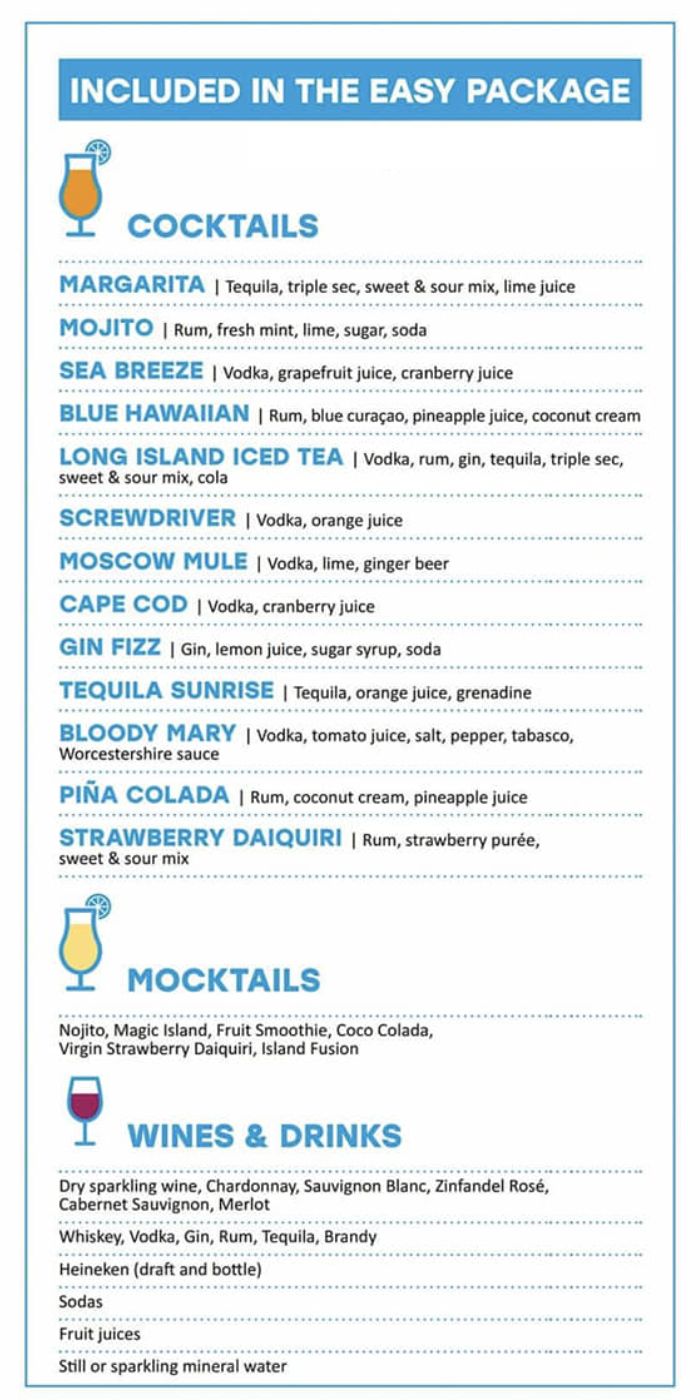 A word about the drinks on MSC Cruises
If you plan on enjoying your cruise without purchasing a drink package, you'll see by the above menus that the prices of drinks really aren't terrible compared to other cruise lines. However, a drink package is now more commonly included as a perk or incentive when booking a cruise with MSC. Even if there is a slight upcharge for an included Easy Package for you're next cruise, you'll likely find that it's well worth it given that it includes bottled water, sodas and specialty coffee which is uncommon with most cruise lines.
Learn more about the MSC drink packages that are available and how they are used.