Holland America Club Orange Review – Is it worth it for your next cruise?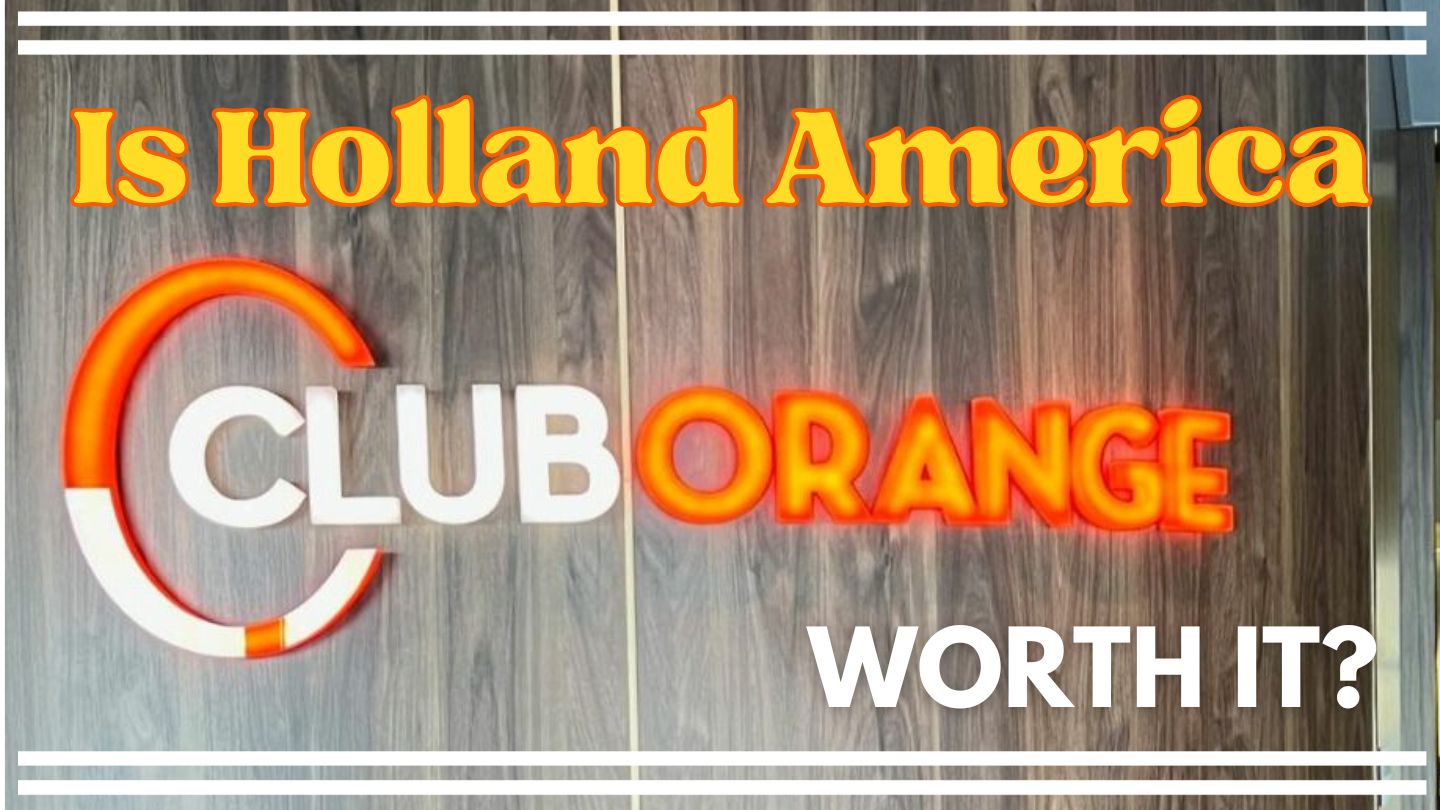 Speaking to passengers who've booked the Club Orange add-on, it's nearly a 50/50 split between those who would book it again and those who wouldn't.
Here is our Club Orange review and our experience with the Holland America Club Orange program.
About the Holland America Club Orange Program
Club Orange was introduced a few years ago as an additional "package" that offers a few perks such as priority embarkation, private dining, and expanded room service menus – among other things.
On the surface, the benefits listed on Holland America's website are simple and straightforward. How these benefits really add up in terms of value is subjective and will vary with every passenger and their situation.
What does Holland America's Club Orange Cost?
Add Club Orange to an existing reservation for $25 per person per day for cruises up to 13 days. For longer voyages 13 days or more, the package is available for $15 per person per day.
HAL simplified the costs recently as they used to vary based on the class of ship. Now with the simplified pricing, it makes it easier to decide if the perks are worth it.
Club Orange Program Benefits
At a glance, the marketing material for Holland America's Club Orange upgrade is simple and includes the following
| Priority Access to VariousThings: | Extra Amenities: |
| --- | --- |
| Priority check-in | Stateroom Upgrades |
| Priority access to restaurant reservations | Concierge Service |
| Priority line at the Guest Services desk | Welcome wine with dinner (day 1) |
| Priority line at the excursion desk | Upgraded bathrobes |
| Priority line at guest services desk | Free tote bag! |
| Priority line at the guest services desk | Invitations to special events (TBD) |
| Priority access to tenders | |
| Premium Dining Experiences: | |
| Expanded Room Service Menu | |
| Private Dining Room (On Pinnacle Ships) | |
| Priority Main Dining Room Seating | |
We'll get into the details of how each of these works in real life!
Priority Boarding, Tenders & Disembarkation
Club Orange offers guests priority boarding (embarkation) and debarkation as well as priority tender access. This benefit is pretty simple, show up on embarkation day, and within about 30 minutes, you'll be through the check-in and onboard!
To some people, this is the single biggest benefit of the package.
Embarkation: In our experience, we arrived at 11 a.m. and were on the ship by 11:30, so if you're looking for quick access to the ship, this benefit is worth it!
Disembarkation: On the final day of the cruise, Club Orange passengers are usually assigned the first or second group to disembark. This benefit can be huge if you have an earlier flight, as you'll be one of the first off the ship to catch a cab or transportation before it gets busy.
Priority Tenders: In most ports that have tender boats, your key card will get you priority access to the tenders, another good benefit if you want to make the most out of a port day and get off the ship early.
Other "Priority" benefits
There are a few other perks that are niceties to have when spending an extra few hundred dollars on a 7-day cruise.
Priority customer service lines at guest services. This can be helpful to sort out billing on the last day when EVERYONE is standing in line to fix errors.
Priority Excursion Desk Assistance – In reality, there was never really any priority given at the excursions desk.
Priority specialty dining reservations – restaurant reservations made on board are given priority to Club Orange guests. However, it's important to know that you can't use the priority reservation when booking in advance. This benefit is only available while onboard. While we never had issues getting into any restaurant, I'm unsure what would happen if the venue is fully booked and you allegedly have priority. (TBD, until we can speak with passengers who have experienced this)
Club Orange complimentary cabin upgrade
One of the Club Orange benefits includes a complimentary stateroom upgraded to the best available cabin in the same class. The details on how this works aren't very clear and may be confusing for some people. so let me explain!
Stateroom categories aren't ever straightforward, so this upgrade does NOT mean that if you have an inside you will get an ocean view, or if you have an ocean view, you'll get upgraded to a verandah. Unfortunately, that's not how the Club Orange stateroom/cabin upgrade works.
Essentially, you will be upgraded within your class of cabin to a better stateroom within the same class. This can sometimes be a HUGE benefit, but sometimes it's no benefit at all. Here's how:
If you've booked an interior cabin in the front of the ship, you'll likely be "upgraded" to a more central interior, as it would be considered the best available room within the interior cabin class.
Or, if you have booked a Verandah stateroom, you could be upgraded to an Aft Verandah (as we were), which is a nice upgrade.
The best Club Orange cabin upgrades are for people who may have an obstructed view stateroom or "guarantee" stateroom and get upgraded to a nice full-view room without obstructions. The cost difference in the rooms oftentimes is more than paying for Club Orange!
What happens if there is no stateroom better than what you've already booked?
Perhaps you've booked the best room in the class of stateroom on the ship. Or maybe the ship is full and there are no upgraded rooms available. In these cases, Holland America will generally offer an onboard credit. The people we have spoken with have received a $50 spending credit in lieu of the cabin upgrade in this situation.
The Club Orange private & exclusive dining room onboard (on some ships)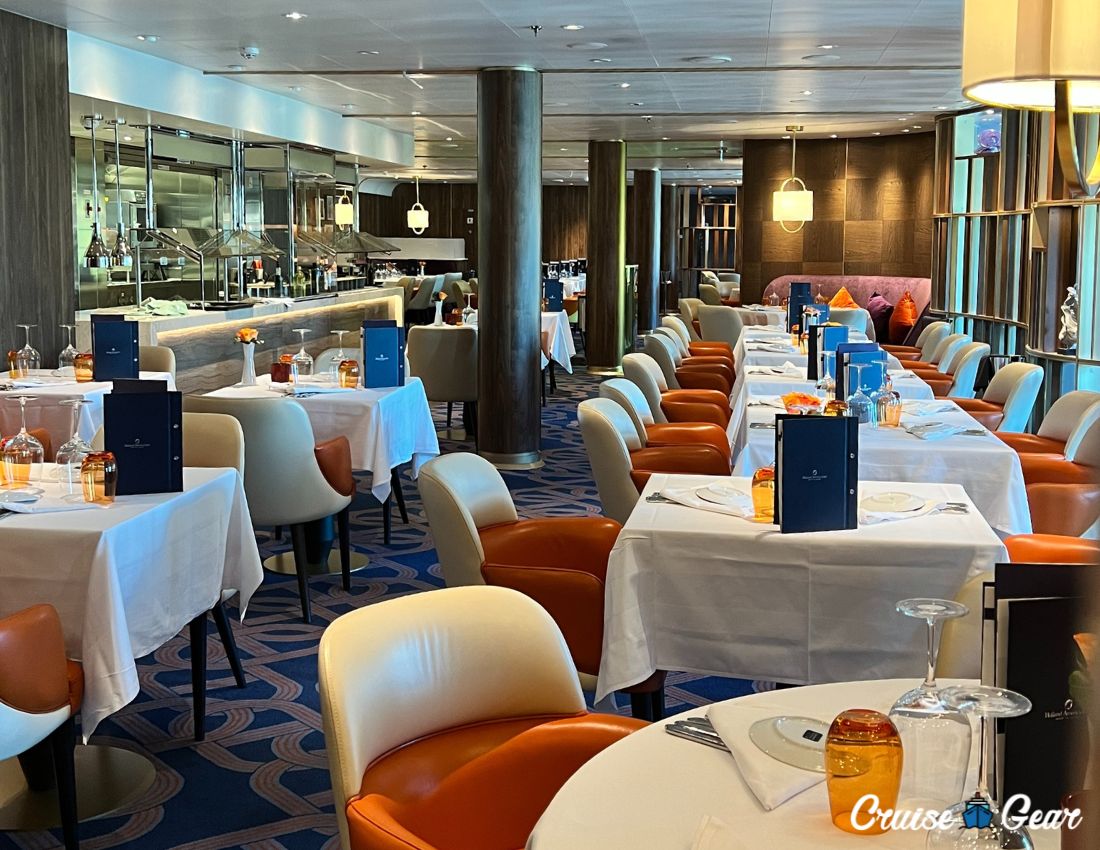 On Pinnacle Class ships (Rotterdam, Nieuw Statendam, and Koningsdam), a private Club Orange dining room is sectioned off. The Club Orange restaurant is open for breakfast and dinner in a smaller and more intimate setting allowing passengers to avoid the hectic buffet and main dining room.
The food served in the Club Orange dining room is basically the same as in the Main Dining Room with an extra option that's not available on the Main Dining Room menus. The extra entree option is rarely worth the upgrade in itself, but the access to a quieter dining venue is a really nice option.
The problem is, that with ships older than the Pinnacle Class, there is no dedicated dining space for Club Orange. SO for non-Pinnacle Class ships, you are offered expedited seating with a slightly enhanced menu. These ships include: MS Volendam and MS Zaandam, MS Volendam, MS Zuiderdam, MS Oosterdam, MS Westerdam, MS Noordam, MS Eurodam, MS Nieuw Amsterdam
A few more perks worth noting
Free tote bag – Each cabin receives 1 free branded tote bag, which is pretty nice for excursions and as a souvenir.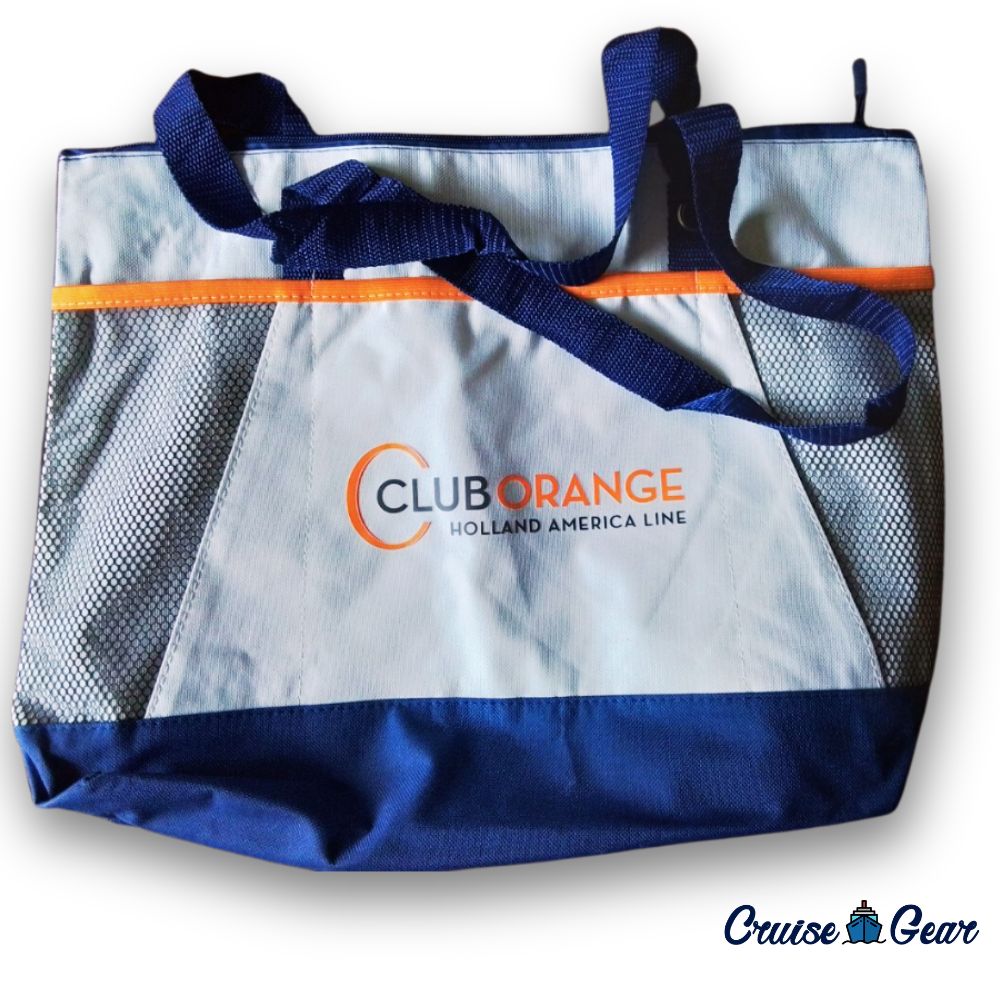 A glass of sparkling wine on your first night during dinner.
Special invite-only events – This perk could include a behind-the-scenes tour, a tasting event, or anything really that the crew wants to put together for the guests.
A concierge hotline – HAL states you get dedicated concierge services, but really, what is this really for, we couldn't figure it out (or why you'd bother).
Fluffy bath robes – unfortunately you can't keep them 🙁 – but you can sure buy them! (even monogrammed to your liking)
For Club Orange members, there is an upgraded room service menu available as well. It has a few more hot items and a bit more variety. Here's an example of the menu:
A few things to know before purchasing Holland America Line's Club Orange upgrade
A limited number of these upgrade packages are sold per cruise and must be purchased prior to cruise departure. If you want to book Club Orange, it's normally done by calling HAL or your travel agent so they can arrange the cabin upgrade based on availability.
Club Orange must be purchased for every day for the length of the cruise and the first two guests in the same stateroom must purchase the package. So one person can't opt out. (Third and fourth guests are entitled to the perks without paying!)
Does Club Orange come with a Pinnacle Suite or Neptune Suite?
Club Orange is included when booking Neptune and Pinnacle Suites on Holland America. Not that it's really INCLUDED, it's just that the suite benefits overlap what the promotion has to offer. The only thing that's really unique is on the Pinnacle Class ships with the private dining room, the Suite Guests are allowed access. As a Suite Guest, you can request the Club Orange menu on ships without the private dining room, but an inexperienced staff member may tell you it's not available. Just be persistent and request it, you're entitled to the menu as a Suite Guest.
Is Holland America Club Orange worth it?
I always hate saying… "It Depends", but adding Holland America's Club Orange to your next cruise is one of those upgrade options that really depends on your situation. For newer ships that have a dedicated dining room, the upgrade is really a nice benefit, especially as cruise ships start sailing at capacity. It just offers more dining flexibility and convenience.
However, on older ships, unless you have a really poor cabin selection that you can upgrade, the package really doesn't make much sense. Sure there are some great add-on perks, but unless a significant cabin upgrade is available, it barely makes financial sense. But not everything boils down to money! It's also the cruise experience. I like to call this a package of "convenience". There are a lot of little things that could make your cruise experience feel a tiny bit nicer. The actual value someone gets with that happy feeling from skipping lines is incredibly subjective. To many people, it's just not worth it. To me… it depends.
Holland America Cruise Line markets this upgrade as premium benefits and luxury amenities for a nominal extra fee.