MSC Room Service Menus with Prices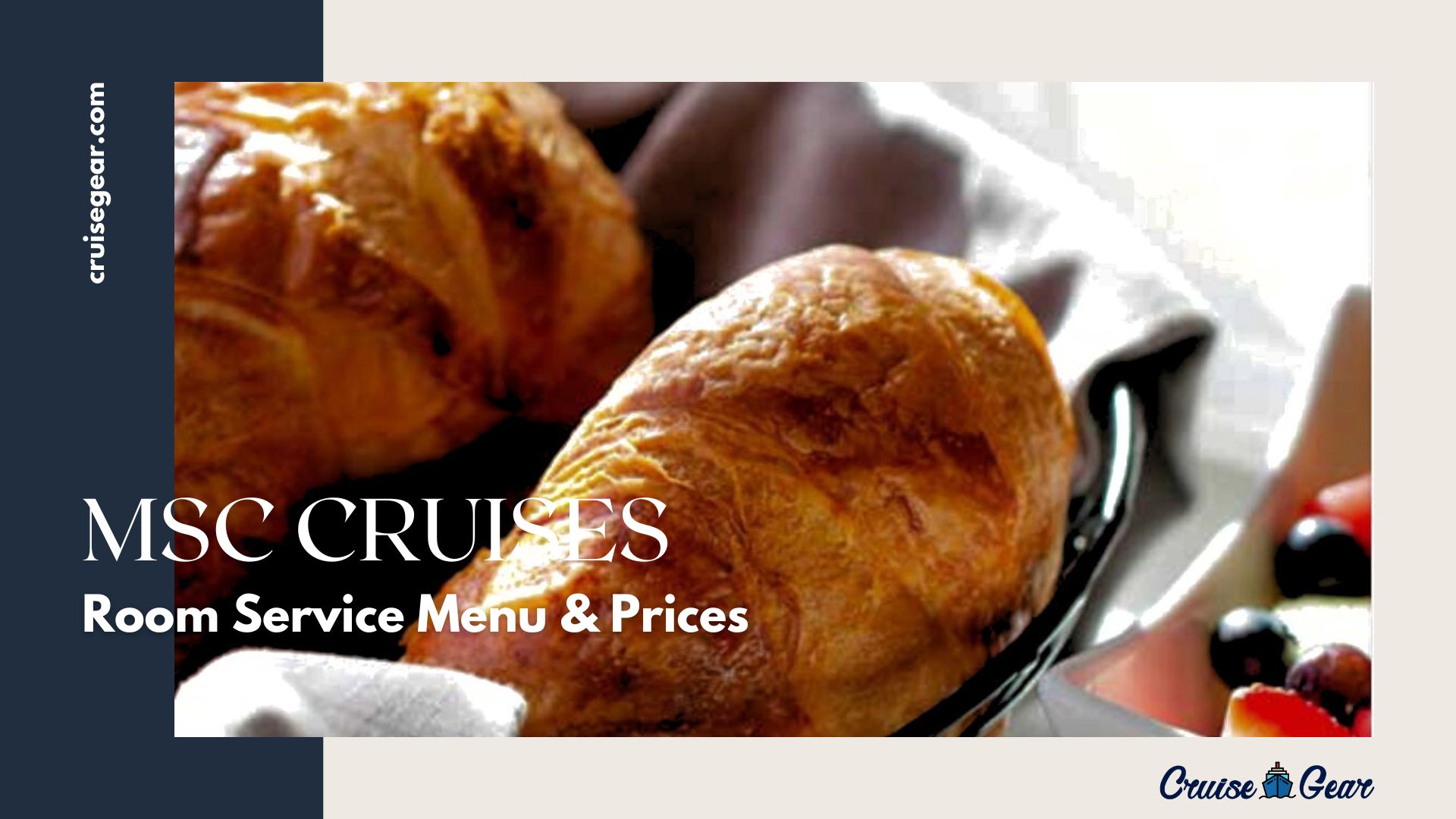 Nothing speaks vacation mode like room service! Being able to lounge in your cabin and avoid the chaotic buffet lines is a real treat, but it often comes with a cost on MSC Cruises.
Many cruise lines have done away with free room service, but MSC has a unique approach to their room service pricing.
What is the Rooms Service Charge on MSC Cruises?
Based on your "experience" level that you booked for your MSC Cruise, you may qualify for free delivery for room service.
For the Bella"experience" guests (the most cost-effective rate), room service now costs $4.99 per order to deliver (not per person, but per delivery). The cost has risen from $3.50 just a year ago.
For all other guests in the Fantastica, Aurea, and Yacht Club, room service delivery is complimentary.
While the delivery fee may be complementary, there are still paid items on the room service menus.
Our Experience with Room Service
We booked the Fantastica experience on the Meraviglia and used room service (breakfast) on a couple of occasions. Just like you'd expect, a card is left in the cabin for you to fill out for the following morning along with a requested time. Each time we tried the room service, the order was forgotten or was delivered significantly later than expected.
The benefit of ordering breakfast was to avoid the crowds on days that we had excursions planned. Unfortunately, it would have been better to just visit the buffet and head straight out for the excursions than wait around for the room service delivery.
Just keep this in mind if you have an excursion booked. Otherwise waiting a bit wouldn't be a big issue.
Room service breakfast menu
The breakfast menu available is basically a continental breakfast delivered between 6 a.m. and 10 a.m. Items include breads, muffins, cereals, fruit, jams and spreads. If you're craving a hot meal for breakfast, you'll be paying extra, unfortunately.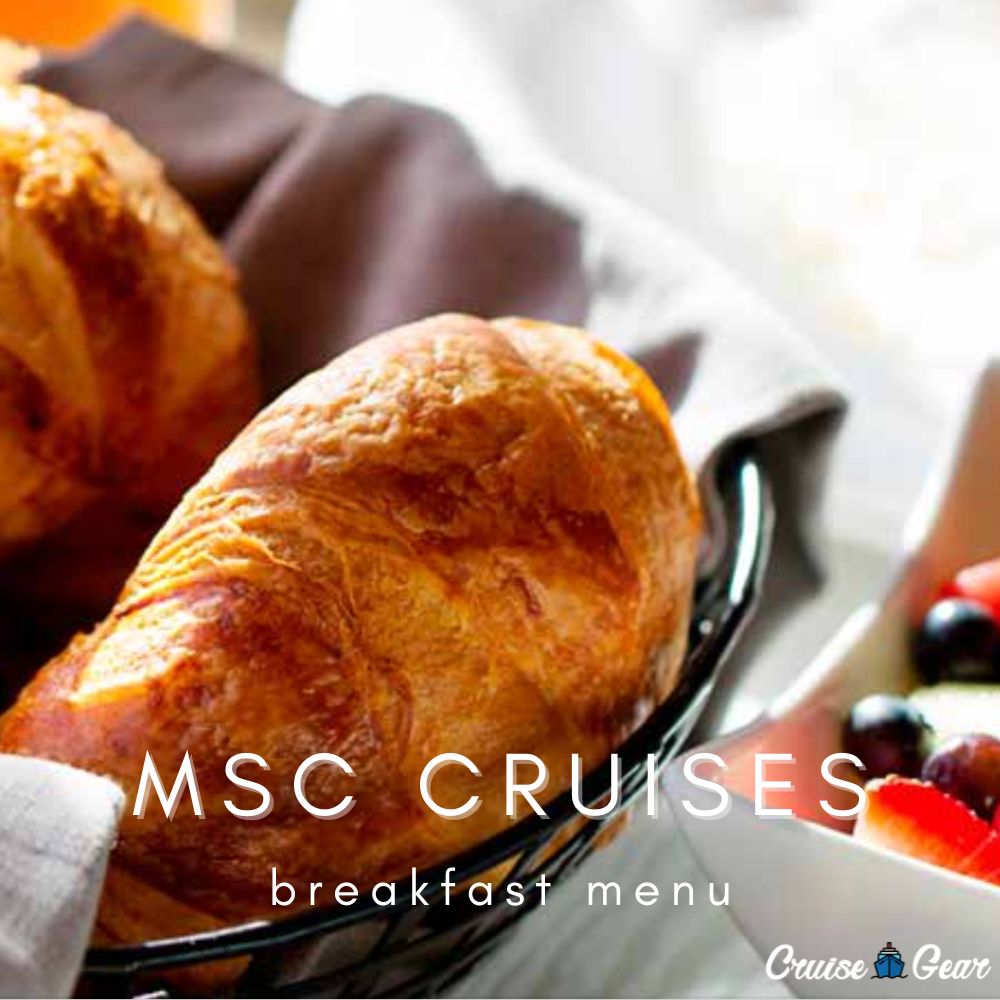 From 7 a.m. -10 a.m. you can have a hot meal delivered for a fee of $7.95. They don't make it clear if it's per person or per delivery for the fee. So we tried it! In our experience with 2 people in a cabin ordering hot meals, we were only charged a single $7.95 fee making this PER ORDER, not per person. However, we've been told of other passengers being charged PER PASSENGER when there are 2 people in the cabin both ordering hot breakfast items. Talking with an MSC Rep, they said this was likely a mistake and it should only be $7.95 per order placed regardless of the number of passengers and items ordered.
Lunch and dinner room service menus with prices
Have a look at the full MSC Room Service Menu PDF with the all-day menu, dinner menu, and pizza menu.
Room service all-day menu
This menu is basically available any time of day, for a fee. For single items, the price is $3 or two items for $5. There is only a delivery/room service fee for Bella Experience guests ($4.99) – everyone else just pays for the times without a delivery fee.
Oddly they limit you to two items per order per person. I'm not sure why they care since you are paying for it. It's just another one of those headscratchers when it comes to MSC Cruises.
ALL Day Menu Items:
TUNA SALAD SANDWICH
HAM AND CHEESE SANDWICH
GRILLED CHICKEN BREAST SANDWICH
GARDEN SALAD
GARDEN SALAD WITH CHICKEN BREAST
MINESTRONE SOUP
CHOCOLATE CHIP COOKIES
Dinner Room Service Menu
If you feel like skipping the Main dining room, order from the more limited room service menu for only $7.95. This magic price conjures up the same confusion as to whether it's per person or per delivery. Officially it's per order/delivery, so if you are charged per PERSON, definitely go to the guest services and have it removed. The items on the menu are complimentary and have no additional charge, unlike the all-day menu.
Again, if you are a Bella experience guest, you'll pay an extra delivery fee of $4.99 on top of the $7.95
Items available for dinner between 6 pm and 10 pm with a limit of 3 items per person:
FRENCH ONION SOUP – Jack Daniel's splash, Gruyères cheese croûton
BEST WINGS AT SEA (6 WINGS X ORDER) -Sauces: buffalo, hickory smoked, barbecue, sticky teriyaki
MSC SIGNATURE BURGER* -caramelized onions, bacon, Swiss cheese, lettuce, tomato, served with French fries
MARINATED ROTISSERIE CHICKEN WITH GARLIC, LEMON AND FRESH HERBS -served with mashed potatoes and seasonal vegetables
PENNETTE PASTA – Your choice of fresh tomato basil sauce or Alfredo sauce
PAN-SEARED ATLANTIC SALMON* rice pilaf, green beans, white wine sauce
CAESAR SALAD
romaine lettuce, garlic croûtons, Parmesan cheese, Caesar dressing
NEW YORK STRIP STEAK*
home fries, grilled tomato, herb butter or peppercorn sauce
SELECTION OF FRESH-BAKED BREAD
CHEESE PLATE
GRANDMA'S CHOCOLATE CAKE – with layers of dulce de leche and chocolate fudge
NEW YORK CHEESECAKE – Your choice of caramel, chocolate, strawberry, peach, and passion fruit toppings
Room Service Pizza Menu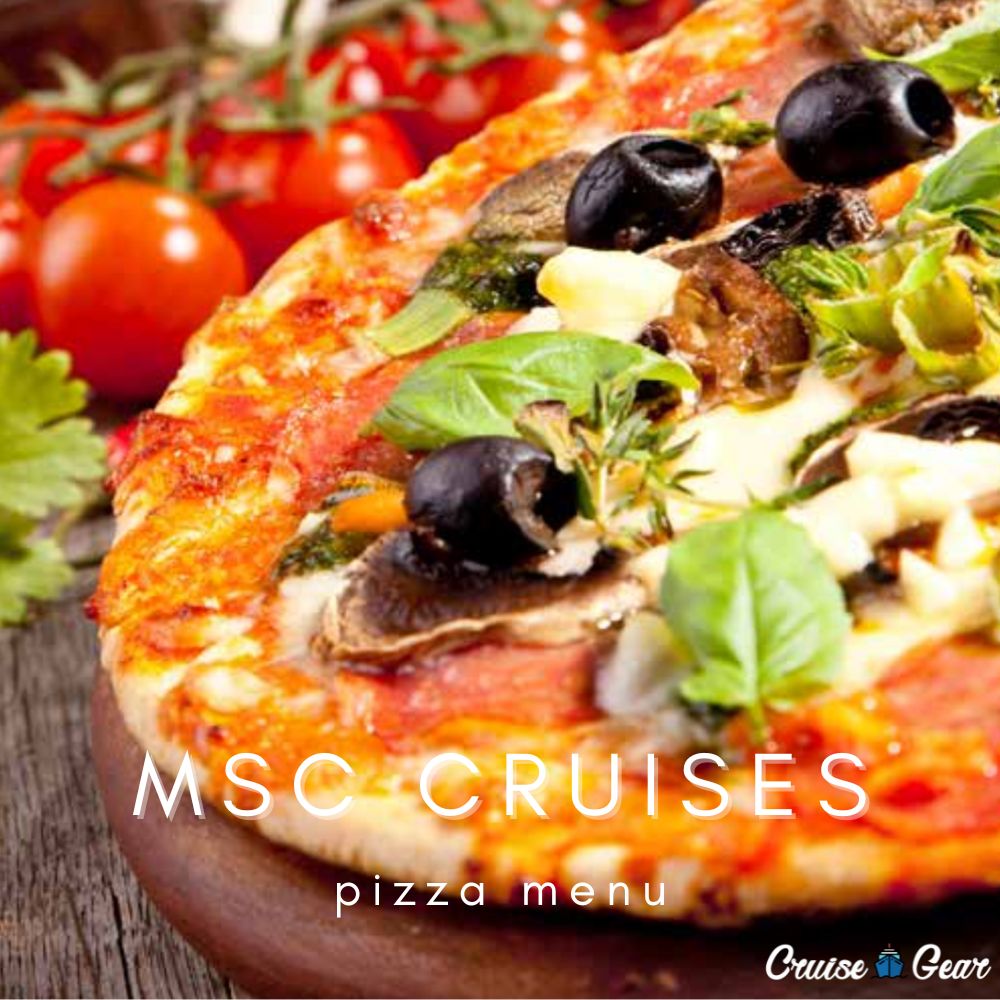 Like all cruise lines, MSC has an option to order room service onboard all of their cruise ships but the pizza delivery is what delights guests most! You will pay for the pizza and Bella Experience guests will pay $4.99 for delivery.
Pizza
Price
MARGHERITA
$6.00
VEGETABLE
$7.00
PEPPERONI
$7.50
FOUR CHEESE SORTS
$8.00
MARINARA
$8.00
MSC STYLE
fresh tomato sauce, Parma ham, arugula, mozzarella, Grana Padano cheese and extra virgin olive oil
$9.00
SUPREME
fresh tomato sauce, ham, pepperoni, Italian sausage, bell peppers, mushrooms, onion, mozzarella, Parmesan cheese and extra virgin olive oil
$9.50
Also available is a build-your-own pizza with a base price of $6.00 then choose your favorite ingredients: maximum 5 ingredients $ 0.50 each
MSC Yacht Club Room Service
Finally, the premium Yacht Club experience on MSC includes room service at no charge (for anything). The butlers will often get you whatever you are craving and you'll not see a bill for it!