Rudi's Sel de Mer Menu & Review | Holland America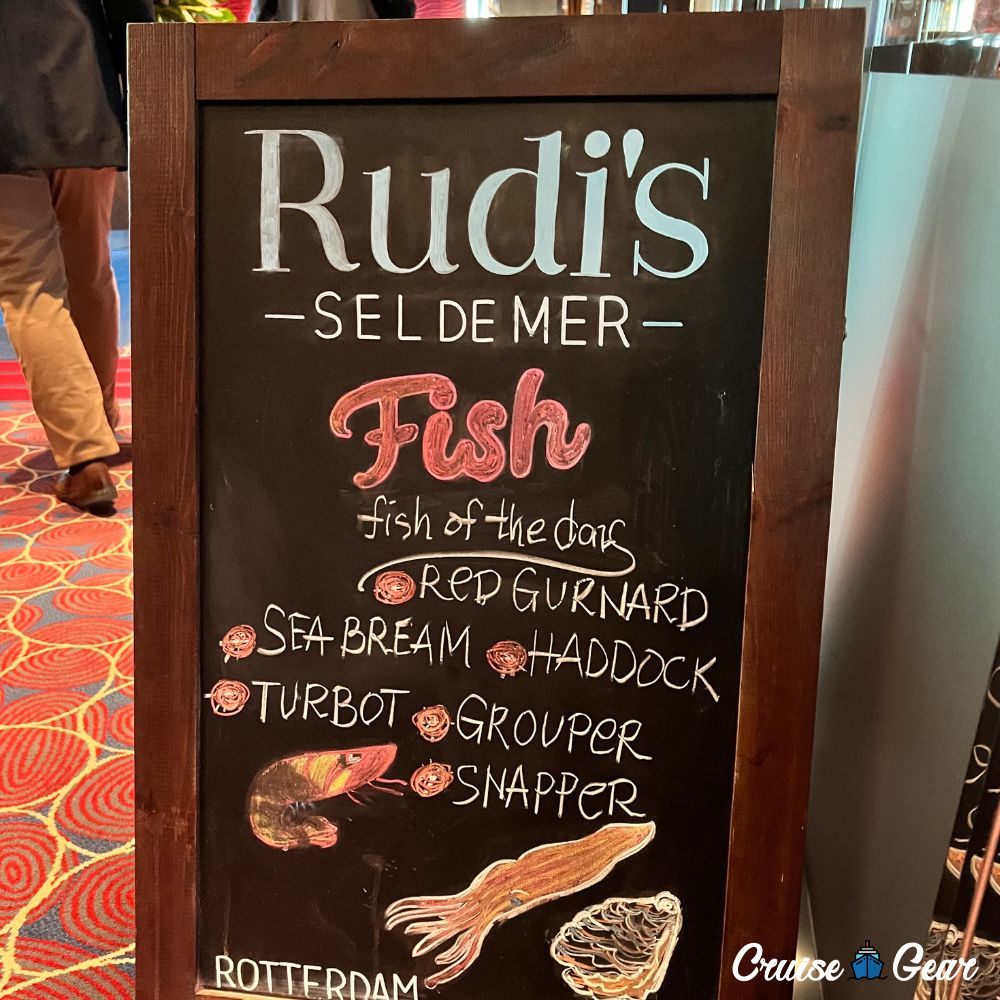 Holland America Line is known for a focus on food and dining experiences and the addition of Rudi's Sel de Mer on some of their ships expands on their culinary vision for the brand.
About Sel de Mer
The restaurant, which can be found on the Rotterdam, Koningsdam, and Nieuw Statendam is one of the specialty dining venues that charges an extra fee per person ($49). It's also the most expensive dining option on Holland America cruise ships.
Upon an initial glance at the menu, it's hard to know whether the restaurant is trying to be more of a seafood-focused eatery or a high end French style brasserie. In the end, it's really both, which was both interesting and frustrating for a group people dining together with varied tastes.
Holland America touts the restaurant as having French dishes "reimagined" with a contemporary flair, which is actually a fair and accurate description.
Rudi's Sel de Mer on Holland America – Review & What to Expect
When speaking to fellow passengers, it was unusual to hear that this particular specialty dining restaurant interested everyone the least out of all of the up-charge dining venues. It was hard to determine if it was the price was a factor or if it was the unusual menu that is pretty taste specific…. or both. In my opinion, it was hard to wrap my mind around the cost of the restaurant with a menu that could prove to be difficult to enjoy leading to the overall question of whether or not there was enough value in making a reservation. In the end, I'm glad we did – but more on that later.
The ambiance is unlike anything else on the ships with a modern take on an old-world brasserie. The decor is actually quite beautiful (Specifically on the Rotterdam) and makes the experience feel more authentic and interesting. See the 360 view below. The space felt elegant without being a cheezy French replica.
The service can be best described as "unusual". The servers chosen to work in the most expensive specialty dining restaurant were friendly and quite good but didn't seem to have the level of refinement we experienced in the Pinnacle Grill. I'm not sure if it was personality, attentiveness or what… so the word "unusual" fits. While I know staff rotates around the ships, I was told specifically that servers that worked in Sel de Mer were hand-picked and also were the primary staff of the Neptune Lounge.
The food selection was unusual with a seafood-forward menu and a few classics like Coq Au Vin & Steak Frites, which is what saved the meal for the non-seafood folks in our group. As with all of the restaurants, there were a few items with an upcharge (caviar & Fruits de Mer) but ironically, not the Whole Lobster – which was included in the cover charge.
Appetizers
There were so many options that you could literally make a meal out of just appetizers. It was great to see the variety, however, it was nearly all seafood based except for the Steak Tartare, Escargot, and Fois Gras – which is partly what makes this menu difficult for picky eaters. When in doubt, try multiple! We tried the Cured Salmon, Steak Tartare (to compare it to Pinnacle Grill), and Escargot. All were quite good! We spoke with other people who tried the Ossetra caviar ($50 additional fee) and as caviar lovers, they thought the value wasn't there and suggested we skip it.
The Mains
With the menu being primarily seafood, it's good to know that there are a few items for people who aren't keen on fish and seafood. The Steak Frites, Rack of Lamb & Cok au Vin are the only real options for non-seafood eaters. For vegetarians, there is a cheese souffle … but why is anyone happy to pay $49 for a cheese plate?! 🙂 – So really investigate the menu if you are a picky eater to make sure you get value for your dining experience (and cost).
Otherwise, the food is very good and the fish was all incredibly fresh. We saw plenty of whole lobsters being brought out (though I couldn't bring myself to order this, because it's literally the whole lobster). The lobster was available at no additional charge.
Be sure to order as many sides as you think you can handle! They're all quite good, though simple.
Desserts
If you are a connoisseur of French desserts, you'll be in heaven with the Profiteroles on the menu. While nothing matches a real profiterole while in France, the variation offered at Rudi's Sel de Mer was the best we've had on a cruise ship!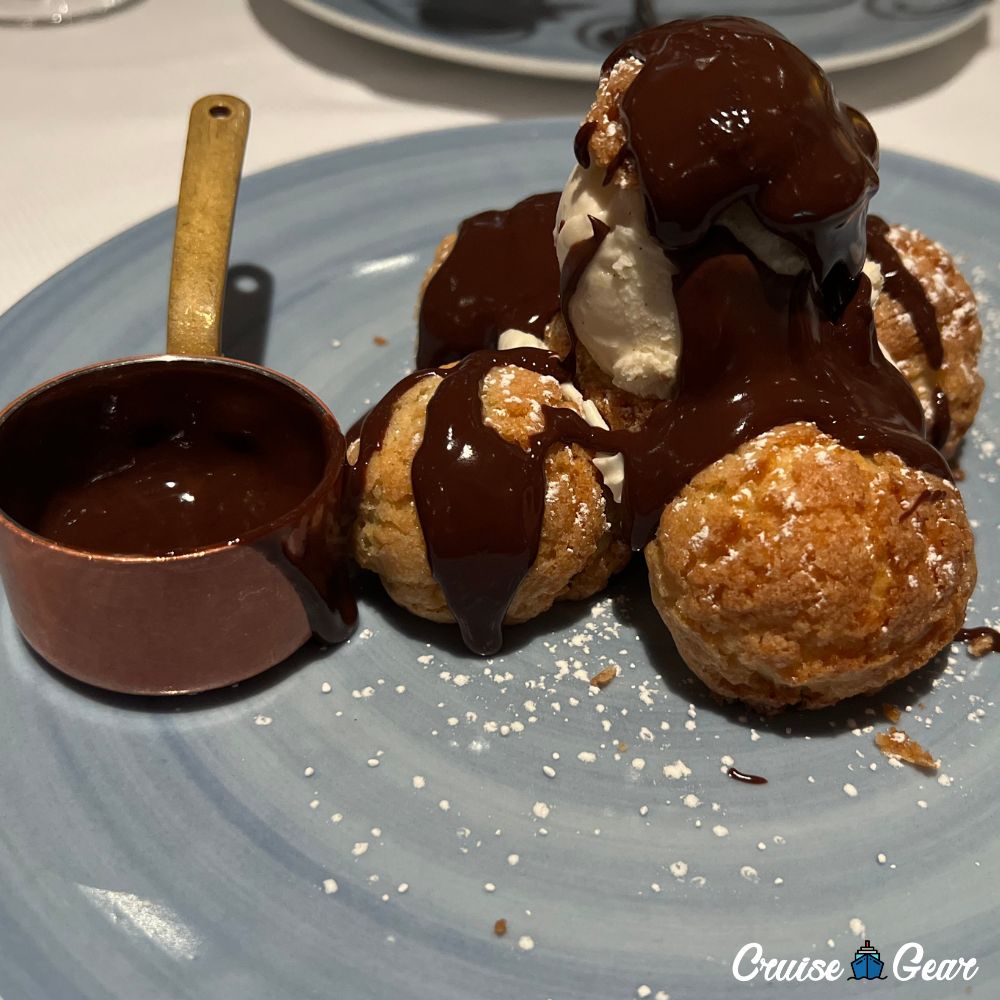 The least appealing option was the Apple Tarte – while not bad, it was very basic and a bit too doughy for someone who's really into this type of dessert.
Perhaps the most delightful and unusual part of the dining experience was the random tree of chocolate strawberries and truffles. A wire rack of sweets was dropped off at the table without explanation, but we sure dug in! Unfortunately, had I known this was a part of the plan, I probably wouldn't have ordered all of the desserts I did. 🐷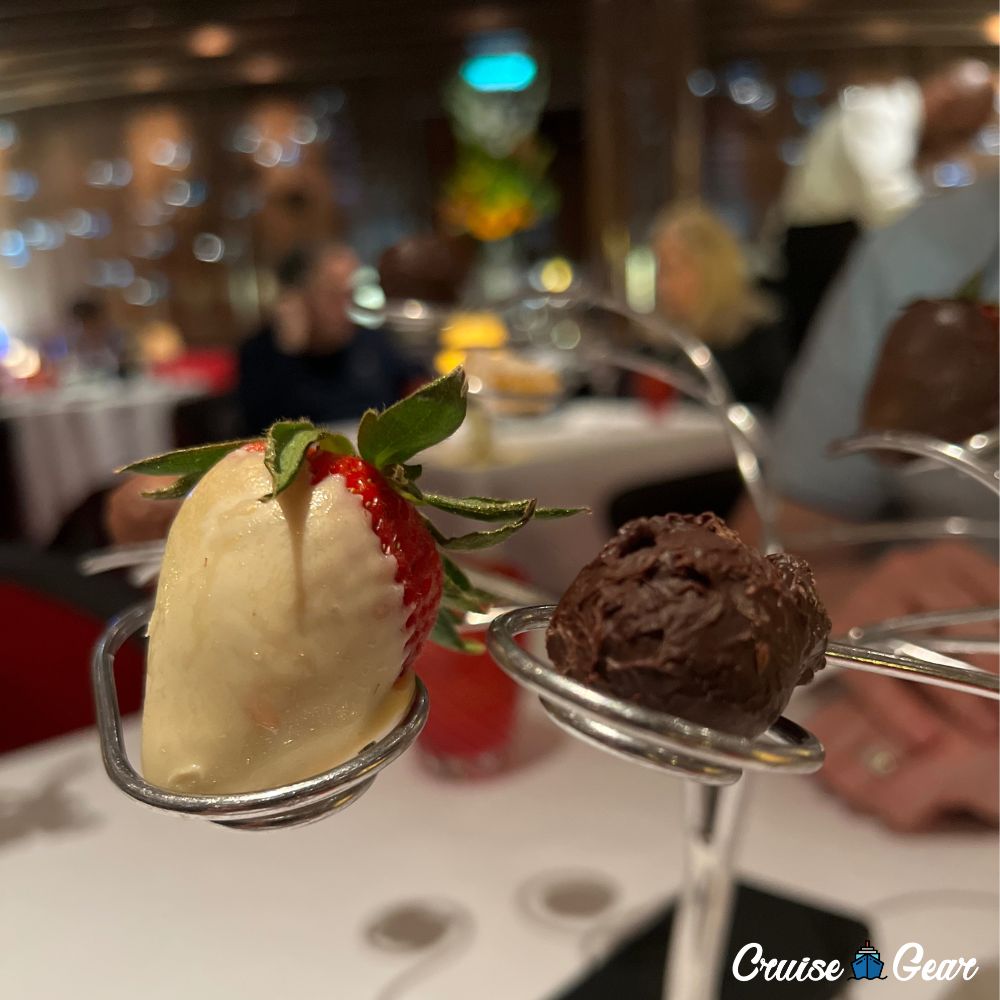 Rudi's Sel de Mer Holland America Menu
How much does it cost to eat at Rud's Sel de Mer on Holland America? Is it worth it?
The price/cover charge for Sel de Mer is $49 plus the 18% service charge making it a reasonable $58 per person for a unique dining experience. Whether or not it's worth it is really subjective with this particular restaurant. For seafood lovers, it's a must-try. If you're not really into seafood, the value becomes more questionable.
Are there limits to how many items you can order?
The cover charge entitles you to an appetizer, a main course, multiple side dishes (just ask), and a dessert. There was no note on the menu about ordering multiple main courses like there is at Pinnacle Grill where there is a clear policy that if a second main course or entree is ordered, a $15 charge will be applied to your bill. It's safe to assume the same policy exists here (though it's unclear).
Can you have a second appetizer or dessert at Sel de Mer?
We were able to order an additional starter with no extra charge and were offered multiple desserts including the chocolate-covered strawberries.
More Specialty Restaurant Menus on Holland America:
See the Interior of Sel de Mer (Rotterdam)
Do you have a comment?
Did we miss something? Have you had a different experience? Did we get it wrong?