Holland America Pinnacle Grill Menu & Review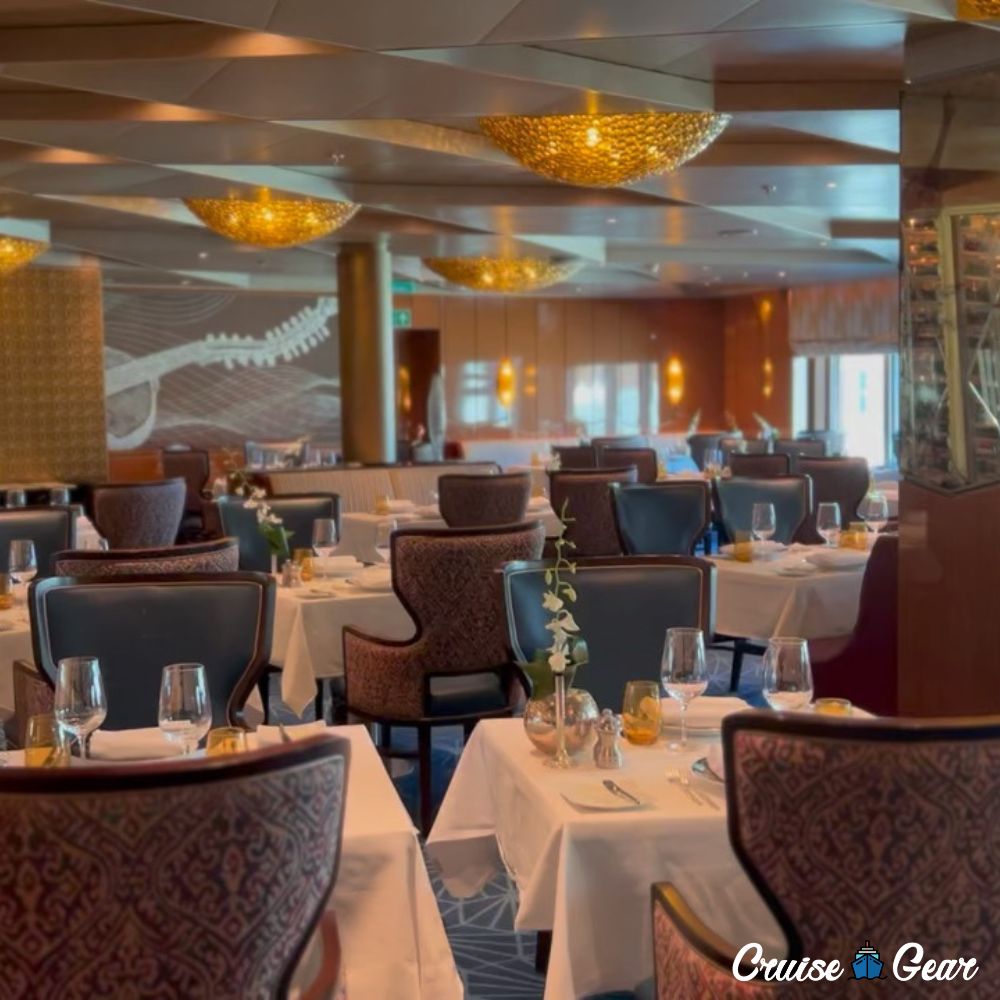 Interested in information & details about the Pinnacle Grill on Holland America cruise ships? We're here to give you everything you need to know about this premium steakhouse dining experience found on all of the Holland America cruise ships. Mainly, we want to share our experience and help you decide if the Holland America Pinnacle Grill is worth the additional fee and upcharge for lunch and dinner.
Pinnacle Grill on Holland America
One of the many pleasures of Holland America is the emphasis on quality dining options and cuisine. Even the complimentary restaurants are generally far superior to other cruise lines. As with all other cruise companies, Holland America offers multiple premium or specialty dining options with their signature venue being Pinnacle Grill, available on all of their ships.
The fact that the restaurant is open for lunch is a huge bonus!
Holland America Pinnacle Grill Review & What to Expect
I was surprised at the number of passengers I spoke with who had yet to try the restaurant because of the additional fee, even some passengers who had cruised Holland America for many years! But when it comes to the value for money in a specialty restaurant, the Pinnacle Grill is unmatched.
The ambiance of the dining room isn't overly stuffy or formal and feels like a good old-fashioned steakhouse unlike other cruise lines (for example NCL's Cagney's) where they go for a more themed version of an old-school steakhouse or chophouse. So the venue is less fine dining than Holland America's Sel de Mer restaurant, but still refined and upscale feeling.
The service at both lunch and dinner is quite attentive and more than willing to give suggestions and seemed to be quite candid about steering us away from a few dishes that had some recent complaints by other customers.
The food selection is what someone would expect from a traditional land-based steakhouse, along with a few chef's specialties that rotate on occasion. Additionally, nearly everything is included without any additional upcharge except for a few expected add-ons including lobster tail, caviar, tomahawk steaks, and a Delmonico steak (16oz). However, even the few items with additional costs are reasonable considering what you'd pay for similar items in a land-based steak restaurant.
Appetizers
The appetizer selection at Pinnacle Grill is again, as expected for a steak restaurant which includes various salads, crab cake, shrimp cocktail, and a few other more unique items like mushroom soup. We tried nearly all of the appetizers and they were all quite good with one exception, the crab cakes. While they weren't BAD, they just weren't as expected. The crab cakes arrived more like fritters than a lump crab cake patty. Another oddity is the steak tartar which arrived in a DIY style. I'm used to having this type of dish prepared and delivered or prepared tableside, but instead, at Pinnacle Grill, you are given a lump of raw beef and all of the 'fixings' on the side to mix as you wish. The flavor was outstanding, but visually, the dish was unappealing. The thought process that had to go into mixing this myself was a bit overwhelming after a few glasses of wine 🙂 – It's worth noting, however, that this seems to be the practice everywhere, even at Rudi's Sel de Mer.
A must-try when it comes to appetizers is the "Candied Bacon". The presentation is…just…strange. I'm not even going to ruin it for you by sharing a photo, but for bacon lovers, meat lovers, and foodies, just try this. I promise you, it'll leave you speechless (for so many reasons!)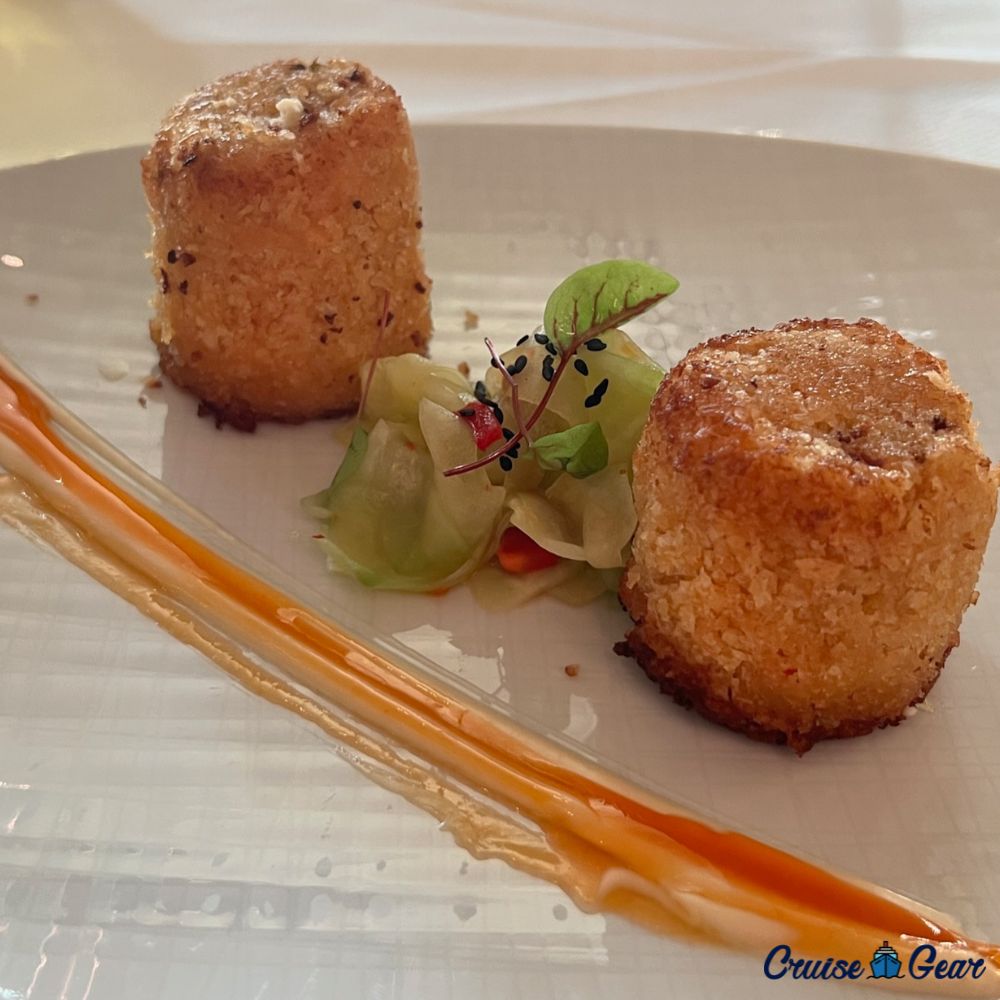 Steaks
There are all of the go-to classics you'd expect including an 8oz Filet Mignon, New York Strip, and a Rib Eye. Then you can go off the charts with the 36oz Tomahawk if you're daring. There are also chef's specialties that are tempting to try (I did), but I'd likely recommend just sticking with a classic steak. On our voyage, a tenderloin with lobster dumplings was on the menu and I can't say that it was terribly interesting. While the steak was cooked to perfection, the addition of the relatively flavorless dumplings just seemed to be a waste (along with the unique sauces they used).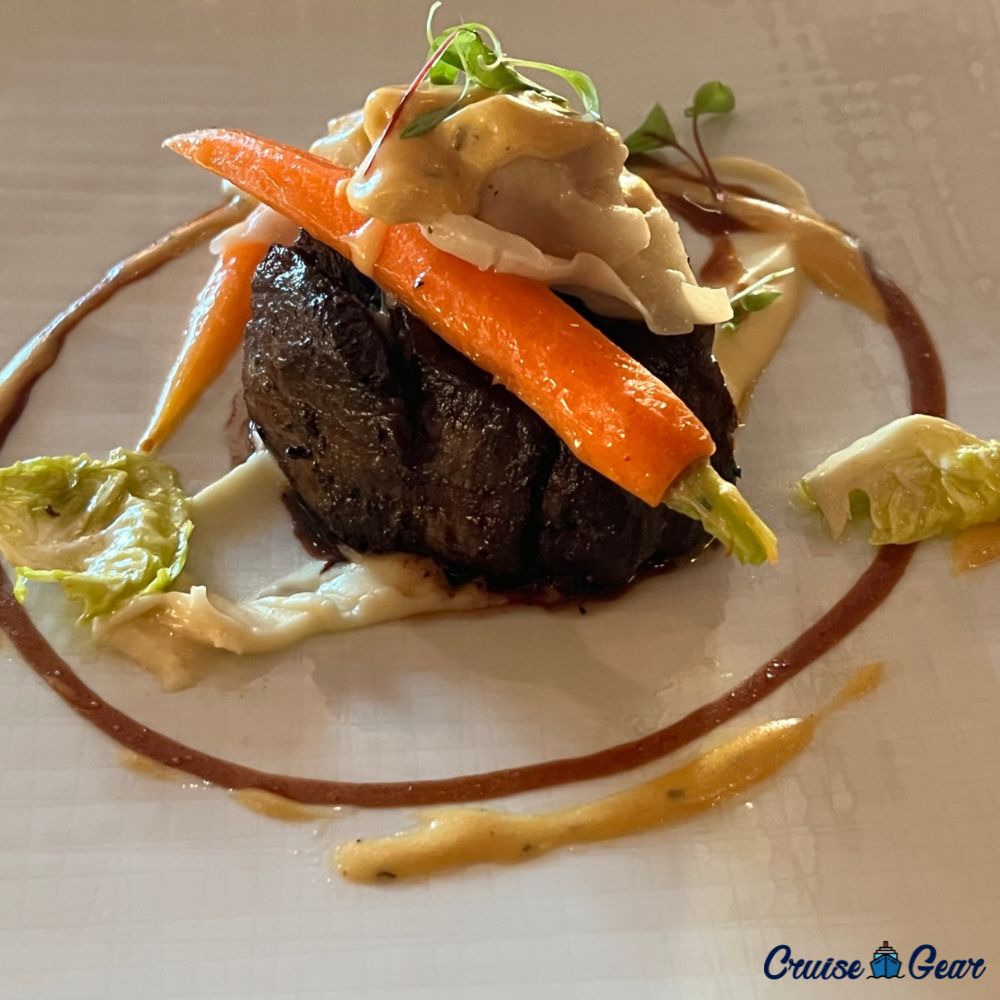 Ordering a lobster tail was an affordable option at only $10 and on some evenings, you can get 2 tails for $15.
It's worth noting that having tried Pinnacle Grill for 4 different meals, everything was quite good, but the steaks tended to arrive slightly undercooked. So for those who are particular about their meat temperatures, it may be worth clarifying how particular you are so you're not sending the steak back for a second round of cooking.
Chops, Classics, and Seafood
Not in the mood for steak? No worries, there are other options. (See attached menus). There is a chicken, pork, lamb, and several seafood options. In fact, it's my mission to try all of the seafood dishes on our next Holland America voyage, as they all looked incredibly tasty.
For you vegetarians who like to be tortured watching their table mates eat slabs of beef, there's even something to calm your nerves (and hunger). But really, why do you agree to go to a steak restaurant unless you REALLY love who you're traveling with 🙂
Desserts
If you have room for dessert at the end of the meal, there's no shortage of sweet delights! We tried everything on the menu over the course of our visits and ultimately decided they were all worth a taste. The least impressive was the chocolate soufflé and the most basic was the ice cream. Passengers tend to rave about the Not-So-classic baked Alaska, but it was awfully sweet (but still amazing). Desserts often seem like an afterthought in cruise line restaurants, but here they feel like a real effort was made to make a quality finale to an amazing meal.
The Pinnacle Grill Menus
Dinner Menu
Lunch Menu
The lunch menu is a great option at only $15 per person which includes some of the same amazing steaks as served at dinner as well as an interesting selection of sandwiches.
How much does it cost to eat at Pinnacle Grill on Holland America? Is it worth it?
The premium/cover charge for Pinnacle Grill is only $39 plus the 18% service charge making it a reasonable $46 per person for an amazing dining experience.
For lunch, you can enjoy an amazing, yet somewhat limited menu for only $15 per person + the 18% service charge ($17.70 pp)
Are there limits to how many items you can order in the Pinnacle Grill?
The cover charge entitles you to an appetizer, a main course, multiple side dishes (just ask), and a dessert. There is a clear policy that if a second main course or entree is ordered, a $15 charge will be applied to your bill.
Can you have a second appetizer or dessert?
We were able to order an additional starter with no extra charge (and no judgment for our appetite!) and were offered multiple desserts (but wow, it was impossible to take them up on the offer as we were both STUFFED).
Is There a Dress Code for Pinnacle Grill?
There is no stated dress code for the restaurant, however in general, "smart casual" or "resort casual" is the theme of Holland America Line overall. While we saw plenty of dinner jackets and ladies in lovely gowns, there were just as many men in golf shirts and casual trousers. There were even some jeans and t-shirts and no one gave it a second look. However, we saw no shorts being worn in the restaurant, and HAL makes a specific note in their FAQ's stating "Most evenings smart casual attire is appropriate. Shorts, pool and beachwear, distressed jeans and tank tops are not permitted in table service restaurants."
Do you have a suggestion?
Did we miss something? Have You Dined at Pinnacle Grill? Submit a comment below!
Other Restaurant Menus on Holland America
See the interior of the Pinnacle Grill on the Holland America Rotterdam