Holland America drink packages explained 2023, with prices!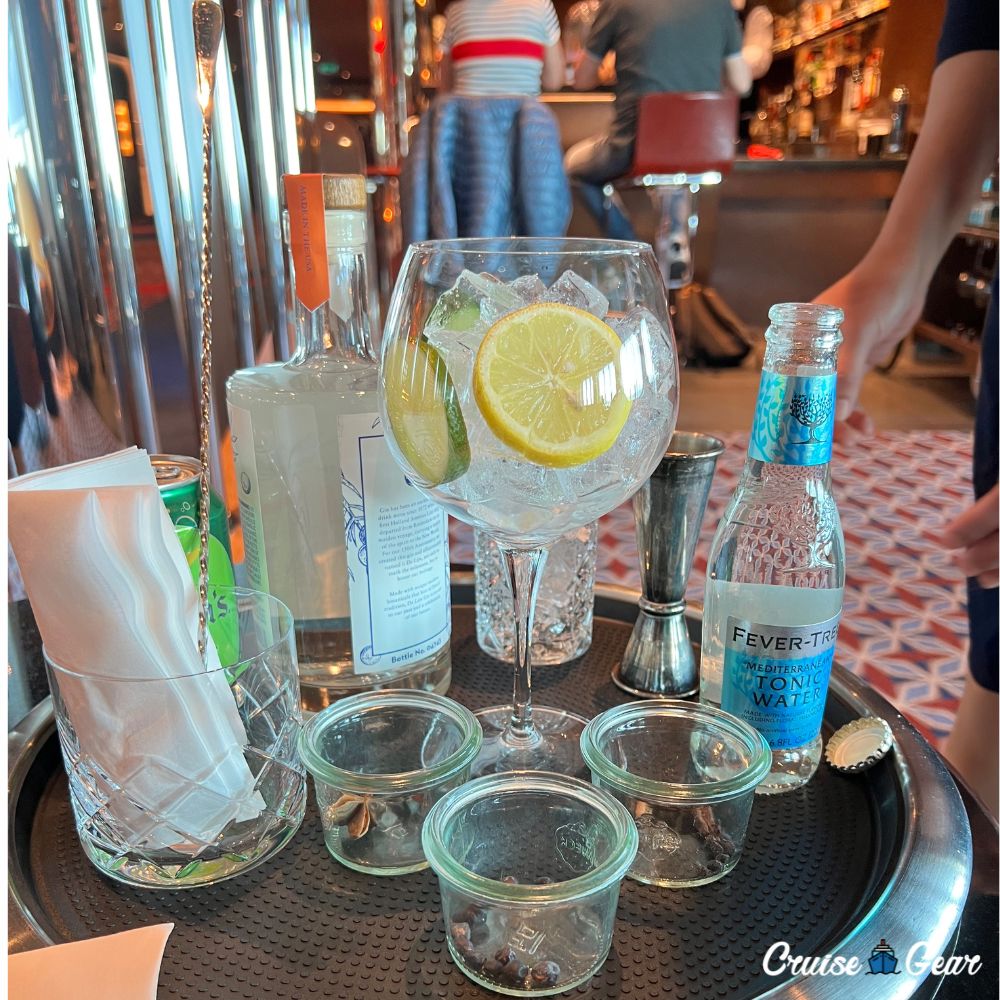 Holland America's drink packages offer some of the best values across all cruise lines when it comes to beverage packages! With 2 alcoholic and 2 non-alcoholic options to choose from, these packages can not only save you A LOT of money in the long run, but also provide a level of convenience that is invaluable on a cruise vacation. Whether you're looking for unlimited soda and juice, premium wines and cocktails, or a combination of both, Holland America drink packages have something for everyone (at a relatively reasonable price).
This is our guide to the Holland America Line beverage packages!
Changes to the beverage packages for Holland America Line (2023)
Recently, HAL has made some positive changes to their beverage packages, most notably that when ordering a drink that is more expensive than the maximum amount allowed by the package, you only PAY THE DIFFERENCE. In the past, if you ordered a cocktail that was more expensive than your package allowed, you'd have to pay the full amount. Not anymore!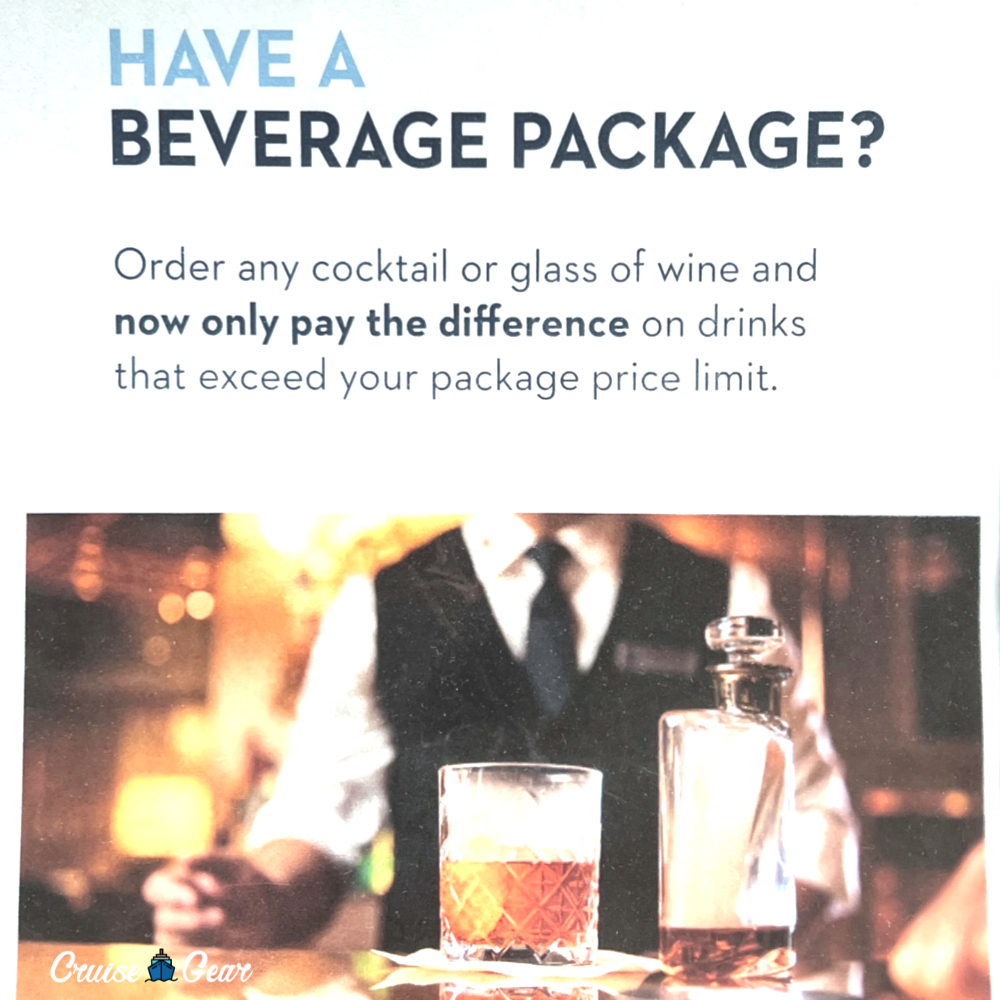 Holland America drink package prices
Drink packages range from $54.95 – $59.99 per day and the non-alcoholic packages are $8 – $17.95 per day PLUS 18% GRATUITY / SERVICE CHARGE
| HAL Drink Package | Package Price |
| --- | --- |
| Elite Beverage Package | 59.99/day |
| Signature Beverage Package | $54.95/day |
| Soda Package | $8.00/day |
| Quench Non-Alcoholic Drink Package | $17.95/day |
Holland America drink packages compared
There are currently 2 zero alcohol beverage packages and 2 alcoholic drink package options with Holland America Line.
Signature Beverage Package (aka Classic)
The Signature Package price is $54.95 per day per person + 18% Service Charge / Gratuity
The Signature Package is the most basic drink package, but it's pretty extensive and more generous than many other cruise lines! This package allows any drink including cocktails, wines by the glass, specialty drinks, and classic cocktails such as Martinis, up to $11 to be ordered.
What we love about the Signature package is the fact it includes bottled (or canned) water, juices, and specialty coffee. This level of inclusion at a basic drink package level is not common. Additionally, if you order a drink over the $11 limit with the Signature Beverage Package, you're only charged the difference + an 18% service charge OF THE DIFFERENCE, not on the entire drink. This is new for Holland America, as the policy used to be that you'd have to pay for the entire drink + gratuity if it exceeded the beverage package limit.
Something to be aware of is this package only allows a limit of 15 drinks per day regardless of what they are. In reality, we found it difficult to reach 15 drinks in a day even though we had coffee in the morning, and soda in the afternoon, and didn't hold back on drinks in the evening. If you think you will drink more than 15 drinks in a day, take a look at the Elite package.
Here's what's included in the Signature Beverage Package on Holland America
Everything included in the Alcohol-Free (Quench) package is also included in the signature beverage package.
BEER & CIDER
Amstel Light
Coors Light
Corona
Corona Premier
Dos Equis Lager
Guinness Irish Stout
Heineken
Heineken 0.0
Heineken Light
Hoegaarden
Lagunitas IPA
Lagunitas Lil' Sumpin' Ale
Michelob Ultra
Miller Lite
Molson Canadian
New Castle Brown Ale
Samuel Adams Boston Lager
Rekorderlig Pear
Rekorderlig Strawberry Lime
Strongbow
Truly Wild Berry
WINE & PORT
Arboleda, Carménère
Beringer, White Zinfandel
CSM Mimi, Chardonnay
CSM, Riesling
Clos du Bois, Chardonnay
Columbia Crest Estate, Merlot
Crios, Malbec
Danzante, Pinot Grigio
Domaine Chandon, Brut
Domaine Houchart, Rosé
Dows LBV, Port
Errazuriz Estate, Cab. Sauvignon
Frescobaldi, Chianti Castiglioni
Frescobaldi, Sangiovese
La Marca, Prosecco
Laurenz, Grüner Veltliner
Le Grand Courtage, Brut Rosé
McPherson, Shiraz
Nobilo, Sauvignon Blanc
Pian di Remole, Bianco
Robert Mondavi PS, Pinot Noir
Sandeman Ruby, Port
Sextant, Zinfandel
Simi, Sauvignon Blanc
Smith Woodhouse Reserve, Port
Spellbound, Cab. Sauvignon
Sterling, Merlot
Warre's Otima, Port
Warre's Warrior, Port
Zonin, Moscato

GIN
Bombay Original
Bombay Sapphire
Hendrick's
New Amsterdam
Nolet's Silver
Tanqueray 10
Tanqueray
RUM
Appleton Signature
Bacardi Superior
Captain Morgan
Goslings
Malibu
Mount Gay
Myer's
Pyrat

SCOTCH
Johnnie Walker Black Label
Johnnie Walker Red Label
Aberfeldy 12yr.
Ballantine's
Chivas Regal
Cutty Sark
Dewar's 12yr.
Dewar's White Label
Glen Deveron
Glenmorangie
J&B
Laphroaig 10yr.
TEQUILA
1800 Reposado
Cabo Wabo Blanco
Cazadores Reposado
Herradura Reposado
Jose Cuervo Gold
Jose Cuervo Silver
Patrón Silver
VODKA
Absolut
Belvedere
Finlandia
Grey Goose
Ketel One
New Amsterdam
Skyy
Smirnoff
Stolichnaya
Tito's
WHISKEY
Buffalo Trace
Bulleit
Canadian Club
Crown Royal
Jack Daniels
Jameson
Jim Beam
Jim Beam Red Stag
Knob Creek
Knob Creek Rye
Maker's Mark
Seagram's 7
Seagram's VO
Wild Turkey
Woodford Reserve

CLASSIC COCKTAILS
Americano
Aperol Spritz
Bloody Mary
Caipirinha
Cape Cod
Champagne Cocktail
Chi Chi
Collins
Daiquiri
Gimlet
Grasshopper
Greyhound
Harvey Wallbanger
Hot Toddy
Kir Royal
Long Island Iced Tea
Mai Tai
Manhattan
Margarita
Martini –House
Mint Julep
Mojito
Negroni
Old Fashioned
Paloma
Pisco Sour
Planter's Punch
Rum Punch
Salty Dog
Sazerac
Sidecar
Singapore Sling
Vieux Carré
Weng Weng
Whiskey Sour
White Russian
DALE DEGROFF
COCKTAILS
Another Shade of Greyhound
Bee's Knees
Blue Florida
Blue Ice
Brilliante
Brooklyn
Classic Negroni
Cosmopolitan
Fashionista
Flor De Jerez
Gallery Gimlet
Hemingway Daiquiri
Miami Beach Spritz
Patrona Poloma
Penicillin
Perfect Manhattan
Pusser's Painkiller
Red Stag Derby
Rotterdam Martinez
Strange Brew
Trader Vic's Mai Tai
Tuscan Lemon Drop
Whiskey Smash
Yuzu Margarita
Elite Beverage Package
The Elite Package price is $59.99 per person per day + 18% Service Charge / Gratuity
The Elite Package is the top-tier drink package offered by Holland America. This cruise drink package has a price limit of $15 per drink and includes everything that the Quench package and Signature Package include. While the higher price threshold per drink is $15, that's not the real value. The Elite package removes the limit of 15 drinks per day, but only for non-alcoholic drinks. Effectively, this keeps your non-alcoholic drinks from counting towards your alcoholic drink allowance. Elite packages still have a daily limit only applied to alcohol (15).
Quench Non-Alcoholic Drink Package
The Quench drinks price is $17.95 per person per day + 18% Service Charge / Gratuity
The Quench Package is basically HAL's non-alcoholic package for minors and non-drinking adults. This package includes soft drinks, mocktails, bottled water, and fresh juices. The package also includes specialty coffee-based drinks as well as espresso. It's important to know that there is a daily drink limit of 15 beverages included in the Quench package, but still, a great value if you're a coffee, tea, bottled water, or soda drinker. If you go over 15, you'll pay the full price per drink for the rest of the day.
What does the Quench Beverage Package Include?
The "Quench Package" is one of the better deals at sea considering it includes everything except alcohol. So for people who really enjoy coffee, smoothies and bottled water, this is a great value at only $17.95/day.
COFFEE
Americano
Cappuccino
Espresso
Latte
Explorations Café Specials
MOCKTAILS
Cool as a Cucumber
Daiquiri
Virgin Mary
Frozen Peach Margarita
Ginger Mango Splash
Grapefruit Not-A-Cosmo
Iced Sunshine Lemonade
Melon Mint Nojito
Non-Alcoholic Bloody Caesar
Orange Pineapple Spritzer
Pina Not-A-Colada
Roy Rogers
Shirley Temple
Sugar-Free Berry Lime Fizz
SMOOTHIES & JUICE
Banana Smoothie
Banana Strawberry
Cranberry Juice
Grapefruit Juice
Martinelli's Sparkling Cider
Orange Juice
Orange Smoothie
Piña Colada Smoothie
Pineapple Berry
Pineapple Juice
Pineapple Passion
Pineapple Smoothie
Strawberry Smoothie
WATER & SODA
Bitter Lemon
Coca Cola Soft Drinks
Mineral Water-330ml
Red Bull Energy Drink
Red Bull Sugarfree
Canned Water-1202
Soda (Coke) Package
The unlimited soft drinks price is $8 per person per day + 18% Service Charge / Gratuity
If Unlimited Soda is your thing, then this package makes sense. For $8 per person per day, the Holland America Soda Package or "Coca-Cola" package allows for bottomless and unlimited fountain soda drinks. This is a great value for soda drinkers considering sodas are $2.75 each onboard.
The Have it All Promotion includes a beverage package (NEW!)
But wait! There's more! 🙂
Recently Holland America introduced the "HAVE IT ALL" package or HIA. This is by far the most valuable nearly all-inclusive package at sea. For an average of $50 per day, you receive wifi and specialty dining but most importantly it includes the Signature drink package! So you're getting a lot of extras for less money. More on the Have it All Package.
How much are drinks on Holland America cruises?
Most cans of soda are $2.75, beer is $7.75 and there are plenty of wine options for under $13. Most classic cocktails are $11 or less and very few are more than $15
Do the Holland America drink packages include gratuity?
Every drink you order will have a gratuity line item (18%), but the amount is included in your drink price if you're using a package. For example, an $11 Martini would have an 18% gratuity in addition to the drink price if you purchase it separately, but that 18% is included in the cost of the drink when using your package.
Drink Package Prices Have Additional Gratuity Added
When seeing the advertised price of a drink package on Holland America, it does NOT include an addition 18% added to the package price.
Frequently Asked Questions about the HAL Drink Packages
Are Holland America Drink Packages Worth It?
We can say, without a doubt, YES! Even though some packages have a daily limit, it's very generous, and we had a hard time reaching 15 drinks. I know some people will undoubtedly get there when trying to break even… but for all practical purposes, the packages are definitely worth it, especially with the new policy where Holland America allows you to just pay the difference in more expensive drinks!
Holland America Drink Calculator
Let's find out if the drink packages are right for you. Use the below beverage calculator and see if buying a drinks package makes sense on your vacation!
Select your package, add the drinks you would have, and see if it breaks even!
Choose your package. The daily charge will appear in the daily charge space, but you can change that if you are getting a discount.
Select your length of cruise. You'll notice how the cost increases according to the cruise length. If you've selected the Free at Sea promotion, you'll find only the gratuities are included in the calculator.
Choose the number of drinks you consume, or expect to consume each day. We've put the average drink price in the cost fields, but you can modify those if you like more expensive drinks (it's worth looking at the drink menus)
The calculator will do the math and tell you if it is worth purchasing a package (or upgrading) based on your consumption!
Do you have a comment?
Did we miss something? Have you had a different experience? Did we get it wrong?