Are you thirsty for an amazing cruise experience with Holland America cruise line? Look no further than their beverage packages, designed to elevate your vacation to the next level. With 4 alcoholic and non-alcoholic options to choose from, these packages can not only save you money in the long run, but also provide a level of convenience that is invaluable on a cruise vacation. Whether you're looking for unlimited soda and juice, premium wines and cocktails, or a combination of both, Holland America drink packages have something for everyone.
We think these are some of the best upgrades in the cruise industry when it comes to drink packages (only behind NCL open bar / Free at Sea). This is our guide to the Holland America Line beverage packages.
Changes to the beverage packages for Holland America Line (2023)
Recently, HAL has made some positive changes to their beverage packages, most notably that when ordering a drink that is more expensive than the maximum amount allowed by the package, you only PAY THE DIFFERENCE. In the past, if you ordered a cocktail that was more expensive than your package allowed, you'd have to pay the full amount. Not anymore!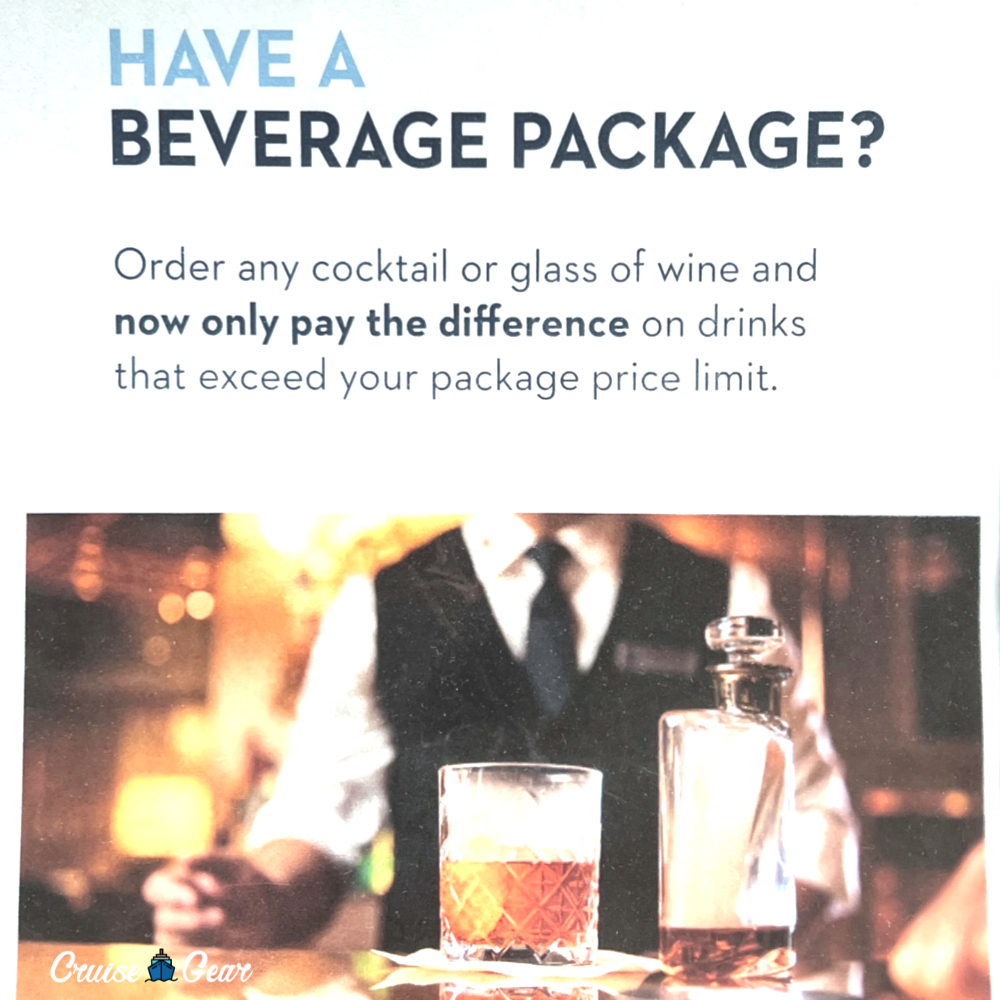 The 4 Holland America drink packages with Prices
There are currently 2 zero alcohol beverage packages and 2 alcoholic drink package options with Holland America Line.
Soda (Coke) Package
The unlimited soft drinks price is $8 per person per day
If Unlimited Soda is your thing, then this package makes sense. For $8 per person per day, the Soda or "Coca-Cola" package allows for bottomless and unlimited fountain soda drinks. This is an incredible value considering sodas are $2.75 each onboard.
Quench Non-Alcoholic Drink Package
The Quench drinks price is $17.95 per person per day
The Quench Package is basically HAL's non-alcoholic package for minors and non-drinking adults. This package includes soft drinks, mocktails, bottled water, and fresh juices. The package also includes specialty coffee-based drinks as well as espresso. It's important to know that there is a daily drink limit of 15 beverages included in the Quench package, but still, a great value if you're a coffee, tea, bottled water, or soda drinker. If you go over 15, you'll pay the full price per drink for the rest of the day.
Signature Beverage Package (aka Classic)
The Signature Package price is $54.95 per day per person
The Signature Package is the most basic drink package, but it's pretty extensive and more generous than many other cruise lines! This package allows any drink including cocktails, wines by the glass, specialty drinks, and classic cocktails such as Martinis, up to $11 to be ordered. What we love about the Signature package is the fact it includes bottled water, juices, and specialty coffee. This level of inclusion at a basic drink package level is not common. Additionally, if you order a drink over the $11 limit with the Signature Beverage Package, you're only charged the difference + an 18% service charge OF THE DIFFERENCE, not on the entire drink. This is new for Holland America, as the policy used to be that you'd have to pay for the entire drink + gratuity if it exceeded the beverage package limit.
Something to be aware of is this package only allows a limit of 15 drinks regardless of what they are. In reality, we found it difficult to reach 15 drinks in a day even though we had coffee in the morning, and soda in the afternoon, and didn't hold back on drinks in the evening. If you think you will drink more than 15 drinks in a day, take a look at the Elite package.
Elite Beverage Package
The Elite Package price is $59.99 per person per day
The Elite Package is the top-tier drink package offered by Holland America. This cruise drink package has a price limit of $15 per drink and includes everything that the Quench package and Signature Package include. While the higher price threshold per drink is $15, that's not the real value. The Elite package removes the limit of 15 drinks per day, but only for non-alcoholic drinks. Effectively, this keeps your non-alcoholic drinks from counting towards your alcoholic drink allowance. Elite packages have a daily limit only applied to alcohol (15).
The Have it All Promotion includes a beverage package (NEW!)
But wait! There's more! 🙂
Recently Holland America introduced the "HAVE IT ALL" package or HIA. This is by far the most valuable nearly all-inclusive package at sea. For an average of $50 per day, you receive wifi and specialty dining but most importantly it includes the Signature drink package! So you're getting a lot of extras for less money. More on the Have it All promotion.
How much are Holland America drink packages?
Alcoholic drink packages range from $54.95 – $59.99 per day and the non alcoholic packages are $8 – $17.95 per day
How much are drinks on Holland America cruises?
Most cans of soda are $2.75, beer is $7.75 and there are plenty of wine options for under $13. Most classic cocktails are $11 or less and very few are more than $15
Do Holland America beverage packages include bottled water?
Yes! This is a real treat of having the Elite, Signature, or Quench package. They include bottled water!
Does every person in the stateroom have to purchase a package?
Every adult in the same stateroom must purchase a drink package (same package). It was unclear when we spoke with the cruise line whether or not children needed to have a soda package if adults have a beverage package, which is typical on other cruise lines.
What does the Holland America drink package include?
The Signature Beverage Package includes a wide range of premium cocktails, beers, wines, and non-alcoholic beverages from all bars and restaurants on board. The Elite Beverage package features an expanded selection of premium spirits, champagne, and wine, including rare vintages. Guests who prefer wine can choose the Cellar Master Package, which includes premium wine tastings, pairing dinners, and a special selection of wines chosen by the onboard cellar master. The Coca-Cola Package includes unlimited soft beverages, while the Quench Beverage Package features unlimited non-alcoholic beverages, including juices and specialty coffees. Each package is priced per person, per day, and includes a service charge. All packages exclude minibars, room service, and drinks offered on Holland America's private island. Overall, Holland America's drink packages provide guests with a convenient and affordable way to enjoy their favorite beverages throughout their voyage.
What drinks are free on Holland America?
As with most cruise lines, essential drinks are included like tap water, tea, and coffee in the buffet as well as some juices (from the machines).
Does the Holland America drink package include gratuity?
Every drink you order will have a gratuity line item (18%), but the amount is included in your drink price if you're using a package. For example, an $11 Martini would have an 18% gratuity in addition to the drink price if you purchase it separately, but that 18% is included in the cost of the drink when using your package.
Can I use Holland America Line drink packages at Half Moon Cay?
Unfortunately not. The fine print is as follows:
Packages do not include minibar purchases, Honor Bar, Chocolate Seduction, In-room dining, drinks purchased on Half Moon Cay and any self-service beer.
Are Holland America Line Drink Packages Worth It?
We can say, without a doubt, YES! Even though some packages have a daily limit, it's very generous, and we had a hard time reaching 15 drinks. I know some people will undoubtedly get there when trying to break even… but for all practical purposes, the packages are definitely worth it, especially with the new policy where Holland America allows you to just pay the difference in more expensive drinks!
Do you have a comment?
Did we miss something? Have you had a different experience? Did we get it wrong?